For The Hundreds' Spring 2015 Collection, we're pleased to present a firsthand look at some of the custom prints rolling out this season – starting with the "Era Camo." The "Era Camo" is a reinvention of something so engrained in us, it's become part of our DNA: Camouflage. Through our past collections, we've experimented with a variety of camo, and "Era Camo" in particular was created in the spirit of revamping the classing standard woodland camo – now adapted to be a techno-comic version of itself with a stereoscopic 3D effect.
The black is used to show our connection to our roots, while the gray is a nod to old school newspaper comics from the era of our inception. "Era Camo" T-shirts, headwear, and accessories are available at our flagship locations now, and the headwear is available in the Online Shop.
The Hundreds' Spring 2015 collection marks an internal shift within The Hundreds – directing the focus away from thematic collections and concentrating on improving the quality and constructions. From this foundation, we aim to reconnect with our roots, creating classic Californian workwear from a streetwear perspective using color, bold but refined graphics, and tech-meets-traditional fabrications. In addition to that, The Hundreds is presenting its second season of nano-technology – a no handfeel protectant that repels dirt, water, and oil without any extra weight or damage to the color and texture of the garment.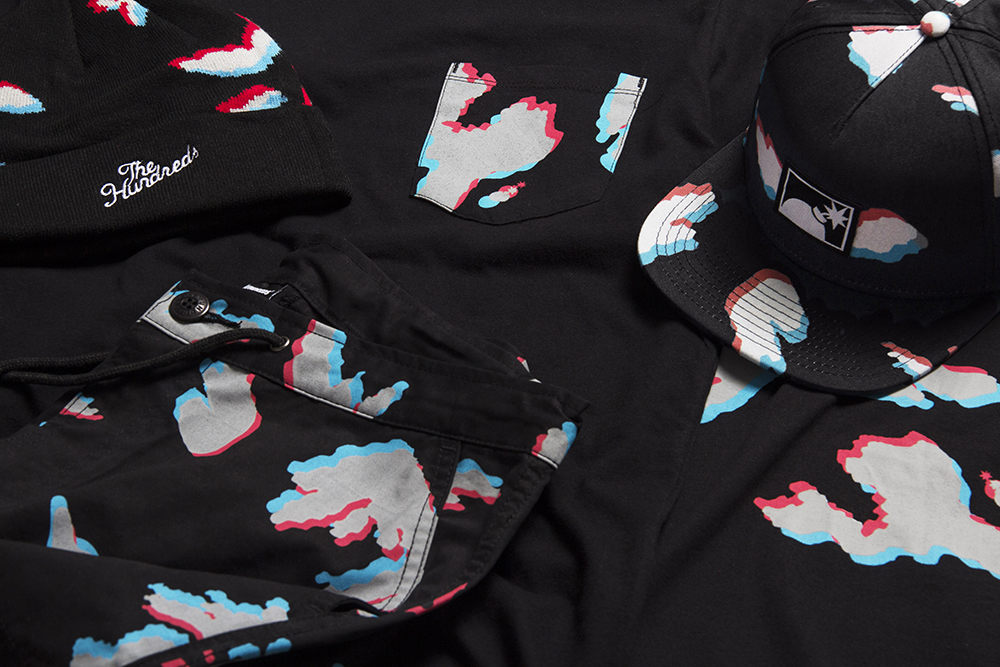 The "Era Camo" print is used in Spring 2015's "Camo" T-shirt, "Rosewell" board shorts, "Salvador" tank, "River" pocket T-shirt, "Settle" crew-neck sweatshirt, "Creek" sweatpant, "Era" snapback, and "Slant" beanie.