We got a very special SPITSET prepared for y'all next Friday. Performances from the inimitable Left Brain and 1-O.A.K. (Oakland's best, whose music has been spinning on the regular at RSWD lately). Tunes by Wavy Baby. Time and address to be announced soon. As always, event is free for the culture.
21+. RSVP at thehundreds.com/spitset.
RSVP is non-transferable. RSVP does not guarantee entry. Early arrival is suggested.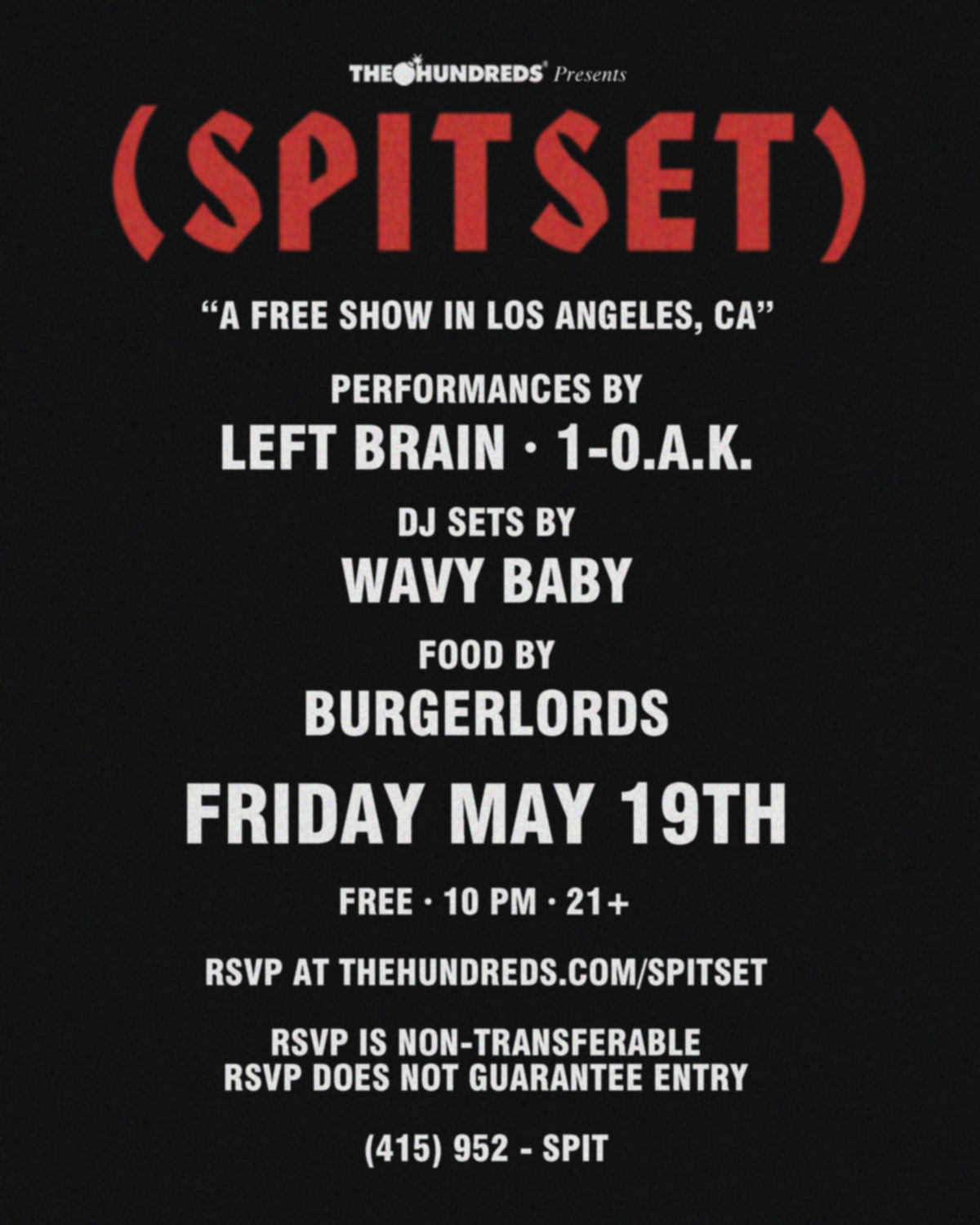 If you don't know about SPITSET, it's a block party we throw, hosted and curated by Alexander Spit. We won't hesitate to say we think it's the best party in LA. We've hosted past performances from Wiki of Ratking, Virgil Abloh, Father, Boogie, Warm Brew, hardcore outfit Trapped Under Ice, and more, from Berlin to Tokyo to the US.
"SPITSET is a saying I've thrown around for years as a term to rep the collective artists, musicians, and tastemakers within my circle of peers," Spit explains. The show is an attempt to push Los Angeles out of its comfort zone, to create a space without an archetype. "The bottle service nightlife types will be encouraged to mingle with the anti-social art kids. The music elitist, show-goers will be set arms length from girls that dress like ladies." In the simplest terms, Alexander Spit is "trying to provide an LA party featuring carefully curated live performances, DJ sets, and, most importantly, interesting venues for the artists and subculture circles that actually define the city's charisma."
Click HERE for all past SPITSET recaps.