The greatest labels in music history are the ones that tell a story and suck you into their catalog. Blue Note, Motown, Stax, Rough Trade, Factory, Dangerhouse, Touch and Go, Def Jam, Dischord, Sub Pop, Amphetamine Reptile, Death Row, No Limit, and others are more than just businesses that pressed vinyl records, cassettes, and compact discs. Each of those labels provided a voice to a place and time that not only resonates today, but explains a part of the history of culture. They also all share the bond of starting independently, creating their own playbook out of growth, necessity, and aspiration. Though they all bear deep catalogs, you can extract a "sound" or even "sounds" from each, and that story has more currency than any major label.
Founded in 1987 in New Haven, Connecticut, Revelation Records was able to spread the narrative of the neighboring hardcore punk bands in New York City, but not through an urban lens. With much of NYC still in economic turmoil, independent labels in, especially thoughts tangential to punk were hardly sustainable or able to fully support a roster of bands. Fledgling singles were released, as were compilations, but the lifespan of most labels was just a few years. With one toe in Manhattan and another in New Haven, Revelation was able to not only provide an outlet for a crop of bands in the Tristate Area to shine, but also a platform for them to spread their sound and message globally, one small pressing at a time.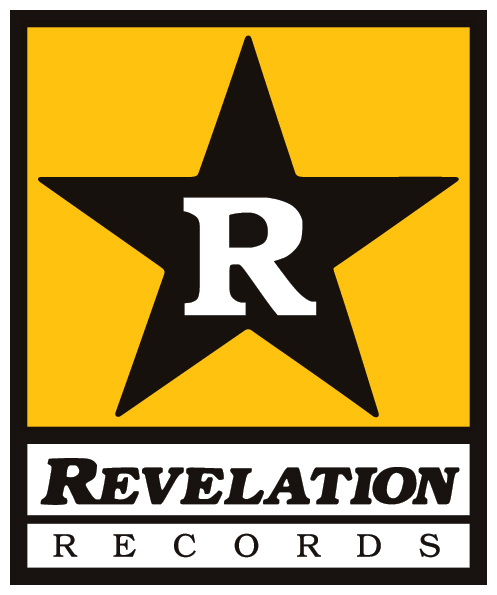 The Revelation Records logo.
Youth of Today live in 1987.
Founders Ray Cappo and Jordan Cooper felt a near-obligation to preserve the upstart sounds of the New York Hardcore scene, which was running hot, while the first wave of American hardcore was starting to fragment and explore new sounds. Without a single label truly representing the region, Revelation Records quickly became the most important New York City vinyl producer for hardcore, while being based in Connecticut. At a time when New York was still recovering from economic strife, where the scene was lacking any order other than its unifying sense of camaraderie and passion, it made perfect sense that New Haven was a more stable setup for a start up.
Most importantly, Cappo and Cooper were fans—high school friends who bonded over an interest in punk rock—that had a golden opportunity to put their stamp on it. "Ray got transferred into my English class a few weeks after school started," Cooper explains. "He was a different kind of person than most of the people I knew at the time. He didn't fit into any particular clique, but wasn't going down the disaffected path that a lot of us took in school. He was in various clubs, maybe on team or two, was in a band and didn't seem to take any of it all that seriously. Then when I got to know him, I realized that punk and hardcore and other stuff was actually important to him."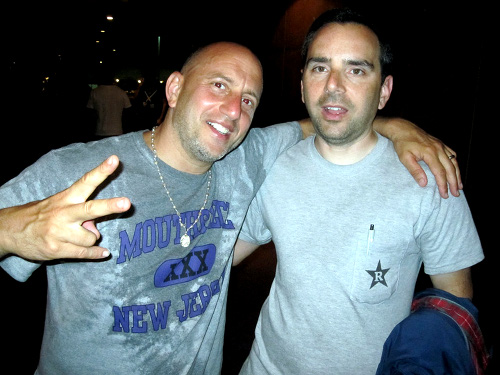 Ray Cappo and Jordan Cooper in 2011. Photo: noecho.net
Cappo was already active, having played in several bands including Violent Children, Reflex from Pain, and Youth of Today. This allowed Cooper to assume the role of operations and production, while Cappo was the charismatic personality who secured the talent. OK, that's an overly sexy description, but it was very much the dynamic. With their first release lined up, the next challenge was figuring out where to press the actual records and how to distribute them, other than at shows, which was especially challenging, since their first release was a 7" from a band that was allegedly breaking up. There was no defined model or pipeline other than taking out ads in fanzines and asking shops to take records on consignment, only to end up having to chase money. Distributors? Huh?
Luckily, the demand for the Warzone EP was so high that it set off a string of releases that symbolized a new era in East Coast hardcore. The singles were as coveted as those that came before them, and became cared for pieces that were as aesthetically interesting as they were sounding, without ever teetering into artsy.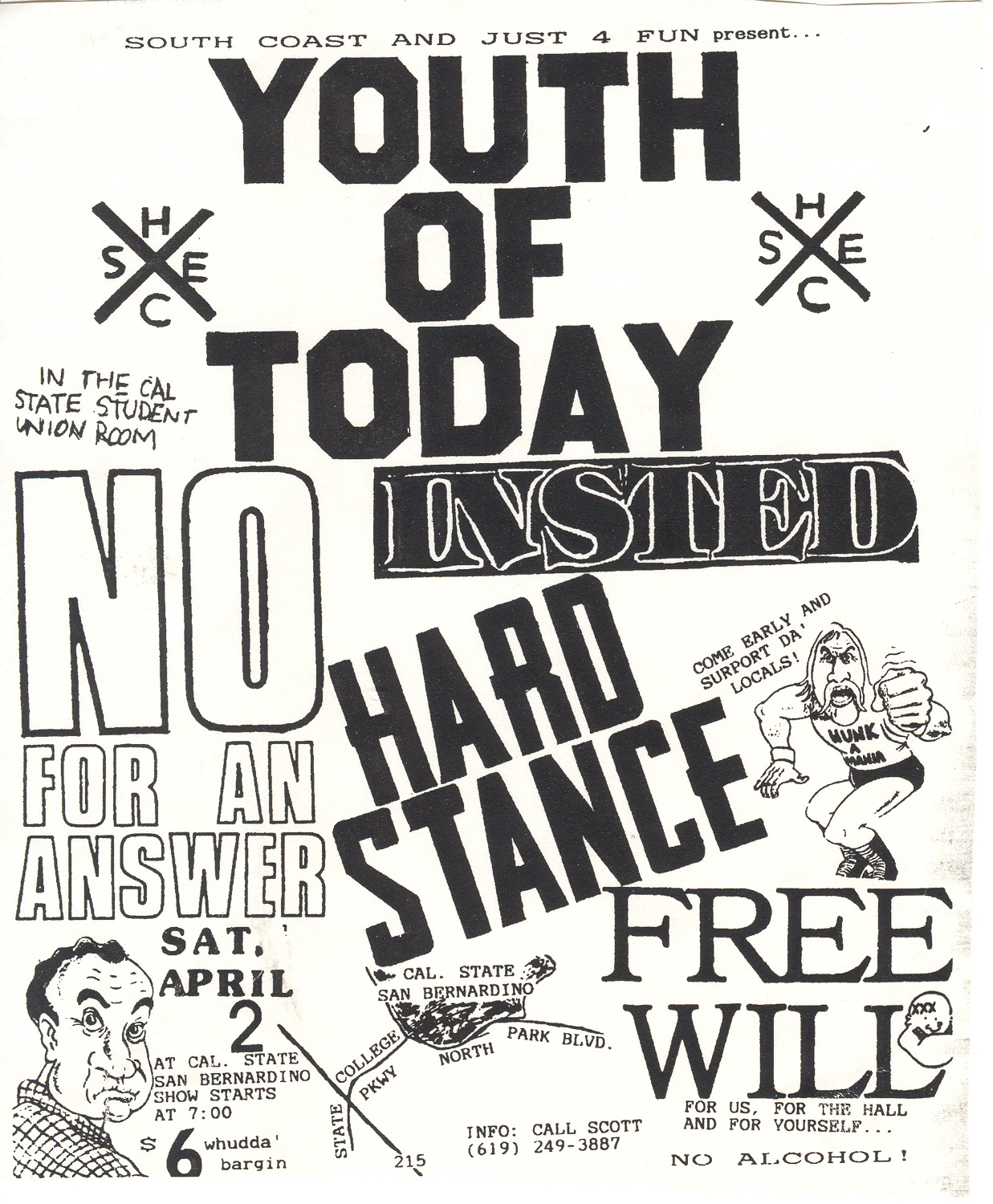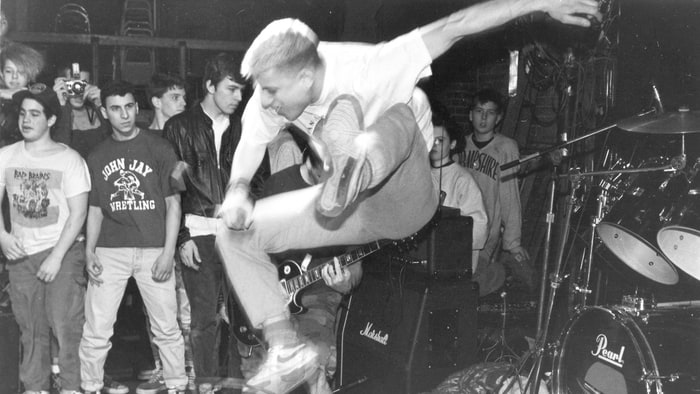 Ray Cappo performing live in YOT circa late-'80s.
"As far as I remember it, Warzone was talking about breaking up, and we thought it was something that should be documented," Cooper says of Revelation Records Number One. "As far as figuring out how to do a record, that was something Ray had dealt with before when his band Violent Children did their 7" and the hardcore scene kind of had a collective knowledge of how everything like that would get done. It seemed like most of the other hardcore labels around got their records done through Kane Boychuck who worked at a pressing plant in Los Angeles. We met Kane when Youth Of Today toured with 7 Seconds in 1985 because he did the pressing for Positive Force—Kevin Seconds' label—which included the first Youth Of Today record. When Revelation needed records pressed a couple of years later, Ray reached out to Kane and that's how the first couple of releases were pressed. As far as artwork goes, I worked at the school newspaper and had access to the typesetting machine so Raybeez and I worked on the layout by phone and mail mostly."
While the "sound" of early Revelation Records is more united by the ethos of the bands than the actual chords, the overarching message was what was so magnetic to city and 'burb areas alike. Bands such as Youth of Today, Sick of It All, Gorilla Biscuits, Judge, Side by Side, and Warzone were not just inspired by the first wave of American hardcore, they tapped back into that energy with their own unique imprint and voice, rather than letting that spirit and verve fizzle out. Most of the labels such as Dischord, Touch and Go, and SST had abandoned releasing straightforward hardcore years before Revelation had formed—but that didn't mean there was no audience for it. In fact, the new audience centered in the Northeast was in some ways more diverse, networked, and larger, thanks to the blue collar inroads made by the first generation.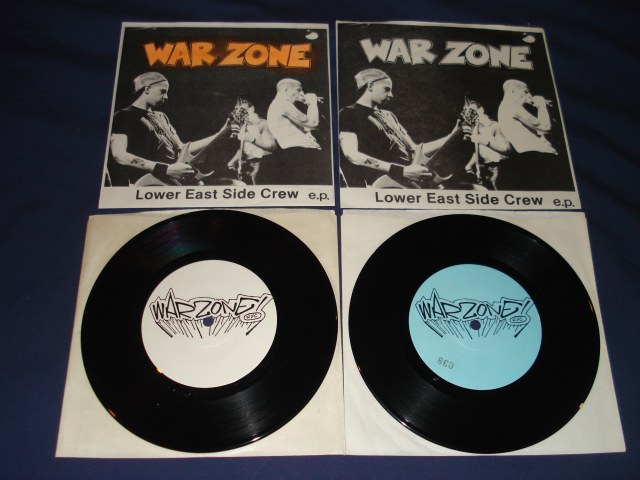 Revelation Records' first release, Lower East Side Crew EP by Warzone (1987). The white label was a misprint. Photo: seekingthesimple.wordpress.com
"I think Dischord, BYO, Xclaim and Positive Force were among a few that had kind of a 'collective' feel to them," Cooper explains. "It wasn't just a label but kind of a support system for their music and the community around the music.
That being said, this was still a DIY business in the late-'80s, when no one took what was considered a dead genre seriously—especially 10 years removed from the Johnny Thunders-romanticized Bowery. Conversely, Revelation's early acts weren't about excess, but rather a lean model of (mostly) straight edge leaning bands, bent on message over madness. Initially, the singles and 12"s were predominantly sold via mail order, with the majority of the early adopters being rewarded with limited colored vinyl pressings of said release. Not only did the records sound urgent, but their simple, bold layouts were equally direct and powerful. In a stroke of accidental marketing, most releases were accompanied with order forms for other releases as well as T-shirts, stickers, and sweatshirts. With no way to hear these bands, save small college radio stations, it was worth $3.50 post paid to gamble on the catalog. Serving as the pu-pu platter was the label's first compilation, later repurposed and expanded into an LP, providing the gold standard snapshot of New York City, titled New York City Hardcore: The Way It Is.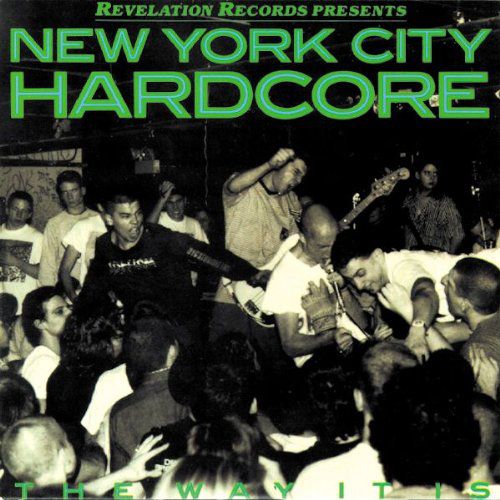 Revelation Records' first compilation, New York City Hardcore: The Way It Is (1988)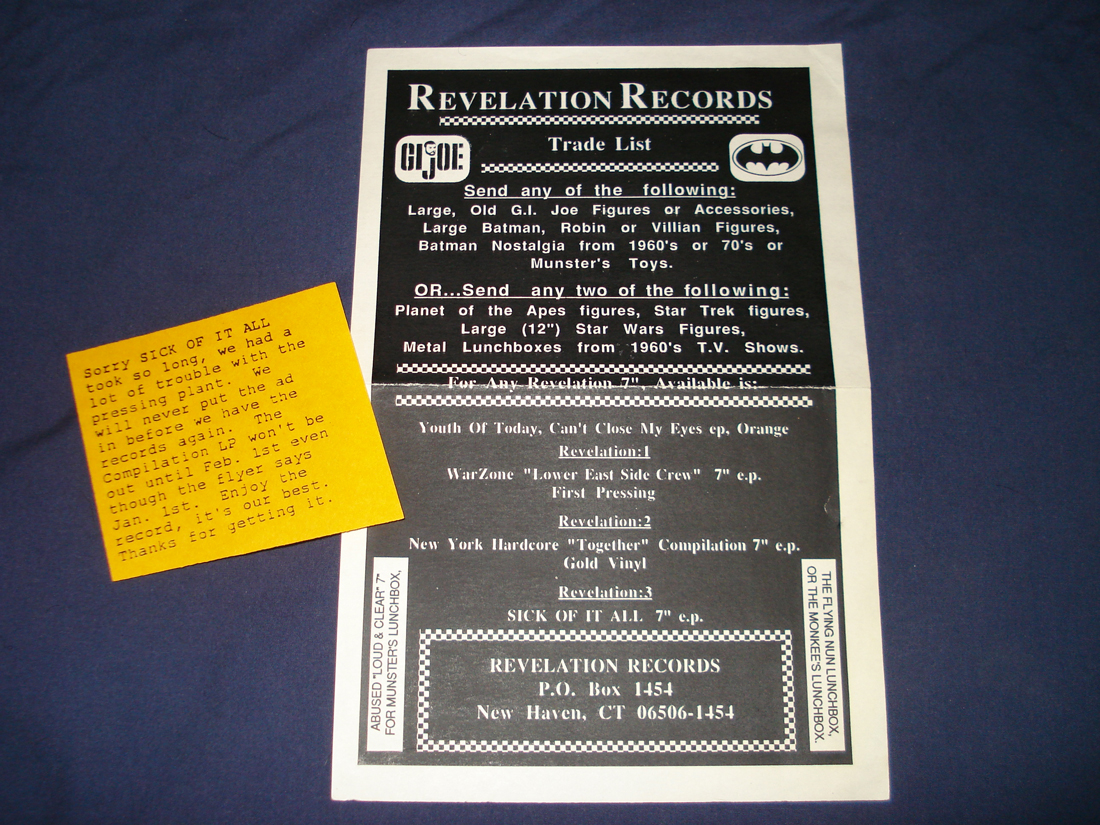 "The most important thing about [compilations] was that they brought together on vinyl a group of bands that were all in the same scene—it was a slice of Sunday afternoon on vinyl," he says. "Also, compilations are great for getting familiar with a lot of different bands at one time. I always loved the Rat Music comps because I heard bands that I didn't know about and might not have ever listened to otherwise. For my part, helping put the compilations together was good experience for getting material from people and trying to organize everything and get it released. It's a lot more involved than doing a record for one band, so you learn a lot more because you're doing more."
A label "sampler," especially for a punk label, is key—not only because it's a lower production cost and functioned as a commercial for the entire catalog, but it's an affordable entry point for a fan. Without the benefit of streaming, you'd be able to actually hear an upwards of 10 or even 15 bands for the price of one LP, exponentially increasing your palate, while still staying on budget. For New York City, compilations basically created the Holy Trinity or trifecta of the late-'80s, starting with Together/The Way It Is, Blackout Records' compilation "Where the Wild Things Are" and Urban Style's cassette release "The New Breed Compilation (1989)," with every borough, style, and even Westchester and Connecticut being represented.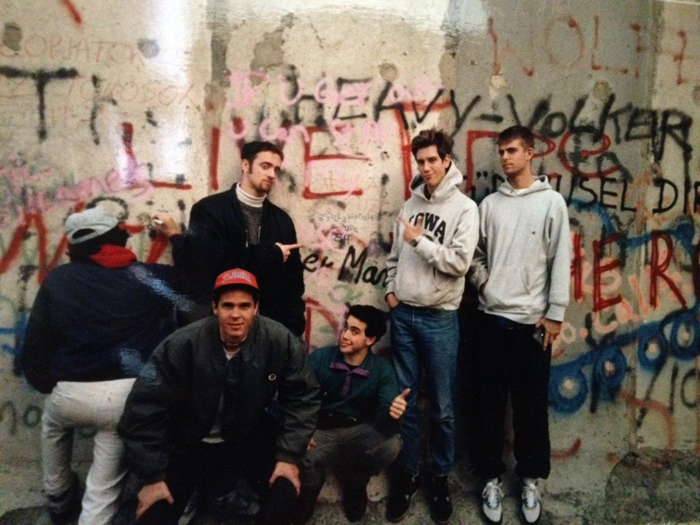 1989: Jordan Cooper facing the Berlin Wall with Walter Schreifels, Civ, Lukie Luke, Alex Brown, and Mark Hayworth of YOT, Gorilla Biscuits, Warzone, and more. Photo: subsectonline.com
While Blackout and Urban Style's contributions are essential chapters in NYC's story, Revelation became the label synonymous with this next iteration of hardcore, as the records slowly became available en masse and through co-branded band merchandise bearing the label's logo. With matinees happening regularly both in New York as well as in Norwalk, CT at The Anthrax club, Revelation's presence grew, especially as touring bands frequented the East Coast and vice versa. Even if it were simple "West Coast Weekends," the bands were following Youth of Today's rigorous lead, finding time to tour on school breaks or working disposable jobs in order to tour the US and later Europe, where few US punk bands ventured.
"30 years later, [Revelation Records is] still putting out vital music… maintaining a legacy that's ripe to be discovered by new audiences ready to get tangled in their family tree."
"Revelation's success came simply from the fact they cornered a wide-open market that was being neglected in the Hardcore scene at the time," explains author and writer Tony Rettman, who wrote 2014's critically acclaimed NYHC: New York Hardcore 1980–1990 and a fan of the label since its inception. "Other than maybe Wishingwell, there were no record labels at the time showing this utter dedication to the second—or whatever number you wanna put on it—wave of straight edge. And since Wishingwell kinda spun out of control after the release of Break Down the Walls, it left Rev as the only label on the block. They cribbed some notes from the WW marketing scheme by making T-shirts and making that a big part of their package. They really were selling a lifestyle in a way. Wear the shirt! Listen to the records! Belong!"
As the decade turned, several of Revelation's artists started to see their runs winding down. Three years in hardcore was typical, five years was epic, and anything more was almost longer than the genre itself, so you break up or form something new. For some of Rev's original bands, new translated into actual innovation, creating new genres and factions, loosely lumped into "post-hardcore." For the label, it was also a transitional time, as Cappo had broken up Youth of Today for seemingly the last time to pursue his Hare Krishna faith, later forming Shelter and Equal Vision Records as vehicle for the message. Cooper moved the operation to Huntington Beach, California, where they still maintain operations and ultimately grew into a business, including a distribution network. Most importantly, the new setting and Cappo's departure became a catalyst for one of Revelation's most successful periods.
"Not too long after Ray left the label, it did start to branch out to people and bands that were outside the initial circle," Cooper says. "I just personally wanted a change in my life, and leaving New Haven seemed to be what I needed. I visited Huntington Beach, CA, with Porcell and a few of his friends and had a great time. A few months later, I decided to move here. Revelation had been in a few different locations while in New Haven but there was usually an 'office' and a 'warehouse' even if the office was a bedroom and the warehouse was a living room or basement or attic. In Huntington Beach, that setup continued and the first place Rev was located was a house that had a garage, so that served as the warehouse for the first year."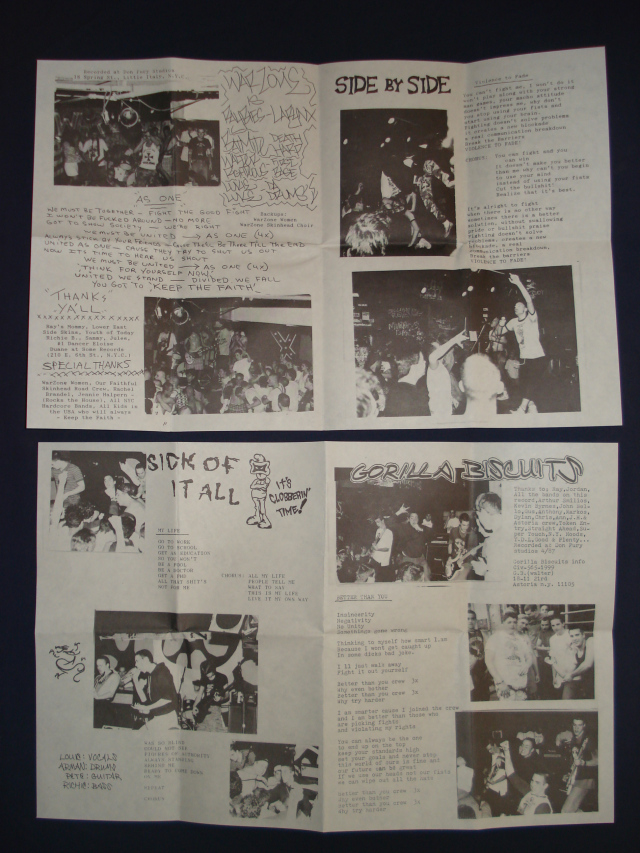 Inserts from Rev's second release, a 7″ compilation called "Together." Photo: seekingthesimple.wordpress.com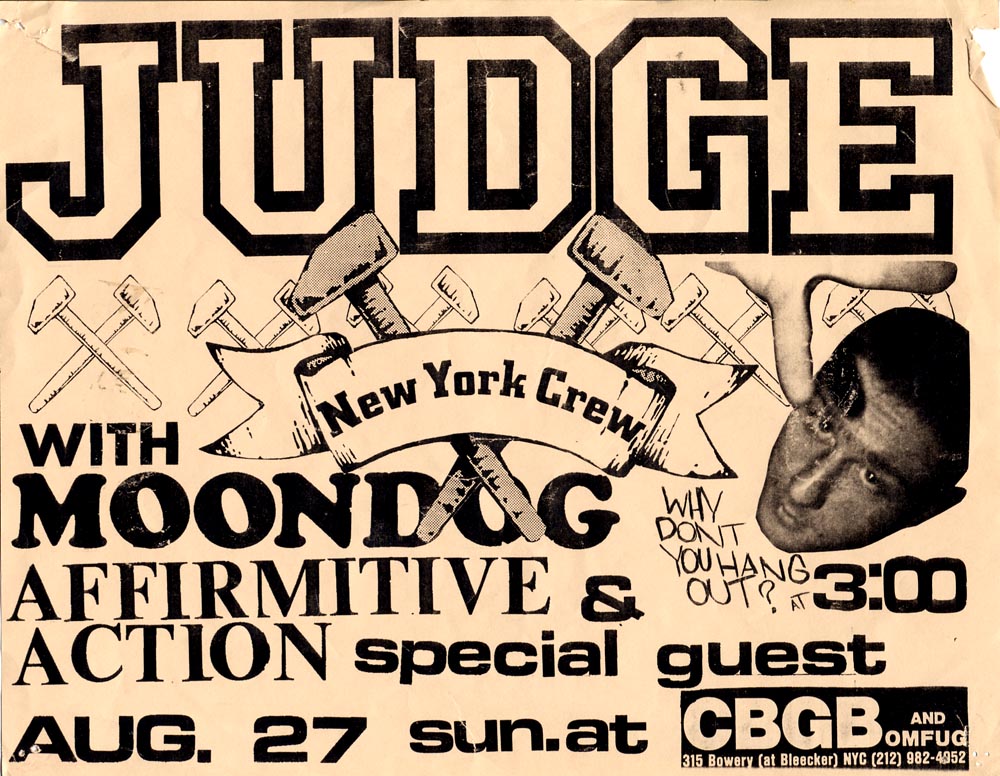 Flyer for a Judge show from August 27, 1989. Photo courtesy of author.
Starting in 1990, the label released a flurry of EPs and LPs that filled in the voids and spaces that Merge, Matador, or even Sub Pop weren't catering too, with both post-hardcore records and modern hardcore, simultaneously. In a few short years, the bands on the roster that remained active, most notably Judge and Gorilla Biscuits, had become headlining acts. Gorilla Biscuits specifically were a bit of a breakout for Revelation. "There are certain bands that have a kind of excitement about them that is hard to really put into words," he says. "GB is one of those bands."
"Much like Dischord, [Revelation] 'grew' with their audience." -Tony Rettman
Their highly anticipated LP Start Today, with its melody-laced punch crossed over into broader audiences, was not only the label's first new release to come out on compact disc—which featured a full 99 track, maximum capacity tracklisting filled with demos, and random recordings—but remains one of the most popular in the catalog. It also almost never happened.
"We were working on the 7" and Duane from Some Records and Dylan (Walter from Gorilla Biscuits' brother) decided that they wanted to start a label and thought they should put out the GB 7", he says. "Dylan called me and asked if I minded if they put it out instead of us and I said, 'Sure, no problem.'" Once Ray heard about that, he was incredulous and called Walter and made sure we were going to do the record."
Shelter, Quicksand, Inside Out, Judge, Supertouch, Burn, Into Another, and Farside were shared a lineage, but were exploring diverse territory, each carving out new spaces. In the case of Farside, they were one of the earliest examples of a band that was much more rooted in pop punk to crossover to hardcore audiences in a way that Samiam, the Doughboys, or even Dag Nasty hadn't. To be more nuanced, they created a subgenre that would prove to be fertile ground for Lifetime, the Bouncing Souls, and later Saves the Day, ultimately becoming the new identity of pop punk. Starting on Rev's sister label Crisis, being on Rev proper meant that fans would hear their LP, if not for any reason but to judge it, something that no hardcore label done before. Rochambeau quietly united coasts and scenes. Quicksand mixed the tight, battery of Helmet with hip-hop cadence, shoegaze, and early Seattle grunge; Into Another became the best unsigned progressive metal band in the world; while Shelter continued to charismatically convince kids to consider becoming Hare Krishnas to a Fugazi-esque tenor; simultaneously, Burn, Supertouch, and Inside Out bent the edges of traditional hardcore, while keeping its skeleton intact.
"Much like Dischord, they 'grew' with their audience, and when the '90s hit, they were releasing bands that contained members of the previous bands that were on the label, but they were not playing tunes to mosh around your bedroom to anymore," Rettman says. "Into Another and Texas Is The Reason seemed like the logical sonic next step for many... just not me."
Revelation achieved acclaim by being present and supporting the ideas of their network. When underground music became a quest for the next Cobain, Rev was an incubator, with Quicksand, Into Another, Orange 9mm, CIV, Sense Field, and Shades Apart all securing major label contracts. And when a third, fourth, or whatever wind of hardcore came back in the mid-'90s, Revelation Records was there to release it, alongside the new noise happening around them—to this day, they continue to do so. In the 2000s, when hardcore suddenly became "OK" for labels too "mature" to release it initially, Revelation was still sticking to their playbook, releasing new bands (hardcore and non-), as well as keeping old titles in print, curating expansive reissues, while maintaining a massive distribution network for outside labels, albeit with a small respite from pressing vinyl. 30 years later, they're still putting out vital music, but more importantly, they're maintaining a legacy that's ripe to be discovered by new audiences ready to get tangled in their family tree.