Two months ago, I made a list of the most essential Young Thug songs to listen to—for fans and for those on the fence. What many people didn't know, however, is that the list was originally much longer than the 15 that were published. Because of the love, and the arguments, that the list spawned—I've decided to list 15 more songs (16-30 if you're keeping count) from the eclectic rapper that you must listen to. As the list grows, the songs are getting more underground, delving deeper into his deep cuts, and deeper mixtape cuts—so don't be surprised if he sounds a little less polished or more erratic. That's the beauty of discovering something new, especially with Thug—there is a clear, marked, difference between his sound in 2012 to 2016. Hopefully, it's still enjoyable all the same. Take a look at the list below, and tell us how you think it stacks up to the first 15!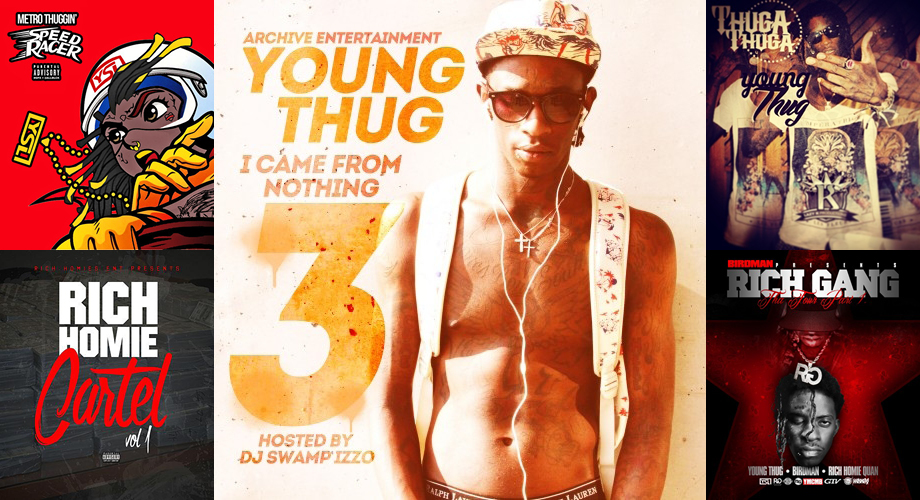 One of the few collaborations with his former BFF Rich Homie Quan, "Freestyle" stands out as one of their best collaborations ever. Rich Homie leads off the song with an incredible verse, while Thug takes the secondary slot, weaving in and out of his verse. The two have an incredible musical chemistry, it's just a shame they broke up before being able to explore it more.
Inexplicably released by his label, 300 Entertainment, hours after Thug was arrested in summer 2015, "Pacifier" was supposed to be the first single from his as-yet-unreleased debut album Hy!£UN35. Going for more of an Andre 3000/B.O.B. sound than his usual work, Mike WiLL laced Thug with a spastic, guitar lead beat that screamed crossover. Of course, Thug doesn't always follow those rules—crafting "Pacifier" as an ode to drugs, pacifying his anger (at the cops, at old rappers trying to hate on his shine). Major points go to the Jamaican influence here, too.
This was the song that set off the infatuation of Thug's music for me. Besides the obvious, fucking amazing, chorus—he's trying some truly incredible things lyrically on "2 Cups Stuffed." I mean, starting the song off by spelling "Lean," is one thing, but consistently delivering every bar in an alternating cadence is the type of daring stuff that defines Young Thug. Even early in his career, songs like "2 Cups" were proof that he was going to quickly shed the "Lil Wayne Jr." image.
This song is on the list because it's not only wonderful to listen to—but because I'm still trying to find out what the hell he's saying, here. Can anyone figure it out?
The lead song from Slime Season 3, "With Them" is the type of song that Young Thug can make in his sleep—a straight up summer anthem. Try hearing the "I wanna fuck her/but she play more games than the NBA" line without chuckling, or even trying to recreated his signature yelps during the chorus. "With Them" is Thug beating other rappers at their own game, with a delightfully breezy and easy to listen to radio single.
Young Thug partnering with his artist, Duke, is one of the most enjoyable pairings in music right now—a fact that's proven with "For My People." Thug leads off on the first verse before going back and forth (à la Styles P and Jadakiss) with Duke on the second verse. The Wheezy produced song is a light romp, with its island-esque sounds, but the ever present threats of violence bring it right back to the nihilistic world that Thug and Duke are from.
The trifecta of Young Thug, Peewee Longway, and Gucci Mane was actually a thing at one point in 2012-2013, and the intro track to Gucci's Lean project stands out as one of their best. The song itself is subdued, at least until Thugger delivers his chaotic and unflinching finishing verse.
Young Thug makes some of the most romantic songs about women today. I stand by this, and songs like "Love Me Forever" are my proof. The way he raps about women is much more than the usual objectification that we're used to in rap music, instead begging the woman (or women) of his dreams to accept and join him in his crazy life. It sounds like Thug actually LOVES being in love. And that's pretty awesome.
Of all of his anthems, and there are many, "730" (which should have really been a single) manages to please people who love to turn up and those who are looking for razor sharp lyricism. The song is laden with so many coded street references that it'd make Cam'ron blush (and I'll let you figure those out yourself), but the real joy of the song is being able to scream 730 at the top of your lungs.
Another song that really should have been a single, fan favorite song "Power," is a strong entry from the first Slime Season mixtape. Thug mixes a bridge that's worthy enough to be a nursery rhyme ("First you get the money then you get the power..."), with an unforgettable, Diggy Simmons slighting second verse.
"Florida Water" is one of the standouts from Bloody Jay and Young Thug's critically acclaimed Black Portland mixtape. As a drugged out ballad between two rappers, you'd be hard pressed to find a more romantic song, ever.
"Numbers" is one of the strongest songs from Barter 6, landing right near the end of the strangely introspective half of the album. London's epic piano bridge gives way to one of Thug's most inspired choruses ever—it's an ode to Atlanta, and a warning to never fuck around with him or his crew.
One of his earliest singles, "Who's On Top" is a true relic of Atlanta (and Thug's) ever evolving musical style. Even if he is a little more reminiscent of the Rockstar, "Black Boy/White Boy" era of Atlanta rap, he's still as sharp as ever on the chorus here.
Yet another casualty from the (still unreleasaed) Metro Thuggin album, "Speed Racer" is a devilishly good team up between Thug and Metro Boomin. Yelping over Metro's church-like organs, Thug raps about his lavish cars and even finds time to correct "Converse" to "Bonverse" in the same verse.
"2 Bitches" (Formerly known as "Danny Glover") is probably the song that got many people into Young Thug in 2014. It may be surprising, or maddening, to see it lower on the list–but that's a testament to just how much better he's gotten in the past three years. Still, this crowd favorite is the epitome of what makes Thug great—witty non sequiturs about threesomes and drug use over a beat that would make John Carpenter jealous. It's an essential Thug song that hits all of the right notes.
***