In a world filled with overpriced salads that wouldn't satisfy a turtle, and people giving their phones the first bite, a little privately owned pizza place out in Rosemead, California is making food so damn good, you actually won't have time to take a picture before you're days into a blissful food coma. I'm talking about the food you'd find in Willy Wonka if he owned a pizzeria. And were real. Imagine a french fry/pizza hybrid, burgers with patties made from spaghetti meatballs, actual chili spaghetti, or a pastrami pizza with mustard and pickles and all.
Stationed in an unsuspecting suburban shopping center surrounded by faceless chains and, ironically, a gym, Rose City Pizza has already made itself a staple. Cleverly expanding their menu to include items beyond just pizza, reaching out to local artists for intimate art shows, creating monthly events, and supporting nearby breweries have ensured this budding restaurant's longevity. I sat down with the founder of the joint, Brian Nittayo, to see the process of opening such a unique establishment, how he's created a self-sustaining community for the nearly 6-year-old Rose City Pizza, thrown a Street Fighter tournament, and made a 10 pound burger made of meatball that's so big that they used a normal-sized burger as a garnish. All while secretly waging a war against the best food coma I've ever had to fight off.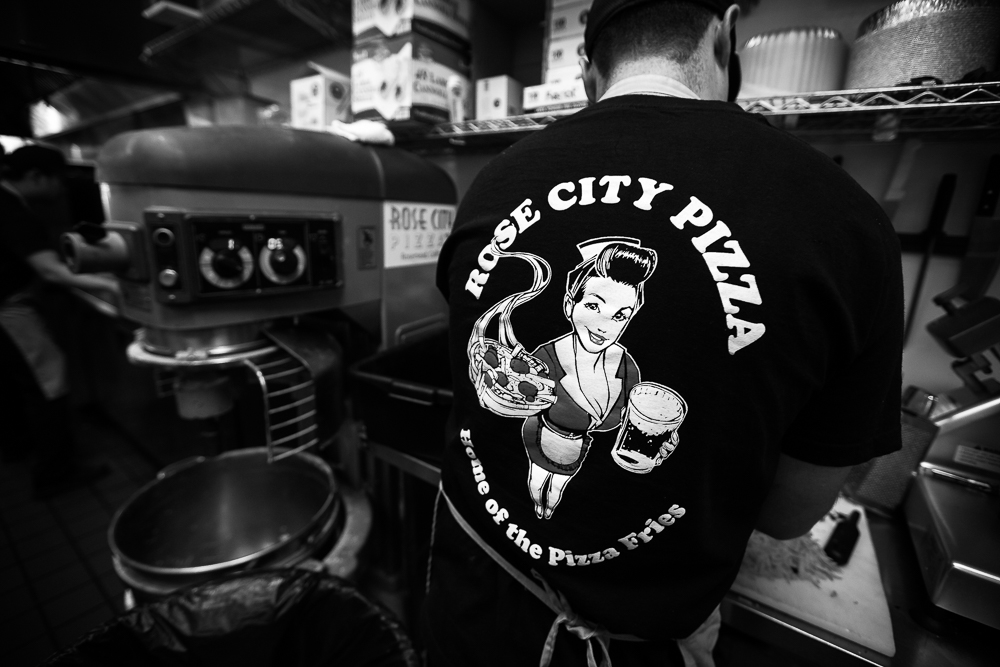 TODD KNAAK: Let's start at the beginning.
BRIAN NITTAYO: So two months before this place was open, [my partner] backed out. I was like, "What am I going to do?" So I went to the – I don't know if you guys have heard of it, but there's this big pizza expo in Las Vegas every year. Every pizzeria from around the country just goes there to learn new things about pizzas and stuff like that. So I went to go check it out and this guy, Tony Gemignani, was starting a pizza school. So I was one of his first students.
So I moved up to San Francisco – North Beach – and worked with him for a little while.
Where were you before that?
I've always been in the San Gabriel valley. I went over there to learn and, believe it or not, I'm registered in Italy. It's pretty legit. I learned on wood burning ovens and stuff like that because he teaches at La Scuola Italiano, a pizza university. It's a really important thing in Italy, to be a pizza maker. It's kind of like being a doctor or a lawyer; you're up there. So they take it real seriously.
I had to go through certain procedures and methods that I was tested on to be certified. It was cool. My diplomas are hanging there so it's pretty cool…
But for this concept, we use natural gas burning ovens because I wanted to do it New York-style. And we get a lot of foot traffic around here, there's a lot of businesses so I was thinking people would want a quick slice instead of waiting around for a little pizza.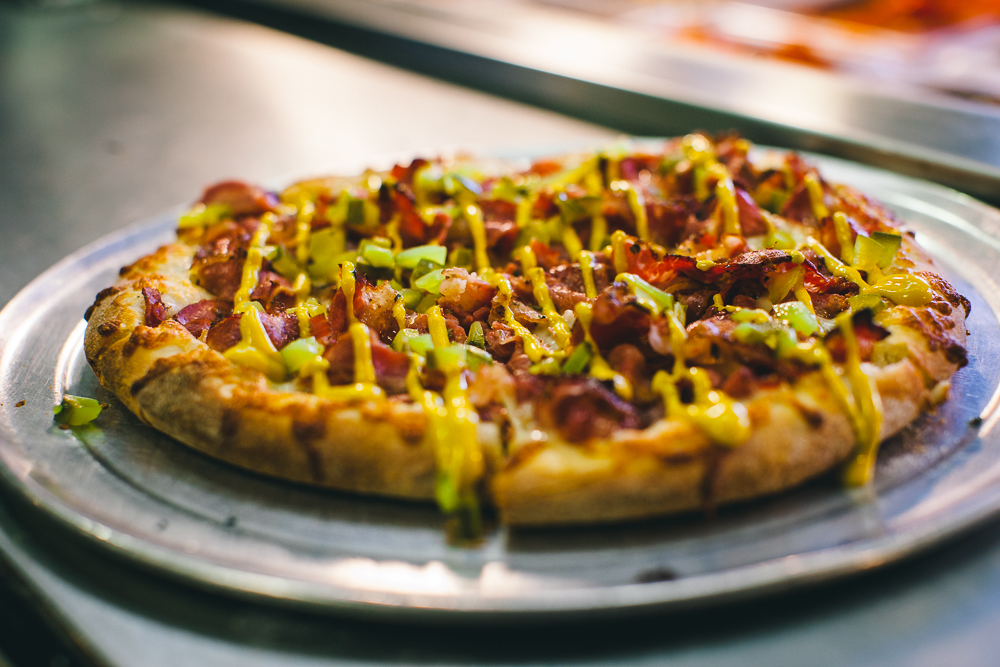 Pastrami pizza.
Yeah, this is great location, it has everything – you got coffee, I think there's a gym nearby.
It's a bunch of chains and I'm the independent guy here. It was kind of a struggle because people were like, "What's Rose City? I don't know if I'm going to go in because I've never heard of it." The first three years were kind of rough. But then, once you get to know your customers and you get involved with the community, people will come and try your stuff.
What was the turning point? How did you get involved with the community?
Pretty much just sitting with my customers and making friends. I started making friends with the local skaters around here, the local artists around here, breweries started popping up like Progress and Ohana. We started carrying their beer – we all started cross promoting each other and that's how it picked up.
We were a slice house for a while. This whole table was slices, all kinds of slices. But people over here are kind of weird about slices, they're like, "How long has that been out there?" But we cook it 80% and pop it in the oven to finish the other 20, so you're getting a fresh slice no matter what. People were still kind of weird about it.
That took three years to really catch on?
Yeah – me sitting down with my customers and getting to know them, that kind of built a little following.
At first, I tried to keep it traditional New York, then I did this – the whole Pieology concept was catching on here in Southern California. Now, I'm having more fun with my food because I make pizza fries, buffalo tots – stuff that's innovative. Because I eat here every day and I'm tired of eating the same old thing. That's how we came up with the burgers too because there wasn't a The Habit here, there was no place to get a burger. So we started smashing our meatballs, our 8 oz. meatballs into burger patties. It's different, right? The patty is different, it has bread crumbs and seasonings.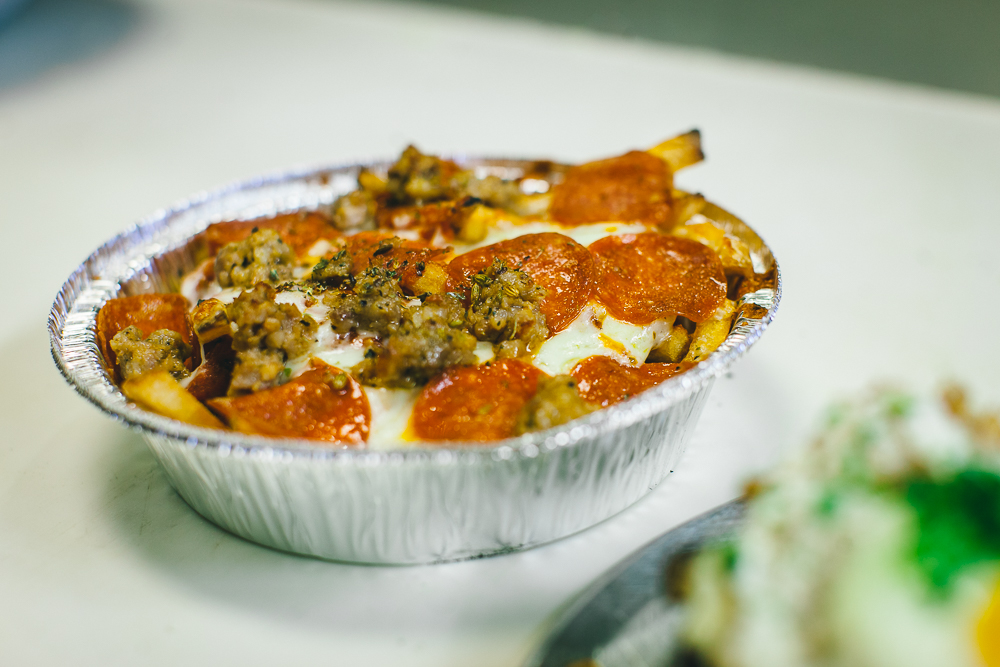 Pizza fries.
So it just naturally evolved?
Yeah, it just naturally evolved. We make our wings, we brine them, we bread them, and we fry them with our own seasonings and stuff like that. We make our own sauce – wing sauce. So I was like, "Let's sauté it on the pan, reduce it, make it gravy, and put it over tots." That's how we do that too.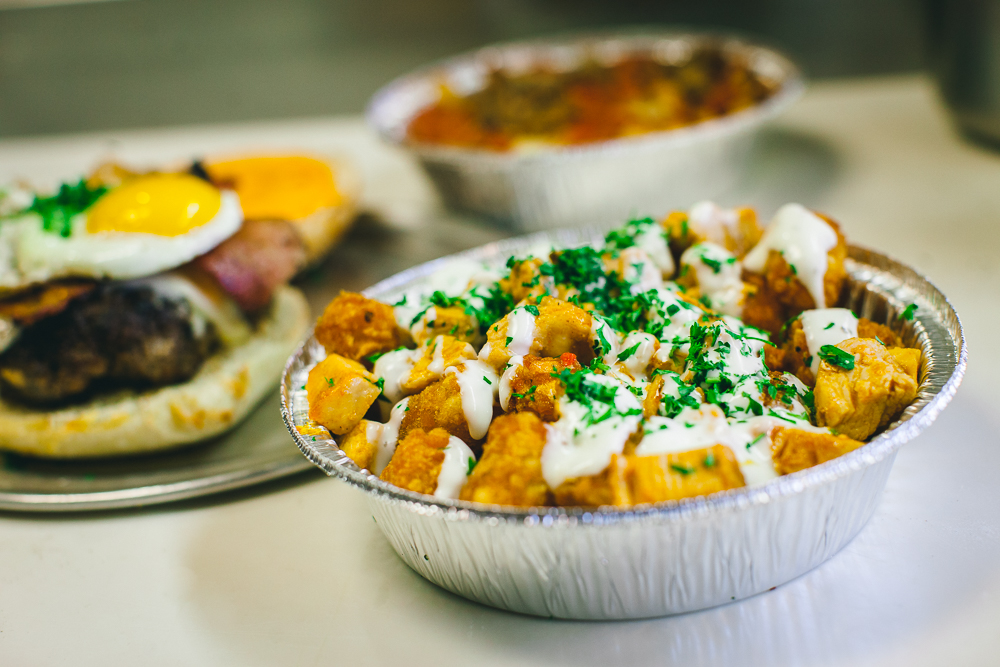 Whether it's the art or just the whole atmosphere, this place doesn't feel like you did it for a quick dollar. It feels like there's passion behind it – you built the place that you want to eat at.
I pretty much live here, so I want to work at a place I want to be at.
How did your connection with art start?
Well, you know Atlas? The street artist? He's a good friend of ours. But this whole wall was covered with his art, but now he only has a little section here. It was all cats for almost a whole year. He's known for his signature cats, so there were all these different kinds of cats. And for a whole year, everybody came over and was like, "Whoa, that's so cool. I see his stuff in LA."
He was a really good friend of ours, but then he got accepted into a gallery in LA so he took all his stuff off and it was barren! Just bare walls! I was like, "What am I going to do?"
So I started reaching out to these artists on Instagram and online like, "Hey, do you want to be part of an art show?" Our first art show was "Street Fighter." So we had a big "Street Fighter" tournament, I rolled in my big TV, we split it to that TV, so people were playing all day; crazy tournament. Then it was paired with street fighter artwork.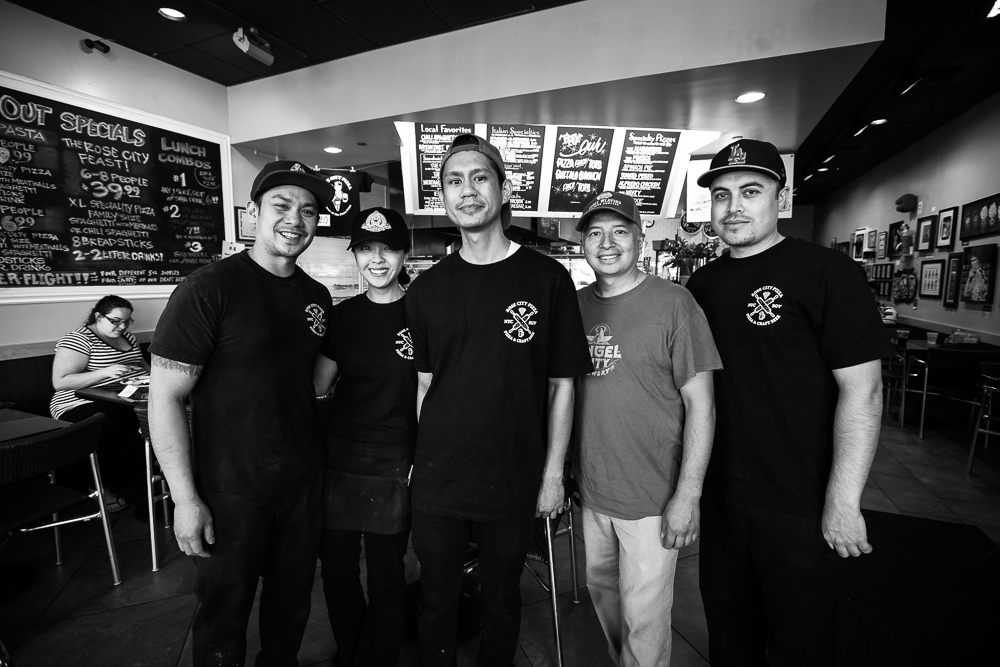 Was there a single moment where you were like, "Hey, I should expand."
It took a while, it took like three years. It was just solely pizza spaghetti and meatballs.
If you can remember, what was your first experimentation that was really a hit?
The burgers. We even made a ten pound burger. We were doing those for a little while, but those took about 45 minutes to bake in the oven.
How big is that? Was it the size of a medium pizza?
I think it's on my Instagram. We served the burger in slices and we used the burger that I gave you as a garnish so you could tell how big the actual burger was. But that really caught on and I did a lot of parties that way, but when we started getting busier, it was a challenge to do everything else and still watch a ten-pound burger in the oven. Because we'd sear it on both sides with a pizza paddle and then we'd finish it in the oven. That was serious.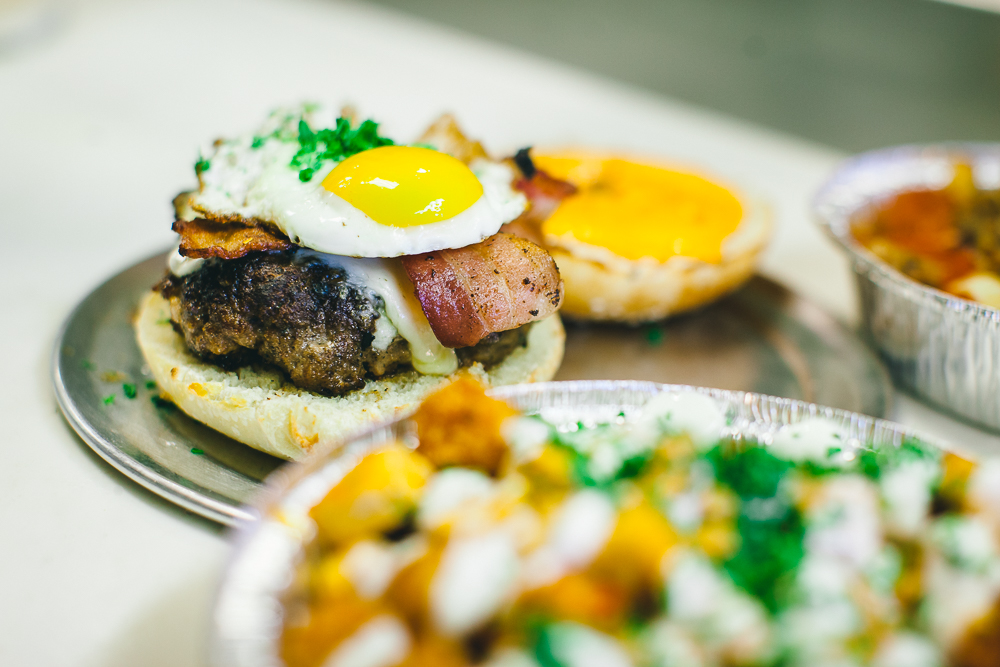 The burger above was literally used as a "garnish" for the 10-pound-burger, if that gives you an idea of how large the big one is.
Do you have any future plans? You were mentioning earlier that you might want to add even more to the menu.
Try to move to a bigger place, that'd be nice. Still around here, but we'll see what happens. But in the meantime, we'll be making new creations. We just made curry fries, we've been playing around with curry. It's fun, we just play around with different ideas. We made chicken pot fries – so I made the gravy that goes into chicken potpies and put it over fries.
Do you guys compete and try new things? Do you offer advice to one another like, "Oh, try this."
Yeah, or sometimes we listen to our customers. We made – we call them Emoji tots, but they're animal style tots. For the longest time, I was afraid of getting sued by In-N-Out… so when I posted it, it would just be a bunch of those Emoji animals "tots."
::