Graffiti artists in the MSK crew REVOK, REYES, and STEEL are suing Italian fashion label Roberto Cavalli over artwork that they are claiming was "mechanically" copied. Cavalli's camp responded earlier today, claiming that the allegations are false. Below, writer Alec Banks explores the details of the case with exclusive comments from Revok and Reyes's legal advisor Jeff Gluck, who shares some insider information about the case's details.
While the idiom "good artists copy, great artists steal" is up for debate as to who specifically worded it in that way, there's no denying the fact that artists throughout time have agreed with the principle. William Faulkner said, "Immature artists copy, great artists steal." T.S. Eliot said, "The immature poet imitates; the mature poet plagiarizes." Even the late great Steve Jobs pointed to the quote that many attribute to Pablo Picasso in an article in the 1988 Sydney Morning Herald newspaper when he said, "Good artists copy. Great artists steal." Despite the fact that words like "steal" and "plagiarize" are quite definitive in their interpretation, it's the assumption that it's associated with the notion of being inspired by work that has either come before or exists during a timeframe when new art is being born. Yet, titans in the graffiti world and a luxury apparel brand are currently in the initial stages of litigation where lawyers have been tasked with creating an "unbuffable" judgment . According to The Hollywood Reporter, MSK artists REVOK, REYES, and STEEL are suing Italian designer/label Roberto Cavalli for "copyright infringement and violations of the Lanham Act" based on the use of imagery for a graffiti-inspired line that they allege was stolen from a mural the trio did in San Francisco located on Mission between Ninth and 10th. This joins other recent instances of graffiti being misappropriated including Terry Gilliam's usage of artists JAZ, EVER and OTHER's mural, Castillo, in Buenos Aires for his new film The Zero Theorem, and Alex Scaner's tag being used in the opening credits of Canadian drama 30 Vies. While it remains to be seen how this play's out, it's become the court's job to decipher what is considered an homage versus what is a blatant rip-off.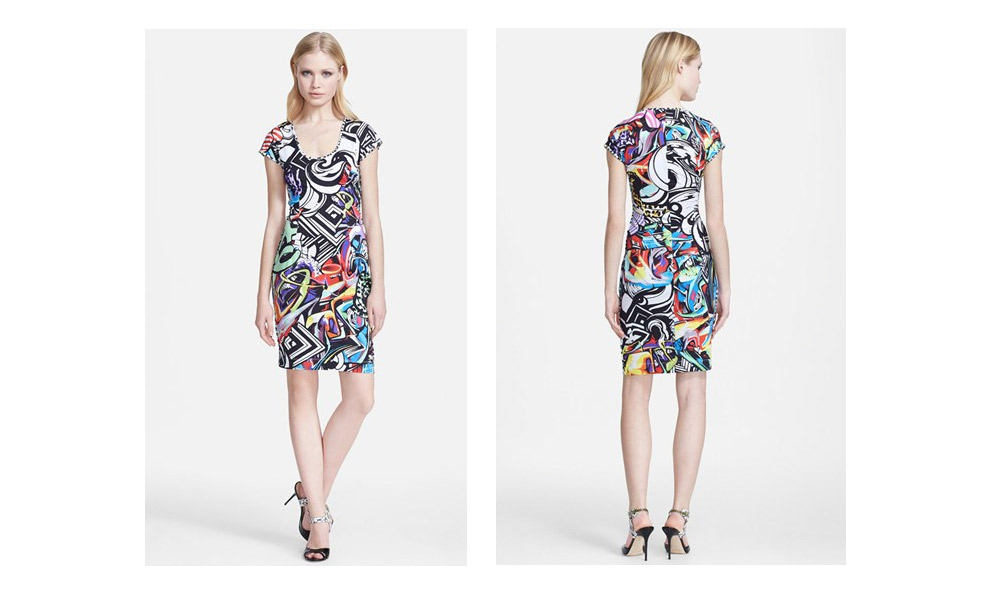 "It seems like some luxury brands think that their usage of imagery that has been deemed "street art" is a license to use that lawless attitude associated with the medium as a means to capitalize on affluent individuals looking to stand out at wine and cheese parties." -Alec Banks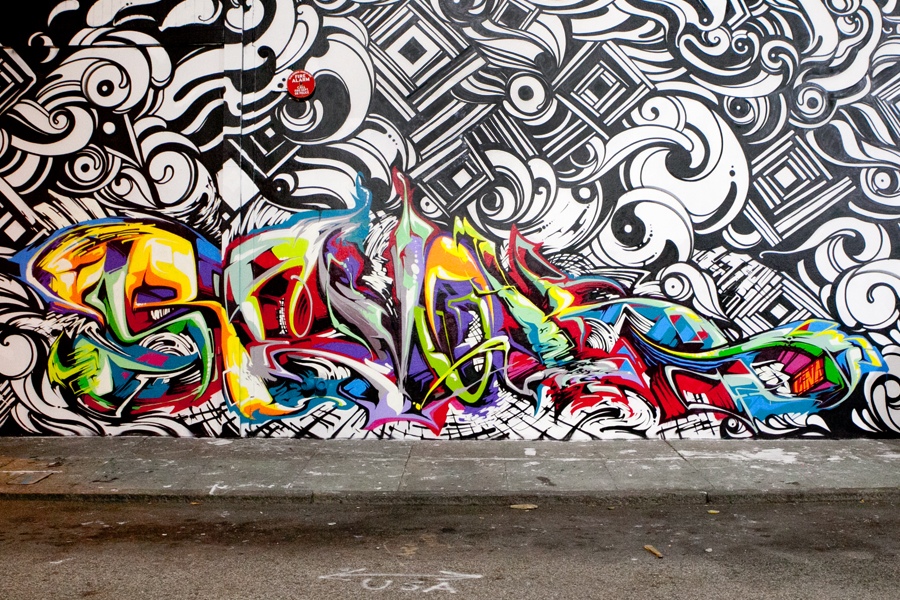 MSK in its own right has earned ample credibility to be considered for collaborations with high-fashion brands. RETNA's artwork was used on a line of scarves for Louis Vuitton alongside other artists Aiko and Os Gemeos. There's a precedent that has been set, but it seems like some luxury brands think that their usage of imagery that has been deemed "street art" is a license to use that lawless attitude associated with the medium as a means to capitalize on affluent individuals looking to stand out at wine and cheese parties. The slope becomes extra slippery because streetwear is a sector of the sartorial industry where parody and collaboration plays an integral role in marrying worlds and fans that might otherwise not know one another existed. Graffiti isn't the Old Country Buffet of art, but everyone from luxury brands to TV shows looking for "street scenes" swoop in and spoon dabs of paint on their plate as if thinking of paying for the right to eat doesn't come at the cost of someone else's belly rumbling.
In February of 2014, Roberto Cavalli was quoted accusing American designer Michael Kors of copying—describing the alleged practice as "scandalous" and "not fair." Further cementing his hatred was the definitive statement in Miami's Haute Living magazine, "Mr Michael Kors, he copies everything!" One would think a person like Roberto Cavalli would tread lightly when it comes to imitation given such an emblazoned stance—but he's involved in a secondary copyright lawsuit with the MTO School of Sufism for using a "Sacred Emblem in advertising campaigns in which the symbol appears to have been tattooed onto unclothed models."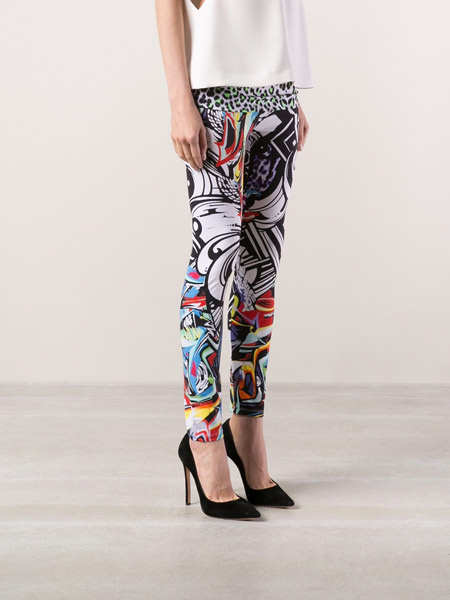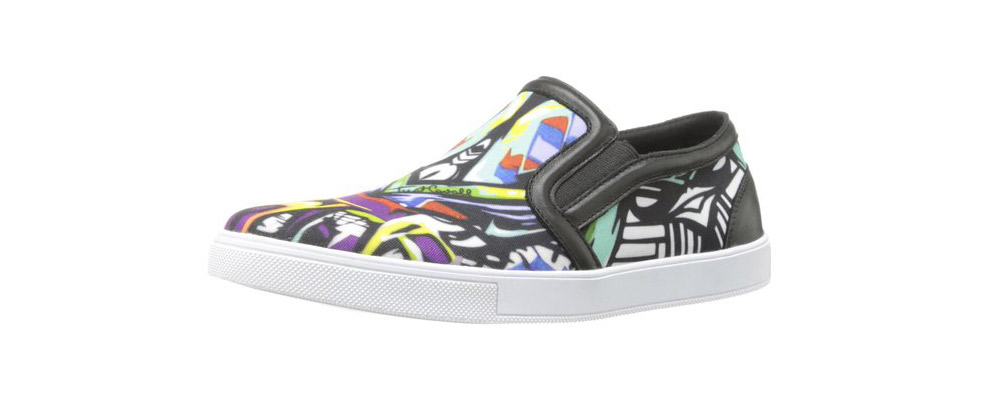 At the heart of the lawsuit is Cavalli's Just Cavalli collection which is undoubtedly an homage to graffiti culture, even if one isn't familiar with the mural it was allegedly pilfered from in San Francisco's Mission District. Attorney for the plaintiffs, David Erickson—who represented Danish brand Libertine in the past—has said, "The images speak for themselves. There's no question that the images are mechanical copies of my clients' art. It's inexplicable." Jeff Gluck, an independent attorney and advisor to the artists—who has worked with other artists/brands in the past like Curtis Kulig, SSUR, DRX, Clot and Wes Lang—stated that one of the immediate goals was to have the brand cease production. "We reached out as soon as Jason [REVOK] and Vic [REYES] saw it," said Gluck. "We kept waiting for answers, but they said they were on vacation for the month and didn't have time to talk to us. At that point, I think the guys realized, 'Hey, we really have to do this to protect our rights as artists. It feels like these guys are treating us like we don't even exist.'"
One of the main points of contention is that this unauthorized collaboration of sorts does "damage to their reputations and credibility in the art world" because when and even if an artist chooses a commercial avenue for their work, it can often impact the way their tangible pieces of art in a gallery setting can be received. As the suit alleges, "Plaintiffs do not make their art available on the internet or in retail stores, and like their target audience, they eschew any connection to commercial consumerism. Rather they sell original art pieces (for prices in the range of $50,000) and limited edition prints." As Mr. Gluck contends, "Brands and mainstream corporations are trying to align themselves with street culture to give themselves a false sense of credibility for their own brands. They definitely understand the value because they frequently attempt to position their brand in that world themselves." There's no doubt there has been an attempt to use hip-hop culture as a means to make a brand or company feel young and hip. Obviously creatives see major dollar signs in tapping into the phenomenon, because Cavalli's normal business model in the past has included being the brand/dress of choice for actresses Taraji P. Henson and Jennifer Hudson at the 85th Academy Awards as well as for Sofia Vergara at the recently-aired Emmy Awards. No one would ever use the word "street" to define the brand. But here they are: unable to restrain themselves from trying to capitalize on something that has never been their sartorial sweet spot.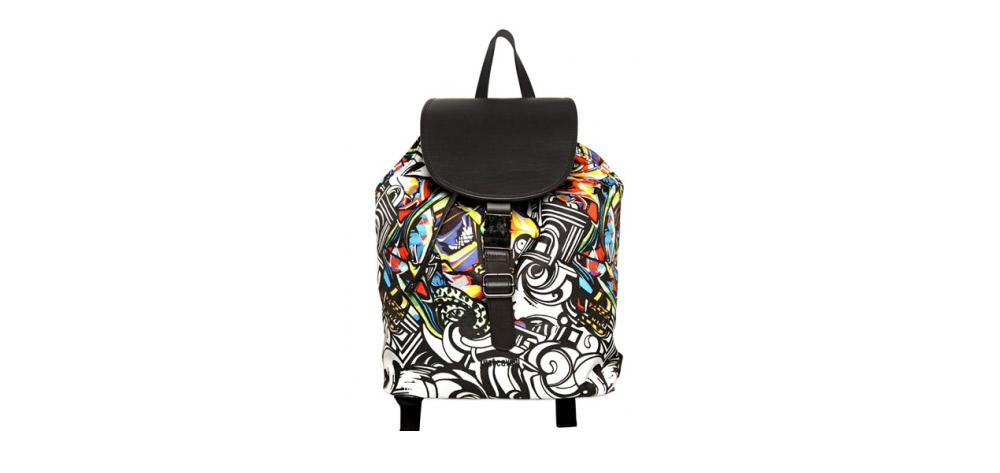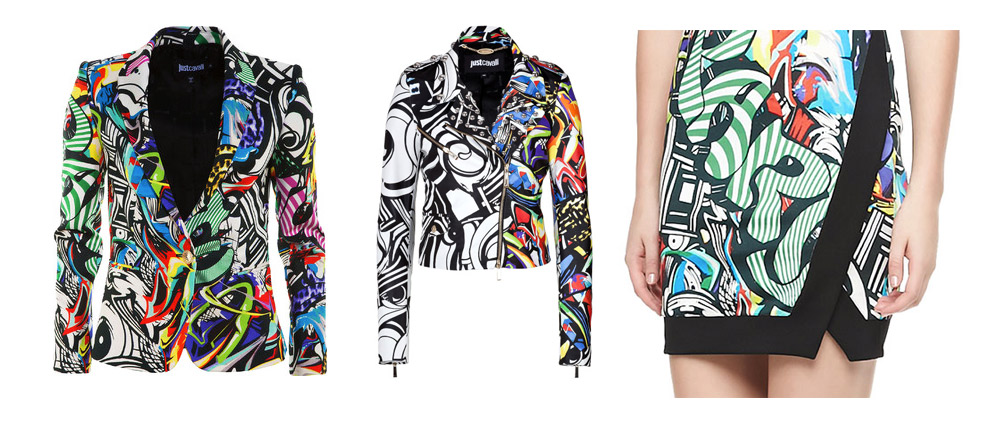 Representatives for Roberto Cavalli have bitten back in speaking to NY Magazine's The Cut, saying, "We have heard of some highly inflammatory allegations, which have no basis in fact and are incorrect; we intend to contest and defend against these allegations vigorously. In order to avoid the time and expense of unnecessary litigation, we also intend to communicate with the artists' attorneys to discuss a mutually agreeable resolution of the issues."
While it's unclear at the moment as to how this legal battle will play out, Gluck remains confident, and ardent in his belief that artists should understand that the judicial system is in place to protect them and their work. "I'm not in a position to make any predictions, I always just have faith in the legal process and I believe that the system in place is there to protect people in situations like this," says Gluck. "Sometimes an artist or client will come to me and something like this will have happened to them and they don't really realize that they are protected and that it's not okay and that they shouldn't allow this to happen. Sometimes they let years go by before they do anything. We're hoping to inspire artists to speak up."