This past Saturday in Downtown Los Angeles, esteemed UK street artist D*Face premiered his new solo show "Happy Never Ending" at Corey Helford Gallery. As an artist at the forefront of the emerging street art movement in the mid-2000s alongside the likes of Banksy and Shepard Fairey (who made an appearance on Saturday), D*Face aka Dean Stockton has always done things his own way. His work centers around themes of consumption and currency, with influences from propaganda, advertising, comics, graffiti, and skate graphics. But this show was about love and love lost. D*Face even performed a real marriage ceremony on opening night in front of a chapel installation inside the gallery.
You can read more about the artist's trajectory starting as a kid in England obsessed with California culture and skateboarding in our 2014 interview. Learn more about his philosophy behind this show in our recent interview about "Happy Never Ending." Our own collaborative The Hundreds by D*Face shirt was for sale at the show, and now exclusively available in our Online Shop.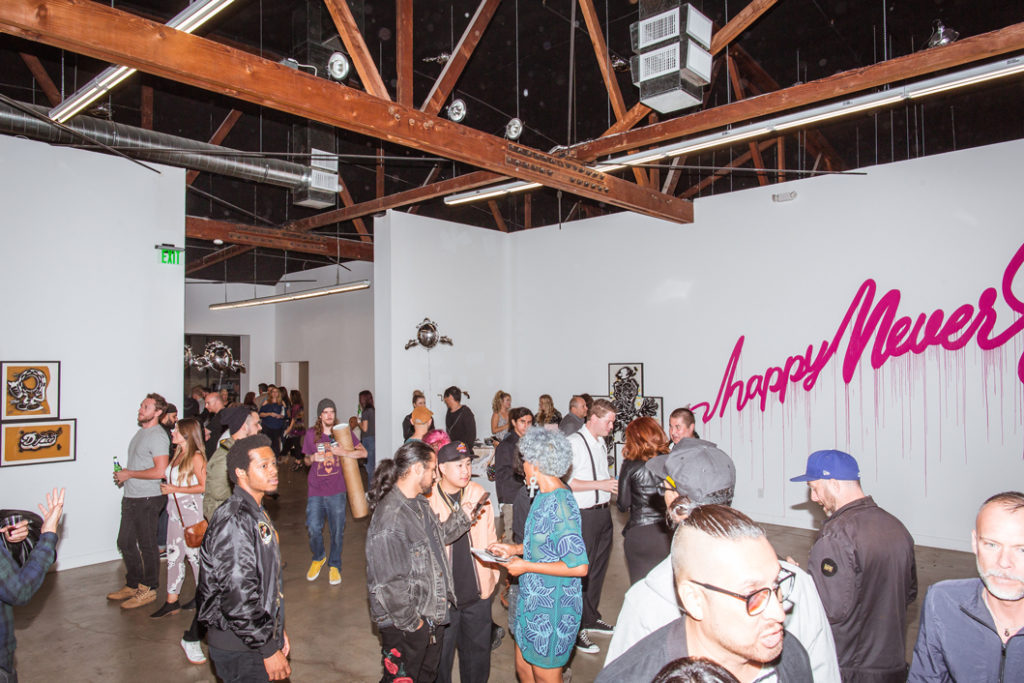 D*Face's words on the show: "For me, this work is about the tragedy of losing someone you love. Not just in the physical sense of death but also in the metaphorical way that romance has become such an artificial thing in recent years. Courtship used to be a craft, something careful and considered; marriage was an everlasting bond of trust and commitment. Today though, romance is comparable to a shop bought commodity—instantly attainable at the touch of a button or swipe of a screen. In a constant search for someone or something better, people treat others as if they were mere objects – infinitely attainable and instantly disposable."
All photos by Paolo Fortades!