While some rappers are content with leaving the beat-making to others, there've been many notable emcees who excel at production. Producing your own music lets you to express your vision in all aspects of the song. Whether you're trying to capture a mood, vibe, struggle, or triumph, crafting the instrumental gives you creative autonomy over the whole track instead of just its lyrical content. Through this, hip-hop artists have been able to carve out their own niche and DOOM has been cultivating his for almost twenty years now. If you want to gain an understanding of DOOM's production style—and its diversity—start putting his Special Herbs series in rotation. His voracious appetite for content and culture, whether it's classical orchestras or anime, keeps his sonic influences rotating. It's been over a decade since the last installment of Special Herbs, but these beats haven't lost a bit of flavor.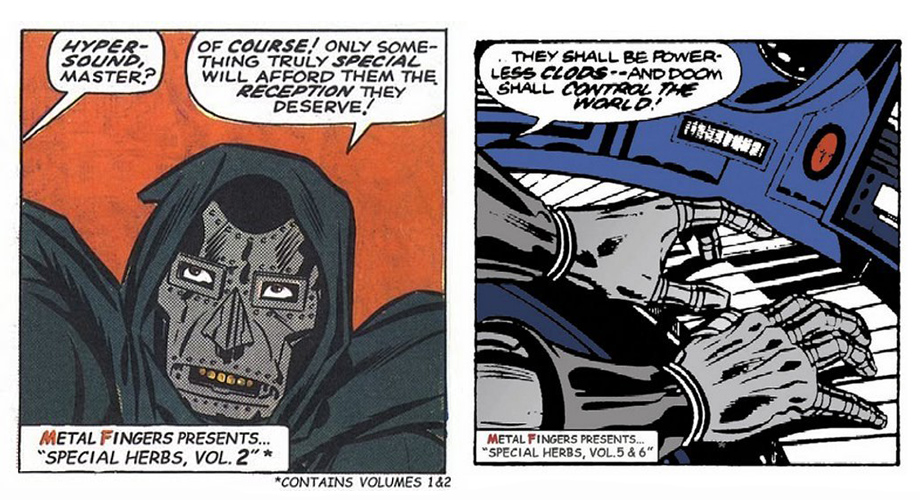 Original cover art for Volumes 1&2 and 5&6
Released between 2001 and 2005, the ten volumes of Special Herbs feature instrumentals produced under DOOM's Metal Fingers moniker. He gets creative with his naming for this project, since most tracks are named after an herb or plant. While some of them are exclusive, most are the foundation for songs by DOOM or other artists. The series clocks in at well over six hours of listening, so to help you get your feet wet—and give you more dope DOOM content—I listened to all the volumes and picked out some of the highlights. (The FDA recommends playing this with your favorite herbs).
"Monosodium Glutamate" Volume 1
"Sacrifice if you care..." That's the message of the 1981 single produced by Quincy Jones that DOOM uses to construct "Monosodium Glutamate"—an instrumental version of "Rhymes Like Dimes" off Operation: Doomsday. Monosodium Glutamate (MSG) is a common flavor enhancer used to add a "savory" taste to foods, especially of the Asian variety. It's one of the few songs in the series that isn't named for an herb, and that should stick out to the listener. While plenty of his tracks are named for purely natural flavor enhancers, this name suggests human interference. Perhaps that speaks to the content of his sample source—a song claiming that relationships require conscious effort. DOOM could be aligning himself with that message, or he might be suggesting that adding too much "unnatural flavor" to a relationship can have the same effect as consuming too much MSG. Either way, we get to bob along with his jazzy production, so don't worry about it too much.
"Mullein" Volume 2
Again, DOOM picks apart anime to find elements that transmit emotions to us. For "Mullein," he draws from a popular show about collecting spherical objects of power (can you guess what it is?). The strings he pulls create perhaps his creepiest instrumental in the Special Herbs series, which doubles as an instrumental version of "Live Wirez" by Gigan, off the X-Ray Monster Mixes 1 compilation. Listening to this one late at night makes me feel like there's a presence in the room, with every shadow movement and normal sound having me frantically looking over my shoulder. His drums seem to have more reverb on this instrumental, which makes them sound deeper and adds an ominous tone to the beat. He switches up towards the end and pulls back to strings to play around with a snare-heavy sequence and then closes the track with just the haunting strings. Be careful when listening to this song alone in the dark, because it gave me plenty of chills. I'm sure my own herbs had nothing to do with it.
"Dragon's Blood Resin" Volume 3
"Dragon's Blood Resin" starts out with a looped piano sample and characteristic MPC crackles that set the pace for an intense track—you'll recognize it as the instrumental version of "Go With the Flow" off Doomsday. DOOM quickly brings in the drums and they accelerate the pace from a light jog to a sprint. If "Mullein" gives you the feeling you're being watched, "Dragon's Blood" gives you the sensation of being chased. DOOM creates an environment where his listeners feel the weight of being prey. Escape is possible, but you have to move your ass. If you need some extra motivation, drop "Dragon's Blood Resin" in your workout playlist and let the beat do its job.
"Pennyroyal" Volume 5
"Pennyroyal" might be the most fun song on this list to explore because of its many dimensions. On a purely aesthetic level, this track sounds like it should open an old French spy film (it's the instrumental for "Pennyroyal" by Joey Badass off 1999). Sharp pauses in the beat accentuate the bass guitar melody that gives this song a "French" feel. That was my gut reaction to the song, but I wanted to know if my production senses were dialed in, so I started exploring the samples he pulled out. One actually comes from the Galt MacDermot-composed soundtrack of a short film documenting the work of Yves Saint Laurent. That's a French connection—I was right! Once my ego was satisfied, I realized this song has a greater importance for DOOM's image. Taking music from this documentary shows his knowledge and appreciation for fashion, and it stretches far back into his catalogue. While the collaboration with The Hundreds is a recent expression of this love, he's been influenced by fashion for years.
"Chrysanthemum Flowers" Volume 8
On "Chrysanthemum Flowers" off Volume 8, DOOM speeds up some folky acoustic guitar strumming to give the track a "beach" vibe. If you want to learn about an insider in the development of folk rock and blues, do a little digging on this sample source. It has connections to B.B. King, The Doobie Brothers, and Oliver Stone (?). As you soak up the light riffs, his kicks and snares wash your ears in a classic hip-hop aura. He completes the beach scene by layering what sounds like rubbing sandpaper on top of these other elements, giving "Chrysanthemum" an extra dash of grit. DOOM's popularity was growing as he released Special Herbs and this was partly due to the way he cultivated beats like this. Just like the flower whose name it borrows, this instrumental required time, effort, and, most of all, an understanding of aesthetics. It's also an instrumental of MF DOOM's "Outro" to the compilation Spitkicker Presents: The Next Spit Vol. 3 and the instrumental for "Expressions" featuring Tiffany Paige by John Robinson from the album Who Is This Man?.
"Coltsfoot Leaf" Volume 0
I talked in my last article about DOOM "realizing a song's purpose." I might have to modify that statement after considering "Coltsfoot Leaf." I wasn't wrong when I said that, I simply didn't tell the entire truth. He does realize songs' purposes, but he can also take a song and elevate it to a higher state. For "Coltsfoot Leaf," he amplifies a string sequence from a late '90s Brazilian film so that it can provide cushion for his drums—and it's needed. I can see DOOM slapping the pads on his MPC with a special fervor as he cooked this one. The drums knock harder than debt collectors, but DOOM keeps them in place by letting hi-hats dictate the pace of the track. This beat was probably made sometime in the early-to-mid 2000s, but the fact that it still slaps today is a testament to the way his beats age. Fans will recognize the instrumental from "I Wonder" from King Geedorah's Take Me To Your Leader.
***
Currently Nature Sounds is having a sale of the 10 record series, which comes with 5 bonus 45s. Purchase it HERE.
What are your favorite tracks off Special Herbs? Tell us in the comments below.