There's a lot of elements from early hip-hop that I miss dearly. Don't get me wrong, I'm excited by rap's current emerging class of MCs like Raury, Vic Mensa, Michael Christmas, and Cozz knocking loudly on the door, but even when these talented throwbacks make their way into the mix, there's certain things that just can't be replicated from the Golden Era. And I don't mean to sound like the bitter grandpa who has to remind young ones that things were better back in the way, but yeah, things were better back in the day. There was innocence in rap, which at the time was a new art form. Before any rapper made the Forbes list, or starred on bullshit like Vh1's Love & Hip Hop or made billions of dollars from selling overrated headphones – it was just people having fun while rhyming words. And in turn, we had fun listening. It wasn't an attempt to build an empire; it was actual talent and love for the game. There's really no turning back at this point, and I've come to grips with that. Drake had a Sprite deal after a mixtape and A$AP Rocky had an Adidas deal before an album release date. Get that money and don't let this grandpa stop you. But I do hope to persuade this new class of rappers to maybe bring back one aspect from the '80s and '90s that I genuinely miss. I'm not asking you to implement New Jack Swing into your hooks, or wear Girbaud jeans in your next video, but I am asking you to learn a little bit of the music's history, and be an instrumental player in bringing back what is called "the posse cut."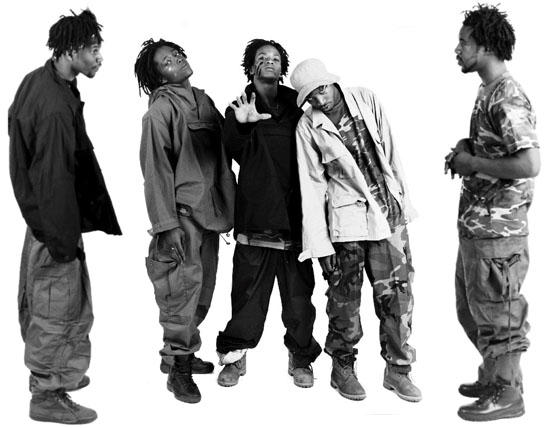 The posse cut was overly prevalent in the '80s and '90s, as being alone in the rap game wasn't as passible as it is today. Someone as independent as Macklemore or Kendrick Lamar may not have succeeded 20 years ago without a co-sign or clique to back him. It's like when girls decide to go to the bathroom during dinners; bringing someone with you just makes it easier. The posse cut was a simple way to express exactly who you were aligned with and where you came from. It was proof that dope rappers liked you and in turn, WE should like you. It can be argued that artists like Kanye or Jay Z, who frequently utilize the same guest rappers over and over in their songs, are practicing a similar posse cut tradition, but I would argue that those are just "features." It would be a boring rant, so I won't get into it, but I'll just say those are more about getting paid, or trading verses with each other for respective albums. 80's and 90's posse cuts just organically seemed to happen, because these people were actually friends hanging out at the studio together, not trying to get further in their career. There are always going to be some brave exceptions in current music (like A$AP Rocky's recent "1 Train" or Action Bronson's "Strictly 4 My Jeeps (Queens Day Remix)"), but overall, it's a lost art form. So, in hopes of getting any young rapper into the idea of helping the posse cut return to form, I have listed 10 of my favorites (in no particular order) to show you exactly what we're missing. I left some obvious ones off like "Ain't No Fun," "The Symphony," or "Scenario," because good God, you should know those by now. So grab a few friends, talk to each other about what you want your song to be about and step to the mic together, because this is a family affair.
::
10. The West Coast Rap All-Stars "We're All In The Same Gang"
A few of my list's inclusions involve the early '90s trend to assemble a group of hot rappers to make a charitable song about stopping violence in the inner-city. "We're All In The Same Gang" was one of the first to create this tradition, and featured solely West Coast MCs in its line-up. Dr. Dre produced the song, well before his transformation into our generation's Quincy Jones and weird buff black Mr. Burns, and it featured verses from King Tee, Tone-Loc, Ice-T, N.W.A., Young MC, Digital Underground, MC Hammer, and a handful of others. The entire project, which was released as a compilation album, was executive produced by Michael Concepcion, the man who supposedly created the Crips, which is ironic. The song was nominated for a Grammy and includes one of my favorite Eazy-E verses ever, as after years of glorifying violence and drug sales in his music, he tried his hardest to encourage peace, but instead sort of just said, "Eh, I don't know. Just stay away from my hood. It's tough there." Also, it's funny to hear Hammer and Young MC talk about gang warfare because one grew up as the Oakland A's batboy and the other graduated USC.
::
9. Trick Daddy ft. Trina, Sung, Money Mark and Co "Take It To Da House"
I love this music video more than anything because I assume this is what Space Jam would look like if you watched it before they added animation. At one point, No Limit Records ushered in the South and dominated rap music for a few years, making room for similar start-ups to find their way into the mainstream and, in this song's case, even onto TRL. Released in 2000 and, because of Trick Daddy's own imprint, often referred to as the "Slip N' Slide All-Stars," this song is still sort of the jam. The track samples two hip-hop staples that I assume together own 165% of the song's publishing (James Brown's "The Boss" and KC and the Sunshine Band's "Boogie Shoes") and, besides Trick and Trina, introduced me to rappers I never heard from again. Trick's unorthodox approach to Southern rap tropes allowed him back into the collective conscious many times beyond this posse cut, with songs like "I'm A Thug" and "Let's Go." But this up-tempo Bar Mitzvah-inducing single still stands alone for me. This song was also featured in the movie Osmosis Jones, which was a high budget live-action/cartoon hybrid about bacteria. THE 2000S RULED.
::
8. The Flavor Unit MCs "Roll With That Flava"
Before Queen Latifah starred in Oscar nominated films and had a shitty talk show (twice), she was one of hip-hop's most decorated female MCs. With classics like "Ladies First" and "U.N.I.T.Y.," she had more opportunities to delve deeper into the industry than any other rapper from her gender. One of those opportunities was to build Flavor Unit Management, a firm that would represent rappers, alongside her (still) partner Shakim, and make sure they were being treated correctly in a business well-known for taking advantage of artists. During the company's hey day, she signed heavyweight acts like Naughty by Nature, OutKast, SWV, and Zhané, but, most importantly, put this song together. Made up of mostly clients at the time, but also including some NY and NJ MCs who were just friends, "Roll With The Flava" might actually be my favorite posse cut of all-time. Incredibly strong verses from Treach, Chip Fu, Freddie Foxx, the Queen herself, Heavy D, D-Nice, Dres from Black Sheep, and a video that makes little to no sense (cool intro, Latifah) really help this song stand out. Yes, Chip Fu does say something incredibly homophobic, BUT he rhymes it with "Inspector Gadget," so let's just chalk it up to the arrogance of the era. Flavor Unit may have been one of the most talented posses of all-time, pound for pound, so don't sleep on this one.
::
7. LL Cool J ft. Method Man, Redman, DMX, Canibus & Master P "4,3,2,1"
Similar to Queen Latifah, every once in awhile, in-between hosting the Emmys and releasing garbage heaps like "Accidental Racist," we need to be reminded that LL Cool J was one of the fiercest rappers to ever grab the mic. All you need to do is check out anything from Bigger and Deffer, Radio, or Walking With A Panther, to realize James Todd Smith was a beast with everything he did, right up until his hat was like a shark fin in Deep Blue Sea. In an attempt to regain relevancy in 1997, he put together his own posse cut, and as a result, may have actually justified his G.O.A.T. claims. When LL asked young upstart – and arguably the most overhyped MC of the decade – Canibus to jump on the track, I have to imagine he didn't see it ending as one of the most celebrated beefs in music history. When Canibus passively mentioned ripping LL's microphone tattoo off his arm in his verse, he quite obviously meant it in jest, but when you're the type of guy so self-involved that you call yourself "The Greatest of All Time," you have to imagine you're also REALLY sensitive. LL ended the song with outstanding and obvious jabs at Canibus's verse, breaking him down line after line, creating the only posse cut to have disses about people who are ON the posse cut. That's so meta, even Charlie Kaufman would be like, "Too much." From there, Canibus released "2nd Round Knock Out," LL responded again, and even Wyclef – Canibus's mentor and motorcycle enthusiast – jumped in for no real reason. It was all pretty entertaining, but it all started from the all-mighty posse cut, so don't you ever forget that.
::
6. Stop The Violence Movement "Self Destruction"
The first of its kind, kicking off the anti-violence posse cut trend we heard from earlier with "We're All In The Same Gang," this is its East Coast predecessor. Formed by KRS-One after a fan was murdered at a Boogie Down Productions/Public Enemy show months after his BDP partner Scott La Rock was shot and killed, he hoped to recruit a group of regional all-stars to address violence in African American communities and restore the original principals to hip-hop. This song was released in 1989, with all proceeds benefitting the National Urban League and produced by KRS, D-Nice and Hank Shocklee. It features dope verses from BDP, Stetsasonic, Kool Moe Dee, MC Lyte, Doug E. Fresh, Just-Ice, Heavy D, Biz Markie, and Public Enemy. KRS relaunched the movement in 2008, including the likes of Rah Digga, 2Mex, Nelly and Ne-Yo – so yeah, it didn't have the same effect. Here's my genuine pitch though, guys: Stop The Violence Movement 2014 with Chicago rappers Chance The Rapper, Vic Mensa, Alex Wiley, Tree, Mikkey Halstead, Vic Spencer, Caleb James, and Ibn Inglor. You can thank me later for that idea.
::
5. The Fab 5 "Leflaur Leflah Eshkoshka"
One of hip-hop's most impressive supergroups, The Fab 5 consisted of Rock and Ruck of Heltah Skeltah, and OGC's Starang Wondah, Louieville Sluggah, and Top Dog. This all-star line-up was made up of standouts from the Boot Camp Clik, and on a larger level, Duck Down Records, two factions that couldn't be ignored in the mid- to late '90s. This song has a title that no one can pronounce, but also was initially released as a b-side, surprisingly garnering more attention than the attempted single, "Blah," even charting on the Billboard Hot 100. The music video also features more authentic jerseys than an Eastbay catalogue, so that's dated as shit. And despite each member of The Fab 5 being more impressive than the next, they wouldn't release another collaborative effort until 5 years later, once the buzz behind their combination had mostly passed. Both Heltah Skeltah and O.G.C. released incredible debut albums separately, and if you haven't kept tabs on Ruck, now known as Sean Price, then what are you doing with your life? No matter how infrequently they worked together, we still have this debut jam from one of the most impressive posses to ever form.
::
Released later on the "posse cut for a good cause" timeline – and technically the worst of the trend – "Heal Yourself" was also put together by KRS-One, who I have to assume just walked around New York asking rappers if they wanted to join forces to fight evil. He was like rap's Nick Fury. Now I normally wouldn't have included this track on the list, mostly because it's just not very good and Kid Capri won't stop yelling on it, but we need to focus on LL Cool J one more time. The song addresses subjects needing help within the black community, including school funding, violence, drug use, education and pride with contributions from Big Daddy Kane, Queen Latifah, Ms. Melodie, and RUN DMC. But LL, who raps second, just gives a blow-by-blow account of how a woman masturbates. It's like he never asked what the song was about, read a Penthouse Forum letter then walked out the booth. FOR NO REASON IN THE SONG AT ALL! Are you telling me NO ONE said, "Hey LL, quick thing. This song is about helping people and positivity, and then you just rap sexually about fingering yourself for a minute. Any chance we can get another take?" You have to listen to it to be even believe it. Either way, LL Cool J is VERY concerned with your masturbation schedule.
::
3. Heavy D ft. Pete Rock & C.L. Smooth, Big Daddy Kane, Grand Puba & Q-Tip "Don't Curse"
Heavy D: "Hey guys, I scheduled this conference call so we can all go over what our posse song will be about."
Big Daddy Kane: "Dope, dope. What you thinking, D?"
Grand Puba: "Stopping the violence?"
Q-Tip: "How we're the best and unstoppable?"
Heavy D: "Naw, guys. I want the song to be about us tirelessly, but successfully, avoiding curse words."
[silence]
Heavy D: "We'll keep getting REALLY close to saying bad words, but at the last minute make an witty adjustment and fool people."
Pete Rock: "Well, it's better than LL Cool J's problem with masturbation."
::
2. Cool Breeze ft. OutKast, Goodie Mob & Witchdoctor "Watch For The Hook"
I really contemplated including the official posse track "Trans DF Express" on the list, but I figured if we're going to focus on a Dungeon Family effort, this Organized Noize beat is impossible to ignore. Cool Breeze may have never broke mainstream, but boy did he have the opportunity. His first single featured the 9 core Dungeon Family rappers together for the first time ever, during a peak of popularity for both OutKast and Goodie Mobb. Sampling Merry Clayton's "Southern Man" was a beautiful choice on so many levels, and in turn each DF member returns the favor by exploding on the track. Way before he was ever a piece of shit slimeball, Cee-Lo really stood out, so this song can double as a great way to show your kid where that portly judge from The Voice came from. But then get your kid away from Cee-Lo as fast as humanly possible. But walk slowly because T-Rex attacks based on movement. That's a short arm joke.
::
1. Craig Mack ft. Notorious B.I.G., Rampage The Last Boy Scout, LL Cool J & Busta Rhymes – "Flava In Your Ear (Remix)"
I could easily argue that this is the best remix of all time, and not just because it's the pinnacle of Puffy's useless intro talking and ad-libs. Craig Mack already had a huge hit with "Flava In Your Ear" for Sean Comb's new startup label Bad Boy Records, but now it was time to bring in the big guns. Puffy enlisted his other signee, Notorious B.I.G., to kick it off, even though in interviews he made it no secret that he wasn't a Mack fan. LL, who can't stop being mentioned in this piece, jumps in as well, making for an amazing video appearance next to the video vixen that single-handedly shaped my puberty. Busta Rhymes is the caboose, and obviously pulled a huge favor getting Rampage The Last Boy Scout onto this song. Rampage is like the world's worst Forrest Gump. Rampage is to this song what Christian Laettner was to the Dream Team. Rampage is to this song what Tara Reid is to The Big Lebowski. Rampage is to this song what Cars 2 is to the Pixar library. Anyway, that dude sucks at rapping. Despite his efforts, his posse cut is still brilliant and hopefully that final push to throw you off the ledge and into the beauty that is "the posse cut."