2016 has been a long, wacky, up and down year for some people—myself included. Luckily it's over. My birthday is on New Year's Eve and every year it's a gift and a curse because the countdown to January 1 feels like a celebration of my birthday ending. The ball dropping ceremony is a yearly reminder of how unimportant I am. It's a double-edged sword, but not this year. Come midnight on December 31st, I planned to be hyped the year was finally over just like everyone else. It's been a knock down, drag out year full of more police violence, political clusterfuckery, personal loss, and worldwide melancholy.
There's been a handful of bright spots amongst the seemingly perpetual doom and gloom, though. Most of those bright spots have come from pop culture. Among the few highlights this year had to offer, comic books really helped me shrug off the ever-present shit show my life seemed to be stuck in. Once a week, I enter the comic book store, peruse my pull list and the new release wall, and get lost in the colors, characters, worlds, and universes that the culture offers. The following five books were standouts for me in a year chock full of crap on top of more crap. The content ranges from an intimate book about brothers struggling to find themselves under a father who's potentially lost his way in life to a book with a much larger scale where a king is under duress trying to lead his people while battling enemies both internal and external. Here's my Top 5 Comics of 2016.
(Author's Note: Last year's list was ten books, I know, but I had to scale back my comic book buying this year so I could focus some funds towards a big trip I'm taking. While I would have loved to have read more comics and I would love to include a bunch of the big name books that made noise this year, these are MY personal favorites of the year. Some of these selections may not have made the biggest splash or sold the most copies, but they kept me coming back month after month after month. Also, as with last year, the creative teams for each book may not be 100 percent accurate as some of them were rotating teams and/or I obtained the information from certain issues in which the team may or may not have been different. I tried to be as accurate and thorough as possible. Enjoy!)
The Legacy of Luther Strode (Image Comics)
Written by Justin Jordan // Art by Tradd Moore // Colors by Felipe Sobreiro // Letters by Fonographiks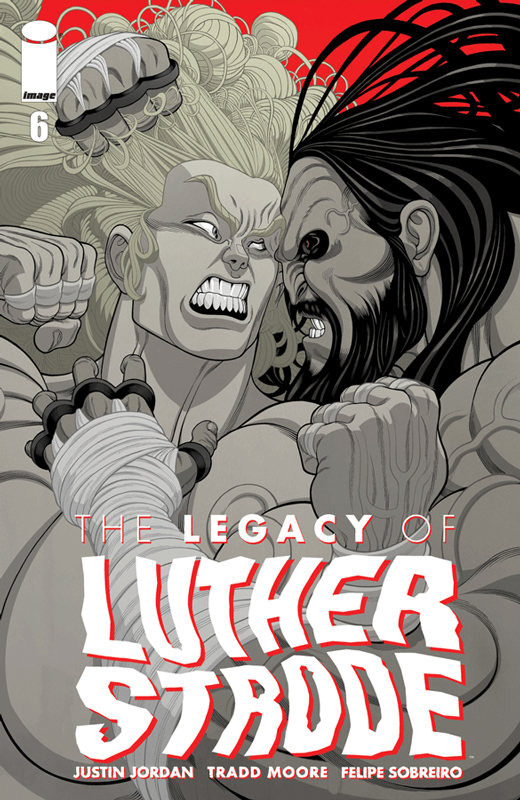 A simple comic with a simple story, The Legacy of Luther Strode is about a young man who gains incomprehensible powers and then uses them to fight bad guys. The book is written by Justin Jordan and its "lack" of complexity is anything but a flaw in this story as Luther isn't just battling run of the mill evildoers. He's going up against the minions of Abel, the biblical figure who basically CREATED evil. He's not just fighting bad guys, he's fighting the evil incarnate. Issue after issue, Luther and his girlfriend, Petra, tackle foe after foe. The story is full of non-stop action, brain pounding fight scenes, and enough emotion and sentiment to balance it out without feeling forced and cheesy.
Luther is a reluctant fighter, but when he does join the fray, the book is jammed to the brim with glorious over the top action. Tradd Moore, the artist on the series, makes Luther's battles feel like an episode of Dragonball Z on steroids and psychedelics. There's details on top of details, but they're stylized in a surreal way that illustrates the insane amount of power bursting forth from the characters. My words will do the art many injustices, but I can't believe Tradd isn't a bigger name in the industry. His work is fun, fluid, energetic, and astounding. The art is the real hero of the book, but the story glues all the zany action together in all the right ways. If you enjoy superhero type stuff from a non-traditional superhero perspective, with over the top anime inspired action to boot, this is a book you need to check out.
5. Teenage Mutant Ninja Turtles (IDW Publishing)
Written by Tom Waltz // Art by Dan Duncan & Mateus Santolouco // Colors by Ronda Pattison // Letters by Shawn Lee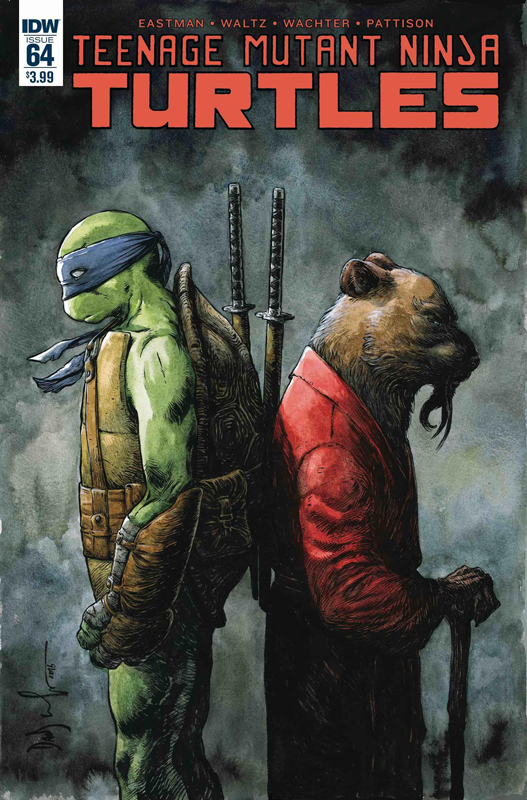 Stop me if you've heard this one before, but I really like the Teenage Mutant Ninja Turtles. Sometimes I find it hard to believe that I get to write about them as much as I do, but where there's a will there's a way, right? The Turtle book hasn't delivered as many thrills or as much high level drama as it did last year in the build up to the defeat of the Shredder, but with a new year came a new approach that grabbed me in such a way that this book had to be on my list. Last year's Turtle book went for the "go big or go home" method and it delivered. This year, the series got more personal, more intimate, and delved into the relationship between the Turtles and Splinter. After defeating Shredder, Splinter and the Turtles took over the Foot Clan, establishing a new status quo for the mean, green, fighting machines. This new setup didn't sit well with the group, and Michelangelo even separated himself from his family. This dynamic of a broken home and the Turtles losing faith in their father's decisions made for great interpersonal drama and great action.
I love the Turtles in all their mutant and martial arts glory, but I get to love them even more when their personalities are explored as brothers and sons. Dan Duncan has provided most of the art for issues this year and while his stuff isn't on the level of Mateus Santolouco, he does action well and his covers are sick. Seriously, some of my favorite comic book covers this year have been Dan Duncan TMNT covers. Ronda Pattison continues to be the unsung hero of the TMNT series as she delivers great colors no matter who's drawing the book. If Waltz's killer stories are the foundation then Pattison's killer colors are the icing on top. As it nudges closer and closer to cracking 100 issues, TMNT continues to be a top notch comic book.
3. Black Panther (Marvel Comics)
Written by Ta-Nehisi Coates // Art by Brian Stelfreeze, Chris Sprouse, and Karl Story // Colors by Laura Martin // Letters by Joe Sabino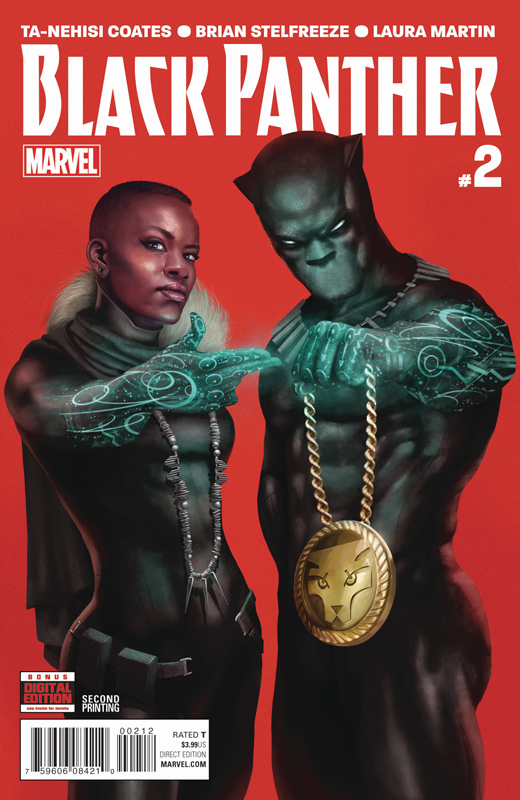 I'd never read a Black Panther book before, but upon hearing that Ta-Nehisi Coates would be behind the new series, I knew I had to check it out. I was turned on to Coates through Bobby Hundreds' Death Sentences Reading Club, so after reading Between The World and Me, I recognized his name when it was announced that he'd be writing the new Black Panther series. Almost a year later, Ta-Nehisi and the creative forces behind Black Panther have a best-selling comic book and it has not disappointed. Coates's iteration of the character sees T'Challa battling with his role as the King of Wakanda. He's lost the faith and devotion of the people, he's battling insurgents that are leading a partially righteous, partially nefarious rebellion, and he's doing what he can to bring his sister Shuri back from a sort of purgatory.
Coates writes T'Challa as a man who is struggling between his dedication to his country and his dedication to his family, while also weaving in history and folklore elements from the African diaspora. Art legend Brian Stelfreeze handled art duties on the first arc and then passed those duties to Chris Sprouse who didn't miss a beat in the transition. Stelfreeze and Sprouse bring strong character work, stylized action, and bold lines to a story filled with nuance. The politics, the action scenes, the tense emotional moments all are represented and handled beautifully. The political machinations and detailed building of the world and characters are the focal points and strengths of this run.
Unlike many superhero comics, the action plays second fiddle to the characters and the world around them, and with a location like Wakanda that's important. Two books (and countless articles, I'd imagine) into his career and Coates is already one of America's most popular writers. His novels and work for The Atlantic have garnered him critical acclaim and worldwide praise; now his work on Black Panther has introduced comic book fans to him and each issue builds positively upon the last. Black Panther is a superhero unlike any other, and thanks to Coates and the team at Marvel, this new book is a superhero book unlike any other. Black Panther is possibly the breakaway start to a long career in comic-writing for Coates.
2. Southern Bastards (Image Comics)
Written by Jason Aaron // Art & Colors by Jason Latour // Letters by Jared K. Fletcher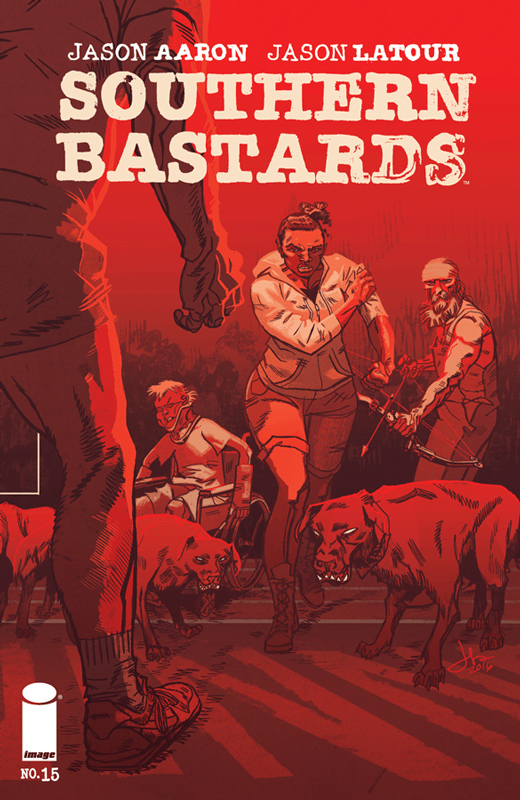 If you caught my list last year, then you'll know this was my number one for 2015. It slid back a spot this year, but not because it slid back in quality. Southern Bastards continues its dominant run as one of the best books on shelves, winning the award for Best Continuing Series at this year's Eisner Awards (the comic book industry's version of the Oscars or Grammys). The creative duo of Jason Aaron and Jason Latour continue to bring the drama and hard-hitting story that made Bastards popular to begin with while building upon its world and stirring the proverbial pot of its characters' lives.
The football-infused, Southern crime noir has taken readers deeper into the seedy swamps of its fictional hometown. More characters have been introduced that have added layers of intrigue to the murky dealings of the crime world the football coach lords over. The more intense the story gets, the more complex the world and the characters become. The more intricate the story gets, the dirtier and grittier Jason Latour's art becomes. His character work heightens the quirks and attitudes of the people filling the world. His backgrounds and settings make you feel like you're in the South, in the woods, on a river, at a football game, etc. As the book goes further the team behind it gets better. One of the greatest achievements of the book is the humanization of the somewhat unbelievable characters. A football coach that runs a crime organization? You believe it. A former marine who comes home to avenge her father's murder? You believe it. A God-fearing hunter who wants biblical style revenge? You believe it and WANT it. Southern Bastards is a comic book about fucked up families, football, organized crime, revenge and BBQ—and somehow that combination makes it one of the most interesting books in the culture.
1. The Vision (Marvel Comics)
Written by Tom King // Art by Gabriel Hernandez Walta // Colors by Jordie Bellaire // Letters by Clayton Cowles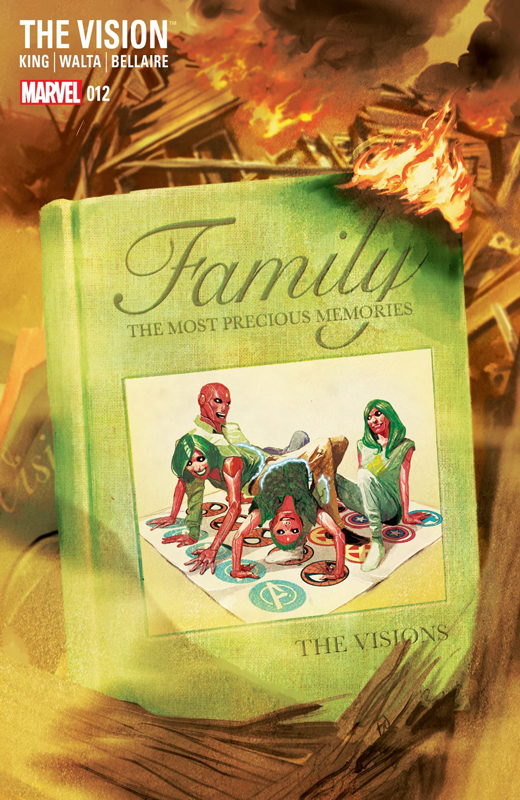 I'm not smart enough to truly articulate how cool this book is, but I'll try. Forgive me in advance. Like the Black Panther series by Ta-Nehisi Coates, Tom King's run on The Vision was my comic book intro to the character. I'd played as him in video games and watched him in movies, but had never read about him. If any previous iteration of The Vision's stories are half as good as Tom King's, then I've been fucking up. Part of me wants to say it was difficult giving Vision the number one spot, because I REALLY like Black Panther and I REALLY like Southern Bastards, but Tom King's heartbreaking and heartbreakingly good story coupled with Gabriel Hernandez Walta's subtle yet surreal art make this 12 issue run a modern classic.
The Vision is a synthezoid (an android that is comprised of some human flesh and organs) that strives to be more human, and King's story focuses on that aspect of the character. Vision tries to create a synthezoid family for himself and tries to integrate that family into normal life. The results of this hopeful integration are tragic to say the least, and the journey through the twelve issues play out like an emotional rollercoaster. It's a superhero title that didn't focus on the superhero being super heroic. It's a slow burn psychological thriller with little pockets of action and violence tucked in. The dialogue and tone used between Vision and his family feels appropriately stiff and robotic, but there's a hidden beauty in the way they tackle their lack of humanity as a family unit. Walta's art is the perfect match for Tom King's story. The lines are soft and detailed and everything is beautiful and nice—until it isn't. When the story goes dark, the art follows and the brilliant colors add to this effect. Jordie Bellaire bathes this book in perfectly saturated warmth until those little moments of darkness creep in and the colors, like the art, make you feel like you're reading a horror comic. Art teams firing on all cylinders like this are hard to come by. I'm sure it wasn't the only reason, but I believe the strength of this book is what landed Tom King his exclusive deal over at DC where he now writes the main ongoing for the one and only Batman. I'm glad for his success, but his run on The Vision will make his talents sorely missed the next time a book for this character pops up. If you care enough to try any book from this list, make it this one.
***