For artists raised on the internet, inspiration comes all over the globe. Grubby skaters in empty New York financial districts, glaring neon signs that illuminate the never-ending daylight of Tokyo, and even the other side of life—death itself.
199hates is one such child of the media. Located in the north of Argentina, it was the flickering electron beams of television that first captivated his attention, and then soon the endless streams of scrolling images that the interwebs have woven across the world. The work of Hates, real name Mau Lencinas, is like a living collage, and his unique selection of themes has mesmerized legions of youths similarly inundated by images from every corner of the globe and possibly even from the beyond.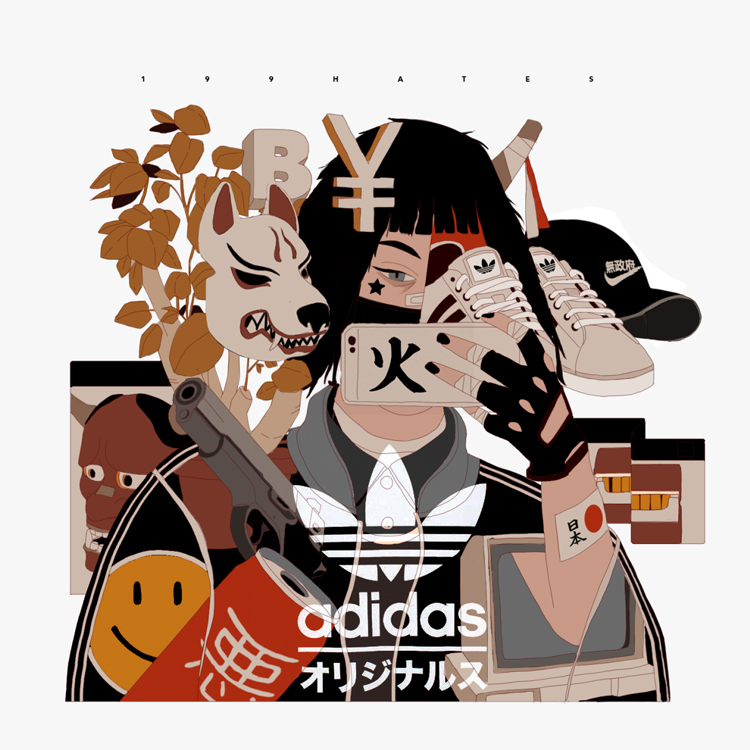 But it's Japan that has rooted itself most thoroughly into Hates's core, creeping up in everything from text, symbolism, and the brands his characters adorn themselves with. Streetwear is fairly popular in the country after all, to put it lightly anyway.
His art is a blast of color that rivals flickering LED screens with still imagery. Colors jump in place all over the screen, neatly sectioned off with black linework, revealing vibrant patterns in the clothes, hair, and skin tones that are both striking and harmonic at once.
For all this jumble of imagery and ideas, Hates is laser-focused on the idea of characters. These carefully detailed avatars could float on a blank slate for all he cares. Occasionally he'll situate them into a full scene, but this is rare and color swatch backgrounds are sufficient to his goals. At times he does build out more complete worlds that don't rely on a concrete surface. These images (often commissioned work) are wormholes of objects, body parts, special effects, and brand names that unfold layer after layer.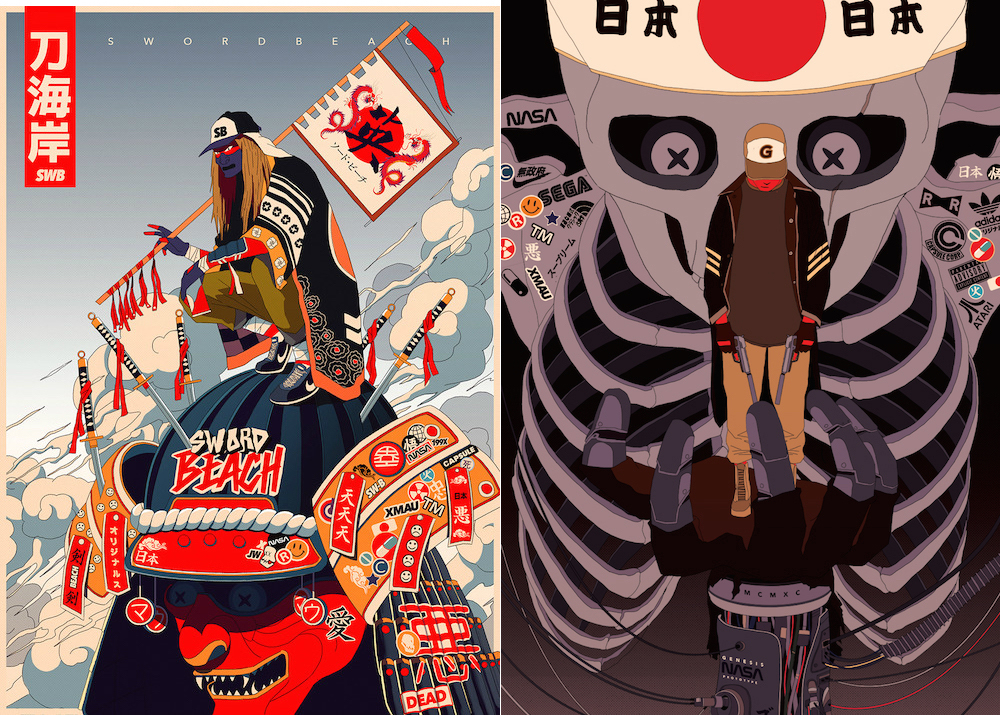 The plot lines these personas live are also totally up for interpretation. They're of a timeless nature, living in the ancient East, the multinational branded present, and the future of robotics all at once. There are a number of recurring characters and themes, but no literal narrative to the body of work. That's up to you, the viewer. And he hopes that's part of the fun.
Although he does commercial work, Hates says he doesn't get paid to insert an adidas icon here or Stussy logo there. It's done purely out of an appreciation for them. And it resonates with his fans, too. "I don't 'advertise' those brands," he tells The Hundreds. "I just draw characters that can be closer to a reality that people can identify with, and that involves the brands they wear." Phil Knight must be dying of laughter at this turn of events, but it sure is fun. And he makes it a little more fun by inserting his own quasi-brands made of inside jokes.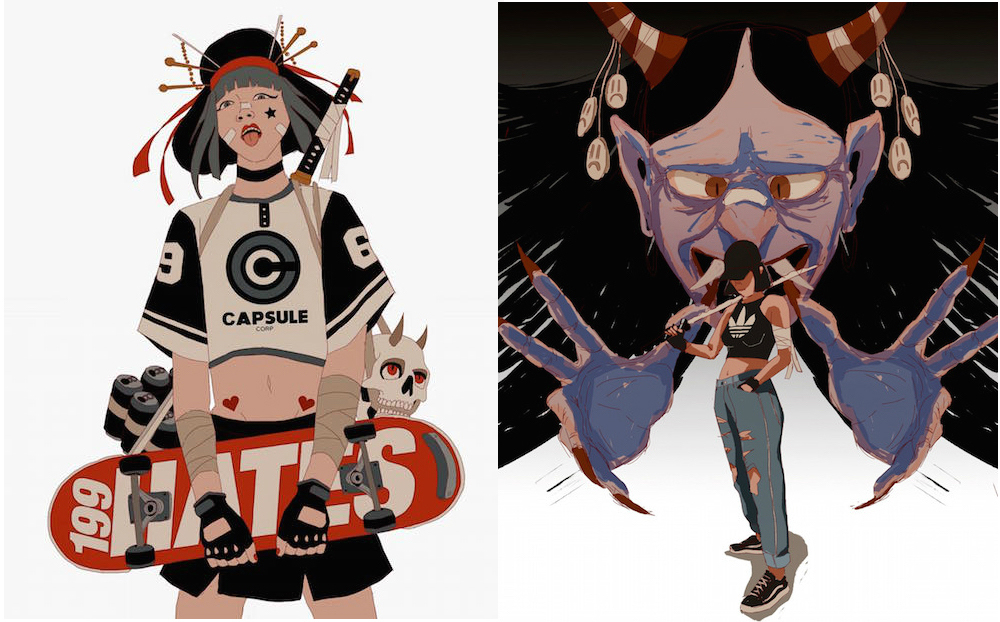 Corporate and indie brand logos are not the only symbols you'll find papered over Hates's creations. There are also Japanese Kanji characters spread all throughout his work, representing words like Fire, Demon, Death, and Samurai. He also borrows heavily from Japanese folklore, with towering skeletal ghosts called Gashadokuro among his favorite. And he's partial to imagery like traditional Hannya masks and old school patterns as well.
Eventually he'd like to see his work printed on some actual clothes, or even to create his own personal brand. "Make my drawings come real," he says with some vision in his words. Hopefully it's just the clothing he manages to summon to life, not the demons and gangsters of his imagination.
***
Follow Mau on Instagram @199hates.