In addition to my contributions here at TheHundreds.com, I keep pretty busy working with companies on the lifestyle end of things. A couple of weeks ago, I got a call from New Era to help them out with some behind-the-scenes stills for the hatmaker's upcoming fall NFL campaign. Although New Era is undeniably the most important player when it comes equipping professional teams on-field, they've also realized the importance of off-field style and how their brand can continue outfitting some of the world's leading athletes when they leave the gridiron. Since they started kicking off colorways not usually associated with team colors in 1996—thanks in large part to Spike Lee's request for a red Yankees cap and Fred Durst's iconic endorsement—the Buffalo-based company has infiltrated our lives more than we've probably realized.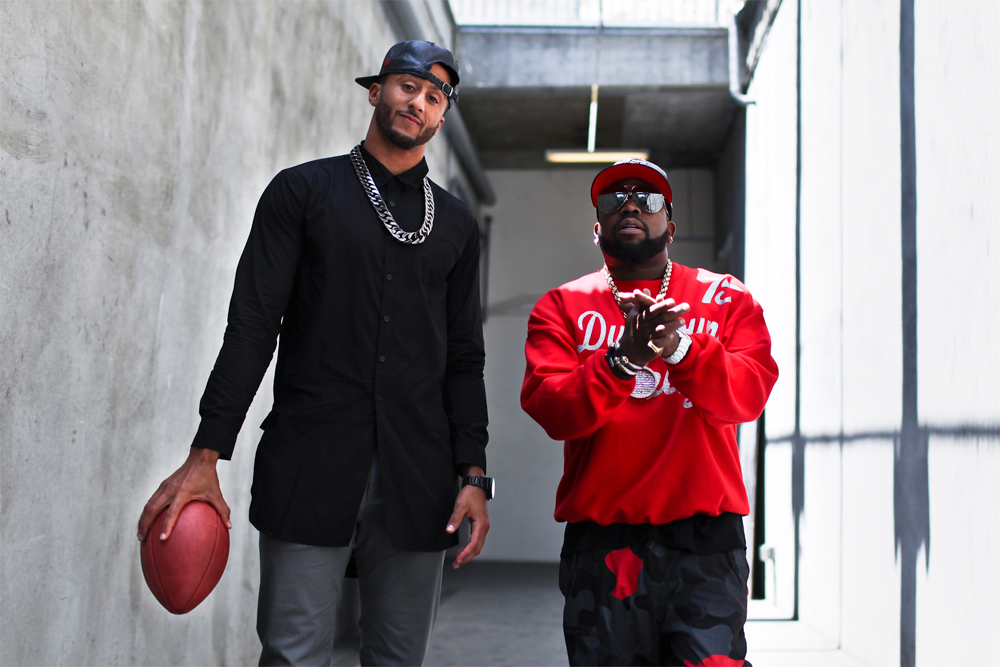 Colin Kaepernick and Sir Lucious Left Foot
Adding to a stacked roster of premier athletes, New Era also works closely with leading artists and musicians, including Big Boi, who needs no introduction. The tie between sports and music is one that's been apparent for as long as I've been alive. They go hand in hand, and by now, those that matter have capitalized on that.
I've worked on various sets before, with some of the most amazingly creative people ever, but it never ceases to amaze me just how many hands it takes to produce something that seems so minimal to most. Spots for web and television take more time than you'd imagine. Multiple takes, adjustments and changes are a given and the amount of patience and ego stoking it takes to keep some of these athlete's from leaving early is an art, although none of that was all too necessary during our two-day operation.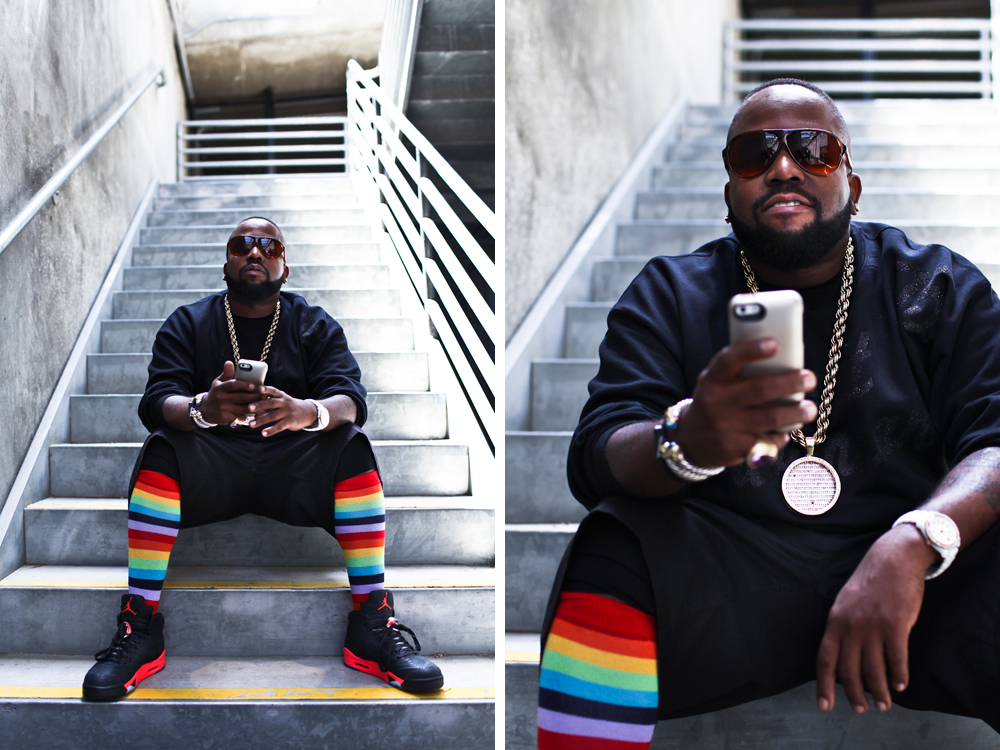 Big Boi takes his Instagram game serious
I always try to keep my eyes working and ears open during gigs like this because there's always something new to learn. It's a characteristic I've tried to maintain—that you can never know too much and there's always room to grow, personally and professionally. One thing that stood out to me the most was how much work athletes put in the off-season. Most people only see the action play out on Sunday, but when these guys aren't on the grass, they're either working out to get better or contractually obligated to hold up their end of the bargain when it comes to endorsement deals.
The most respectable part is the commitment to charitable work, which is another side of the spectrum that I quickly learned about. While widely known for avoiding the media and his dislike for interviews, Marshawn Lynch is the one guy who I really enjoyed this past week. Quite possibly the funniest person I've been around, his personality never really changed and he kept it 100, even busting the director's chops Reggie Warrington-style. While cautiously obliging to a two-minute interview and warning that he was going to lie the entire time, Lynch instead gave us an eloquent account of his upbringing in Oakland and how he's strived to give back to his community through his Fam 1st Family Foundation. The most telling part of his speech was how this off-season he's already been to three funerals and only two graduations in his hometown, a strong indicator of the times.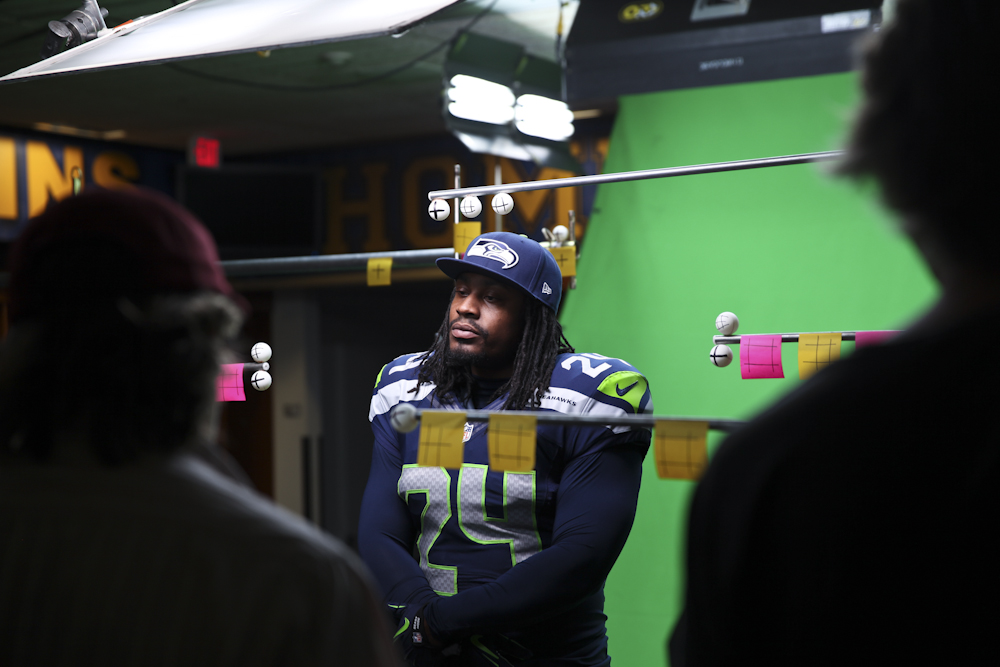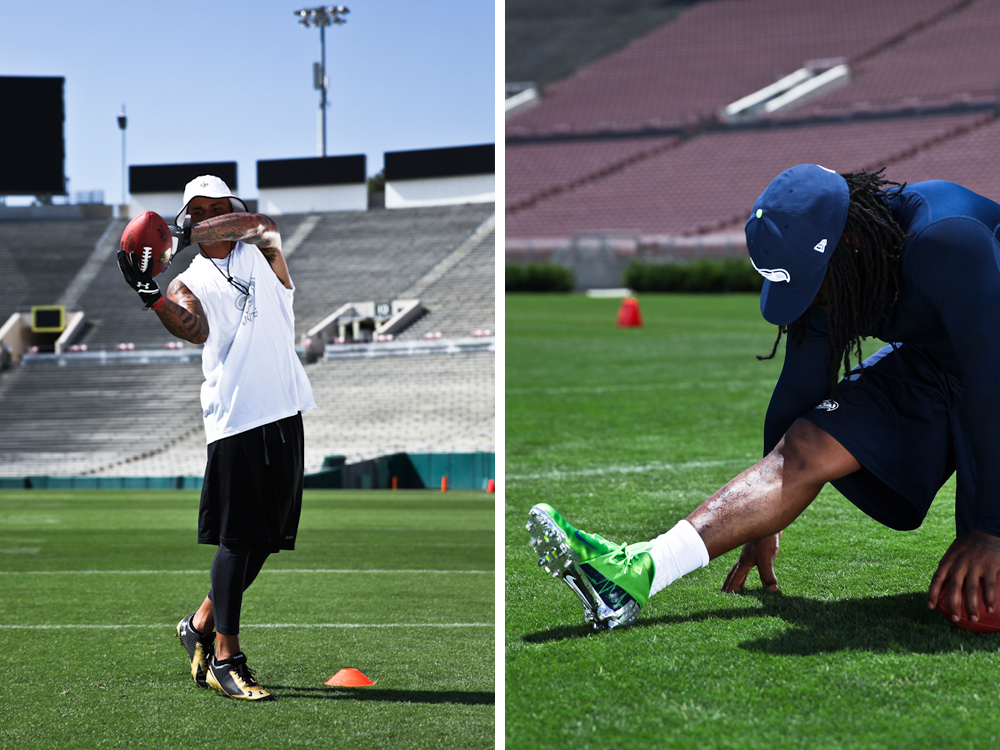 Kenny Stills and Marshawn Lynch doing some training exercises
An NFL shoot wouldn't be an NFL shoot without some physical activity, so we took things to the field. In addition to highlighting lifestyle product, New Era continues its focus on producing the most performance-rich headwear in the game. This upcoming season welcomes a variety of new styles and material choices, including enough visor options to make Nelly head back to the band-aid isle.
Shooting on-field was probably the best part because the players are in their natural element, but its obviously cool to capture these guys anywhere, especially since accessibility comes few and far between. Most are quick to idolize these guys, but they, like you and I, are just professionals at the office, coming in for another day at work, albeit at a much more lucrative job. If there's praise thrown their way it should be for their contributions as people in society, although a shout out for Ms. Jackson and another Super Bowl birth wouldn't hurt anyone, right?