If you are out from under your rock, you might know that the current condition of the Bay Area is underpinned by astronomical housing prices, gentrification inflation/displacement, the Dubs, and E-40 having courtside tickets for every major sporting event. Something else you might know is that the Bay is holding down ever-growing scenes of all types of trill shit. This weekend, I had the pleasure of attending one of the hottest functions being thrown Bayside: Wine + Bowties' FEELS V.
Let's set the scene: Wine + Bowties is a collective started by Oakland natives and besties Max Gibson and Will Bundy. Before returning to the Bay, the gents spent their creative energies on throwing smaller functions in the land of LA's hip kids at venues like Mandrake, Crown Bar, and Winston's.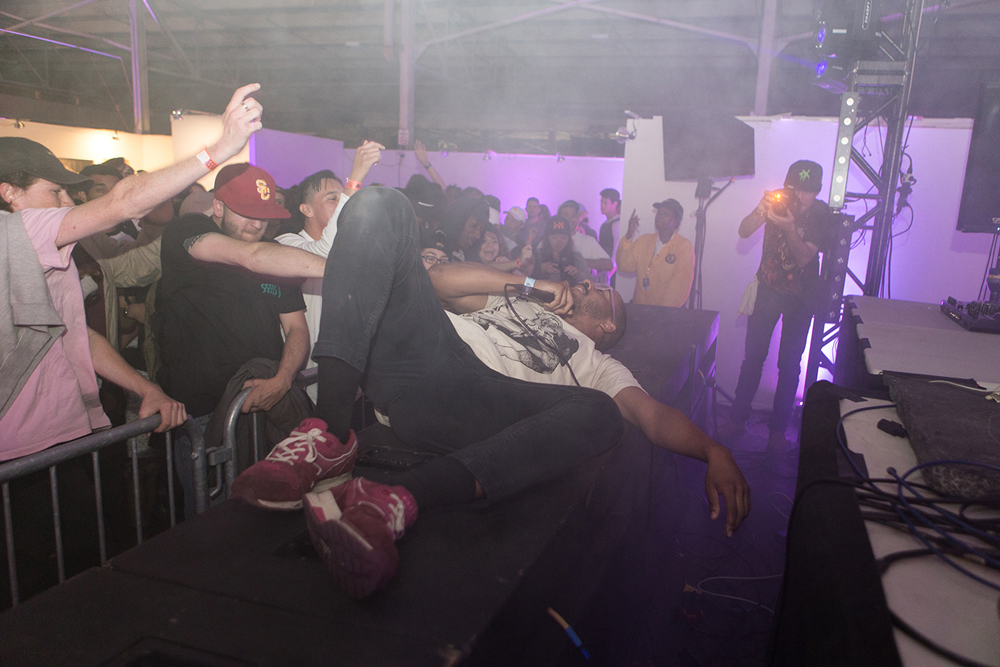 Now the Wine + Bowties brand has grown synonymous with those-parties-at-that-huge warehouse-in-West-Oakland-where-every-cool-person-ever-will-be-in-attendance. Co-founder Gibson described their first event-throwing ventures in LA as "cute." He continued, "For the first year or two, we'd scour LA to find the dope bars to throw our functions at… Throwing parties in LA is like throwing a pebble in the ocean, trying to make a splash."
Fast-forward to FEELS V, their biggest event to date, hosting local food groups, art exhibits, a Toro y Moi DJ set, a soulful set from Georgia Anne Muldrow, and a performance from the Based God himself, Lil B.
The scene is electric as the Bay just watched the Dubs triumph over a lesser team, forcing a game 7. The evening is warm and as folks pour out of Ubers at Oakland's American Steele warehouse and art-space—the scene is oozing into the night.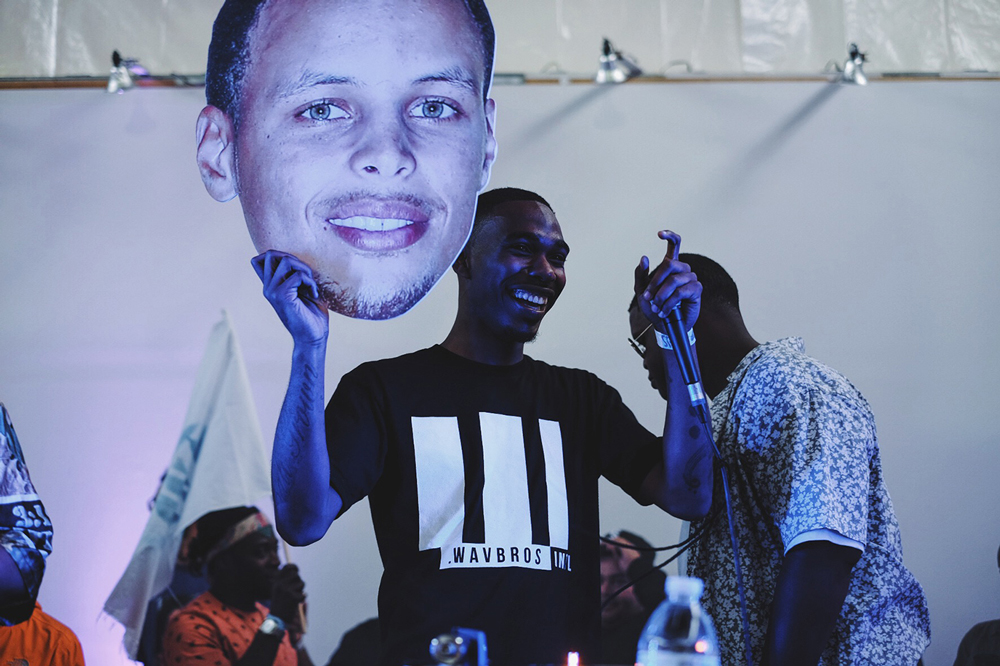 Cut-off jean jackets adorned with pins and patches and the omnipresent accessory du jour: floppy-brimmed man hats. Iconic man hats everywhere. And damn, everyone looks good.
As I walk up to the venue, the sheer sight of all the beautiful people lets me know that FEELS is the party for the young and in-the-know. I'm so fucking impressed. Phone comes out. Time to look at art. Time for a beer(s). Time for photos with the best dressed high-fashion strangers. Time to boogie down to beats, beats, beats, Based God, and more beats.
Being a sucker for soul, I popped down to the outdoor stage to catch the latter half of Georgia Anne Muldrow and crew's soulful set. The purple-lit backdrop paired so heartily with the ethereal and angelic voice of the Angelino singer.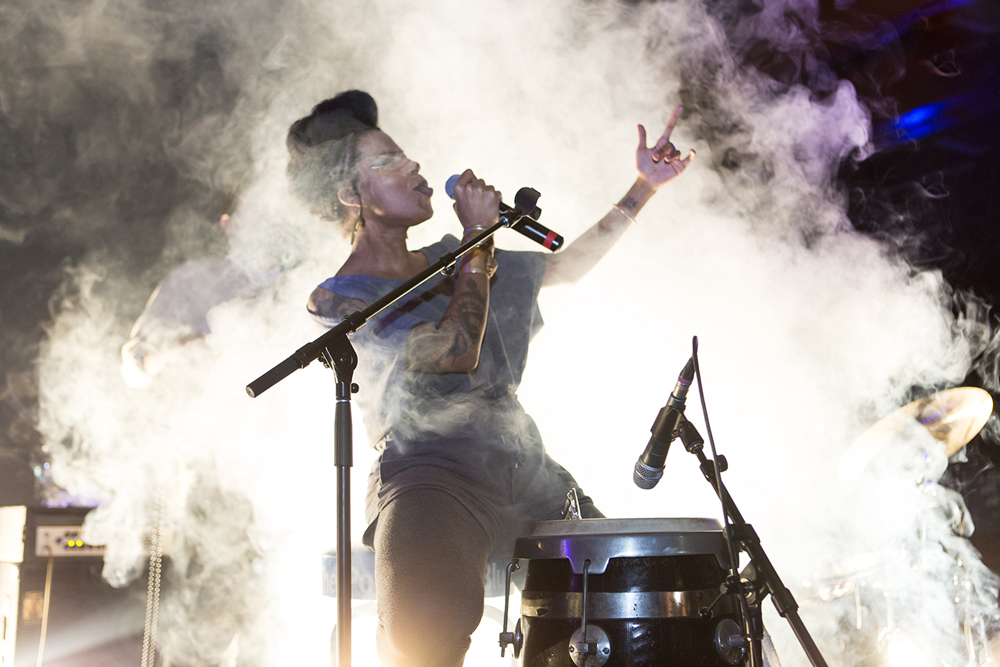 Then it was off to check out the indoor art exhibits in the main gallery. There was a great light installation, setting up a backdrop for quick photo-ops with homies. After stepping into this for a quick set of snaps, I clumsily almost kicked the whole thing over. The artist was forgiving. Then it was to a photo exhibit from artists Timothy Sean O'Connell and Vivian Fu.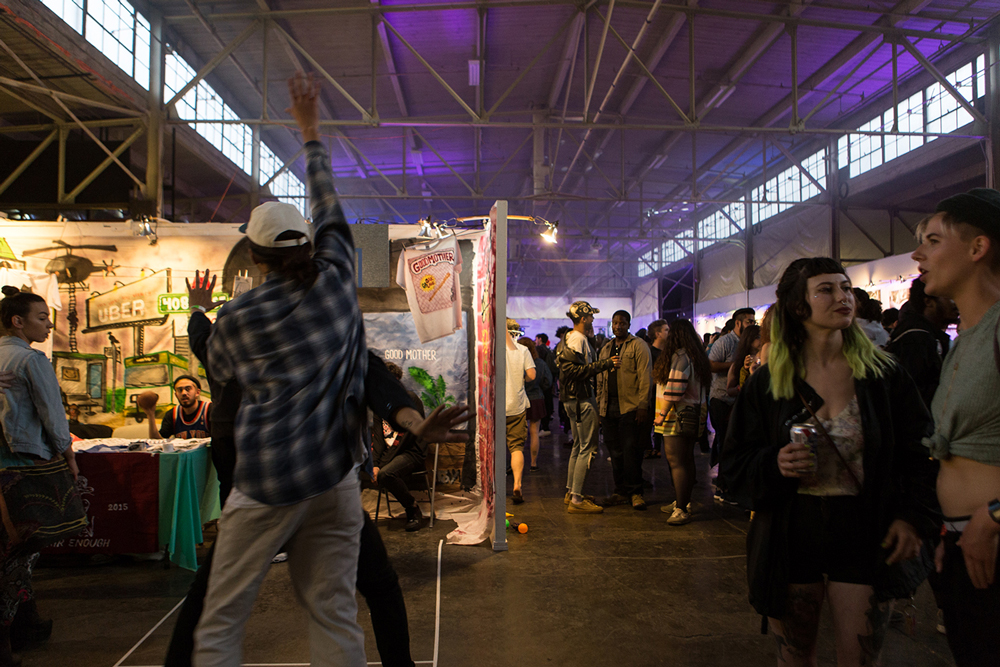 Toro y Moi's DJ set was in full-effect as the man also known as Chaz donned a red-striped Waldo shirt, spinning everything from Deep House cuts to indie-downtempo to hood hitters.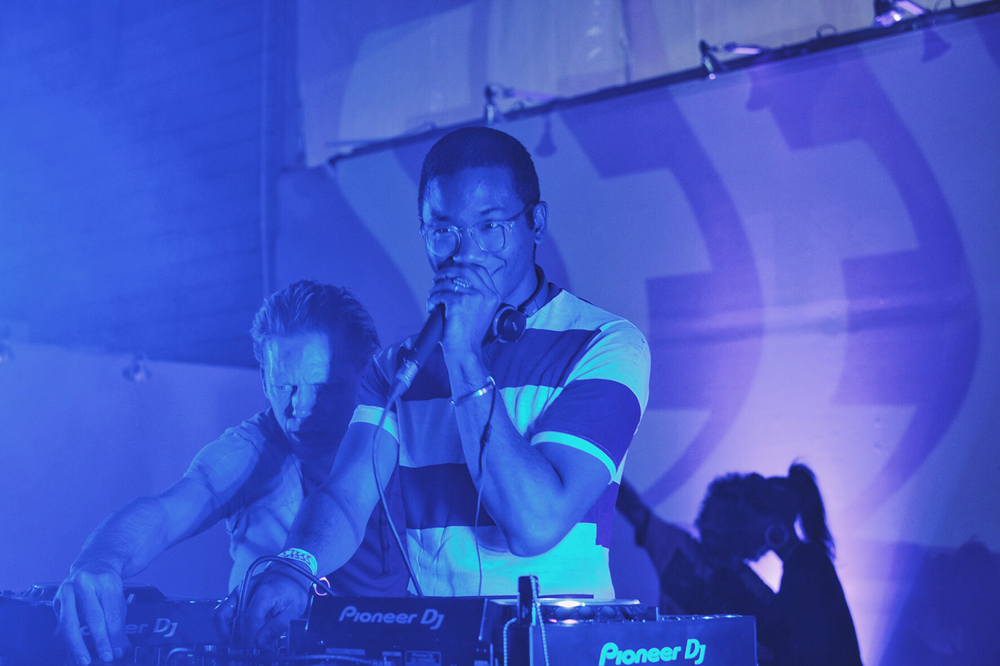 Then it was outside to one of my favorite exhibits from the night, artist and designer Ali Madigan's grid exhibit in the back of shipping container. Geometric patterns created depth perception plays on the eyes and made for excellent photo ops.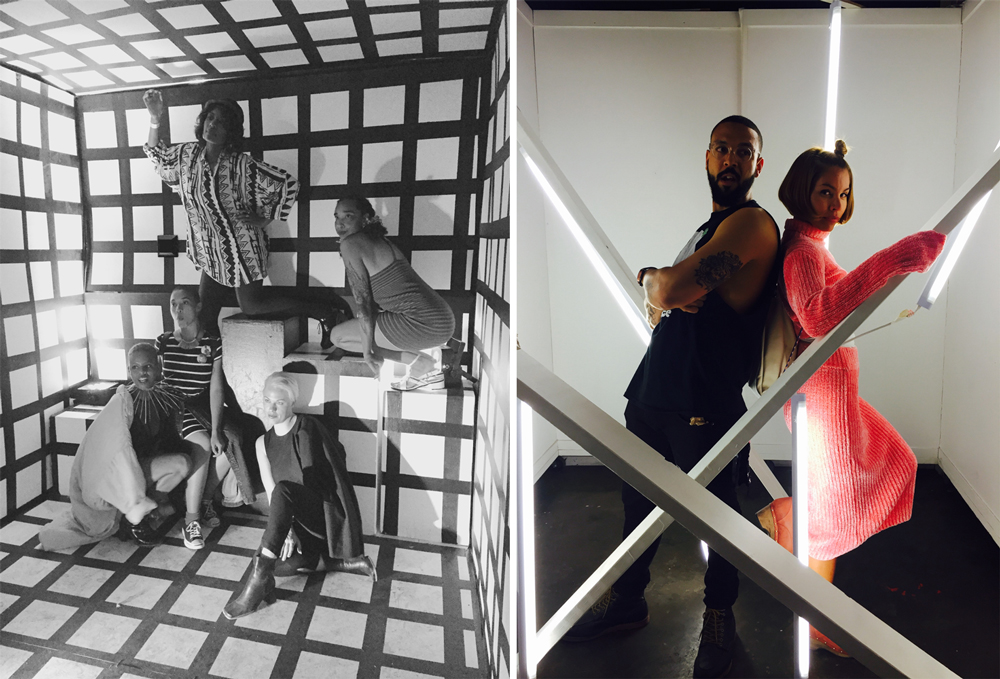 Left: One of the most popular exhibits by designer Ali Madigan, seated on the bottom right with her crew; Right: Stranger with an amazing outfit and me being silly in the Ambar Navarro exhibit. Photo: Brandon Diaz
It went something like this: Go dance at a stage for one of the sick DJs, go into Madigan's exhibit for more photos with strangers, back to the stage to see if Lil B was basing the adoring fans, and then back in for more photos Madigan's.
But sometime in the 11:00 o'clock hour, the Based One himself took the main stage—red cap on, shirtless—to a sea of his faithful, ready to go from lit to extra lit. And it got lit. I'm a few whiskeys in and all smiles, hands in the air boogieing with the coolest of cool in the Bay.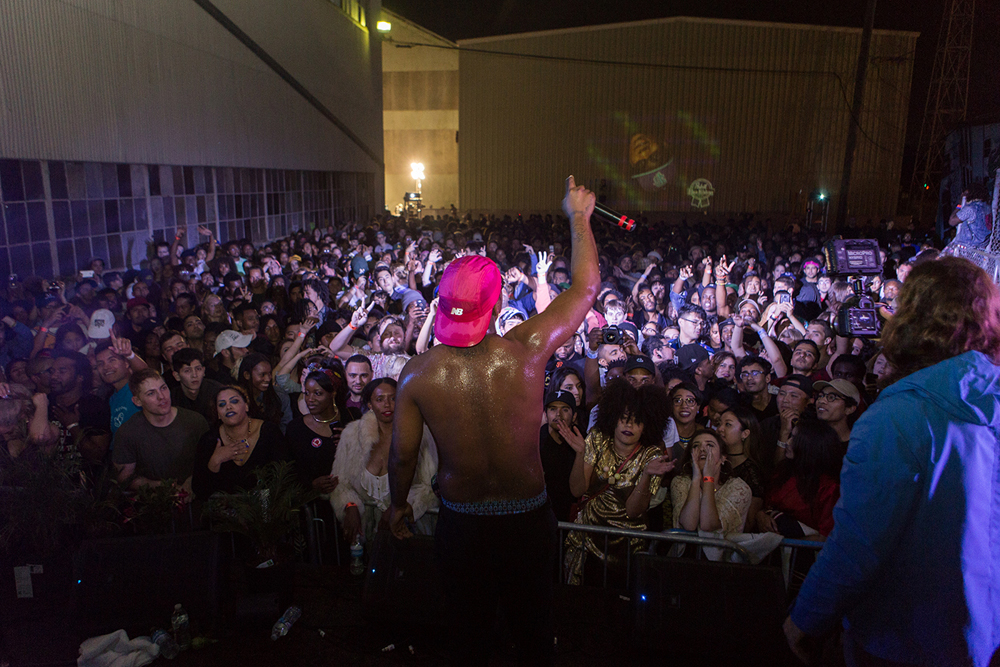 By midnight, the festival's attendance became apparent. FEELS is huge. Co-founder Max told me, "FEELS has evolved so much in such a short amount of time it's crazy. When we first started it was really about bringing together a variety of different art forms into one event."
But it has become so much more than that. With the sheer crowd size and the electric energy, the event concluded with only positive vibes. No drama, just love. All smiles. Strangers communing with other strangers for the distinctly Oakland event. (In fact, one of my favorite looks of the night was a woman with a platinum undercut, velvet-scarlet lipstick, and a denim jean jacket that said "BOMB PUSSY" on the back). Something about the Bay and those creatives who hustle to bring the harbingers of the new arts/music scenes into a smorgasbord of turnt vibes and community.
And it's thanks to the efforts of Oaklanders Max Gibson and Will Bundy. Mas, much, and many, many propers to those dudes. Wine + Bowties' FEELS V was not only lit AF, but a showcase of how the integrative arts scene in the Bay is flourishing in a time of economic displacement, and change on the horizon for many of its residents.
But a general lesson on rill events: If you book them, they will come (and it will be Littttt).
***
wineandbowties.com. Follow Wine + Bowties on Twitter @wineandbowties, Facebook, and Instagram @wineandbowties.
And listen to their sounds via Soundcloud. All photos by Amir Aziz for Wine + Bowties unless otherwise noted.