Below are five of the eateries I currently frequent, and by no means are they the be-all end-all of what and where I eat, it's just what's in rotation right now. I think there's something for everybody here – don't get too caught up in how places may look and the "grade" rating. A few of these places are staples in their communities and others, well, they just make stuff I like. Hope you guys can try them out if you're in NYC, who knows, I might be there if I'm not at Sweet Chick… But that's another problem altogether… Seriously?! Is there a 12-step program for Chicken and Waffles?!
Disclaimer: I'm not responsible for how my taste in food may effect the reader. I tend to like my food spicy, salty and/or savory, at times all of these at once. That being said, I'm not the guy you go to for Michelin-rated restaurants – heck, some have a "B" rating or less – but these are places that I frequent often and swear by. If you're keen on good, cheap eats like I am, then try these NYC spots out.
::
SUSHI PARK
Sushi Park is one of those places that I came across the day I interviewed Bogdan for the Gnarmad piece. He brought me there. Most people go for the half-price sushi, which is decent, but if you want great sushi, there's Blue Ribbon Sushi on Allen street at the Thompson Hotel. I go to Sushi Park for the ramen – the Spicy Seafood Ramen to be exact. I just love this dish, I've tried other places, but for whatever reason, nothing touches it. The veggie ramen is equally as good and it has a vegetable broth, so you don't need to worry about it at all if you're a hardcore vegetarian.
I go here twice a month and order the same thing every time.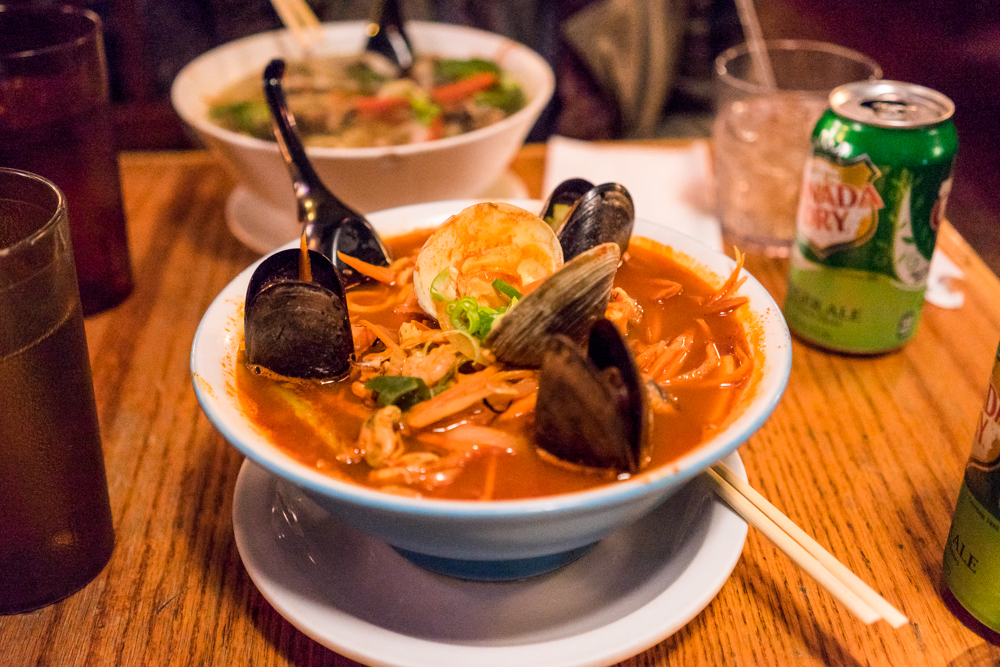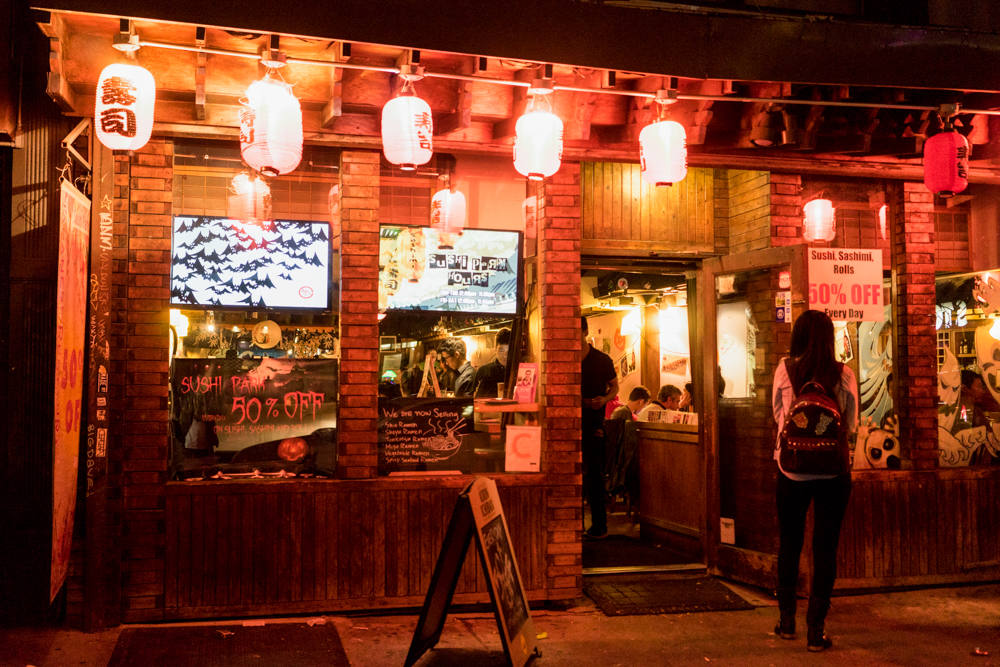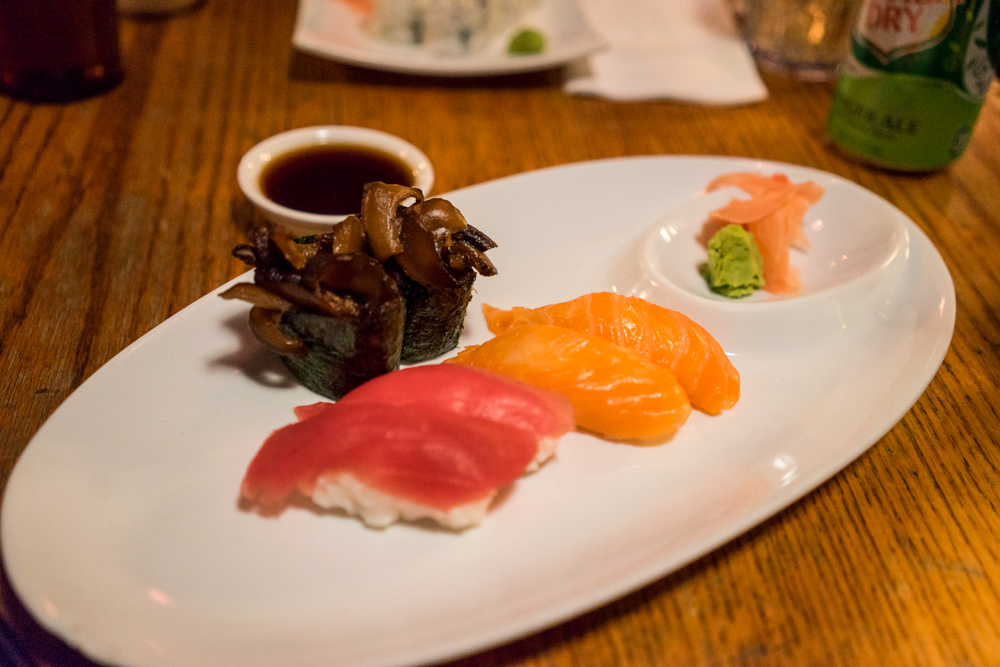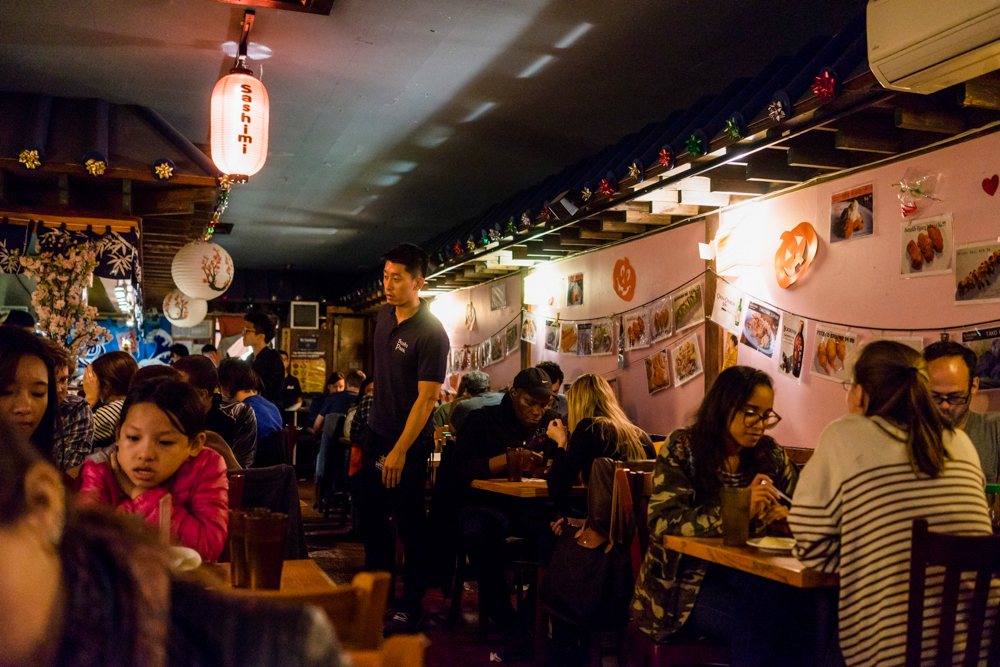 SUSHI PARK is located at 121 2nd Ave, New York, NY 10003.
::
PEACHES
Recently, I went out to Bed-Stuy to shoot  photos of the musician Hiro Kone. After the shoot, I realized I was a few blocks from my old apartment on Decatur, off of Malcolm X Blvd. I lived here after my separation with my ex-wife and not to touch much on my personal life, it was probably less than a year and was in what I would describe as a tumultuous relationship (understatement), needless to say, one of the three spots I ate while I lived there was Peaches (the other two were Malcolm X Pizza. Butch, the owner made an amazing turkey burger, sadly it closed before I left, and Saraghina's, who makes amazing brick oven pizzas and is bring your own booze.)
Peaches is pretty much a neighborhood staple, and on the weekends, you can expect a wait for a table for brunch – but it's worth it if that's your thing. I'm not really the brunch type, but that's another story. I normally go to Peaches for dinner and pretty much order a few things: The blackened catfish sandwich is amazing and they make an amazing turkey meatloaf, along with my personal favorite, the battered flounder with seasoned fries. The 3 sides are popular as well. The atmosphere is pretty laid back and foods rich and good, like Southern food should be (I should know, I lived in Atlanta from 1993-97, what refer to my "Heavy Years").
Anyhow, if you're in the Bed-Stuy area, you should definitely check out Peaches, the food's amazing and reasonably priced. Just wish I didn't have to go thru a tumultuous relationship to find it… But hey, something good came out of it!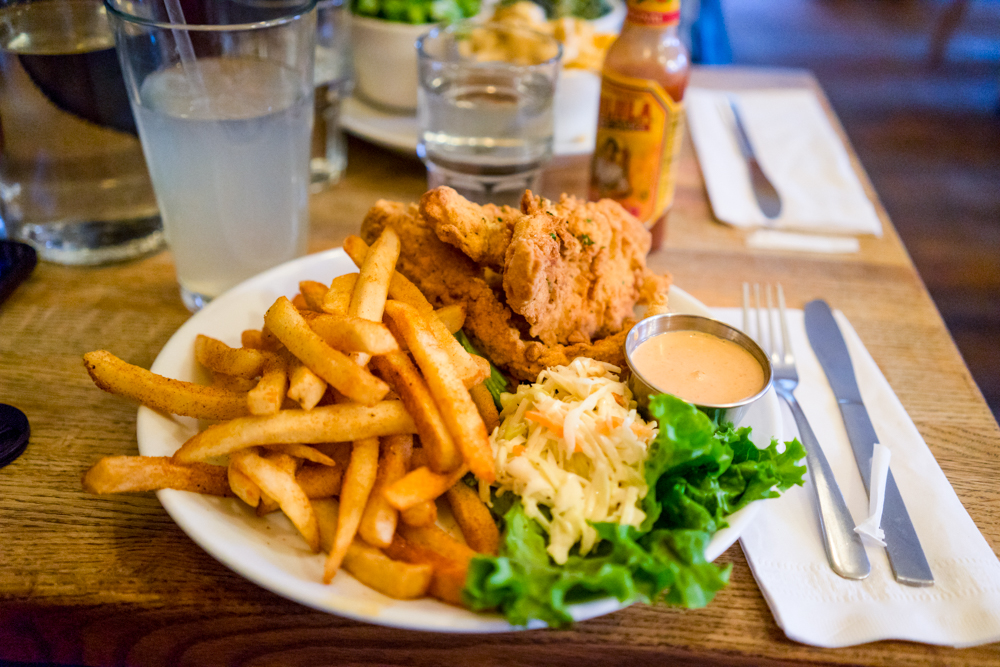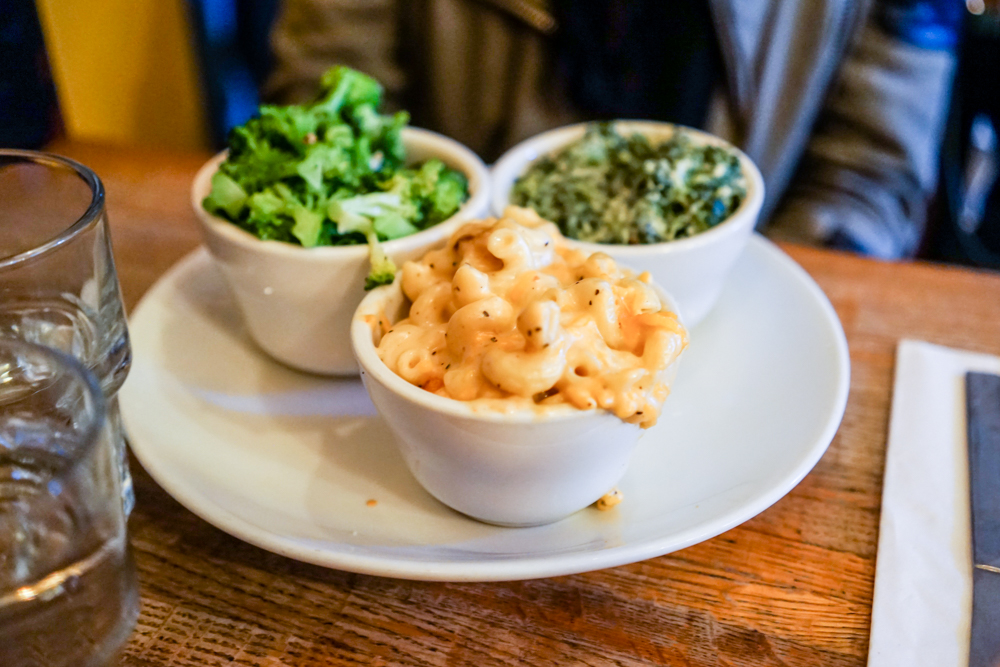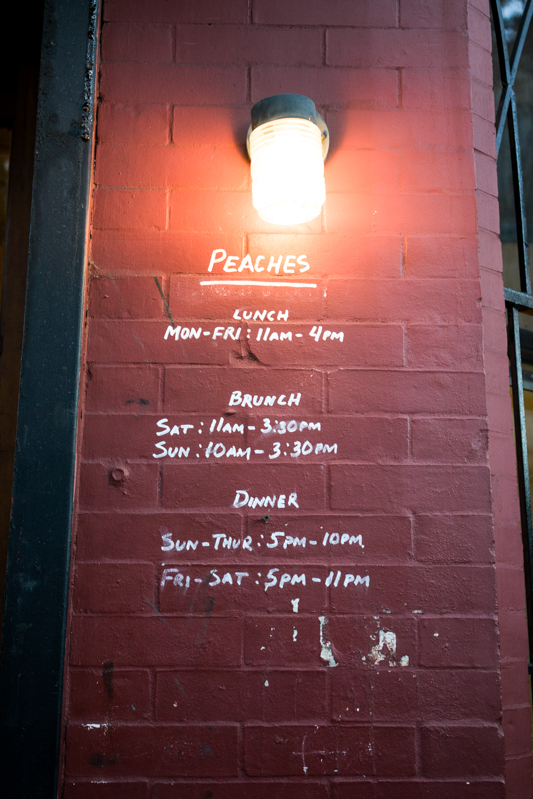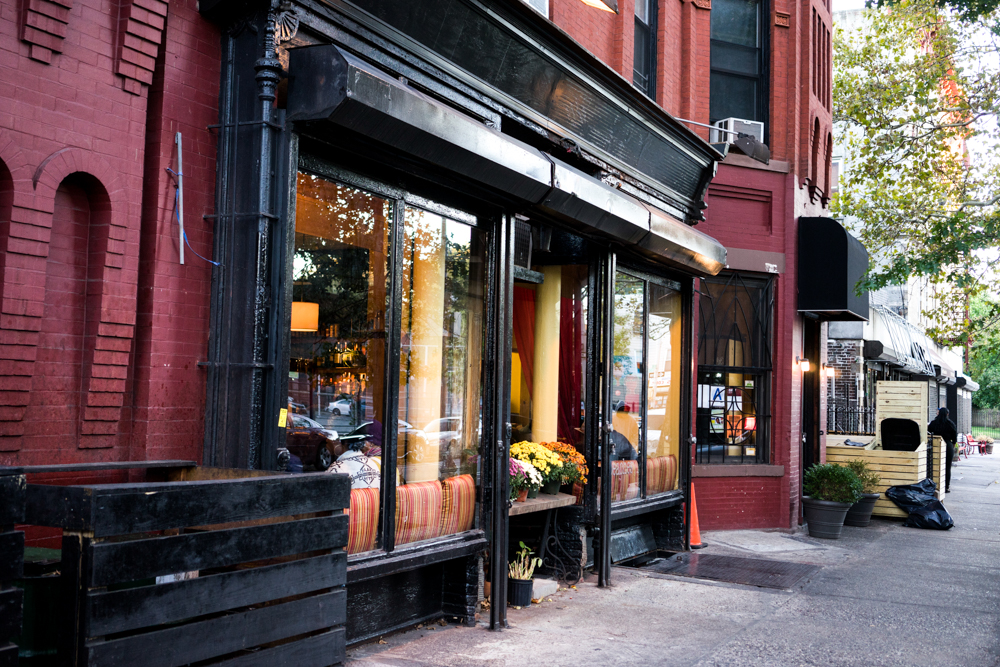 PEACHES is located at 393 Lewis Ave, Brooklyn, NY 11233.
::
NYONYA
How do I start this…
I can't really talk about Nyonya so much, because it's not really about the actual restaurant than it is about a particular dish and my hunt for the perfect version of it. Spicy Thai Chicken, oh how I love thee, it's probably one of the 3 reasons I can never be a vegetarian. The other two being my lamb marinated in honey, soy, and garlic and my mom's fried whiting fillets. But spicy Thai chicken is one of my food weaknesses that just can't be translated or mimicked in vegetarian form. It's basically steamed half or quarter chicken served at room temperature with a savory "spicy" Thai sauce served with chicken broth rice over cucumber slices.
I've been eating this dish religiously since 2003, when I accidentally ordered it one day with my ex-wife in Chinatown Brooklyn at Sun Ky Malaysian restaurant, which has since closed. Knowing one day that I'd have to seek out this dish in other restaurants, I manage to track to Penang in Elmhurst, Queens – eventually finding their chinatown NYC location, which has since closed. Luckily, I manage to track another spot one block away called New Malaysian Restaurant, but that's my secret spot, I go there and the waiter doesn't bother giving me a menu, he seats me, brings me a ice tea with crushed ice, a Roti Cani and my spicy Thai chicken, white meat, with rice and chicken broth on the side, which you can pour over the rice or eat as soup. It's a guilty pleasure and it's not like you can't just Google it.
Nyonya is a little closer to my day job and I usually have lunch meetings there. The food's great, but it's not like I order anything else. Roti Cani (it's a flakey thin flour pancake served with a curry dipping sauce) and spicy Thai chicken, white meat, and chicken broth rice. Most times, the waiter/waitress will questions me on it, as if to say, "You know what that is?!" Or they'll explain, I usually tell them I know what it is, they smile and walk off… Anyhow, a bit long-winded over room temperature chicken over rice, but hey, it's what I like and Mac loved it, so it can't be that bad!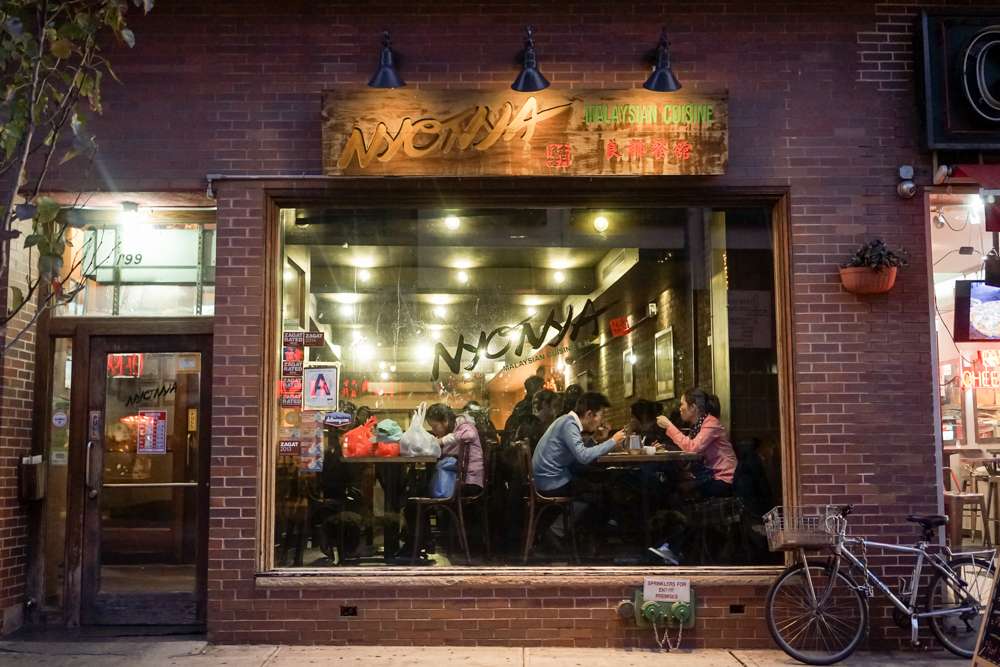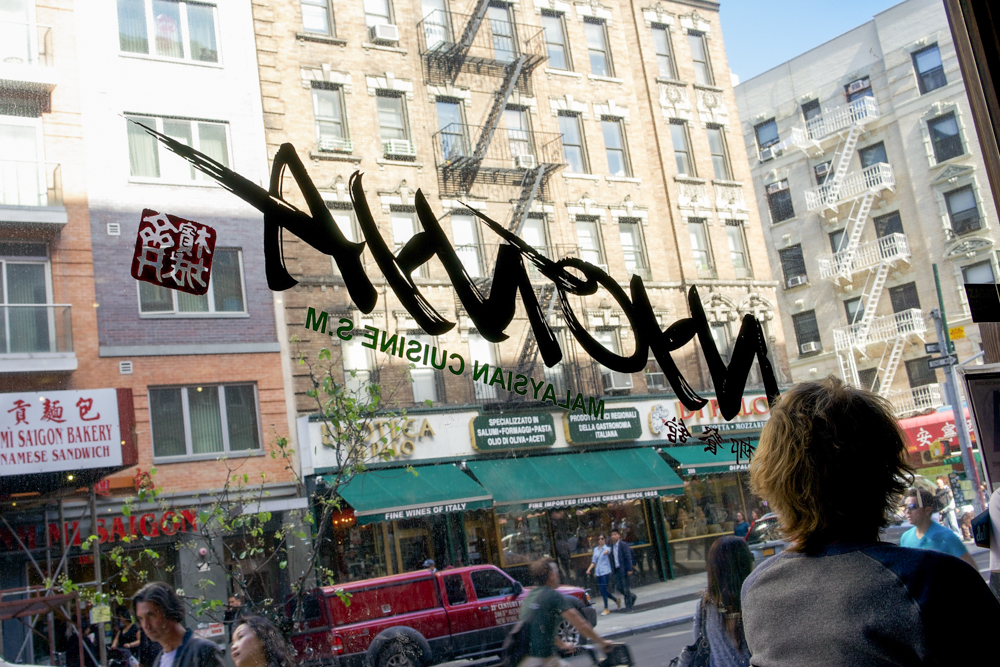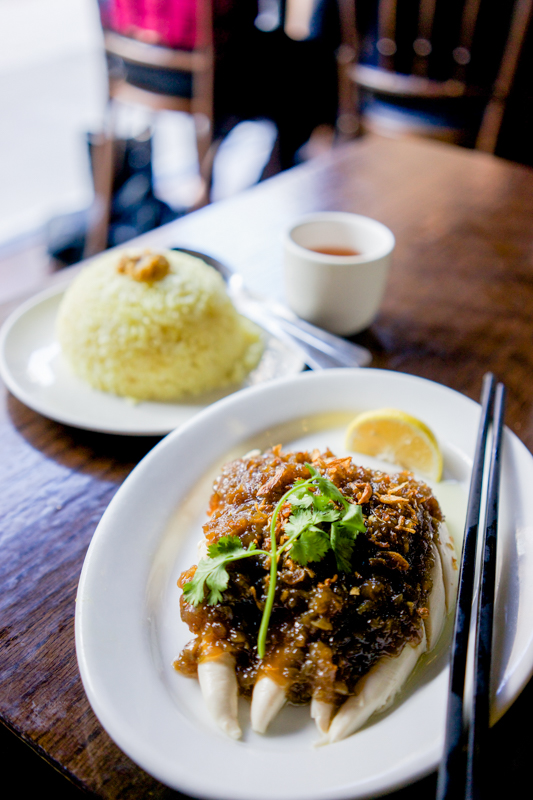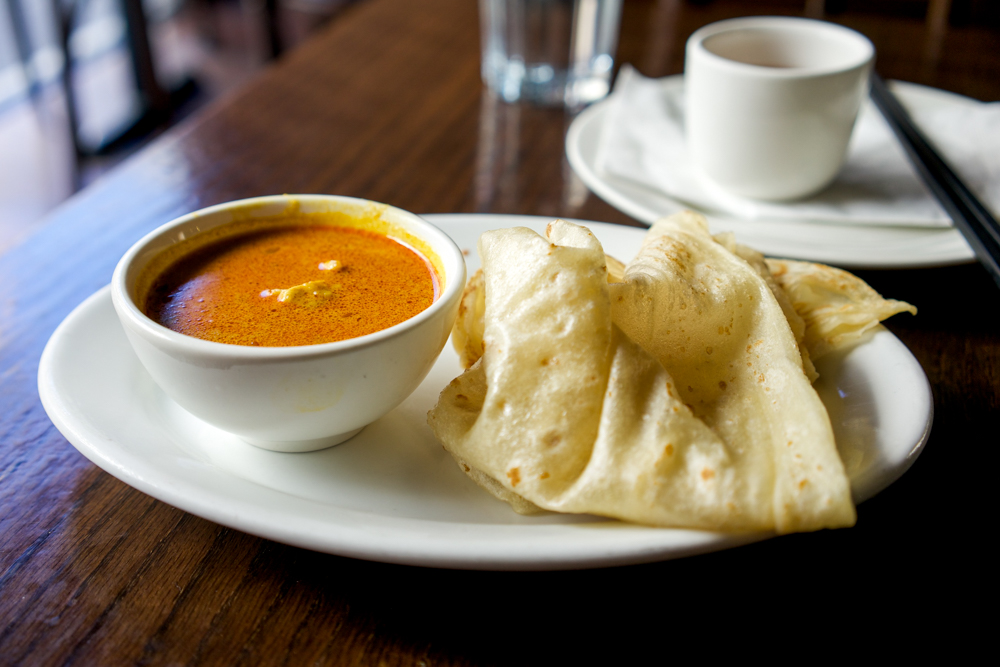 NYONYA is located at 199 Grand St, New York, NY 10013.
::
DONUT SHOPPE AKA SHAIKH'S PLACE
I came across The Donut Shoppe, well, I guess when me and my lady started seeing one another. She's a stylist and would have 7am call times and I'd walk her to the train station and started having breakfast there back when I was working later in the day. To me, The Donut Shoppe reminds me of old New York, the layout, the food, the staff, the regulars, etc. If you go there long enough, they know how you want your coffee (more sugar please. Diabetes? What's that?), how you like your eggs (scrambled), and that you never order meat (girl's a vegetarian, sorta makes me one most of the time), and it's cheap ($4 dollar breakfast, go find that in Soho!).
I rarely eat donuts and when I do, I get sugar donuts. They remind me of my childhood in Spanish Harlem. My mother would walk us to school in the mornings, go by a bakery, and get me and my brother sugar donuts or freshly made Italian pressed flat bread and butter – but that's another post altogether. Anyhow, from what I've read and the few times I've eaten the donuts, they're really good. I get my morning coffee there everyday and the few times that I have time to linger in the neighborhood, I pretty much have my breakfast there. It just reminds me of old New York. Grimy, non-pretentious and cheap.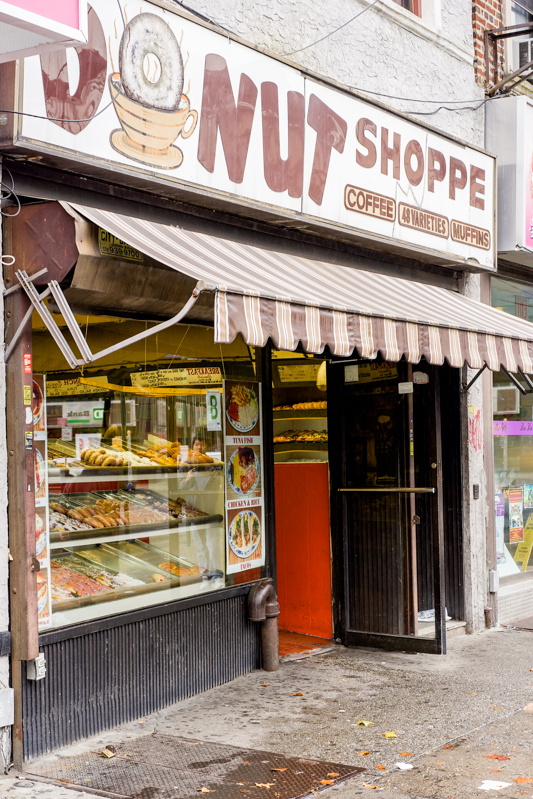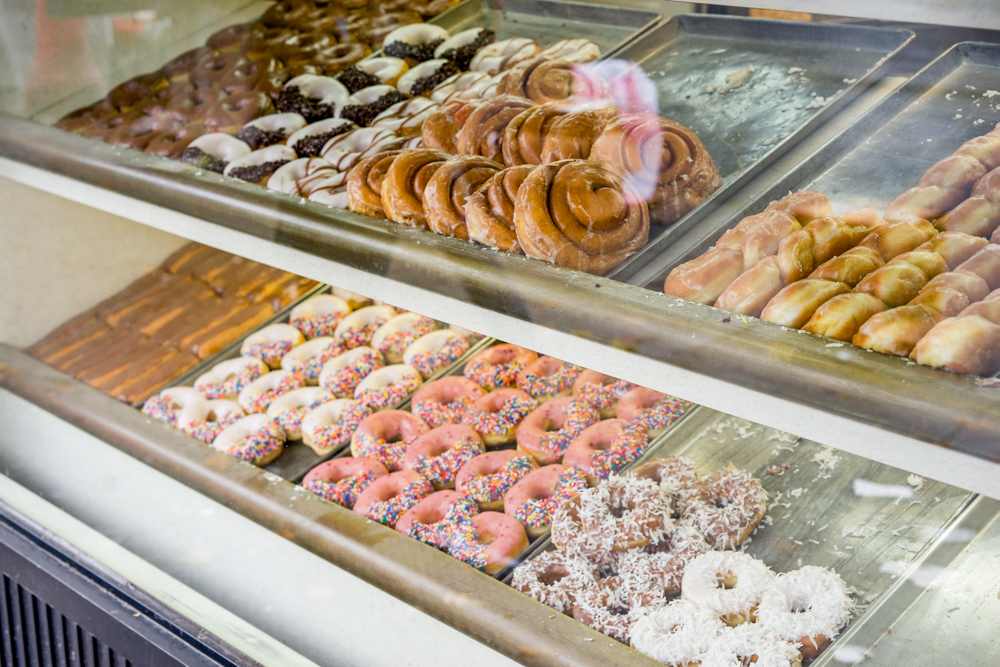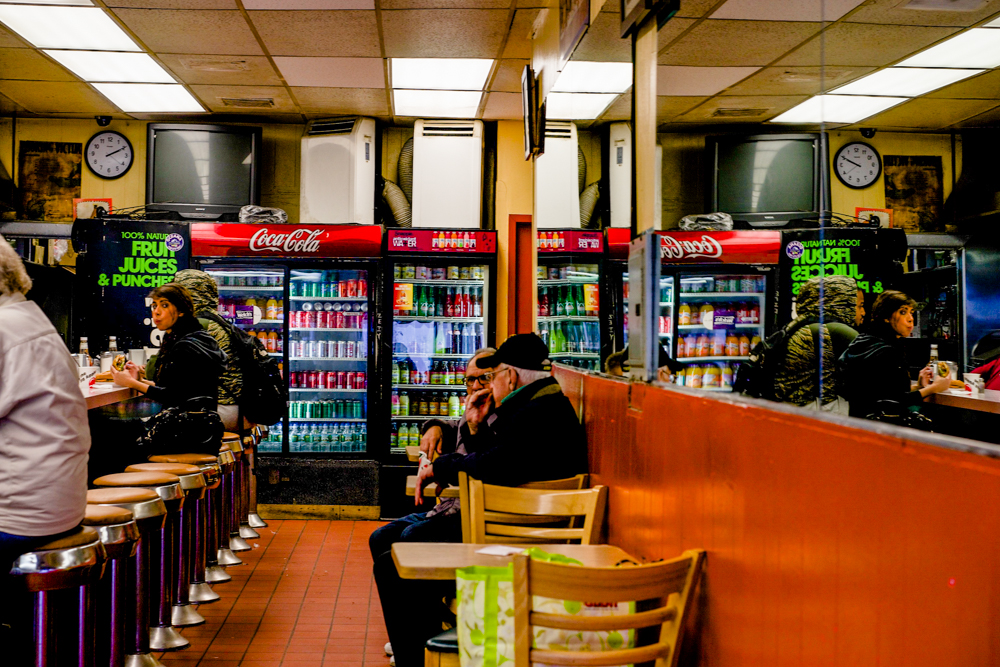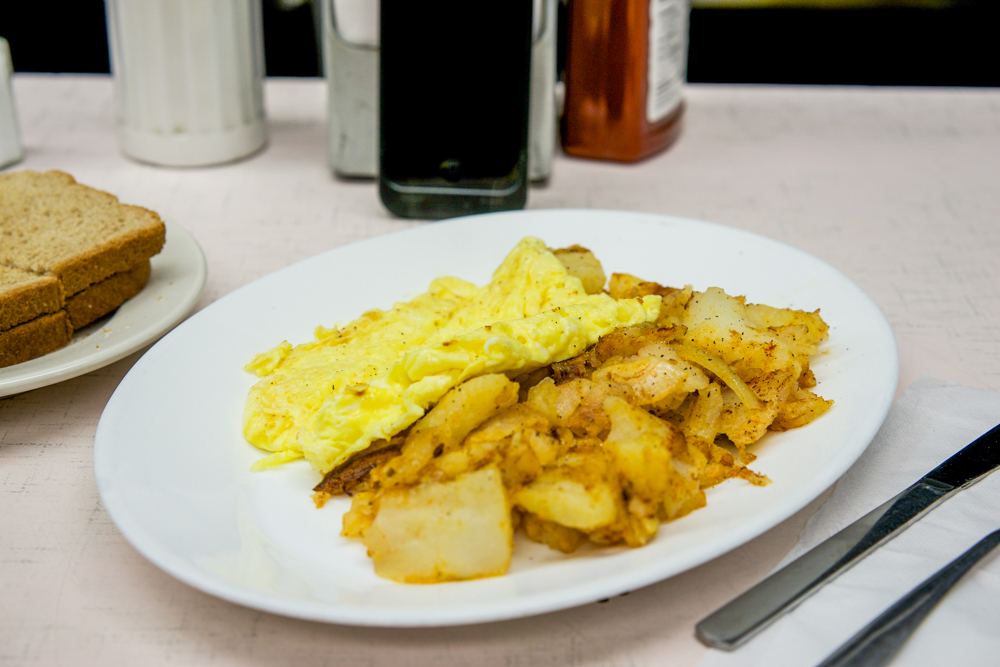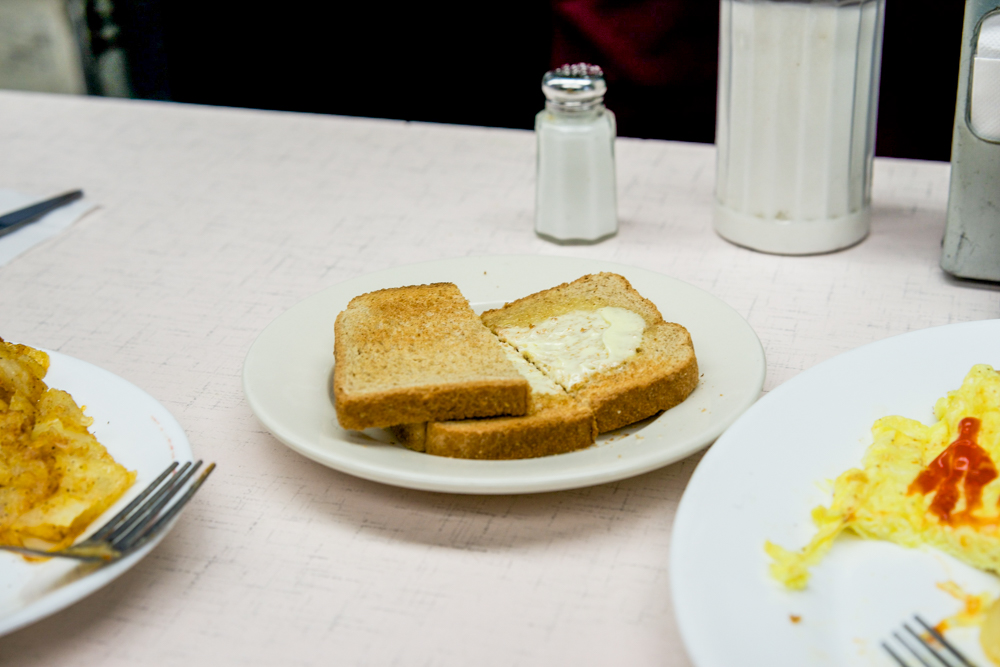 SHAIK'S PLACE is located at 1503 Avenue U, Brooklyn, NY 11229.
::
SAHARA
I started going to Sahara a few years ago when I first moved to Gravesend, Brooklyn. It's Mediterranean style cuisine – falafel, gyros, kabab (chicken, beef, lamb, salmon and shrimp), liver cubes(?), Turkish bread, hummus, etc… It's within walking distance from our apartment and it reasonably priced and open pretty late.
I always get the lamb platter, either the Adana or kebab over pilaf with vegetables. The allure I suppose is that it reminds me of cooking on my balcony in Rockaway with my old Israeli neighbor. We'd wake up and go surfing, come back, and go to the supermarket and buy meat – mostly ground beef – and make kifteh (minced beef mixed with parsley and onions, spiced with a mixture of Mediterranean spices), grill veggies and pita, and watch the sun go down over Jamaica Bay. This was pretty much all summer and it never got old.
Anyhow, I love Mediterranean cuisine and it's vegetarian-friendly. Just don't expect any action afterward, garlic and onions are a staple and all the breath mints and gum in the world ain't helping, so probably not a good choice for a date, unless you're already deep in it and they can tolerate your breath… Just saying…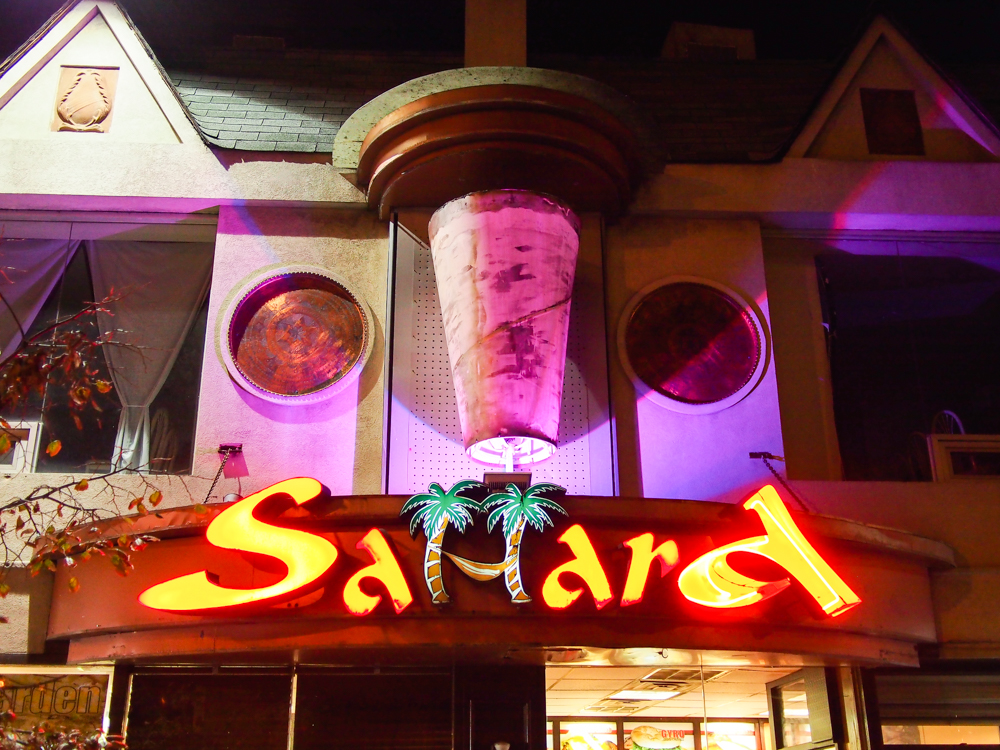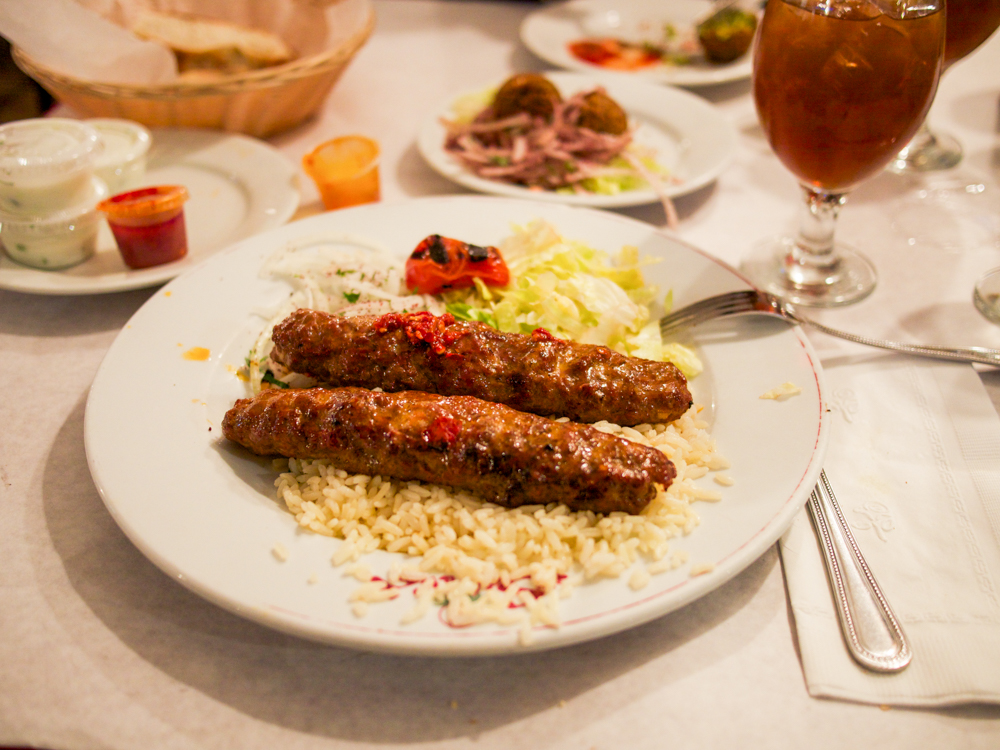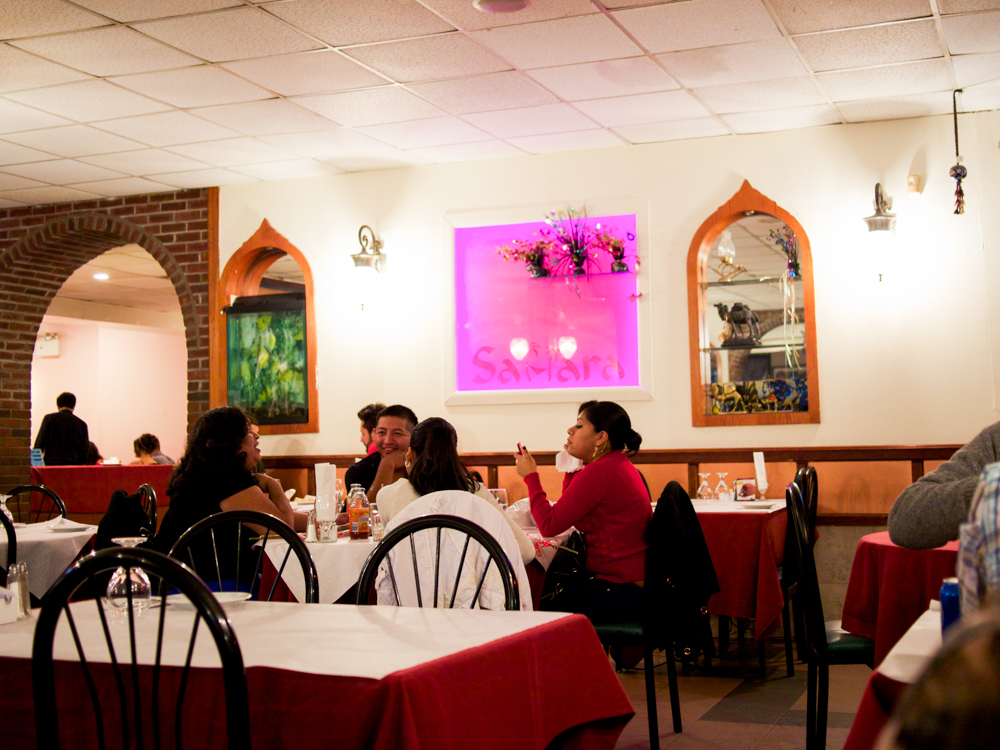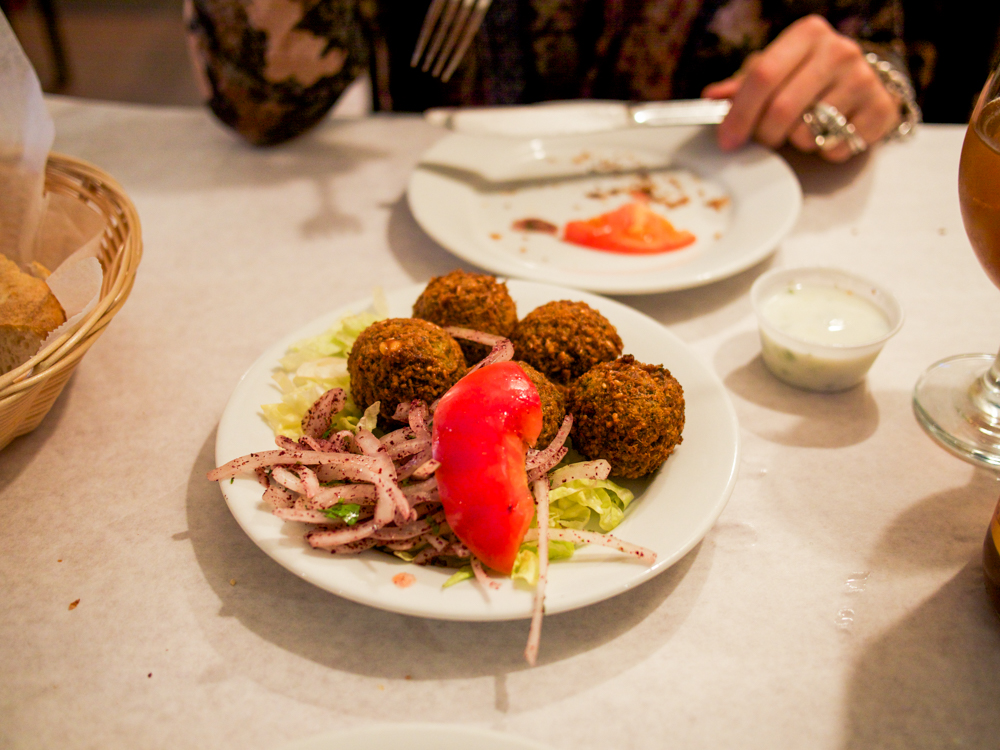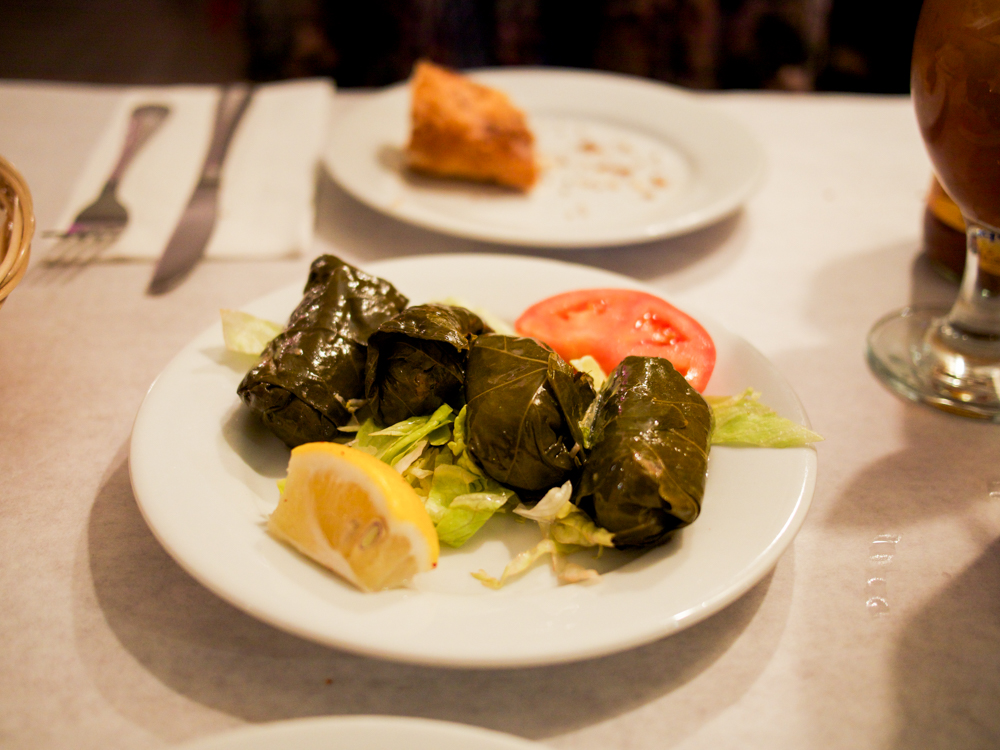 SAHARA is located at 2337 Coney Island Ave, Brooklyn, NY 11223.