2016 was anything but boring for Young Thug, who is now known as Jeffery (and will be called that throughout this piece). He's beefed and reconciled with his "brada" Future, released three projects that went #1 on the charts, killed countless feature verses, and even had time to completely reshape his image under a new moniker. The only thing that hasn't changed is his tireless devotion to his art, providing new fans and old fanatics with songs and verses more memorable than last year. Jeffery is the rare rapper that actually gets better as he grows older, and now that his releases are more laser-focused and fewer than before (no more leaks!), it seems like his career is FINALLY starting. We didn't get his long-delayed debut album, HiTunes (I refuse to spell it the way it's supposed to be spelled), but what we did recieve is an artist who not only growing into his newfound popularity—he's been on Kanye West and Usher's albums this year—but he's more hands on with his own destiny. The name "Young Thug" was nothing more than the means to an end, and it didn't define the artist that he's becoming—he's nearly at the precipice of showing us who he always was. I gathered the best songs from Jeffery in 2016, from album cuts, to feature verses that stood out, and you can find them (with links!) below.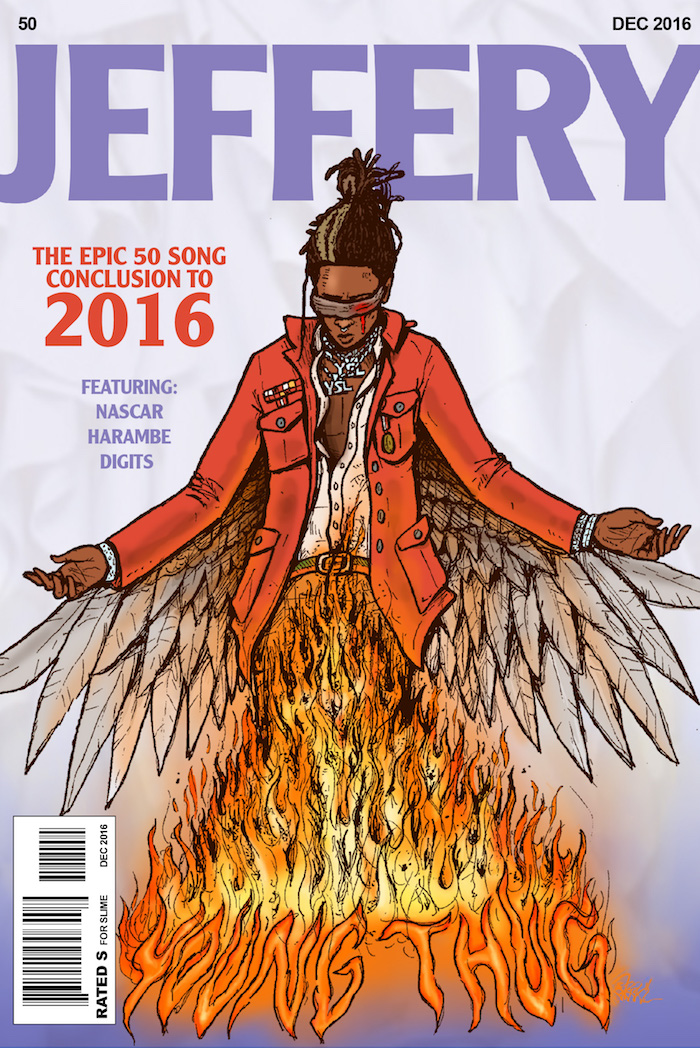 1. King TROUP :: I'm Up
Jeffery's ode to his fallen friend, TROUP, served as a backdrop to one of his most introspective songs of the year. "King TROUP" is both vulnerable and rebellious, as he rallies his closest friends to remember their loved ones. "TROUP" holds a special place in my heart, especially this year. I dealt with the loss of family and close friends, as well as the confusion and anger of mourning over relationships that I thought would last forever. This song helped me remember that it's okay to not be okay, but giving up is never an option. Thank you, Jeffery.
2. Harambe :: JEFFERY

A song that's in the running as one of his best songs ever, "Harambe" is Jeffery at his most unhinged. Being named after 2016's most noteworthy casualty (on Internet messageboards, anyway) was likely no accident—the artist formerly known as Young Thug goes apeshit on this song. "Harambe" proves that, name change be damned, Jeffery is still capable of pulling out performances that mix the experimental flows of his 2013 self with the tight lyricism of his current incarnation.
3. Drippin' :: Slime Season 3

Ranking "Harambe" and "Drippin'" was one of the hardest decisions that I made on this list. Both songs are exercises in how limber and weightless Thug can be on almost any beat, and the minimal, almost dream-like beat for "Drippin'" is a perfect example of that. I'd put Jeffery's first verse on this song against any verses this year, running off a non-stop flurry of lines that sync so well with the production that you'd think he created the beat. I still don't know how he did it, and it has to be one of the most difficult things I've ever tried to recreate when listening to it. Check it out for yourself.
4. Webbie (Featuring Duke) :: JEFFERY

How could you not love "Webbie"? The appropriately named song not only takes cues from the more thought provoking and introspective nature of its title subject (Please go listen to the first Savage Life album), but it also has Jeffery once again playing around with his cadence and flow within the second verse—transforming into completely different person altogether. His right hand man Duke also comes through with a clutch feature verse as he's known to do—damn near matching his partner-in-crime in pure intensity with his memorable rags to riches story.
5. Pick Up The Phone (Featuring Travis Scott & Quavo) :: JEFFERY/Birds In The Trap Sing McKnight

We can argue all day about who this song REALLY belongs to (radio stations have it listed as Young Thug AND Travis Scott), but one thing is undeniable—"Pick Up The Phone" is one of the best songs of the year. With a steel drum loop that sounds suspiciously like the melody from Jodeci's "Love You For Life," "Phone" is a trap ballad that has Jeffery rapping about his sister's tuition, his mother, and never cheating on his #bae. In a year where nothing quite seemed normal, it figures that one of the Migos, Travis Scott, and Jeffery would make the most romantic songs of the year.
6. Guwop (Featuring Young Scooter, Quavo & Offset) :: JEFFERY

I might catch flack for this (whatever), but I've loved "Guwop" since I heard the tiny speaker version that Jeffery posted on his Instagram in late July. I bothered Alex Tumay (who engineered JEFFERY and countless other projects for Thug/Jeffery) about when it was coming, and sat in anticipation for the full version. When it finally dropped in its proper form, I was blown away. The chorus is rebellious and triumphant, Thug's verse is hilarious, and the featured artists more than carry their own weight. I tried to keep the top ten of this list very light on features, but "Guwop" is the one posse cut that delivers on being enjoyable from start to finish. Ya dig?
7. Texas Love :: Unreleased

"Texas Love" released in a weird period between the release of Slime Season 3, Thug's name change, and the eventual release of JEFFERY. Released in response of the the statewide flooding tragedy in Texas earlier this year, "Texas Love" is a rare instance where Thug's rapid and sporadic output actually has a timely release—the song and video dropped right around the time of the incidents. Besides the obvious real world implications behind the song, "Texas Love" is enjoyable throughout, and served as a small snippet of the newer artist that we'd be getting in just a few months time—as Jeffery pays tribute to fallen Atlanta rapper Bankroll Fresh and exclaims about his new cars all within the same breath. Of all the songs released by Jeffery this year, it's a shame that this one didn't make the cut.
8. Gangsta Shit :: Unreleased

Yet another song that didn't find its place within the three major releases from Jeffery in 2016, the bouncy, almost West Coast-like "Gangsta Shit" was originally labeled as a "first single" (to what? No one knows). That's not to say that it didn't have some gems hidden within the extremely vulgar chorus ("I can dick you down on some gangsta shit" probably would have made most program directors at radio blush), as he derides heavy drug users for caring about their next high more than their family or well-being ("They walking round geeked up out they mind/soon as they come down ain't got a fuckin' dime"). "Gangsta Shit" isn't as bombastic or instantly catchy like "Check" or "Pick Up The Phone," but its left-field approach to the modern single is commendable.
9. Nascar/Wyclef Jean :: JEFFERY

An intro like none other, "Nascar" (formerly "Wyclef Jean") is essentially a mission statement for Jeffery, who effectively shed his Young Thug roots on JEFFERY. "Nascar" is influenced by a number of different musical styles—reggae, trap, worldbeat— but they all properly orbit around the world of Jeffery. He hasn't changed much if any of his more poetically (ahem) romantic lines ("Let a nigga nut, only way I go to sleep"), but the way he's able to quickly snap from one flow to another (seriously, listen to the first verse) on the song makes it one of the most impressive collection of verses he has had all year. If this is what we have to look forward to with this name change—sign me up.
10. Offended (Featuring Meek Mill & 21 Savage) :: DC4

If you ask me, this is only Meek Mill's song on a technicality—"Offended" is the Jeffery show, everyone else is just a guest. From the moment the chorus starts, to the end of his verse, you'll probably get annoyed, or confused when someone else starts rapping. "Offended" gets the nod in the top ten (even though Thug is merely a "guest") because it's possibly the best guest verse of the year and one that makes you completely forget about the main artist on the song.
The Best of The Rest
11. With Them :: Slime Season 3
12. Famous (OG Version) (Featuring Kanye West)
13. Future Swag :: JEFFERY
14. Hercules :: Im Up
15. Digits :: Slime Season 3
16. RiRi :: JEFFERY
17. Guwop Home (Featuring Gucci Mane) :: Everybody Lookin'
18. Worth It :: Slime Season 3
19. No Limit (Featuring Usher) :: Hard II Love
20. Minnesota (Remix) (Featuring Lil Yachty, Skippa Da Flippa & Quavo) :: Lil Boat (Mixtape)
21. Respect (Featuring Trouble) :: Skoobzilla
22. Cocoon (Remix) (Featuring Migos)
23. Problem :: Slime Season 3
24. Floyd Mayweather (Featuring Gucci Mane, Gunna & Travis Scott) :: JEFFERY
25. Neg 4 Degrees (Featuring Bankroll Mafia) :: Bankroll Mafia
26. No Wendys (Controlla Remix) (Featuring Twice)
27. Triple T (Maintain) (Featuring Trez & Twice)
28. Pop Man/Kanye West/Elton John (Featuring Wyclef Jean) :: JEFFERY
29. Tattoos :: Slime Season 3
30. I Do This (Featuring Nipsey Hussle & Mozzy)
31. Swizz Beatz :: JEFFERY
32. Hyenas (Featuring Bankroll Mafia & Lil Yachty) :: Bankroll Mafia
33. Trap House (Featuring Lil Durk & Young Dolph) :: 300 Days, 300 Nights (Mixtape)
34. Cash (Featuring Bankroll Mafia) :: Bankroll Mafia
35. F Cancer (Featuring Quavo) :: I'm Up
36. Misunderstood (Featuring D.R.A.M.) :: Big Baby D.R.A.M.
37. Memo :: Slime Season 3
38. Slime Shit (Featuring Duke, Yak Gotti & Peewee Roskoe) :: Slime Season 3
39. My Boys (Featuring Ralo, Lil Durk & Trouble) :: I'm Up
40. Cut It (Remix) (Featuring O.T. Genasis & Kevin Gates)
41. Serving The Plug (Featuring Dora & Dolly) :: Family Ties
42. Special (Featuring Offset & Solo Lucci) :: I'm Up
43. Wrist (Featuring Jeezy & Chris Brown) :: Royalty
44. Turn Up
45. Ready (Featuring Trouble, Big Bank Black, Young Dolph)
46. Ran It Up (Featuring Rich The Kid) :: Keep Flexin
47. Consuela (Featuring Belly & Zack) :: Inzombia
48. Family (Featuring Dora & Dolly) :: I'm Up
49. Stand Up Niggas (Featuring Duke) :: Blue Devil (Mixtape)
50. Mixtape (Featuring Lil Yachty & Chance The Rapper)
***
Illustration by Eddie Viramontes.