When looking at Julius the Monkey's face, there's a lot to love about it. His eyes are just dots, but they're soulful. His lips are the color of Jessica Rabbit's dress. His ears have the slope of Nascar tracks. For millions, it evokes happy emotions and fond memories. But for its creator, Paul Frank, it's easy to imagine that it drums up feelings of hurt and despair given what has happened to him since the circles he used to create Julius became zeroes in a design empire. Today, Paul Frank Industries lives on... but without Paul Frank himself. How did three friends become three business partners... and then become merely a duo?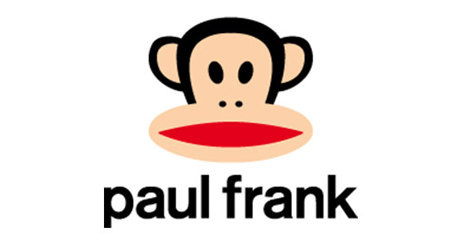 In 1995, Paul Frank Sunich was 28-years-old, worked at a newsstand, and lived at home with his parents in Huntington Beach, California. For Christmas that year, he received a Singer sewing machine and began making kitschy gifts like wallets for friends by using Naugahyde—a type of vinyl—and vibrantly colored cotton.
One of the patrons of the newsstand where Frank worked was Ryan Heuser, the public relations manager for Mossimo. At that time, Mossimo was a certifiable juggernaut in the activewear space. "We'd go shopping together, talking about why guys can't find cool colored socks," Heuser told Vanity Fair. "And then one day, he made me one of his customized wallets, and I started to realize what a true talent he was. People say they have epiphanies, and I had a moment where I said to him, 'Paul, would you like to be in business with me?'"
Heuser put up $5,000 USD of his own money and offered up the garage in his home as a workspace for their upstart business.
Photo: thekongblog.com
Two years later, John Oswald came on board as CEO. At the time, he was dating Heuser's roommate and couldn't help but overhear the inner workings of the budding design company. "He saw that our business was starting to get successful, and the momentum that my designs were getting around town," said Frank. "And he wanted to become part of it. And he had some capital—that's what we needed."
With only $3,000 USD dollars in their business' checking account, Oswald and Heuser received $500,000 in orders at the Action Sports Retailer show in Long Beach in February 1998 after sneaking in with a handmade booth built with materials from a friend's woodworking studio and line sheets with design mock-ups that Oswald's mother volunteered to print.
Many, if not all, of the people who wanted a piece of Paul Frank Industries really wanted a piece of Julius the Monkey. "I remember designing things that never got sold because people only wanted to take on Julius," Frank told Inc." That was okay. I could see that."
Heuser himself was confused by the popularity of Julius. "People went crazy," he said. "But I can't understand the psychology behind why one monkey works and another doesn't."
Paul Frank Industries was one of the first new brands that capitalized off collaborating with established properties like Barbie, Elvis Presley Enterprises, and the Andy Warhol estate.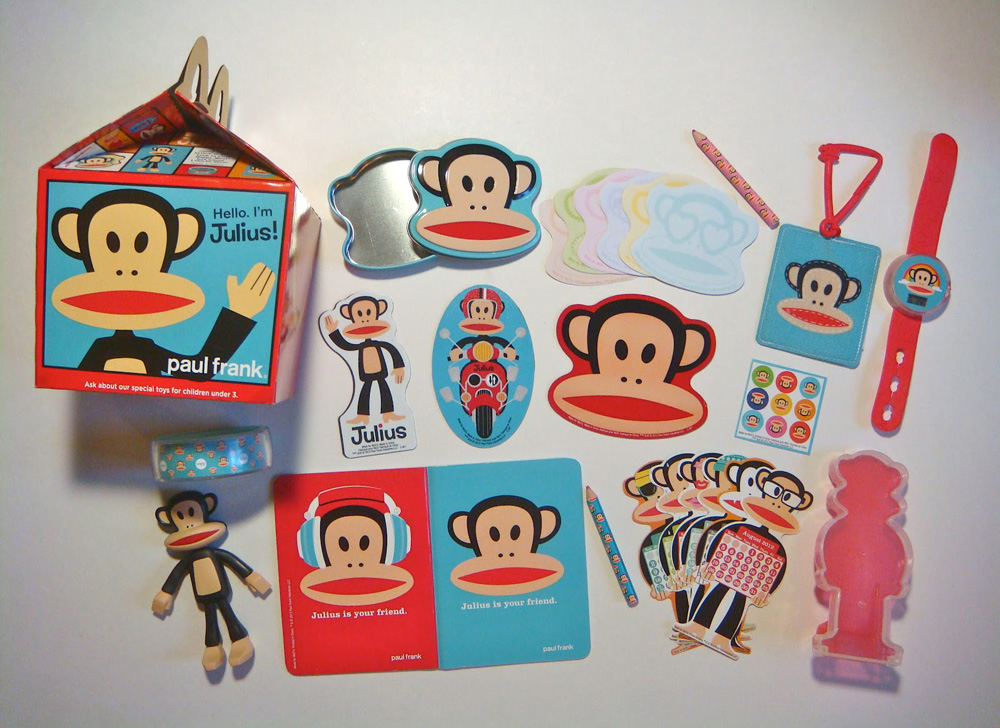 Photo: xxmioxx.blogspot.com
Hello Kitty's parent company, Sanrio, even joined in on the fun, marking the first collaboration for the company in 26 years – and one they certainly didn't need given their $500 million USD annual income. The collection included shoulder bags, CD wallets, a coin purse, and T-shirts.
In speaking about the collaboration, Frank told The Los Angeles Times, "I just think it's a huge honor, and I'm really proud of it. This guy who used to make wallets in his bedroom gets to have a character he drew on the same purse as Hello Kitty. That is pretty big. That is something I can die happy knowing. For them to recognize me is like, 'Whoa.""
By 2001, sales for Paul Frank Industries topped $10 million USD. As popularity soared, a standalone shop was built in Los Angeles (two more would be built). Today, there are shops in Athens, New York, Chicago, Las Vegas, San Francisco, Dallas, London, Amsterdam, Berlin, Bangkok, and Bahrain.
The Paul Frank Industries store in Singapore. Photo: carmiscaprice.blogspot.com
Like a lot of partnerships, one side saw it as a flourishing collaboration, while another saw it as a creatively stifling enterprise. On one hand, Frank admittedly lacked ambition. On the other hand, Heuser and Oswald seemed to be motivated by the money more than the art of it all. When his partners urged him to come into work earlier, Frank thought to himself, "That day, I realized they thought they were my bosses in some way. It was weird. They shared an office, they worked out together, and they were buddies. To them, I was just this esoteric artist."
At the height of their success as a trio, the company made $40 million USD annually and employed a staff of 120. But Frank was in need of a change. He and his partners agreed that he would continue working at an off-site, 3000-square foot studio. "He had the best situation ever," Oswald told Vanity Fair. "He didn't have to come to the office, he got paid exactly the same as we did, and we're the ones who did all the work. He didn't do anything, and he still quit. What am I missing here?"
It's often said, "it's business, not personal." For Frank, Heuser, and Oswald, it was a personal tiff with monetary undertones that ultimately led to a forthcoming legal battle. When Frank decided to get married, his partners urged him to get his bride-to-be to sign a pre-nuptial agreement which would protect his own money as well as the companies. Frank felt it was in poor taste to mettle in his personal affairs. In retaliation, he didn't invite either to his wedding.
When Frank returned from his honeymoon, he found his office at their headquarters completely cleared out. On November 1, the company's board voted to terminate Frank without cause and buy back his 30.4 percent share for an amount determined by a formula in their shareholder agreement. They offered him $611,378.35 USD. Frank insisted on nothing less than $13-14 million USD.
Photo: laweekly.com
According to Vanity Fair, "At that point, a flurry of legal maneuvering began. The company requested an injunction to prevent the man born Paul Frank Sunich from doing business under the name 'Paul Frank.' A judge threw out the injunction but cautioned Frank not to start a similar company using a similar name."
In the past, labels have continued to thrive without the people with whom the company was named after. Notable cases include Helmut Lang and Jil Sander. But in those instances, neither insisted that the company be completely shut down like Frank did.
Four months after the company issued a statement saying Frank left "to pursue other interests," he filed a lawsuit against his former company that sought to dissolve the Costa Mesa business—claiming he was fired without reason and was being denied a share of the profits.
Paul Frank Industries responded back, saying, "PFI was not created by one individual, but rather by a group of dedicated professionals. We are more determined and focused than ever to finish what we started, and to continue to make this company great."
During the next several months, Paul Frank tried to capitalize off the recognition of his first and middle name. They were "his," after all. In turn, Paul Frank Industries filed suit against him for trademark infringement.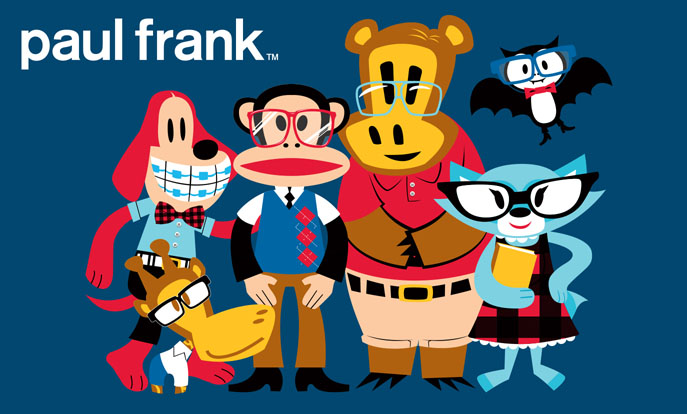 In a 16 page ruling by an Orange County U.S. District Court judge in 2005., he stated that Paul Frank could no longer use his own name to sell products. "Through the extensive efforts of both PFI and Mr. Sunich, the Paul Frank mark has become famous," said the judge. "Mr. Sunich therefore, has no absolute right to make use of his name in a manner that would be confusingly similar to PFI's use of the Paul Frank name."
In 2010, Haim Saban—who became a television tycoon by bringing the Power Rangers series to the U.S.—acquired Paul Frank Industries for $50 million USD. "We paid full price," Saban said in an interview. "Talk to me in two years and I should be able to say even though we paid full price, with our added value, it was well worth it.' "
Today, Paul Frank owns and heads Park La Fun. In their mission statement, they proclaim, "Frank's love for characters and accessories design has brought him to his new home, Park La Fun. He is excited to bring a fresh new outlook to the important original belief of creating things for friends."