With Lil Nas X's "Old Town Road" perched upon the top of Billboard's Hot 100 chart, America's attention is fixed on hip-hop's ability to cross over into country music. But it was less than two years ago that Young Thug laid the groundwork for this craze we never knew we needed with his Beautiful Thugger Girls album. Thugger came even more out of left field on his country-leaning rap album by recruiting one of the project's biggest collaborators from outside the country, a then-unknown singer from London named Millie Go Lightly. The reviews for the album were mixed upon release, but nobody could deny Millie's incredible contributions. As the mashed up style of music has become more mainstream and an increasing number of fans and critics have revisited the BTG album more positively, it has become somewhat of a cult classic.
Millie Go Lightly is far beyond just a voice on Young Thug's album, though. She's a budding star in her own right. Born Melissa Sarah Griffiths and raised in London, Millie first fell in love with music when she saw Britney Spears' "Baby One More Time" video. But it wasn't until she watched Gwen Stefani in her "Let Me Blow Ya Mind" video with Eve that she knew she wanted to make her own music.
Aside from her vocals on Young Thug's Beautiful Thugger Girl that everyone knows her for previously, the singer-songwriter brings her own unique, melodic style when it comes to her own music. In an era where most of the British artists that get love in the States are Grime artists like Stormzy and Skepta, Millie adds much-needed grace and beautifully bright pop flavors to hip-hop.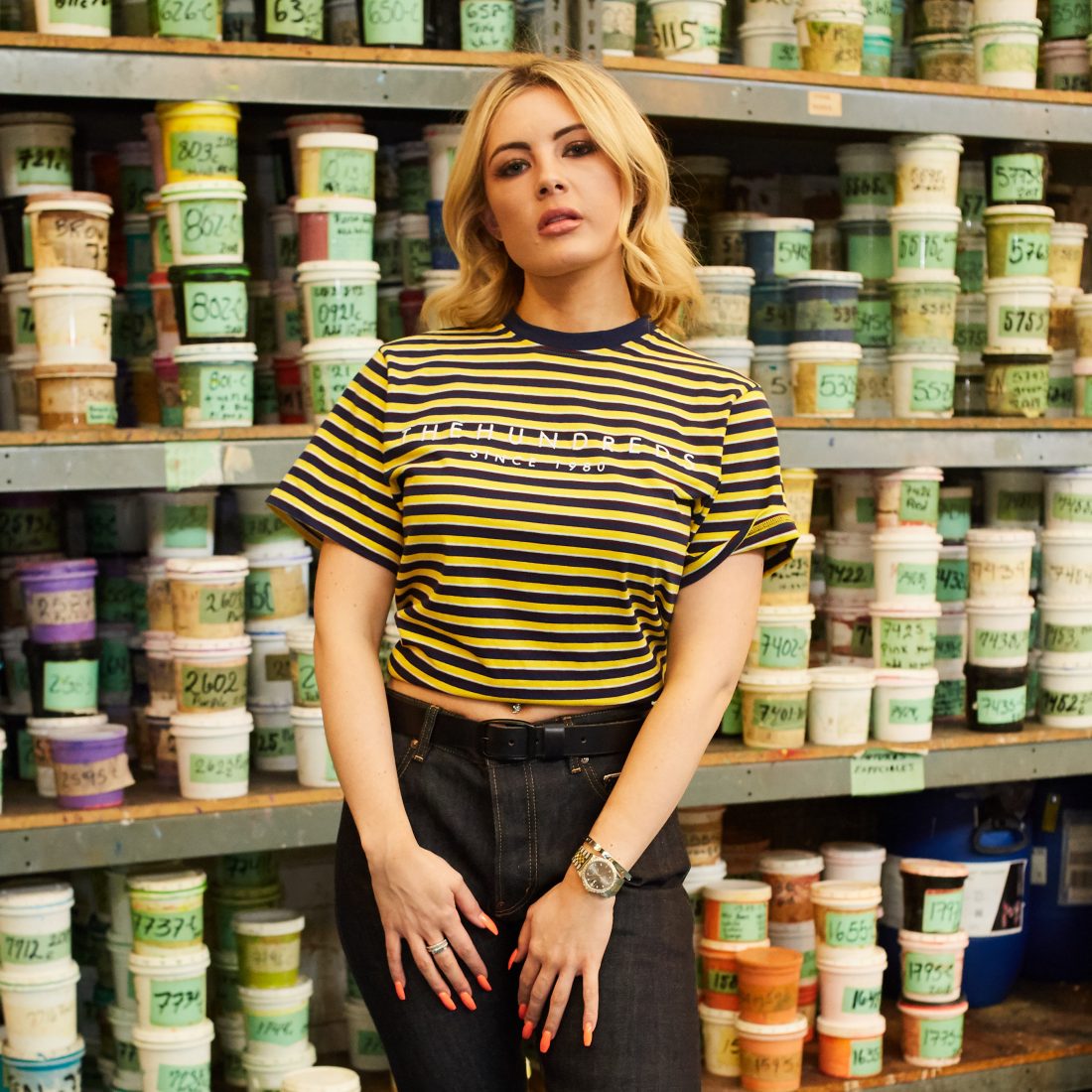 Millie landed the opportunity to work with one of Atlanta's biggest artists simply through faith, shooting her shot to Thugger's producer London On Da Track in an email,  imploring he listen to her song. Fast forward to 2019 and her second home is in Atlanta, where she can do what she loves every single day: make music.
I sat down with Millie to chat about her upbringing, her Mom's favorite Young Thug song, and strip club food.
---
How did you originally link with Thugger?
It's one of those weird things where I really was a big fan of him. I was working with a producer in London who was working with Frank Ocean at the time. He recommended to me, "Millie, listen to Young Thug. I really think you'd like his melodies and vocal tone."
I was working a desk job in London and had a few demos recorded. I'd buy beats off the internet and write to them in the house. I ended up just sending them out to everyone, including London On Da Track, who was touring with Thug.
"I'm in London, got my beat from London"
I titled the email "London On Your Track." [laughs] He got the email, then Thug heard it. It was the HI-HORSE Tour. It was weird because I was meant to be coming out to America anyway. The date I was supposed to land in Orlando was when he had his show in Orlando. I pulled up to the show, met him, and started working with all the same people.
Can you talk about the dynamic in the studio with Thugger? He's such a legend and he doesn't fuck with a lot of people.
I met him a couple of times before we recorded, so I had an opportunity to kind of see how he was. I actually realized he's quite different from what I thought – he's quite shy. I automatically felt more comfortable.
But the studio was a totally different thing. I'm coming from England, land at the airport, get driven to the studio. In my head, I'm losing my mind. I'm behind this door like "Young Thug is recording! Omg."  I'm saying all these affirmations, then I open the door, and Future is just sitting there recording "Relationships." I was like, "oh my god, of all the nights I pick to come here…" Everyone was there. I was quite intimidated because it was literally 25 people.
I had gone from being in my room at home to this huge room but I learned a lot. I was with him for a long time, moving around with him. Being in the studio with him is unbelievable. He's special. I became a better artist because of it. He's so meticulous and so very creative. He has a really good ear for melody. It's almost like he can switch your brain — you start to recognize what he likes and what he doesn't like.
How hands-on is he with you right now?
He was recording my stuff for Beautiful Thugger Girls. Obviously I had written my parts for that, but then he would vocal produce me in a way. I would sing it one way, and he'd be like, "no, do that there." Now, because I'm signed to Caroline, we're obviously on different labels, but I see him all the time. Probably multiple times every week. My boyfriend GLP manages him on the road so our lives are still pretty much intertwined.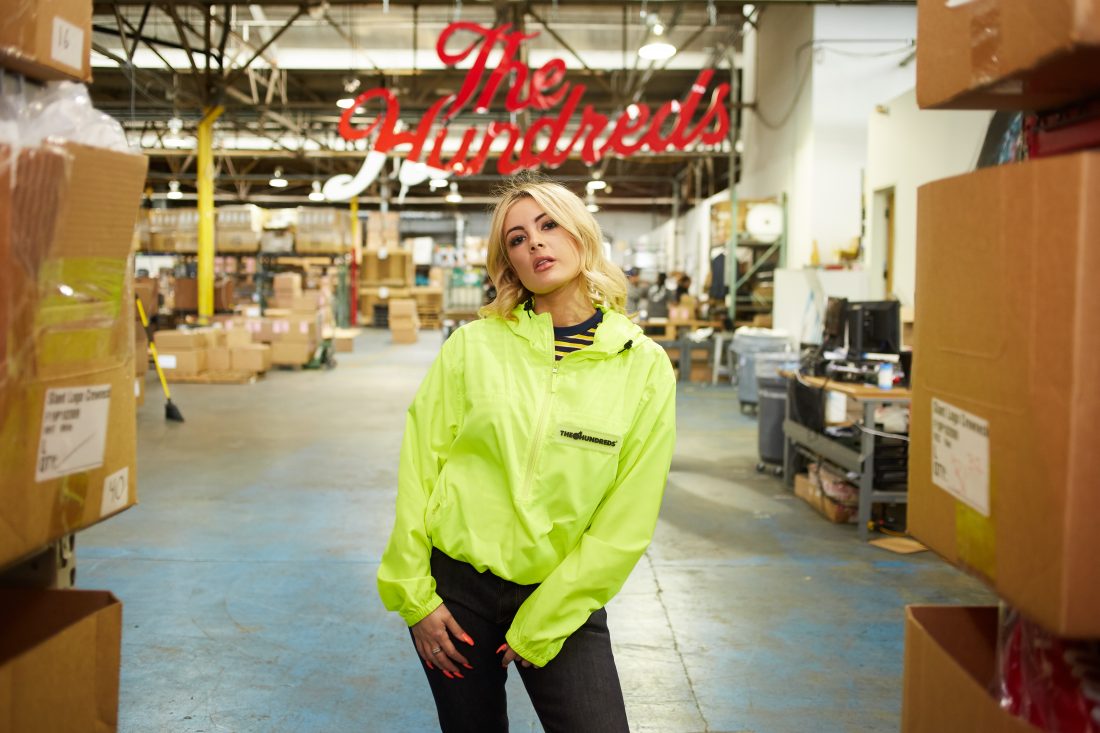 How long had you been making music before that?
Singing since the age of 5, and I just turned 25. Oh my God, 20 years of singing. But I started writing songs properly and learned to play guitar when I was 15.
How has playing guitar helped you as a songwriter?
It's helped immeasurably. Before I played the guitar, I'd write songs but wouldn't really have a sense of what the melody was. It's amazing because what they say about "you only need to know four chords" is really the truth. I started performing with the guitar, so it definitely transformed my songwriting.
How would you describe your sound?
I'd describe it as British first and foremost, especially in the delivery. I like to make the songs sound quite ethereal, kind of otherworldly in how the vocal sounds. Some of them are super fun as well, it's just my personality wrapped up in all the songs. Some of it's sad, some of it's happy.
Does that otherworldly, sometimes happy, sometimes sad sound reflect your personality?
Definitely — us women in general: sometimes happy, sometimes sad. Depending on where I am, LA, Atlanta, whatever, the environment influences the content of my music. One of the reasons I'm so drawn to Atlanta is it has a really — my idol's The Weeknd — dark, that gritty sound.
Would you say it's R&B?
Some tracks definitely have a R&B influence. Depending on the producer you work with, different people bring out different sides. Like with Wheezy, we do darker, more trap sounding melodic stuff. If I do a track with Earl on the Beat, that would be more pop or R&B.
How does being from the UK play into your life and career?
In a lot of ways because we have some of the greatest songbirds. I was always really inspired by Amy Winehouse and other vocalists. English people are very grounded. When I was performing in London, it was at pubs. People really can sing. It's real music and it comes from the ground up. But I spent a lot of time in America as a child, so I knew that I really liked being here. I knew I liked the music that came from here.
American artists always complain about the food in England while they're touring. Is it really that bad?
The issue is we don't really have... [laughs] there's no things that stand out. Nando's is good, fish and chips is good, but it's one of those things where you have to be born and raised there to really appreciate all the snacks we have. 'Cause I try to make my boyfriend eat it and he doesn't really like it [laughs].
What should people be ordering while there?
You've really gotta try more of the lowkey stuff, some beans on toast. Go to the seafood market, buy yourself some jammy dodgers. Go for the sweets. We don't have a dish, maybe shepherd's pie is a good one.
What's your favorite place to eat in Atlanta?
The Cheetah, the strip club that also has a 5 star restaurant. Hands down. Cordon Bleu chefs, the whole nine yards. It's insane. It's like being in Vegas for a night. The food is just flawless.
What do you order there?
I get an espresso martini, little drink to start. I'll get crab cakes maybe, salmon, the rice is insane. Then they have someone that makes their pastries in-house, so key lime pie — and the ice cream's handmade.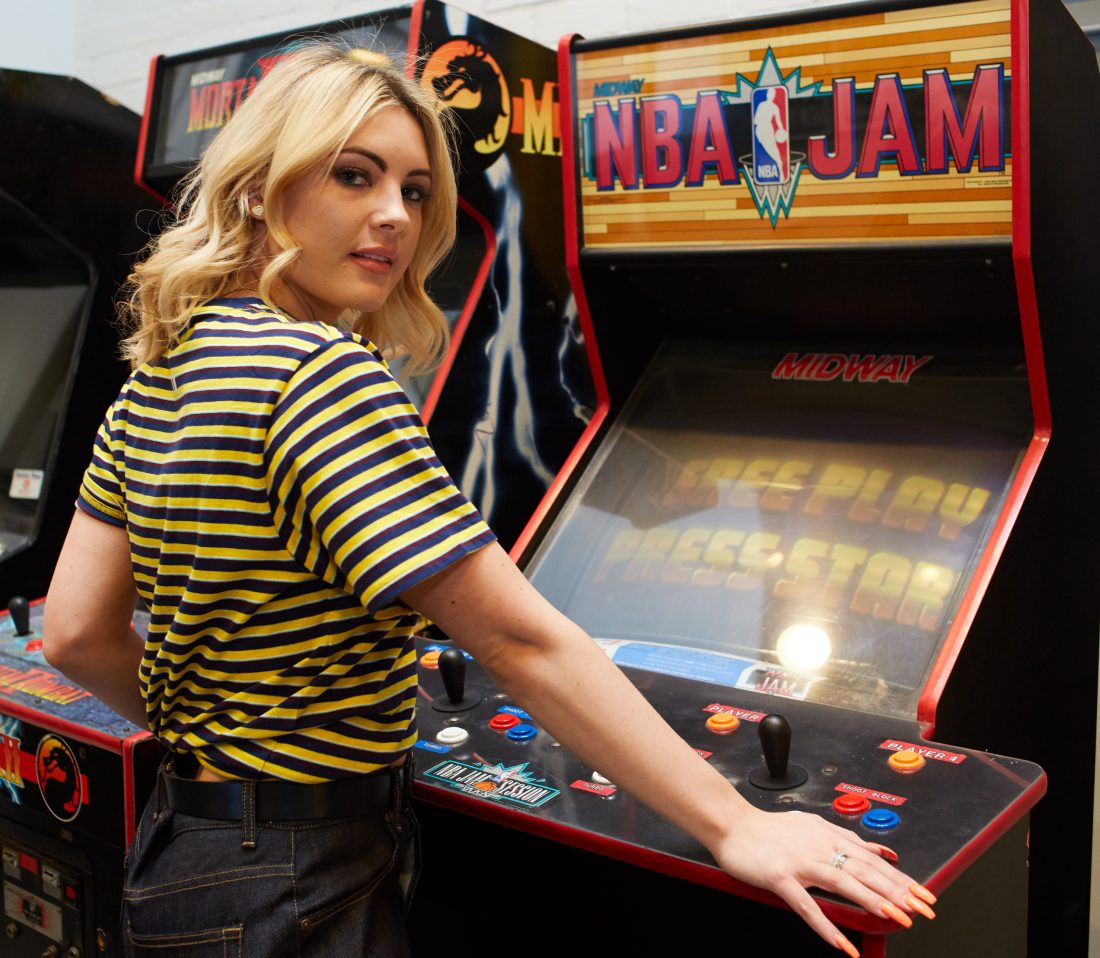 Did you move to Atlanta because Thug wanted you out there?
Yeah. Once you start working with Thug, you're in like a pocket of people. Suddenly, I wanted to work with Turbo, Wheezy, Quay — all these people. It's so not the same thing in London. Even the way people record you in London, it's a very different dynamic. I moved to Atlanta to really just create.
What was the inspiration behind your name?
My favorite book was Breakfast at Tiffany's, I thought Audrey Hepburn was just a really nice human being. I made it Millie Go Lightly because my nickname in school was always Millie. I like it because Millie Go Lightly sounds like "you're going so hard," somebody's telling you to slow down.
What do your parents think of your music career now?
They're so supportive. My mom will ring me everyday like "omg, Thug dropped a new song!" They're both very into the whole idea.
What is your mom's favorite Thugger song?
She likes "first you get the money, then you get the power." She knows all the words. She likes the one with Nicki Minaj, "Anybody."
"Family Don't Matter" is at over 7.8M views on Youtube. Did you foresee it blowing up like this?
Whenever I go to the studio, I never focus on whether something's going to do well. You hope that it'll do the best that it can, but really the focus is "are you enjoying making music? Is it a good record? Did you enjoy the process?" That record, I felt at the time, was special because Young Thug doesn't really collaborate often with female artists, especially not ones from England. The uniqueness of that song and the concept he created, which was paired with his idea for the video, is why it became a fan favorite.
Do you think that song and album really kicked off the wave of hip-hop artists dipping their toes into country music?
Yes,  I do. A lot of that had to do with the production, which goes back to Wheezy. I had beats from Wheezy before that album ever came out that were guitar-based with his production underneath. That whole collective of people definitely hugely influenced that.
Best piece of advice he's given you?
Probably just to lock in and work really hard. I had work ethic, but his work ethic is some alien shit. Just be humble and grind it out.
Is it possible Thugger is actually an alien?
Umm, he's definitely not from this planet [laughs]. He just has something about him. He's one of those people. He's a superstar. You're like, "damn, he's meant to do this."
What was your mindstate while creating "Ride With U?"
That was the second song I did with Wheezy, right after I recorded "Medicine." That was a really liberating song. I was in quite a bad place personally when I wrote that song. It was always on my mind. I was in LA recording like, "damn I know my life's gonna change, am I going to hang on to people that were in my life at the time?" I didn't, and my life's better now [laughs].
What can we expect from the Top of the Class EP?
That song in particular, "Top of the Class," is a good reflection of the journey I went on with Thug and having to work in Atlanta for that whole year. Because I didn't release anything for a long time, I was just making music. That song was really like, "no, I'm here, and I've worked to be here."
How did you partner with Caroline?
I was really just locked in the studio after the Thug stuff. I was like, "I need to make my own music." I worked for ten months and was going to release the EP independently, then Justin Gold reached out to me. He was starting his label Just Gold, under a partnership with Caroline. He heard one of the leaked records, because people like leaking my stuff. We went to meet Caroline and loved all of the team. They were amazing. They really got it and just were really into it, which was amazing. You don't ever want to have to force someone to see what you see.
What are some goals you have as an artist at this point of your career?
At the moment, I'm so humbled every time I see that people are even playing one of my songs. They streamed me a lot in the last two months. The goal is really to reach people who enjoy it, because you're supposed to enjoy music.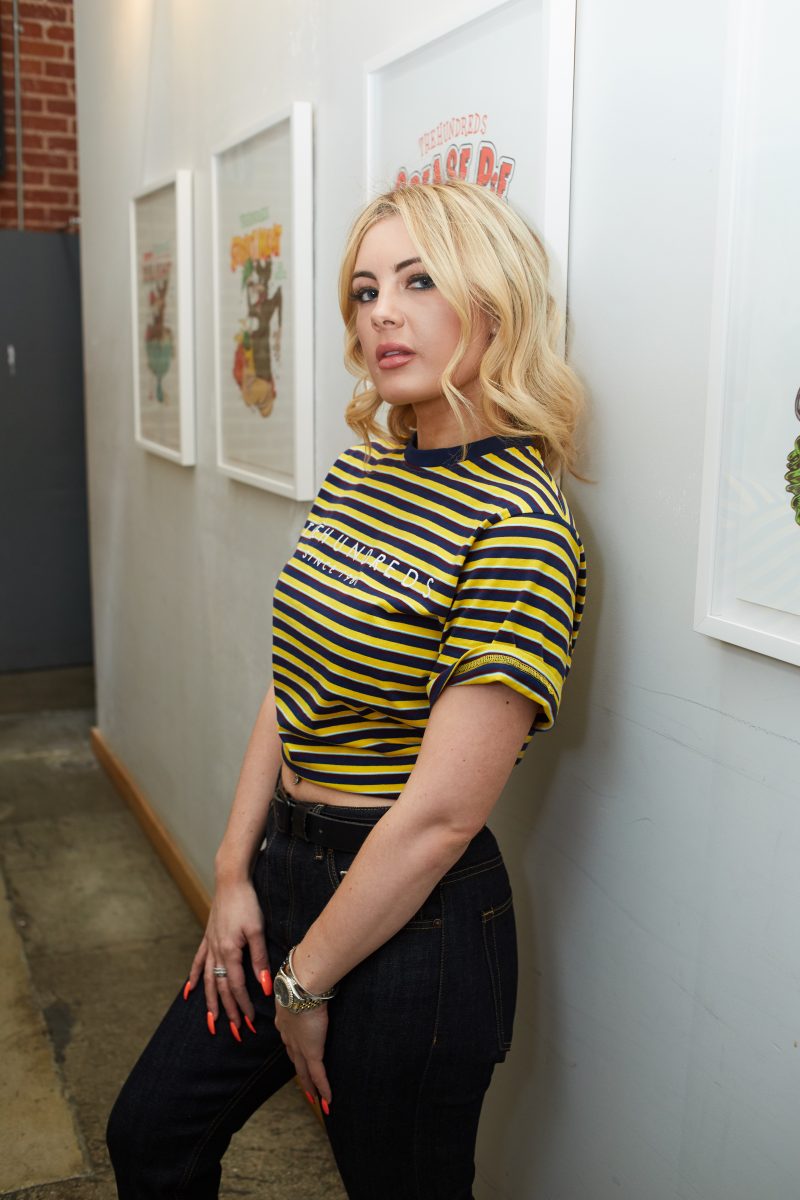 What did you do with your first advance?
Probably spent it on a bag, this Louis Vuitton bag. Something stupid [laughs].
What's a normal day in the life of Millie? Walk us through.
Get up, play with my two cats. Probably ride around running errands for Young Thug with my boyfriend. Then, go to the gym, get my mind right. Go to the studio, I like to go early evening because my voice is at its optimal levels. Have a producer pull up, or I'll just be in there by myself with the engineer. We hang out there, make one or two records and go home at a sensible time.
What are three things you need in the studio?
Gum, Throat Coat Tea, and coffee with vanilla creamer. For when I'm burning out, I save that as a treat. "If you finish the song, you can have some coffee."
What's the best encounter you've had with a fan?
I was at Starbucks in Lenox Mall waiting for my drink. It was packed around Christmas time. This girl read my name out on the cup: "Millie!" She's like "omg, you look just like her!" I was like "what?" She was like, "Millie Go Lightly, you look just like her!" Then she's like "oh wait no, you are her!" I'm always so amazed that anyone even knows me. That was really nice. She was really freaked out [laughs]. I was shocked someone even recognized me.
Who's the most played artist on your phone?
Young Thug, don't even need to look. Barter 6, I probably play that once a day. Slime Season, I probably play that once a day. Both are go-to albums for me.
I loved how he got his girlfriend Jerrika on Slime Language.
100 percent, and she's great as well. We did a song together. We did a remix of "Relationships" for his birthday. We just did it, it's really funny [laughs]. It's from the girl's perspective. She's very talented. She does a lot of things but she's passionate about music. She's doing really well. We need more women in music, it's great.
Dream collab?
The Weeknd. All-time favorite artist. Similar to Lana Del Rey, he's one of those artists where I started listening and instantly just connected to the music. I get that very rarely. Every song he put out, I liked, which is unusual for me.
What's your all-time favorite song by The Weeknd?
From the Trilogy album, there's just so many. Let me pull out my list of my most played. [pulls out phone] Probably "The Party & The After Party."
But to be honest, when I first saw the video for "Zone" with Drake. It's his biggest song. When I was in college, every day in the rain walking to and from class, I was listening to that song.
What advice do you have for an aspiring Millie Go Lightly?
Just be brave. I literally say that sentence to myself about five times a day. Because as women especially, it's really difficult to be in a male-dominated environment like hip-hop. You just have to be brave. You've got to stick to how you feel. If you want to do it, there are no barriers. It doesn't matter where you're coming from, if you want to be involved in something, if you work hard and you're true to yourself — like I would never say that I made music that wasn't authentic to me. You can be yourself and that's enough.
Photos by Ben Shmikler
***