The No.One System: A Diagram of Disorder is a slim hardcover that opens with library scans of nebulae and old photographs of boxers in the heat of a match. There's ancient masks, a human body bared open during surgery, Caravaggio's David with the Head of Goliath, and manifestos, both punk and abstract, alongside phrases like "to evolve from known to unknown is sublime." There's diagrams where the points of Humans, Nature, Materials, and Machines intersect (referred to as The No.One System) and a full page of only Gregg Ginn's lyrics to "No Values" by Black Flag. Parts of it feel like a cross between vintage National Geographic and an ascetic's Tumblr, and other parts feel like excerpts from an internal brand book, with various logo variations. In the middle of it all there's an essay by the late cultural historian Gary Warnett on the American boxer Joe Frazier. Archival photos of the Space Shuttle Challenger explosion appear as a full-page plume of terrible smoke and awesome shape. It's honestly visceral.
No.One, the company behind the book, is actually a footwear brand. Their founder and lead designer Mark Gainor created it to accompany the brand's quiet launch. It is not for sale nor distributed anywhere, and when I ask him about it, he vaguely tells me it's for "giving to friends." It seems to serve as Mark's personal meditation on human and machine and state of the world—and somehow, simultaneously, footwear. "We wanted something that captured the spirit of the brand," Mark told Wallpaper about the little book. "I'm actually quite sad we put a shoe in there."
Before I met Mark, I had heard a bit of industry lore: apparently he designed a shoe that reinvigorated a struggling company. The Apollo Moc was a shoe that exploded onto the footwear scene from a vegan brand called Native. Up until then, Native considered foam-injection molded EVA children's shoes their bread and butter (they're so wholesome that their current site lists "[making] you and those around you smile" as one of their goals). Under Mark's direction, they launched a completely new silhouette for adults at KITH. (The no-sew constructed Apollo Moc seems to contain nothing unnecessary about it; it is a shoe left to its essentials, unadorned.) The team expected such a negative response that they prepared a promotional video for the model starring footwear veteran Greg Lucci, Brain Dead's Kyle Ng, Anwar Carrots, and Mark himself, with a narrative about an ignorant hypebeast troll. Instead, they received an overwhelmingly positive response from the footwear community and press.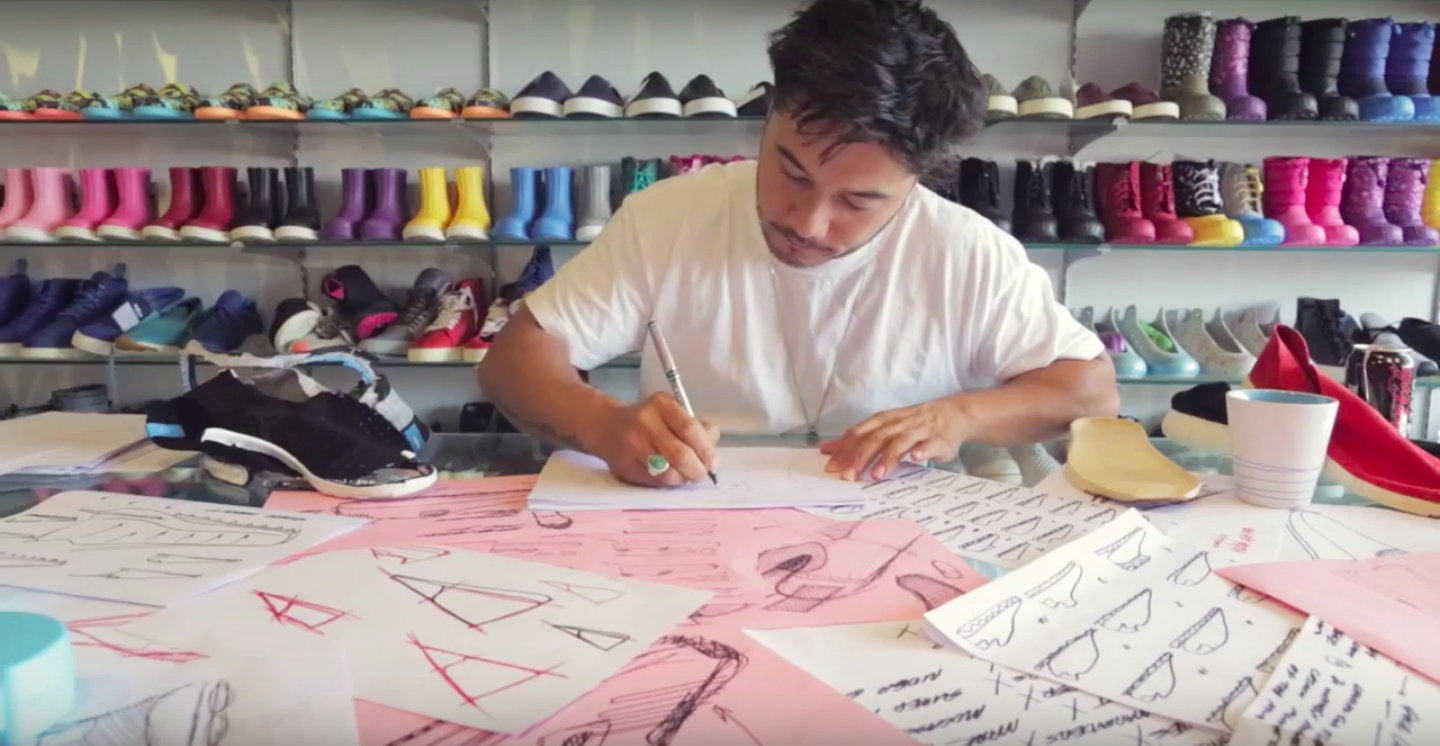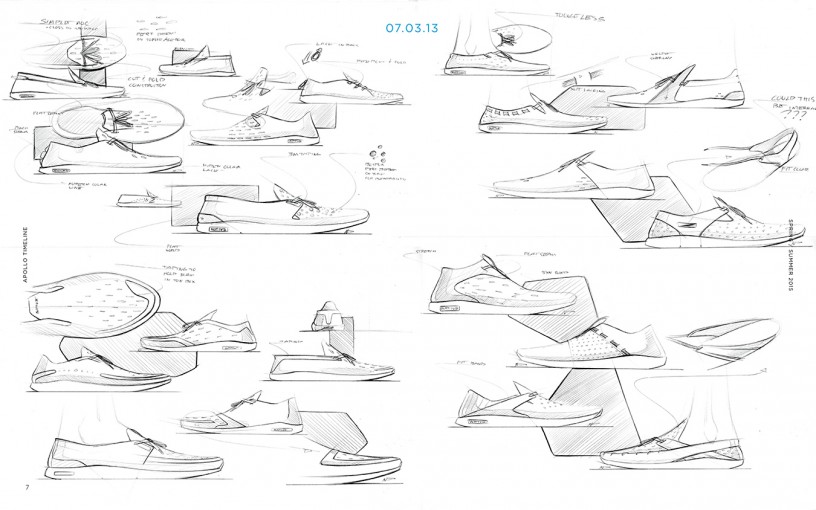 One of Mark's process sketches for the Apollo Moc. Photo: montecristomagazine.com
Here's the thing: Mark conceptualized and designed the Apollo Moc with zero footwear design experience. He accidentally disrupted the standard design process, because he simply did not understand the process itself, and he was unrelenting in his rejection of it. First, he refused to make a tech pack ("I said, 'I'm not giving you a fucking 2D file'"). When I interviewed him at No.One's Venice studio, he explained to me that the standard shoe design process involves a 2-dimensional drawing (the tech pack) sent overseas where it's constructed into a 3-D object (the prototype), and sent back for feedback and changes. "It's a very disconnected process with most of the work happening in 2-D Illustrator," says Mark. "Nothing is more dimensional than a shoe. It's the most interactive piece of clothing that you own... It would be like emailing in recipes and them mailing back a cold food item. That didn't make any sense to me."
What resulted was a crash course in shoe design. Mark says that learning to take the moccasin-inspired Apollo Moc from concept to market felt like "getting [his] Masters." Because Mark had worked at Native several years prior as a creative director, there was a sense of trust developed between him and the brand. They were in a bad spot in 2013, and gave Mark an unprecedented amount of freedom. "I saw an opportunity where I could design footwear the way I want to do it, which is going to be hands-on and really involved. What that ends up looking like is spending literally half your life in China," he explains matter-of-factly, "because that's where the shoes are made." The cramped sample rooms became his test kitchen. He cites his background in graphic design "being fixated on millimeters and kerning and being obsessed with the minutia of things," as what drove his compulsion to tackle footwear this way, which he admits, was ultimately pretty "masochistic."
About that Joe Frazier essay in the No.One book? Mark says, "Boxing will expose your mistakes in the most visceral manner. Millimeters matter. They call it the sweet science. To me, it's the epitome of human form... And if you drop your hand for one second, that person will knock you out."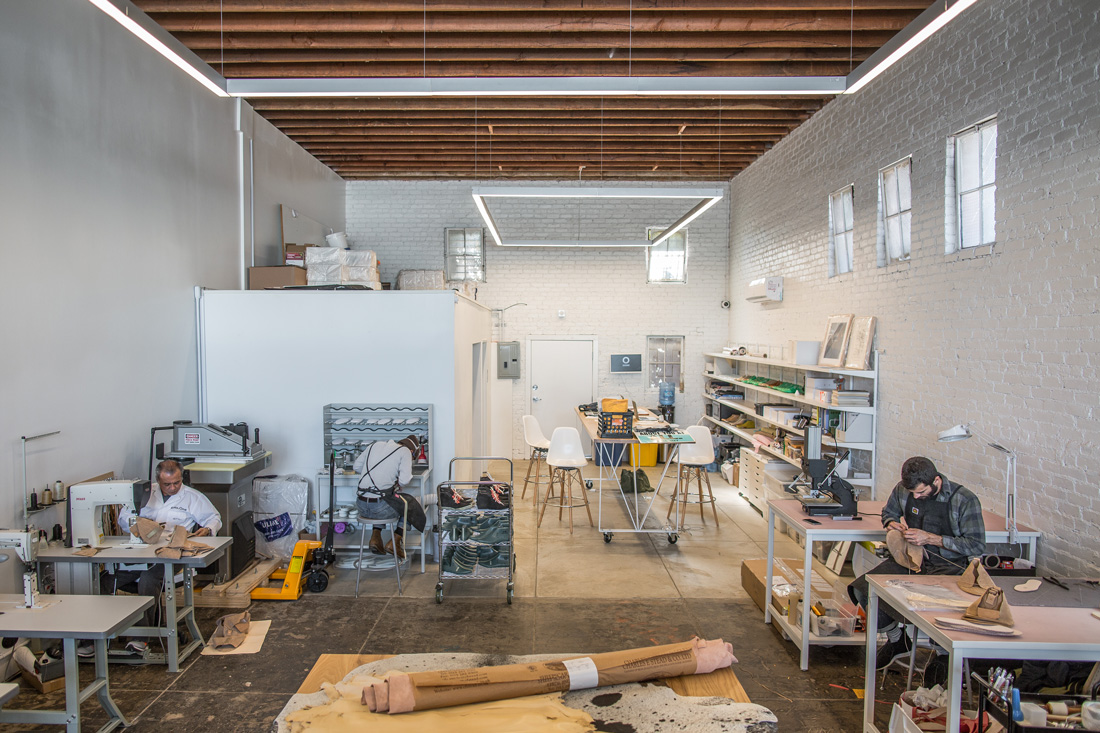 Meanwhile, Mark had just had a baby back in the States, and was traveling between the U.S. and China over a dozen times that year as the shoe developed. Despite these difficulties, he felt galvanized by the challenge. "I thought, this is the most difficult thing I've ever seen," says Mark on his growing understanding of the shoemaking process. "I feel like I could throw my life into that. That's a worthy battle." Although he was lucky enough have the mobility and freedom to be able to bring his newborn daughter to Hong Kong with him a few times, he knew it simply wasn't sustainable.
"I feel like I could throw my life into [shoemaking]. That's a worthy battle."
That's how No.One was born. Being in those tiny sample rooms in Guangzhou, Mark says that he saw how someone could potentially make high-quality bespoke athletic shoes in the smallest of spaces, hands-on. "I thought, I can do this. We can do this in L.A." Even commercial manufacturers were only producing one or two sample pairs at the bench; and so he realized he did not need an excessive amount of equipment if he kept volume low and exclusive. "I didn't want to compromise on making anything crafty or making anything 'Made in America' or 'heritage.' Fuck that, I want to make sneakers."
Granted, No.One is making sneakers, but they're making them "the way cobblers have made hard-bottom dress shoes for a couple hundred years," according to GQ's profile on the burgeoning footwear brand. I asked Mark how many shoes they were making a day at the time of our interview, and Mark replied that they were making exactly "zero." "It takes seven or eight days, at least, to make those shoes. We're not making any shoes per day... It's editioned footwear," he said. "But we borrow that language from art because we're making runs of 7-14 pairs. We're making one for each size. When it's gone it's gone."
This explains No.One's exorbitant pricing scale. Touring through their Venice studio, I learned of the various processes involved in the making of a single shoe: the hand-dipped leather laces (production time: 2-3 days; "these are unsustainable, I can't even tell you how much money we use on every one of these"), the hand-molded and skived vegetable-tanned leather ("most of this is an example of design being process-driven"), and the entirely hand-lasted end product (a process usually reserved for men's leather dress shoes and bespoke shoemakers). At the time of our interview, 4 cobblers were working at the studio daily. The starting price of their current available models is $575.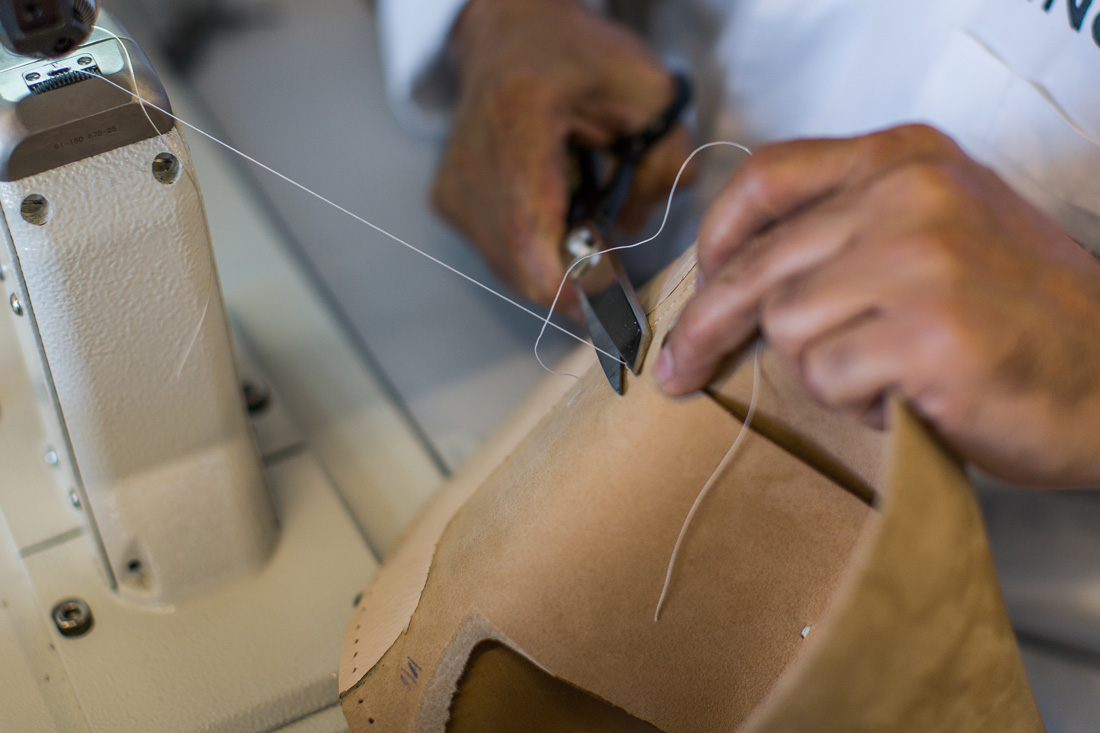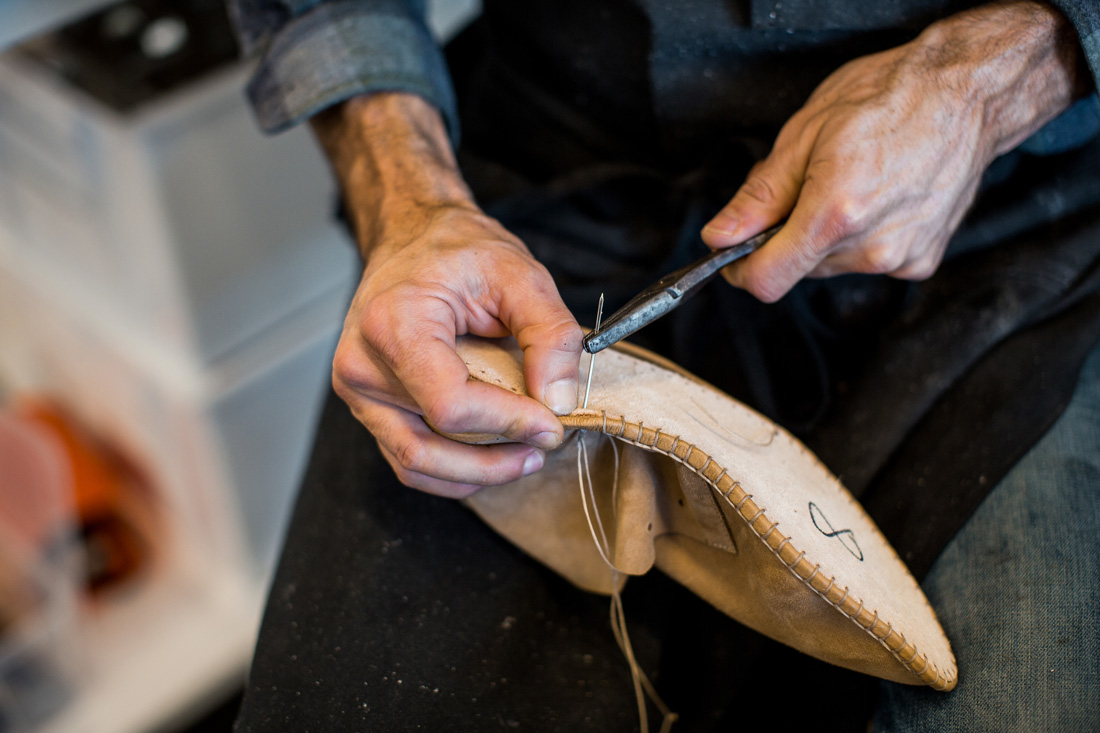 One of the newer No.One silhouettes is the Alpha, a deconstructed desert boot, created as if the elementary idea of what a desert boot is was considered, extracted, and recreated into a new silhouette. This process, to me, seems akin to how he created the futuristic-looking Apollo Moc, "inspired by the fundamental components of the moccasin." At a point in our conversation, I admit to Mark that the Apollo as a concept shoe, to me, feels like fiction, or like it came from fiction (the whimsical flat microfiber laces, the perforated upper made of one piece of microfiber). Really, it was my immediate reaction when I saw them for the first time in 2014 on Bobby Hundreds' feet. Mark is receptive: "It's funny you say that—it is from fiction. I think the experience of buying things is 90% emotional," he says. "Even if you're buying the most functional piece of equipment—like a jockstrap—it's still an emotional purchase. To play in that realm is fiction. That is fantasy."
Mark acknowledges the difficulty of entering footwear's highly competitive market, but admits, "I'm not really a big compromising person. The vision for No.One is to make sneakers—and we will get there. It's hard, but we're going to grow into it. Every shoe we make gets a little bit more technical, a little bit more sneaker-like. [It was] realizing that it was possible to do, and then just finding a way to make it possible."
The idea of bespoke handmade sneakers made at the bench with slow production isn't entirely new. There's of course cult NYC brand Feit whose Biotrainer Mid is "the world's first 100% biological handmade trainer," with each shoe "constructed start to finish by one master craftsman." As the story goes, Feit's Australian founder and head shoe designer Tull Price created the company as a response to the negative effects of globalization and mass production. Price told Vogue, "The product has integrity, it has some soul." So how is No.One different? The essential answer to that question begins and ends with Mark Gainor.
When I first meet Mark at No.One's Venice Beach studio, he's bright-eyed and welcoming. I quickly pick up that he'll listen to every word you say with quiet, patient intent—and let you finish—but he'll be unabashedly honest if he thinks any of it is absolute bullshit. He's wearing a graphic T-shirt under a black mohair cardigan, with sweatpants and No.One Bravos made of Italian speckled pony hair. He speaks off-the-cuff and without filter, somehow forming full thoughts mid-paragraph with a streak of rebelliousness in his diction. His black hair is slicked back.
Mark recognizes that there's ample room for improvement with No.One: "I'll be totally honest—I'm not saying this to be self-deprecating, but I'm a decent shoe designer. There are people who live in the millimeters. I'm a semi-decent typographer. Real typographers live only in points. Their entire world is inside of that tiny, tiny space. Their brain only works that way. I can't do that."
His strength in design seems to lie in his ability to scale—to zoom in and out from the smallest detail to see the scope of the frame, in order to move beyond it; this way, he can better calculate its function, place, and context within the greater picture. It's through this abstracting that he ultimately makes sense of design and objects.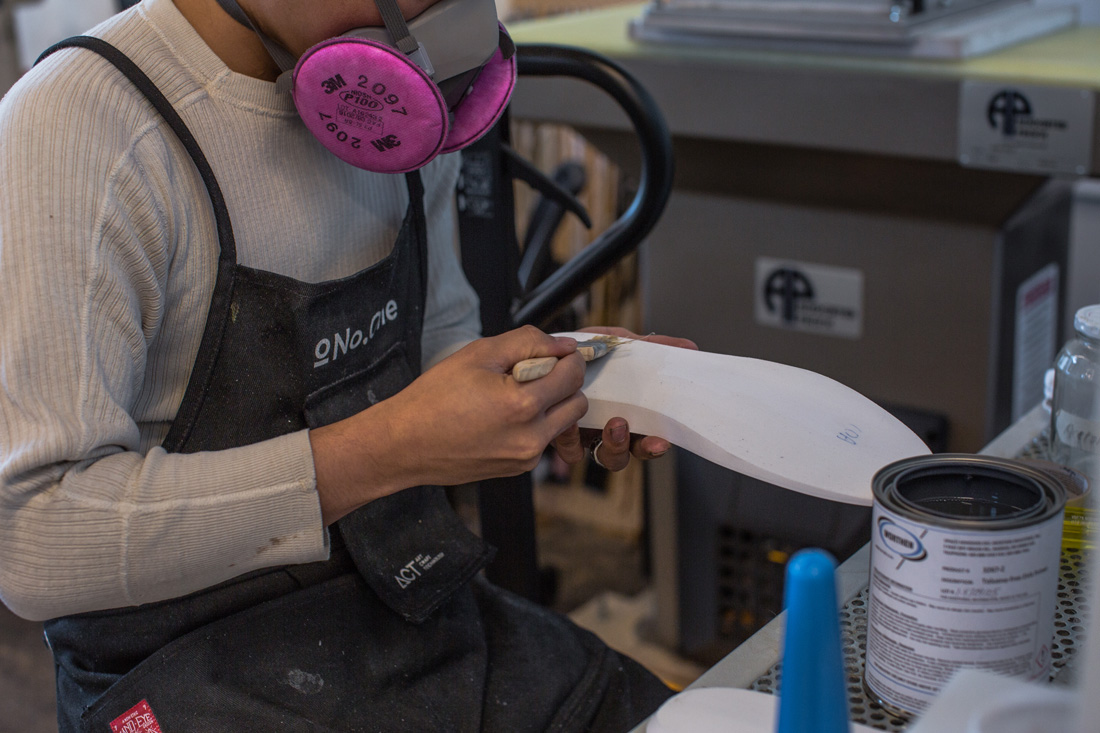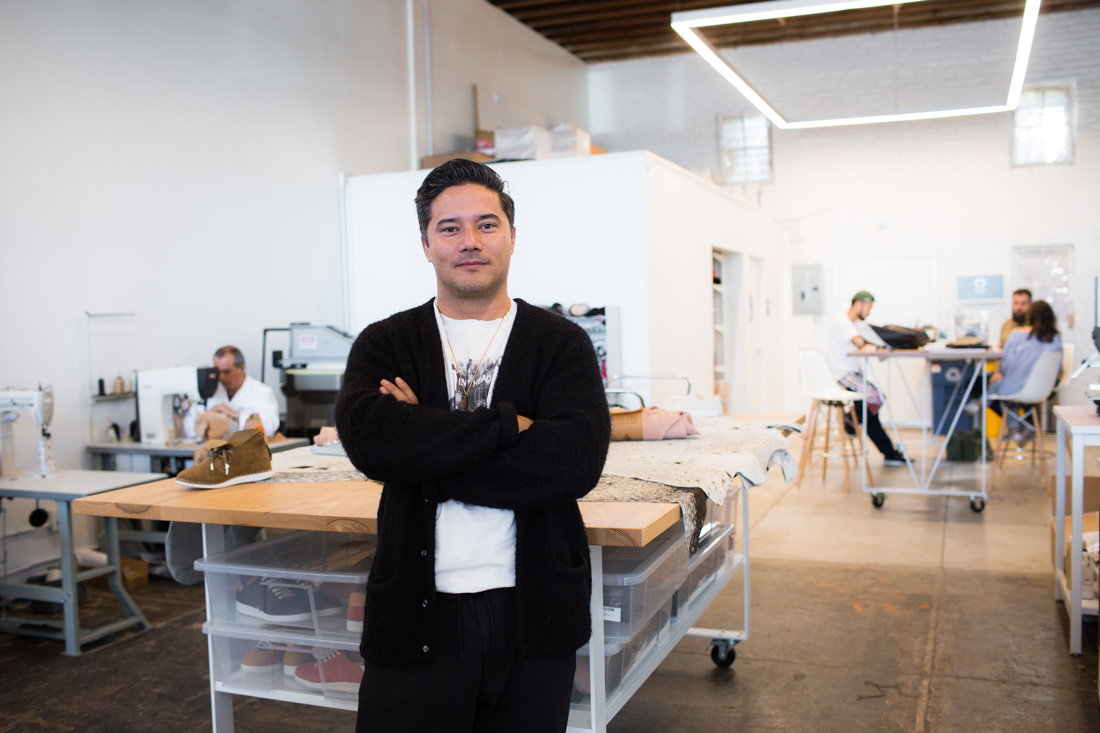 "As much as I can fuck with the details, I also need to be way up here on the borders of abstraction and be able to look at this thing," he says, motioning with his hands first up to eye level, then referencing the space we're in. "How does this No.One as an entity fit into the world at large? For me, the more quickly I can do that, the happier I am." Mark thinks that there are great thinkers who tend to stay in the higher orbit, and get stuck in that headspace—and on the other end of the spectrum, creatives on the ground-level using their hands, who often have difficulty stepping back and seeing the whole. He feels lucky that he's able to communicate "sincerely and effectively" with people at both ends.
Thinking about Mark's work in this way helps me understand why he created his Diagram of Disorder book and the No.One System manifesto to make sense of his new footwear brand: "I guess the idea of making a system was like, let's just be so ambitious and ridiculous that we design a life-wide philosophy. Shoot for the moon, end up with a cool pair of shoes. Bauhaus came with the intention of reshaping society and left us with, like, a beautiful teacup. That's not true, they shaped modern architecture." He thinks for a second, and says, "Design is ephemeral. It's a side effect of being passionate about life," then just as quickly retorts, "That sounds corny. Being passionate about life is the side effect of showing up everyday and being excited about what you do. It's important that our reason for being here is not that we come in and make super fresh sneakers. It had to be something more."
"Let's just be so ambitious and ridiculous that we design a life-wide philosophy. Shoot for the moon, end up with a cool pair of shoes."
Mark never went to college, and dropped out of high school when he was 17. "I burned a decade just skateboarding and being a nuisance to society," he says. "I had no skill set whatsoever... I was a knucklehead for 10 years." He was born in a tiny town called Ponoka in Alberta, Canada, and has never been back. According to Mark, Ponoka's only 'highlight' is that it has a huge mental hospital. He and his siblings were adopted, and he explains that he would have been sent into foster care otherwise.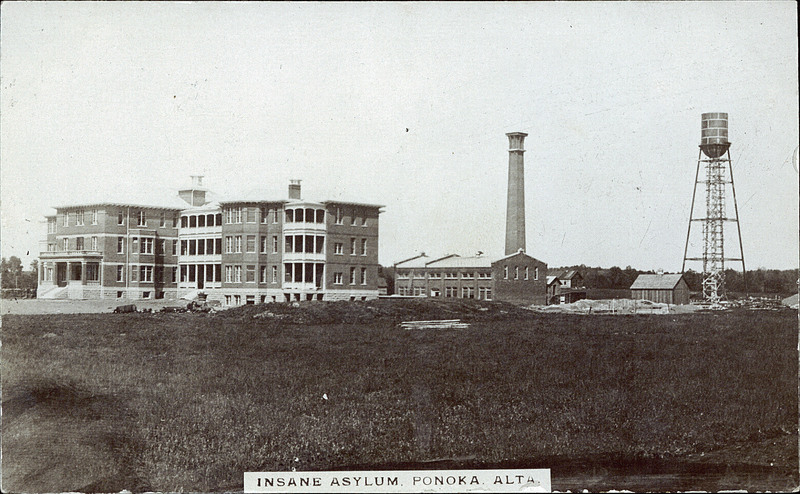 Ponoka, Alberta. Photo: ualberta.ca
Mark describes Calgary, where he grew up, as an oil city with big money and a "creatively harsh environment," which in turn fostered a powerful counterculture scene, ripe with metalheads, punks, and unfortunately, racist skinhead factions. "People say if you can make it in New York you can make it anywhere. That's bullshit," Mark tells me. "Like what an easy place to grow up and be endlessly inspired. You make it out of Calgary with like a shred of creativity, you can make it anywhere. They just ring it out of you or beat it out of you."
By the end of the '90s, Mark was getting out of that decade-long slacker slump: "A girlfriend had a computer and she showed me the internet and I was like, this is insane." He cites seeing Futura's website, futura2000.com—which was light years ahead of its time—as his first inspiration. Mostly because it didn't make sense. "There was no reason to it. It was totally counter-intuitive," he recalls. It seemed to be constructed to get lost inside of, like some Postmodern architecture; Mark predicts that Futura's site map must've been hundreds of pages deep. He soon began to take night classes on how to use CorelDRAW, Illustrator's predecessor, and crash courses in software.
Mark would hustle by designing rave flyers when he lived in Calgary, doing odd jobs for the local skate shop. When he moved to Vancouver, a new world opened up for him. He met Raif Adelberg, a maniacally prolific designer and curator, core streetwear OG, and innovator, who was on the cusp of street culture's big break, anticipating what it would be long before people on our side of the continent even cared. Raif founded the game-changing Made Magazine (which featured works by a young KAWS), boutique 24, Richard Kidd, and later Deadboys Clubhouse. Raif also allegedly co-founded Wings + Horns, which back then was called Spruce. "I can't even start naming the amount of significant things that happened inside this culture. It's like 7 degrees of Kevin Bacon to get back to Raif," says Mark.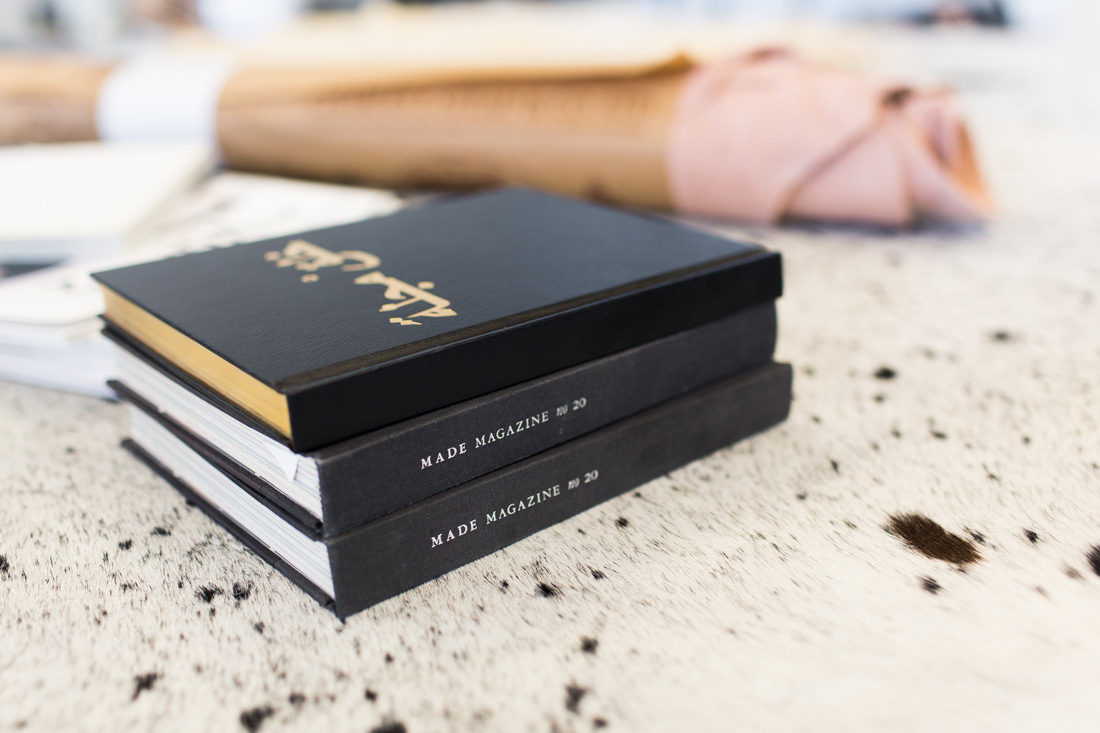 Raif "threw" him into work on Made Magazine. Mark lied about having prior experience designing a magazine and winged it completely. "I said, 'Let me have this,' and Raif was like, 'Alright. You want it, motherfucker? It's yours. I'll see you in two months." Mark toiled away and eight weeks later, had laid it all out into a small coffee table-sized hardcover as a complete issue. The issue included Dash Snow's polaroids and work by NYC artist Dan Colen; Made issue 20 later featured Futura 2000, the photographer Boogie, aNYthing, and Neckface.
Prior to designing a magazine, he had never printed anything longer than a page. It reflected the way he dove head-first into his first foray with shoe design at Native, and what he aims to do with No.One: "We just learned. It's like do or die, sink or swim. I need to be in those situations; that's when I'm the most excited and I'm the most inspired and challenged... You got to do this or you're going to fail."
"I really learned this from skateboarding and especially being a dropout, self-taught—this idea of learning by mistakes, learning by experience, and then downloading the world at large into you."
Mark had ruminated for a while earlier when asked about his "design philosophy," then came back to the subject independently, first outlining how important it is for him to pass on what he's learned to young wayward teens—like he once was, growing up in Calgary—asking themselves, how the fuck do I get out of this place? "My design philosophy is really two parts," says Mark. "One is just to make mistakes in public. It's all just information or data until you experience it, then it becomes acquired knowledge. So you have to make mistakes to acquire knowledge. This is my opinion. You have to make these mistakes and get out of your head and into the public sphere. In your head, you're always right inside your comfort zone. You retain the right to always be correct there. Going public, you surrender that right, and now you've become part of the world. That's the hardest threshold to cross—it's easy after that. Then, just make what you made better."
"The second part of my design philosophy," Mark continues, "is to study styles and steal them. To keep passionate about some source material, no matter what it is. If you're lucky, you get a mentor. If you're not, study those styles, download as much of that information as you can, and mimic. You will develop your own style because it's impossible to perfectly mimic somebody. You can try your very hardest. I really learned this from skateboarding and especially being a dropout, self-taught—this idea of learning by mistakes, learning by experience, and then downloading the world at large into you."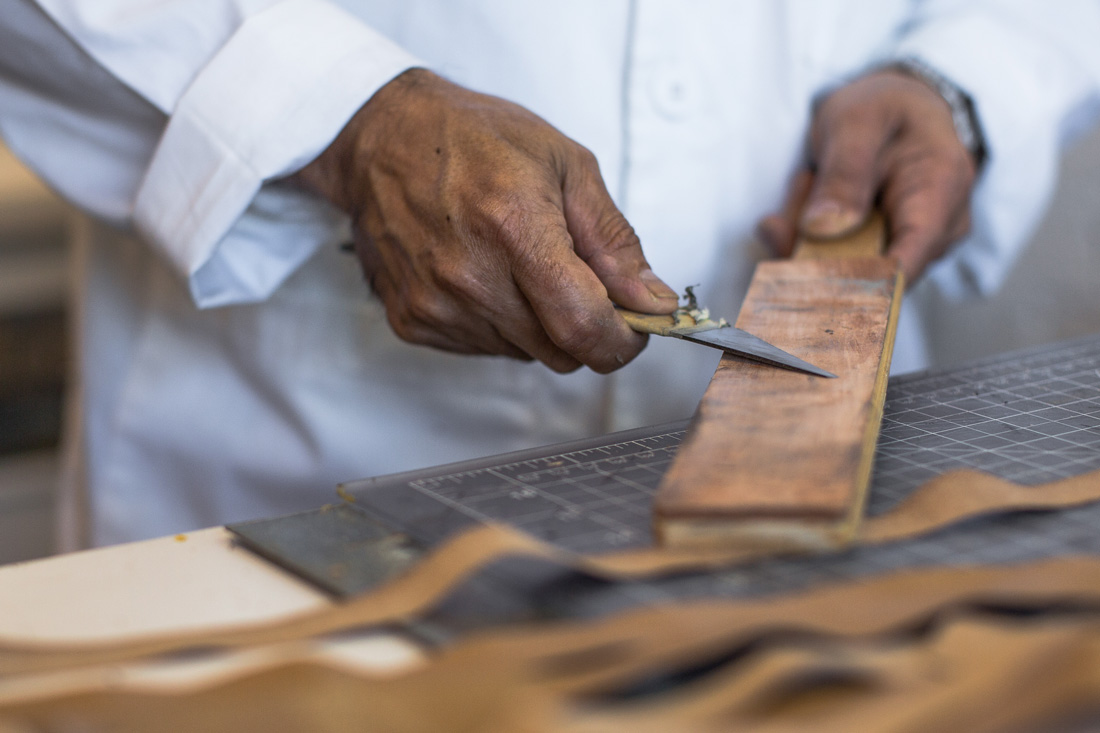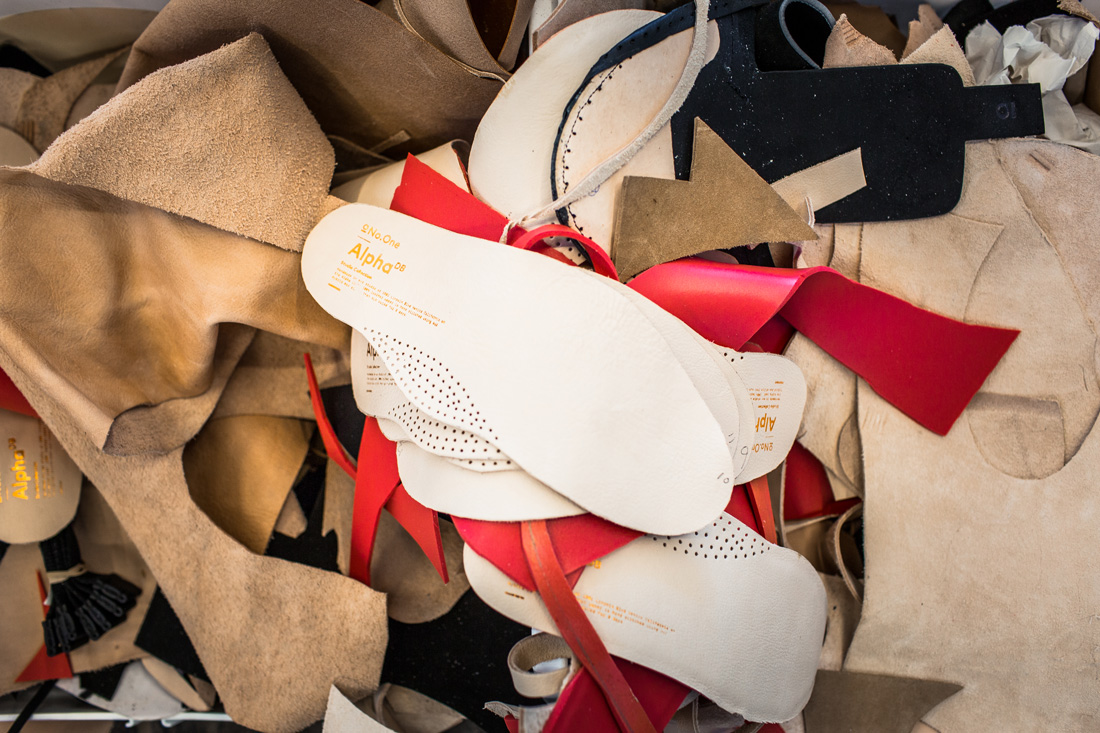 There's a portion of Diagram of Disorder where it reads as if No.One is firing shots at corporate footwear. Mark expands on it: "It comes back to this idea: are you part of a counterculture or are you part of the culture? Are you the culture at large who's motivated by profit margins or are you part of the counterculture? We have different values. Our values should be inherently different than Nike or anybody else. We should be the fly in the ointment. We should be standing directly in opposition—we should be a fucking pain in their ass."
Mark recently told Bloomberg that "No.One is very much a post-skateboarding shoe," in that it's built upon the baseline foundations of skateboarding culture's values. Skateboarding remains one of Mark's biggest influences to date; he tells me the lifelong friends he met through skateboarding saved his life "a million times." I ask—in terms of a product's function on a human foot interacting with the earth and the concrete—if he thinks skaters understand a shoe's utility more than most. He nods. "I honestly have never thought about that. It's like the gift that just keeps on giving. It gives you so much. I can't count the things that skateboarding has given to me," Mark says, with a tone of disbelief. "From duct-taping up my shoes when I was a kid to cutting out insoles and putting them in—" he pauses, then declares, "Skateboarders are shoe experts, too."
"Are you the culture at large who's motivated by profit margins or are you part of the counterculture? Our values should be inherently different than Nike."
"Skateboarding," Mark says, "informs every part of your life. It makes amazing architects. You look at the architecture of the world differently. Skateboarders digest media at an incredibly sophisticated level. Those motherfuckers have been filming each other for 15-20 years. High level tracking, filming each other, doing it to a higher standard, always getting better. There's a reason that Spike Jonze is the most interesting director in our generation. Skateboarding to me is the top of the food chain. I'm super proud to be associated with that. To me, it's the be-all end-all. It's the fucking best." He laughs and admits he's telling me this as someone who "sucks at skateboarding" and only cruises to the store "like twice a month"—but that its impact on his life has been immense.
Describing the design process for the No.One Alpha, Mark had said: "First of all, if you strip off all the adornment and you're left with a fairly naked shoe, then you have to reexamine the way it was made and the materials we're using, and the process you use to put it together." Since the No.One story seemed to me so personal and abstruse, the book materials so frankly emotional, I wondered if Mark had done the same with himself, to reexamine his making, the material of his motivations, the fabric of his design philosophy.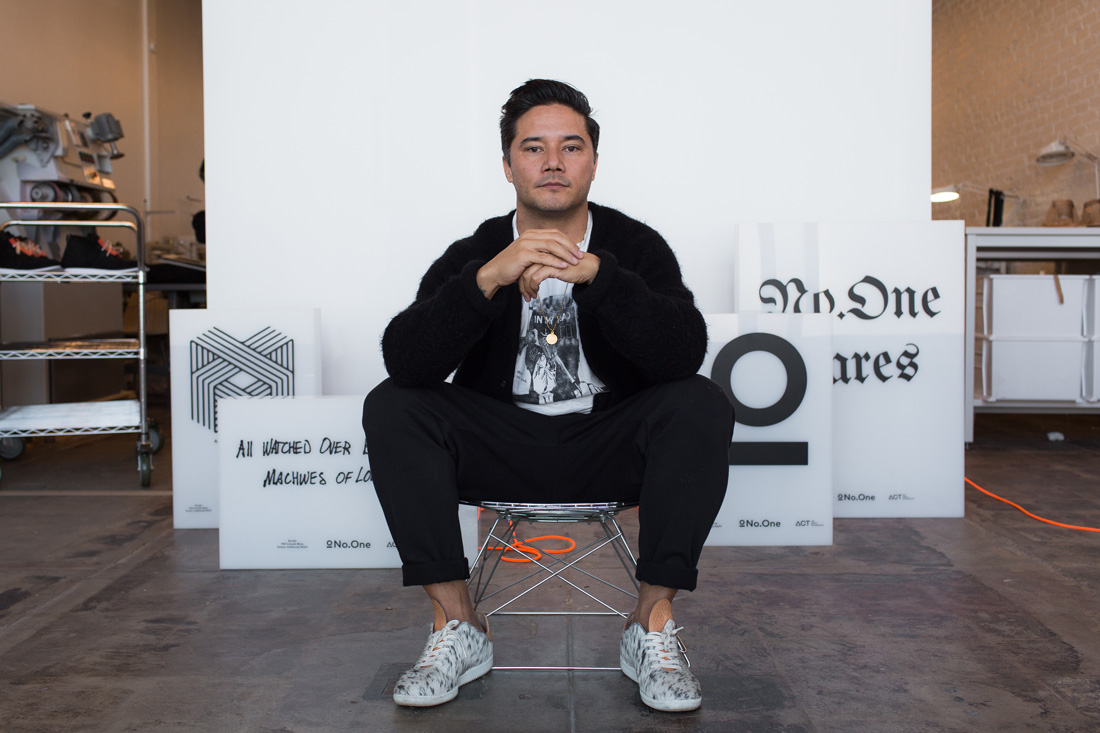 Around the time of our interview last year, Mark told Esquire, "We are really proud of our product, and if you don't think you can be the best, then why do something that's really fucking hard?" He later admitted to GQ, "It doesn't thrill me to say our shoes are super-exclusive, it's just a reality of our situation. We can only make 14-17 pairs of shoes at a time." What No.One is attempting to do is obviously extremely difficult and seems to be rarely financially rewarding. He told me it was "masochistic to want to have this level of detail... it's not sustainable." So, can a super-exclusive luxury shoe brand reach success hinged on one man's sheer ambition and the conceptual dream logic of No.One System? Is No.One design, function, or fiction? Why would anyone do something so Sisyphean?
Mark says: "This is precious to me. This is really special to me... This is for people who want to fuck with this. If this meets your needs, we're right here for you. If it doesn't, you have the whole world over there. You know, I have so much respect for how hard it is to make a shoe. I can spend the rest of my life trying to make a shoe and make very little dents in the problems. There's nothing in this world that gives you more problems than shoes. I love problem solving—that's kind of where I'm happy, and shoes give me no shortage of problems. We may expand, but our time is different. We will deal with very few wholesalers but we're not connected to anybody's calendar, so we're not marching to anybody's time. This is our time. We're going to do this our way."
***
Keep up with No.One at no-one.la and their Instagram @no_one_system. Uncredited photos by Paolo Fortades.