The No.One System: A Diagram of Disorder is a slim hardcover that opens with library scans of nebulae and old photographs of boxers in the heat of a match. There's ancient masks, a human body bared open during surgery, Caravaggio's David with the Head of Goliath, and manifestos, both punk and abstract, alongside phrases like "to evolve from known to unknown is sublime." There's diagrams where the points of Humans, Nature, Materials, and Machines intersect (referred to as The No.One System) and a full page of only Gregg Ginn's lyrics to "No Values" by Black Flag. Parts of it feel like a cross between vintage National Geographic and an ascetic's Tumblr, and other parts feel like excerpts from an internal brand book, with various logo variations. In the middle of it all there's an essay by the late cultural historian Gary Warnett on the American boxer Joe Frazier. Archival photos of the Space Shuttle Challenger explosion appear as a full-page plume of terrible smoke and awesome shape. It's honestly visceral.
No.One, the company behind the book, is actually a footwear brand. Their founder and lead designer Mark Gainor created it to accompany the brand's quiet launch. It is not for sale nor distributed anywhere, and when I ask him about it, he vaguely tells me it's for "giving to friends." It seems to serve as Mark's personal meditation on human and machine and state of the world—and somehow, simultaneously, footwear. "We wanted something that captured the spirit of the brand," Mark told Wallpaper about the little book. "I'm actually quite sad we put a shoe in there."
Before I met Mark, I had heard a bit of industry lore: apparently he designed a shoe that reinvigorated a struggling company. The Apollo Moc was a shoe that exploded onto the footwear scene from a vegan brand called Native. Up until then, Native considered foam-injection molded EVA children's shoes their bread and butter (they're so wholesome that their current site lists "[making] you and those around you smile" as one of their goals). Under Mark's direction, they launched a completely new silhouette for adults at KITH. (The no-sew constructed Apollo Moc seems to contain nothing unnecessary about it; it is a shoe left to its essentials, unadorned.) The team expected such a negative response that they prepared a promotional video for the model starring footwear veteran Greg Lucci, Brain Dead's Kyle Ng, Anwar Carrots, and Mark himself, with a narrative about an ignorant hypebeast troll. Instead, they received an overwhelmingly positive response from the footwear community and press.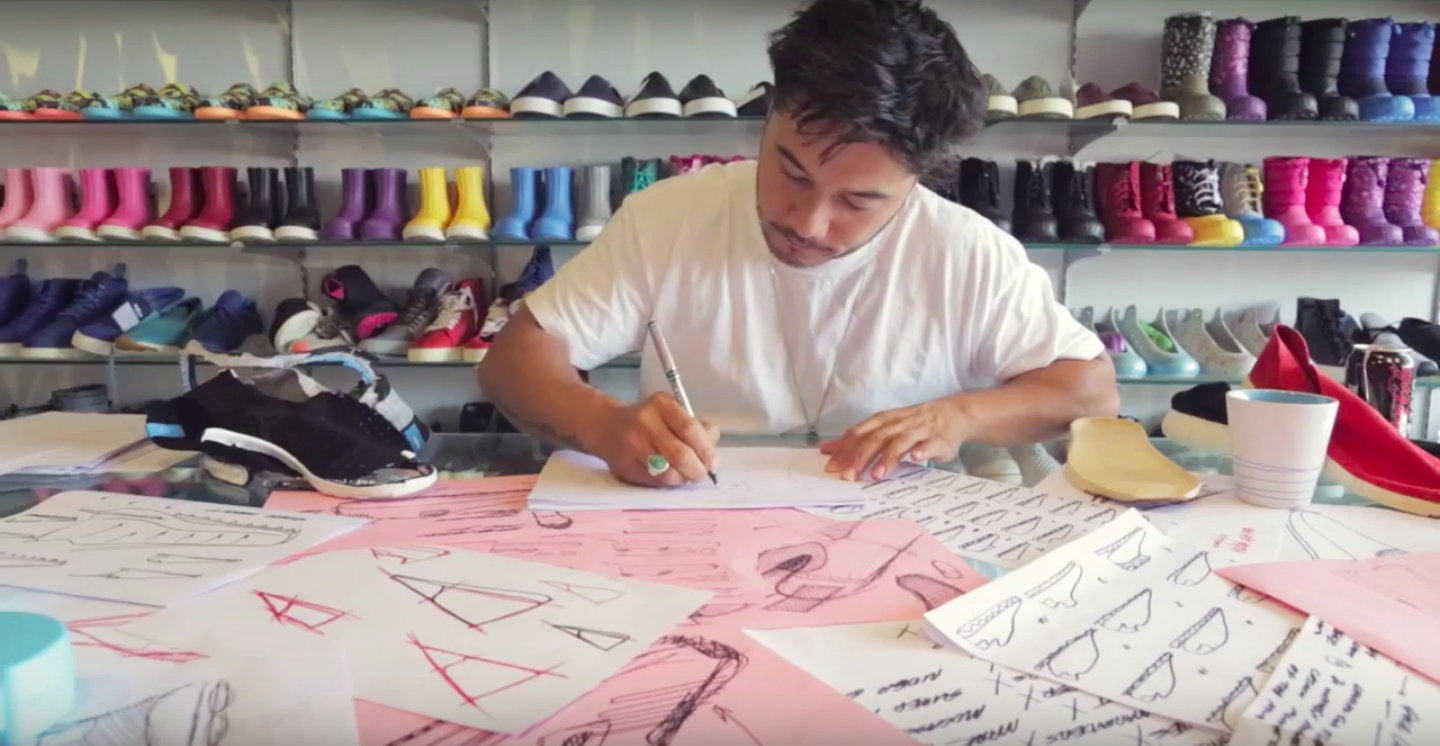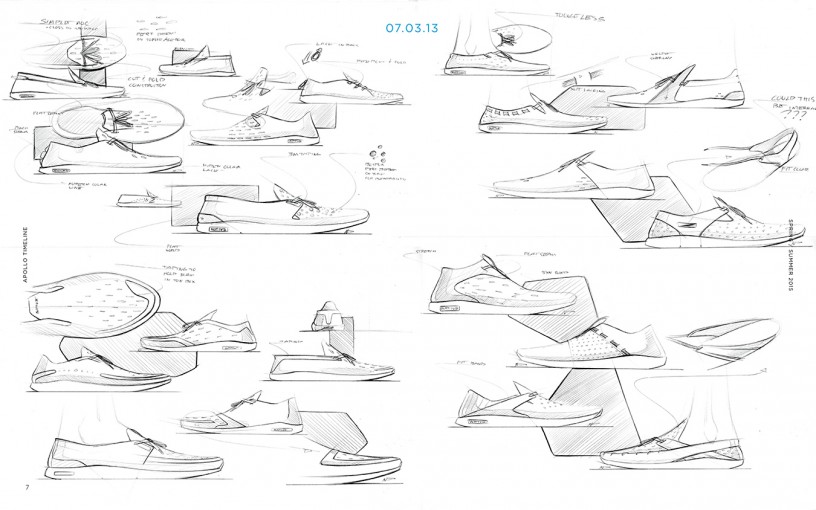 One of Mark's process sketches for the Apollo Moc. Photo: montecristomagazine.com
Here's the thing: Mark conceptualized and designed the Apollo Moc with zero footwear design experience. He accidentally disrupted the standard design process, because he simply did not understand the process itself, and he was unrelenting in his rejection of it. First, he refused to make a tech pack ("I said, 'I'm not giving you a fucking 2D file'"). When I interviewed him at No.One's Venice studio, he explained to me that the standard shoe design process involves a 2-dimensional drawing (the tech pack) sent overseas where it's constructed into a 3-D object (the prototype), and sent back for feedback and changes. "It's a very disconnected process with most of the work happening in 2-D Illustrator," says Mark. "Nothing is more dimensional than a shoe. It's the most interactive piece of clothing that you own... It would be like emailing in recipes and them mailing back a cold food item. That didn't make any sense to me."
What resulted was a crash course in shoe design. Mark says that learning to take the moccasin-inspired Apollo Moc from concept to market felt like "getting [his] Masters." Because Mark had worked at Native several years prior as a creative director, there was a sense of trust developed between him and the brand. They were in a bad spot in 2013, and gave Mark an unprecedented amount of freedom. "I saw an opportunity where I could design footwear the way I want to do it, which is going to be hands-on and really involved. What that ends up looking like is spending literally half your life in China," he explains matter-of-factly, "because that's where the shoes are made." The cramped sample rooms became his test kitchen. He cites his background in graphic design "being fixated on millimeters and kerning and being obsessed with the minutia of things," as what drove his compulsion to tackle footwear this way, which he admits, was ultimately pretty "masochistic."
About that Joe Frazier essay in the No.One book? Mark says, "Boxing will expose your mistakes in the most visceral manner. Millimeters matter. They call it the sweet science. To me, it's the epitome of human form... And if you drop your hand for one second, that person will knock you out."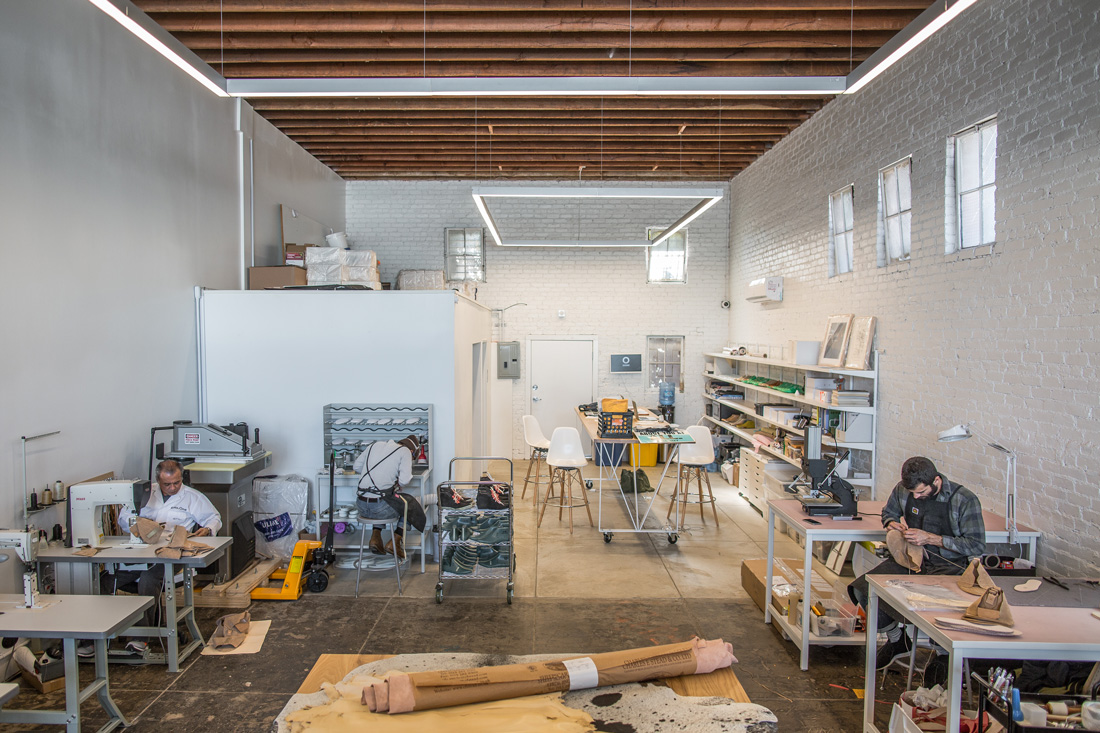 Meanwhile, Mark had just had a baby back in the States, and was traveling between the U.S. and China over a dozen times that year as the shoe developed. Despite these difficulties, he felt galvanized by the challenge. "I thought, this is the most difficult thing I've ever seen," says Mark on his growing understanding of the shoemaking process. "I feel like I could throw my life into that. That's a worthy battle." Although he was lucky enough have the mobility and freedom to be able to bring his newborn daughter to Hong Kong with him a few times, he knew it simply wasn't sustainable.
"I feel like I could throw my life into [shoemaking]. That's a worthy battle."
That's how No.One was born. Being in those tiny sample rooms in Guangzhou, Mark says that he saw how someone could potentially make high-quality bespoke athletic shoes in the smallest of spaces, hands-on. "I thought, I can do this. We can do this in L.A." Even commercial manufacturers were only producing one or two sample pairs at the bench; and so he realized he did not need an excessive amount of equipment if he kept volume low and exclusive. "I didn't want to compromise on making anything crafty or making anything 'Made in America' or 'heritage.' Fuck that, I want to make sneakers."