Marie Sophie Lockhart has made quite the name for herself, even if it is under her alias of Good For Nothing Embroidery. Like the designer herself, the name comes from France, specifically the phrase "Bon à rien," inspired by how her mother felt about her abandoning her degree to pursue a career in fashion. In less than two years, her talent has been proven to be good for a lot more than nothing though; Lockhart's aesthetic is instantly recognizable. The designer has created a distinct vibe that channels classic iconography of yesteryear: peace signs, rainbows, flowers, and whatever else you can think of.
An Instagram back-and-forth with Drake led to a commissioned jacket he wore for an entire tour straight. Fast forward a couple months and Lockhart found herself in the midst of full-fledged collaborations with Marc Jacobs and Stella McCartney. We caught up with the now-Brooklyn-based designer as she was in the midst of creating some custom pieces for Miley Cyrus and Beyoncé.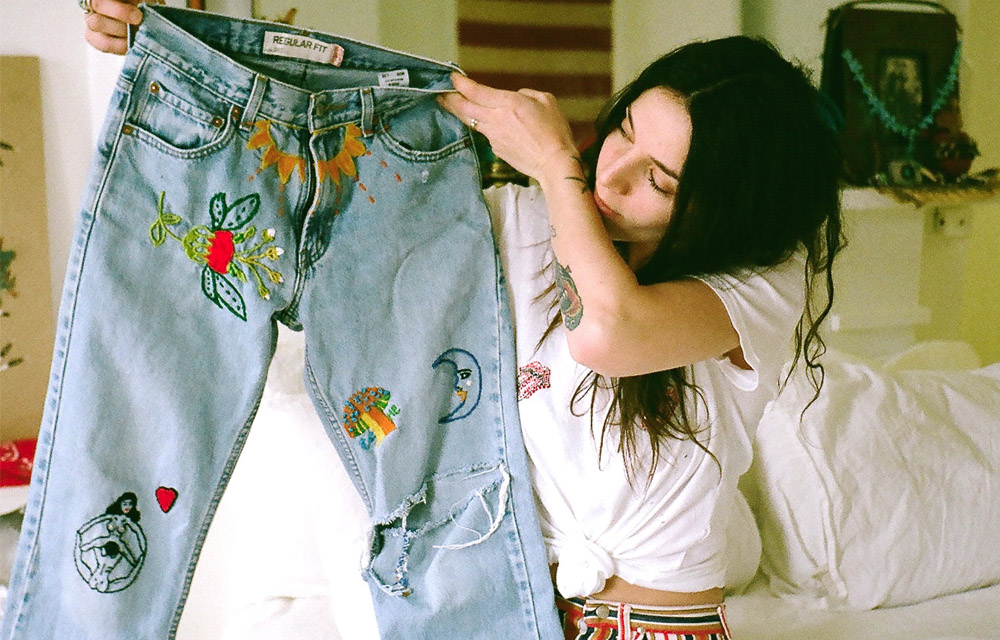 TYLER W: There has definitely been a revival inspired by the accessories (pins, patches, etc.) and trends of a previous generation. Why do you think that is?
MARIE SOPHIE LOCKHART: At the moment, I think there is a high demand for special one-of-a kind pieces that are custom made for people. There is something really special about this work ethic because the "imperfect work" of a single person's hands is so valued in the 21st century where everything is mass produced and impersonal.
What was it that initially drew you towards embroidery?
I was first collecting patches for a really long time and I eventually wanted to make my own designs. I had thread and needles so I just bought an embroidery hoop for two dollars and I was on my way. Embroidery is a cheap craft, plus you can carry your work with you everywhere.
You've talked about a desire to live an adventurous life and not fall into the monotony of a boring routine. Where do you think that desire came from?
I think it's because I've traveled so much in my life that going somewhere without a real plan is so exciting to me, you know! And it's always in those situation that you end up meeting the greatest people, or seeing the most beautiful places, because you're going off the beaten track—that's how I like to travel and to live. I think it comes from when I was a kid and I would listen to people's old stories of travel.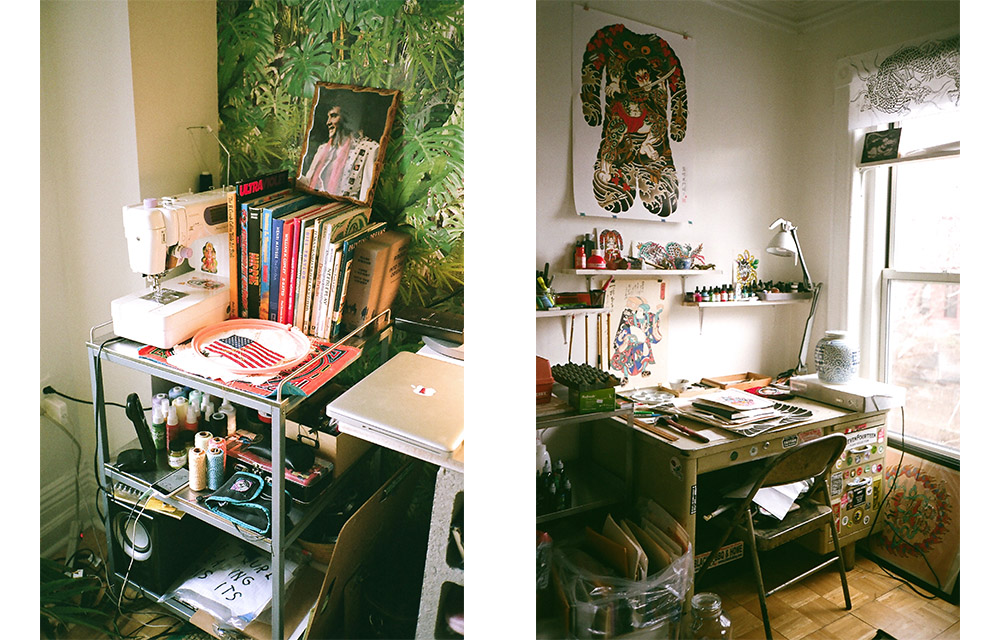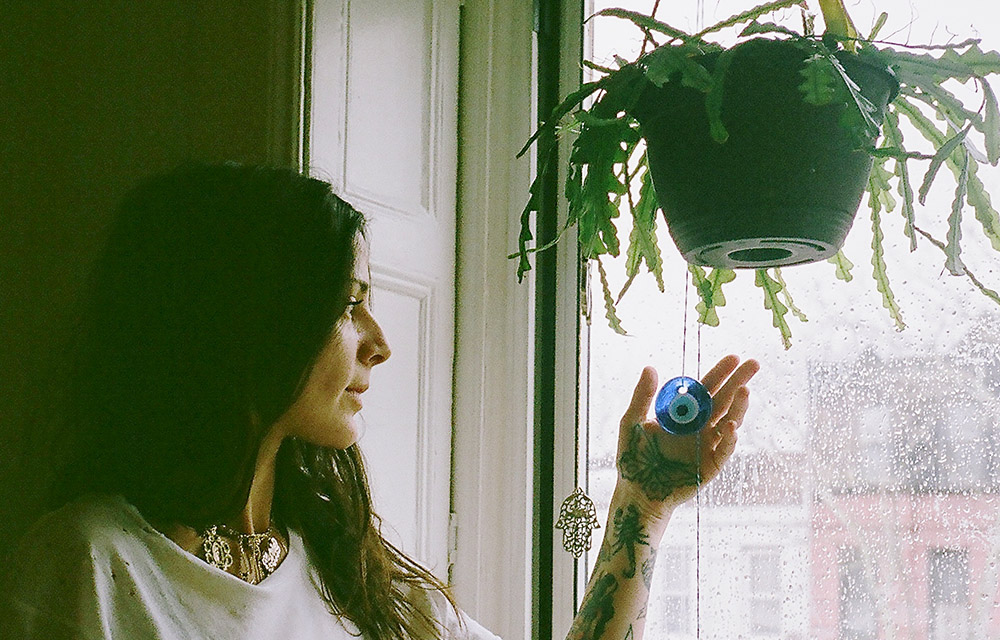 Did you have a background in a creative field prior to starting to focus on embroidery?
I didn't go to art or fashion school. I've studied business and law, but I have always loved art very much and was always interested in making all kinds of things. I've worked at Colette (fashion retailer) in Paris—I guess that was kind of my fashion school. My husband is a tattoo artist and is always pushing me and encouraging me to make art.
Walk us through your average day.
First, I'll wake up, do Puja, and go get my coffee and chocolate croissant. Then I'll start answering my emails and finally start working on my orders while listening to music or watching French nouvelle vague movies.
What brought you out to Brooklyn? How do you feel it compares and contrasts to Paris?
I moved to Brooklyn four years ago and I love it! I have always lived in the same neighborhood (Bed-Stuy) and I wouldn't dare miss a block party. I do love Paris too, but I feel people are more open minded in New York, and it's just easier to talk with others and connect over shared interests.
When do you feel you first started to find success with Good For Nothing Embroidery?
Everything got started when Drake re-posted my embroidery work on his Instagram. I woke up with thousands of new followers and countless emails and texts. I sent a direct message to Drake to thank him and he wrote back shortly after to congratulate me, tell me it was all love, and then he ordered his own pair of customized goods. It has opened so many doors since.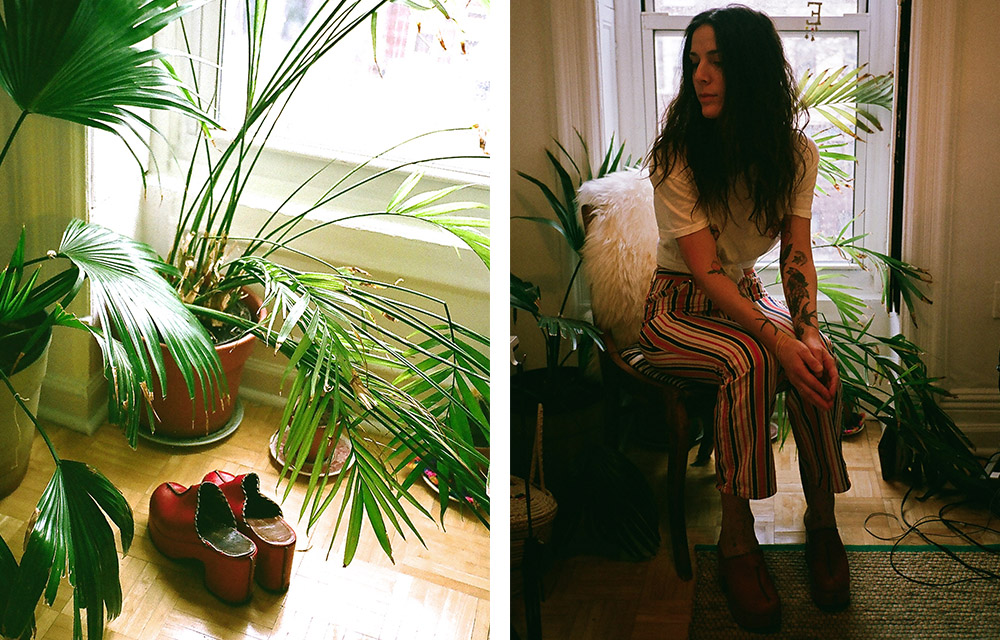 What has been one of the favorite pieces you've created over the years?
That is like asking me, "What's your favorite color?" I love every color!
At the end of the day, what are you hoping to accomplish with your company?
There is so much I want to do and I'm always thinking about the next project. Embroidery is a medium of expression for me. I just want keep making things that I like. I want to make clothing where everything is made by hand in Brooklyn.
I'm working on my website and I'll have a limited editions of hand embroidered pieces ready for this winter. At the moment, I am making custom pieces for Miley Cyrus. I also have few collaborations coming up, it's all pretty exciting!
***
Follow Marie on Instagram and visit her website.
All photography by Angel Jhang.