It's the 10 track commandments, whet?
I like to dig through SoundCloud. So here, I present the results of my excavations (in alphabetic order): Nine tracks released in the past month that you shouldn't miss, plus a tenth track that's kinda old but still knocks. Hopefully this'll help get you through the rest of your week, to the blessed lituation that we often call the weekend. #TYBG.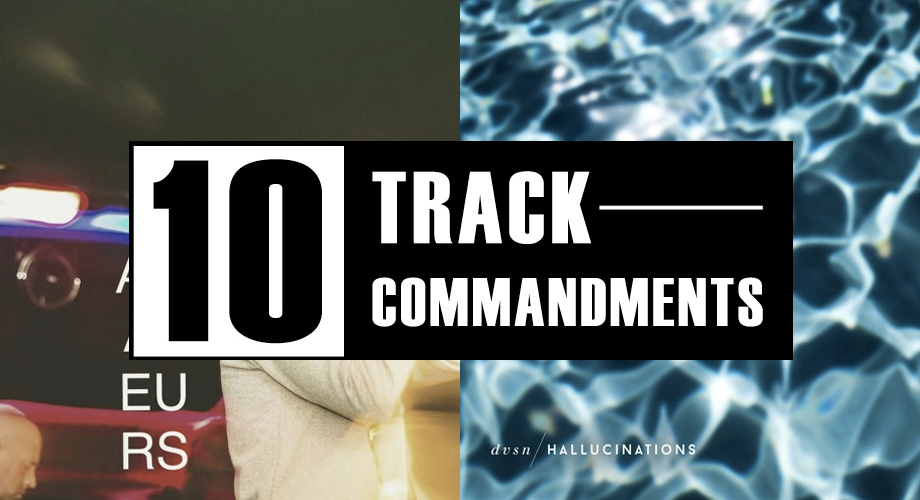 1. dvsn – "Hallucinations"
There's an air of mystery surrounding dvsn—his identity is a secret—but that makes his brand of cascading, scintillating R&B even more perfect. On his latest cut, "Hallucinations," dvsn flawlessly shapes his falsetto around the song's delicate beat, his voice reaching the crisp upper-register notes, but also delving down into a richer lower-register. All we can pray for at this point is more music and for him to reveal his identify.
2. INDICA – "All the Drugs"
Scrolling through INDICA's Instagram account, most of what you see are palm trees, blue skies, and In-N-Out Burger. Clearly, he's in Los Angeles and, clearly, those of us who aren't are jealous (see: east coast winter). And while you can feel a bit of that lax California lifestyle in his track "All the Drugs"—his indica reference reinforcing that—the bulky bass-driven production and slurred speech isn't entirely evocative of a West Coast sound. But at this point, rappers have proven that region and sound aren't so intrinsically linked as they once were; this could very well be the West Coast's new aesthetic.
3. Jayaire Woods feat. Offset – "Illegal" (Remix)
After Migos' Offset was released from jail, he immediately went back to work, dropping a remix of Jayaire Woods' song "Illegal." On the track, in between their high moments, both express somber attitudes, Offset mimicking Woods' sentiment, "Shame on you ni**as that didn't think I'd make it, you didn't believe in me." Woods extends that feeling to the end, "You don't call me no more / Messages getting rare / Lately I've been catching planes / Say you don't love me, that's a fucking shame / Now we back to ballin'." Shit gets real between turn-ups.
4. Jefe REPLAY – "What You Need"
Boston is flourishing right now. A handful of first-rate musicians have been cropping up from the city, and now we can add Jefe REPLAY to that growing list. REPLAY first came onto my radar as the only feature on Boston rapper Coustin Stizz's debut Suffolk County. But with "What You Need," REPLAY shines on his own, his warbling auto-tuned voice meticulously riding the beat. Maybe he really does got what we need.
5. Klassik – "Amateurs"
Klassik's blend of jazz and hip-hop is refreshing, not because it's an entirely new approach to rap, but because it's genuine. His music takes a generally positive approach to the world, and that can be seen on songs like "Amateurs." With this single, he assures us, in the nicest way possible, that he's a pro. Yeah, we're pretty inclined to believe him. Though "Amateurs" sounds a bit rough, that's because it's only a first draft. We're waiting for the real thing, Klassik.
6. Little Simz feat. ALXA and Mick Jenkins – "Sea Level"
Right around Christmas time, Little Simz dropped her latest project Age 101: Drop X, our year-end bonus from the British rapper. For an artist who rarely seeks features, this tape is knee-deep in them, and "Sea Level" is up at the top. Like the song title suggests, we wade right alongside Simz while she waxes poetic on her guest artist's—Mick Jenkins'—favorite topic of conversation: water. Like Jenkins has done in the past, all three use the metaphor to speak on honesty and truth.
7. Paige Joiner – "Heartbeat"
Paige Joiner's song "Heartbeat" tugs at the heart. Damn, if she doesn't touch on every up and down of a relationship, from the butterflies to the doubt to the [sometimes eventual] break-up. She doesn't mask her pain, which is tangible in her voice, her lyrics fully encapsulating the push-and-pull of being with someone else. We all know how that is; uncertainty doesn't bode well.
8. safeNsound – "I Wish"
Producer duo safeNsound—Ambi Lyrics and L.A. VanGogh—only have two tracks under their belt, but their sound is already solidified. From "I Wish," and their debut track "if you cared," we can see that the pair's mission is to borrow from the past while pushing forward. "I Wish" is shimmering and effervescent, taking an aesthetically '80s synth and R&B vocals, and layering them with modern production elements.
9. Smino – "Oxygen"
If you're at all familiar with Smino, then you know that he's St. Louis through-and-through. "Oxygen" is probably one of the rawest and most vulnerable moments we've seen from the rapper thus far, a heartfelt appeal for the black experience in America. The rapper cites the passing of Mike Brown in the song's hook, his description of Brown's death so palpably real that you can't help but feel it too.
10. Katie Got Bandz feat. King Louie – "Pop Out"
"Pop Out" is damn near a classic already. Enough said.