"Time will reveal everything," Squadda B proclaims to me over the phone from Oakland, California. At first, it's difficult to differentiate between Squadda and his Main Attrakionz counterpart MondreM.A.N. — the two are like brothers: when they speak, they bounce words off each other and finish one another's sentences; they know their story well. But after a while, I notice the gravelly, deeper intonation of Mondre's voice. Squadda, on the other hand, has a lighter, more nasal lilt to him.
But the two are essentially brothers. Squadda and Mondre — born Charles Glover III and Damondre Grice respectively — met in seventh grade at Carter Middle School in Oakland. They walked out of math class at the same time and started chopping it up, soon realizing that they were both writing and rapping individually. It was kismet when Squadda found out that Mondre had already pieced together a rap group.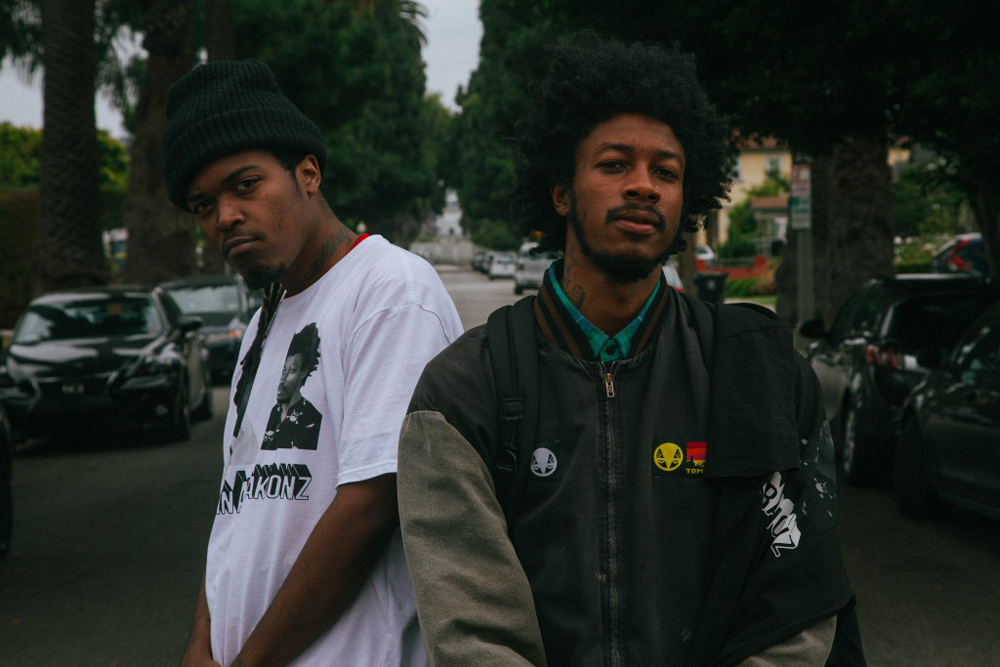 Squadda was the last person to join the four-man group. As a quartet, they would go to Mondre's house after school to practice, where they would write songs that they eventually performed on local TV and talent shows, like Oakland Idol. Though they were winning awards, two of the members still decided to leave. They didn't take it as seriously as Squadda and Mondre, who were completely enthralled by creating music.
"I'd go over to Mondre's house and shit after school, like rapping was some school shit for everybody, for the group. But I wasn't trying to stop and shit. Mondre wasn't neither, so we just kept it going, like we ain't just wait for school," Squadda recalls.
Then someone new came into the picture: Shady Blaze, whom they met through an Oakland Idol producer. At the time, Squadda and Mondre were going by the ill-fitting name Cash Out Soldiers. But when they met Shady, who would become a frequent collaborator, things changed: He gave them the impetus to become Main Attrakionz.
"[Talent shows were] fun and shit but [rapping] was like, what we were trying to do, so it was just the way it was supposed to go — we just did it however we could." Squadda explains, "We actually came up with the name Main Attrakionz after meeting up with Shady because we started another group with Shady and some other people and we called that Main Attrakionz. And then we just took the name, me and Mondre. Back then, I was just writing down names. We kind of grew into that name. Back then, the name was like, 'Yeah, we're the people to see.' We were who they came to see."
Even though Squadda B is 24 and MondreM.A.N. is 23, they're already OGs in Oakland's rap scene. They got in the game when they were young, around the age of 12. In middle school, their English teacher's sister even tried to sign them for a production deal, an offer they gladly declined. They recorded their first mixtape on a karaoke machine after eighth grade, and soon after, were recording in a real studio with the help of Squadda's cousin, who was also involved in rap.
Main Attrakionz were the pioneers of cloud rap ("cloud jiggas" and "cloud kemosabes," as Squadda puts it). While they embrace the label and aren't antagonistic towards it — it is, after all, what gave them their start — it's still something they want to break away from. "It's real subjective," Mondre says.
"We'll take it, we'll take that championship," Squadda quips.
Indeed, there is a distinct sound that comes from the duo, a real delicacy and dreaminess in their uptempo swings and slow 808s. In their music, they engage with each other in the same manner as how they speak on the phone, their quirks playing off one another in a sort of call-and-response, back-and-forth method. While the duo aren't the sharpest lyricists, they are entirely authentic, Mondre's cadence aloof and breezy, Squadda's raps quick and raspy.
There was a lot of buzz surrounding Main Attrakionz as they came up. At the height of their career, between 2010 and 2013, Squadda and Mondre dropped 13 projects, because "we were bored and had nothing to do, so we just rapped," Squadda explains, "Why not? When what's done in the dark comes to light — that shit came to light. Everybody saw that shit. Me and Mon say, how do we wanna do it? Do whatever you wanna do.'"
Then came a sudden break where the duo stopped releasing music with such a fervor. In 2014, they dropped two projects: One as Main Attrakionz called BDE: Best Duo Ever the Bricktape, and a collaborative project with rapper LFK called Lofi Til I Die. Both of them dedicate their hiatus to life.
"That's just life. We in a way better position in the years we didn't release nothing than we were in the past. People get the notion like if people fall out of the limelight and shit, things are going bad. They weren't bad… [Life] isn't in the way. [Rap] is always here you know, we dedicated everything to this shit... In the meantime, the in between time, things happen," Squadda remarks, "Nobody's exempt from being fucking human and shit. You gonna go through that shit, everybody goes through their shit."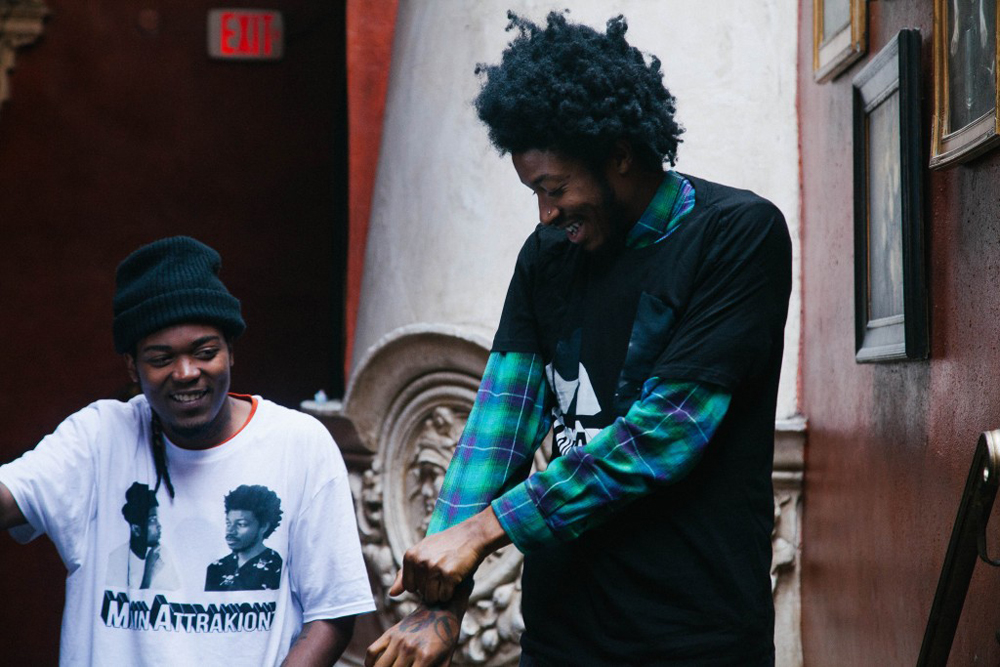 Mondre adds, "We never stopped making music, it's just all that mental, just trying to figure out what is our purpose…we were just like free agents, running around beforehand, so it was all just fun. We were being us, we were fucking having fun, man. It's been real, we just didn't really care about the fact that it was real. We weren't trippin' off of it."
During their break as Main Attrakionz, Mondre took the time to produce his own work, releasing his solo debut album They Say I Struggle Rap in 2013. He still tinkers with solo projects and has a few under his belt, but now both rappers' full focus is on Main Attrakionz. Their upcoming, ever-anticipated album 808s and Dark Grapes III (a follow-up to 808s and Dark Grapes and 808s and Dark Grapes II, both released in 2011) releases June 30th. As a preamble to the entirely Friendzone-produced project — a production duo also from the Bay Area — Main Attrakionz has released a few singles, including "Dip," "G.O. Style," "Shoot the Dice," and "Ain't No Other Way." These tracks continue to showcase their back-and-forth style and their telltale cadences, but also attempts to pull the duo away from the cloud rap label. In "G.O. Style," for example, Squadda and Mondre belt out melodies over Friendzone's shaky piano rhythms and airy snares.
In the beginning, rapping was purely for fun — a sport to them, an experiment. In those early years, they built a foundation; now, they are finally capitalizing on what they built. In the time-off, they've learned a lot and gained a different perspective on their purpose.
"It's like we see the light. What to do and what not to do, how to move and shit. Not much has changed; you just get older and you start looking at shit different. You a fucking kid and you don't want to do nothing — you're just a kid... You know how that shit be. You don't watch cartoons no more. We was just having fun with that shit, we didn't have no plan," Squadda says.
"We just started doing it as a hobby and shit. Then the hobby grew wings," Mondre adds.
::
You can listen to Main Attrakionz on their Bandcamp and follow them on Facebook here.
Main Attrakionz are performing a free show with Friendzone at the Rocksteady in Oakland on June 25th. Look out for their new album 808s and Dark Grapes III  to drop next Tuesday, June 30.