Mark Paul Deren, aka MADSTEEZ, is known for his vivid large-scale murals, pop-culture portraits and playful sense of humor. When asked about art school, he responds, "If you call getting a D in Art 101 at Cal State Long Beach going to art school then I was definitely classically trained."
This playfulness is also present in his work, which features the faces of idols such as Carlton Banks, Magnum P.I., and Bill Cosby rendered in radical detail and kaleidoscopic color.
In 2007, MADSTEEZ had the opportunity to paint actor and artist Dennis Hopper, who had previously only stood for paintings by Andy Warhol and Julian Schnabel. "When I presented the painting to him he had the most amazing grin on his face that it still gives me goosebumps thinking about it," MADSTEEZ says. "He said it was his favorite piece anyone had done of him."
In this interview for The Hundreds, MADSTEEZ talks about art, who inspires him, The Fresh Prince of Bel-Air, Pee-Wee Herman and more.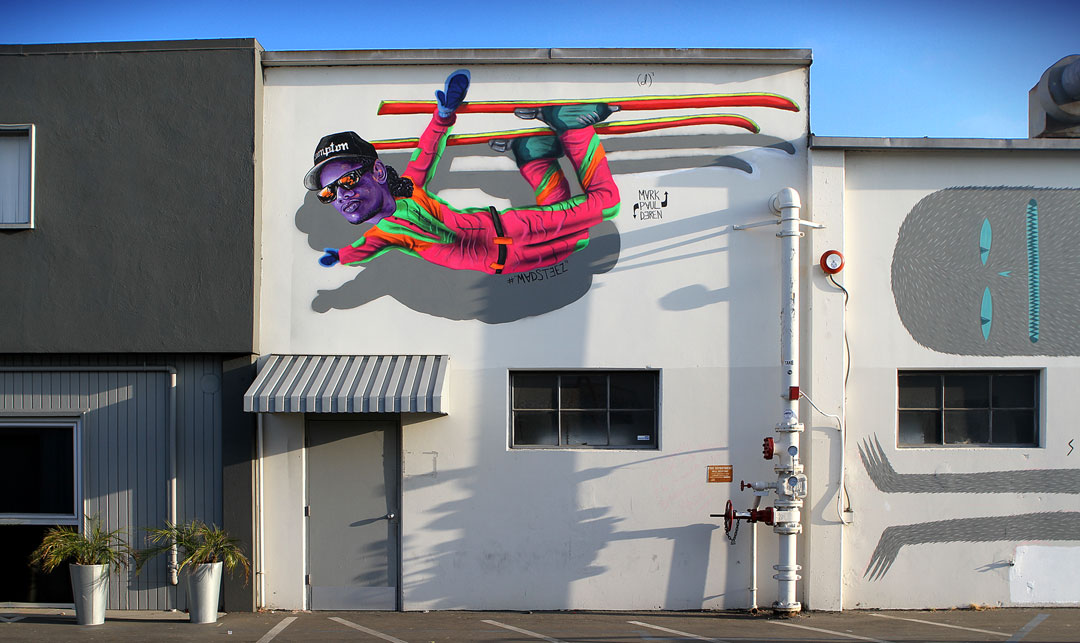 How did you develop your aesthetic? Did you go to art school or were you self-taught?
If you call getting a D in Art 101 at Cal State Long Beach going to art school then I was definitely classically trained. Before that, I took high school art class but it was only to get an easy A. It actually wasn't until I started making art for absolutely no purpose at all. From there everything just naturally happened. I got to choose what I wanted to paint and how I wanted to do it. The more I've personally grow as an artist, the more I've tried to strip my process and simplify my pieces.
How do you choose who to paint?
It all depends. Sometimes it's a happy accident, sometimes it's geographical, sometimes it's architecturally driven, and sometimes it's just meant to be.
Why Carlton Banks? I'm a huge Fresh Prince fan.
I was watching a rerun of Fresh Prince and it was one of the ones where Carlton was just crushing that dance and I was like oh shit, I don't think anyone has done a proper portrait of him. I looked online to see if anyone had and at the time there wasn't, so it was on!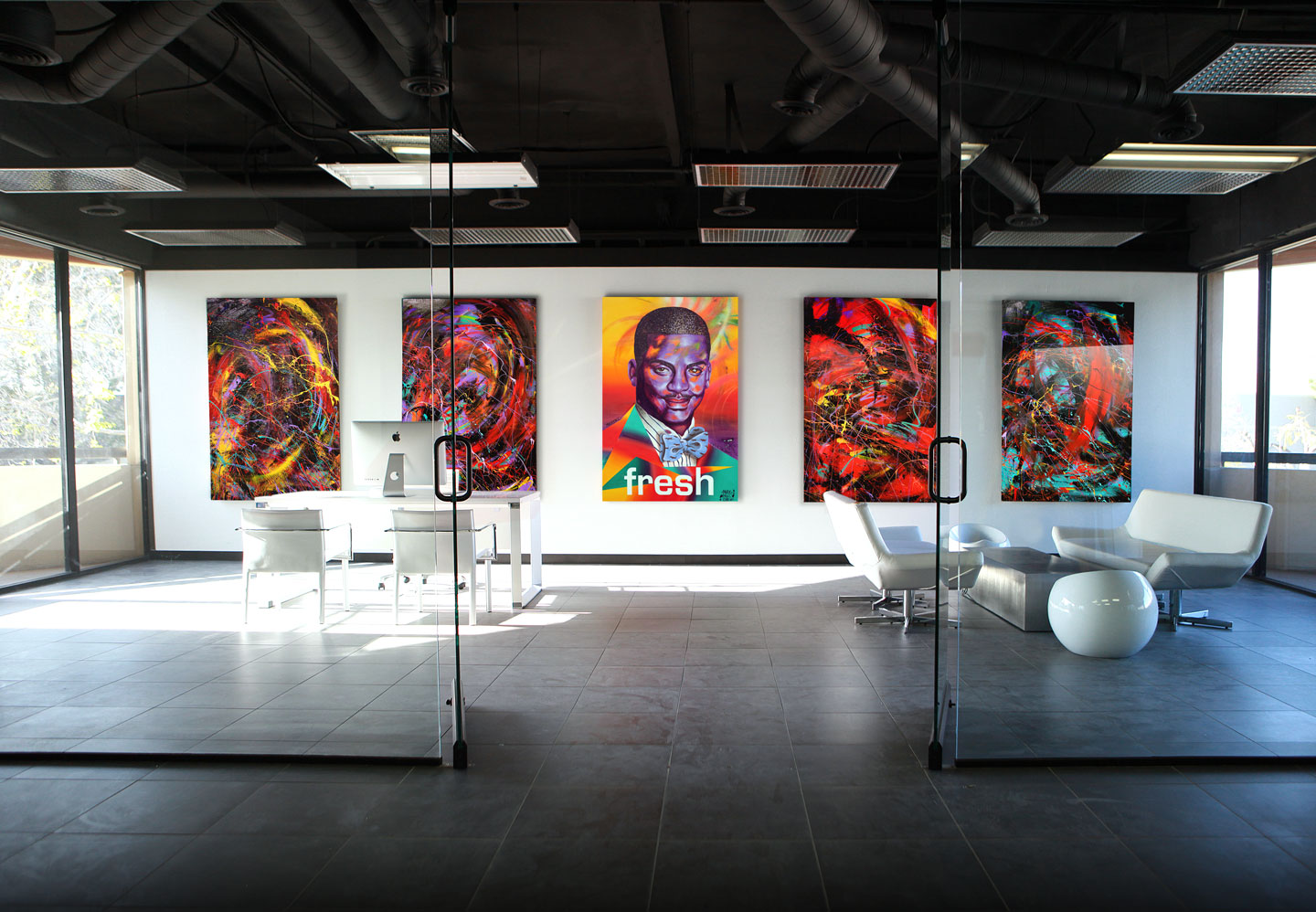 Who or what are you most inspired by?
I'm inspired by the acute inconstancies of normalcy in everyday life. For instance, today there was what looked like to be a 100-year-old man driving a convertible, vintage maroon-and-beige Jaguar with his oxygen tank riding shotgun hooked through his nose, a backseat over spilling with yard-art plastic flamingoes, a lawnmower bungee-corded to the trunk, and all the while he was smoking on his duck-shaped tobacco pipe. That dood just inspired me for the next year!
I read that you're really inspired by Pee-Wee Herman. I've had a couple cool run-ins with Paul Reubens—I got to mediate an interview between him and Gary Panter, and Paul came to an exhibition I curated in L.A. It was probably the only time I've ever been star struck. I spent about five minutes talking to him, and have absolutely no idea what I said! What's inspiring to you about Pee-Wee?
Besides growing up watching Pee-Wee on Sunday mornings, I'm going to have to say it all started with my Moms. She has so many trinkets, toys, collectibles, etc., and loves to decorate so much that she has been featured on the local news before. So we had probably 200 Pee-Wee dolls and complete sets of all the other characters in multiples. When I was in high school my friends would come over and put all the different Pee-Wees (amongst other toys, like Urkel and Ernest) in sex positions with each other. And when he got busted for yanking, I thought that was so amazing since I too got busted for yanking, but by my sister.
Where did you grow up and how do you think it influenced your style? Do you think California has had a big impact on the look of your work?
Most definitely. I grew up about 15 miles west of Washington D.C. in Northern Virginia and it is quite culturally diverse. I moved to Huntington Beach, CA, for senior year of high school and there was a lack of culture to say the least. When I started painting, I chose my subject matter to fill that void. Sometimes I feel like my paintings are somewhere in between the sunny beaches of California and the urban landscapes of Washington D.C.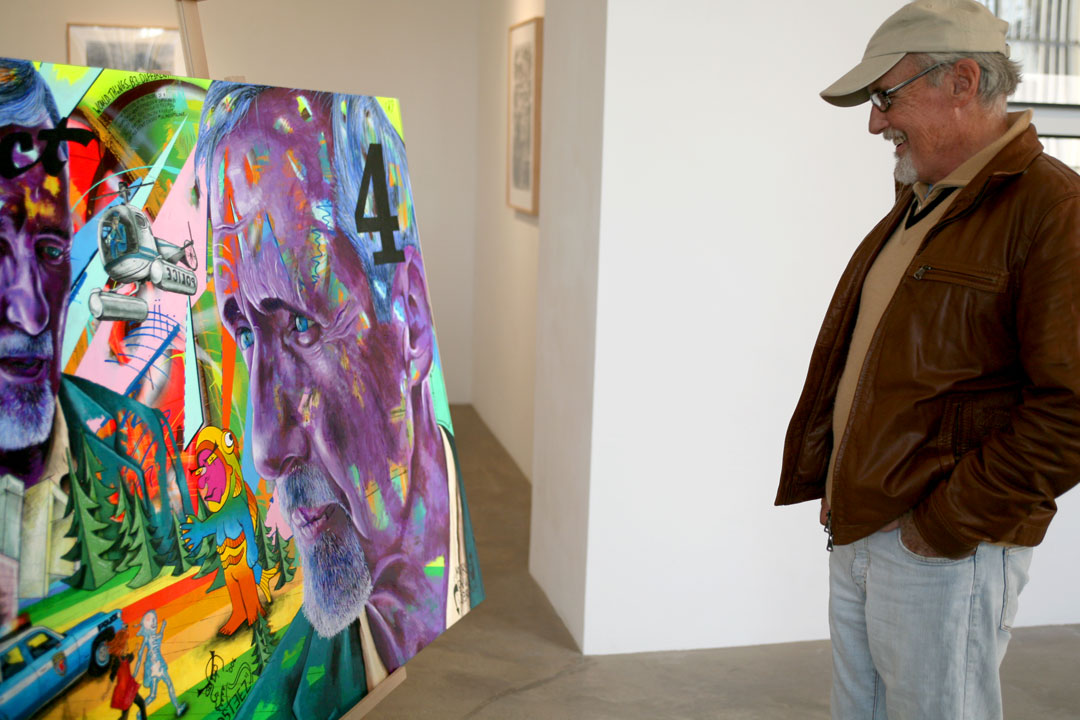 How were you able to paint Dennis Hopper? What was that experience like?
Painting Dennis Hopper was one of the most incredible experiences of my life. I saw his show at the Ace gallery and was absolutely floored. I had always dreamt of working in that scale and didn't even know it was possible till then. His vision and the people he documented was so inspiring to me. I came back to the gallery a few days later and I made him a package with one of my books of my art and wrote him this super cheesy letter on how inspired I was and how I wanted to paint his portrait. The people at the gallery wouldn't take the package and told me to send it to his fan club. His art assistant just happened to come in at the same time and was so moved by the gesture that she assured me she would get it to him. Sure enough a week or so later, she emailed me and said Dennis would love to pose for a portrait.
When I met Dennis, he was so fucking cool. Instead of him letting me fan out on him, he was fanning out on me. He loved my art and wanted to know everything about me. When I presented the painting to him he had the most amazing grin on his face that it still gives me goosebumps thinking about it. He said it was his favorite piece anyone had done of him and at the time only Andy Warhol and Julian Schnabel had done portraits of him.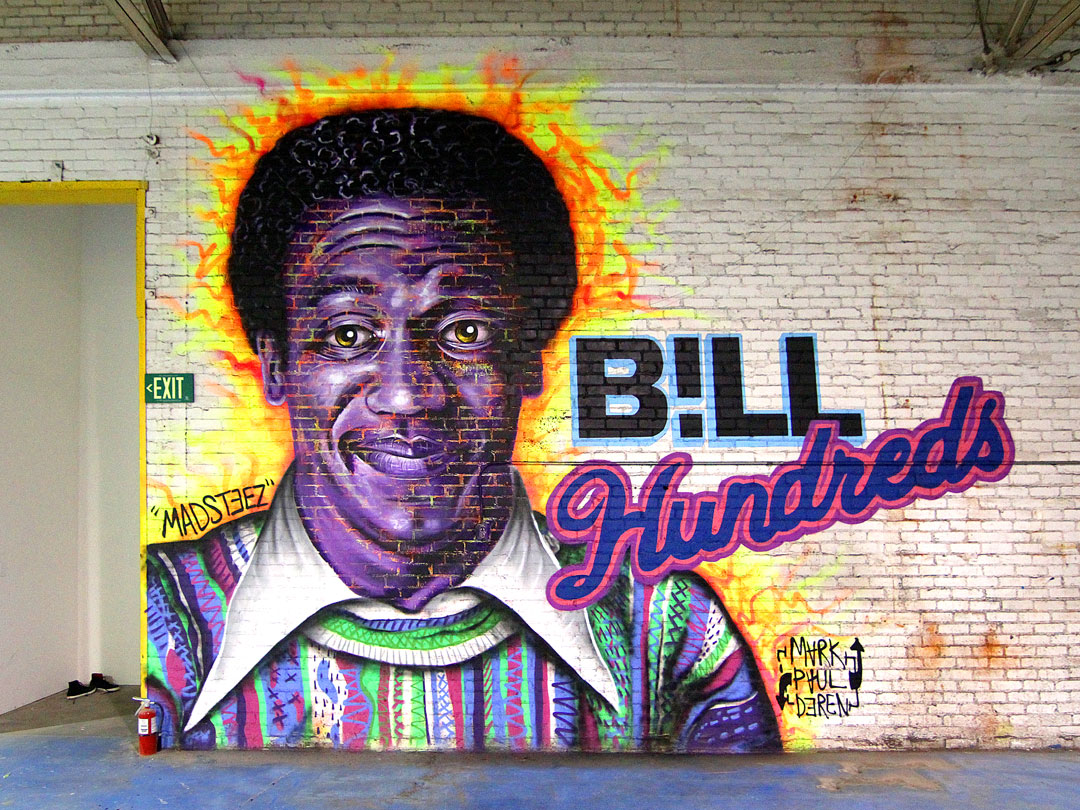 Do you collect anything?
I must admit I have an eBay collecting addiction. I buy so much shit that I get boxes almost everyday of the week and it's so exciting because I never even remember what I've bought. I go in and out of phases but currently I'm collecting vintage dive masks, suitcases, speakers, fabrics, wallpapers, Garbage Pail Kids, MASK toys and Pee-Wee Herman dolls.
Five things you can't live without? Your wiener dogs have got to make this list...
That's a good one! I don't know if my WEENer dogs count as one or too but definitely WEENseuss and Mr. WEEN. My son Dolorean. My albino cobra snake belt. My external hard drive. My passport.
What's next for you?
Next on my itinerary is Pow Wow! Taiwan. After that, I have plans to paint murals in Barcelona, Paris, England, Puerto Rico and Dubai. Most importantly, I've been slowly painting the last two years for a solo show, which I think will be in Los Angeles.