Luke Drozd is a prolific British artist with an impressive body of work—sculptures, art objects, drawings, art prints, comics, limited edition apparel, music, and most significantly, poster art. As one of the artists leading the wave of the UK poster art movement, creating images and visuals to commemorate musical acts and tours, he has an original and distinctive style of his own, having designed for the likes of Tortoise, !!!, Mercury Rev, They Might Be Giants, Belle & Sebastian, The Black Keys, Swans, Dinosaur Jr, New Order, and many others—the crème de la crème of the alternative music scene.
In an interview with Coachella's CAMP magazine, legendary poster artist Emek (Henry Rollins calls him "the thinking man's artist"), describes poster artists as "interpreters and shamans" of culture. Writer Alina Nguyen (who happens to be my editor at The Hundreds) additionally describes the medium as a "snapshot in time" with its own expiration date printed directly on it—it's graphic design, illustration, and marketing rolled all into one. It's "the people's art."
I took an opportunity to chat with Luke about his art and juggling multiple mediums successfully as an independent artist.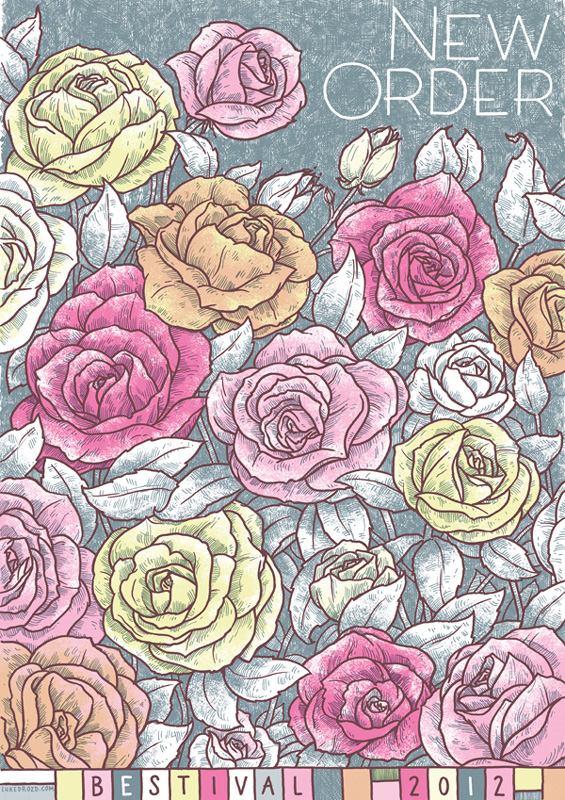 Luke Drozd's poster art for New Order's 2012 Bestival show, inspired by the cover art for Power, Corruption, & Lies.
MANOS NOMIKOS: Is music always the epicenter and inspiration? When did you start designing gig posters?
LUKE DROZD: I have always enjoyed drawing and listening to music. As a child, I spent hours in my room listening to records and scribbling away. This led to me studying Fine Art in Leeds where there turned out to be an amazing DIY music scene. Myself and fellow art-man, Drew Millward, began putting on gigs with some other friends and then started a small record label called Birdwar. We drew the posters for the shows and this led to others asking us if we would design their posters too. 12 years later, they are still asking and I accidentally have a career.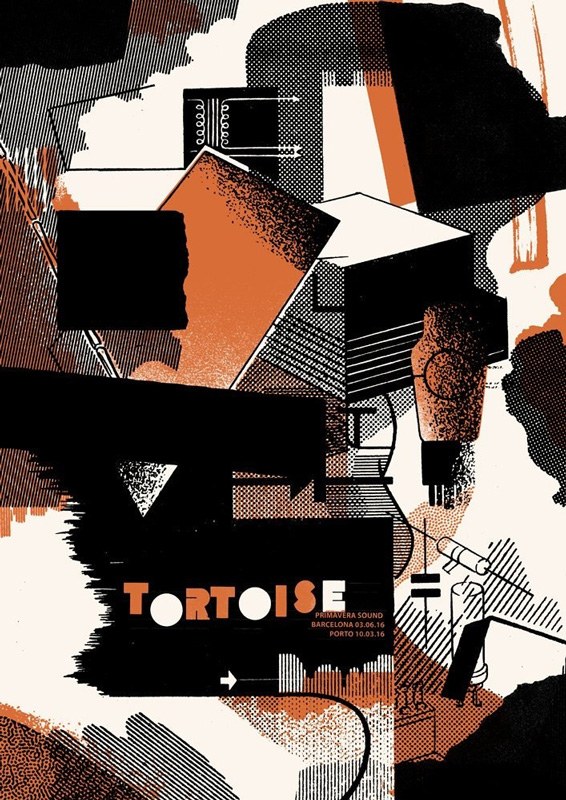 What are the steps to working on a gig poster? Is it all up to you or are you getting directions from the promoters and bands?
It really depends on the band but most the time I am given pretty much free reign. Some bands will have some ideas of possible directions, others will have definite things they don't want. I take all this into account, then I have a listen to the band and try and come up with a design that, for me, captures something of their sound. It always starts with small pencil sketches whilst I try and find the right way to go and once I have something that makes sense I'll fire it over to the band or manager/label to make sure it works for them too. Then it's a case of firming up the design, inking it in, a brief bit of time in photoshop to sort out the colours and layers, and then it's ready to screen print.
What are your top 5 most memorable posters you have designed and why?
It's difficult to boil it down, and this list probably changes a lot, but here's what currently stands out:
Spoon – Scala, London.
I think it was around 2007. It was one of the first bigger commissions I got and it had to be turned around in one evening. It has ended up being probably my most popular print, proving I should spend way less time on them than I do.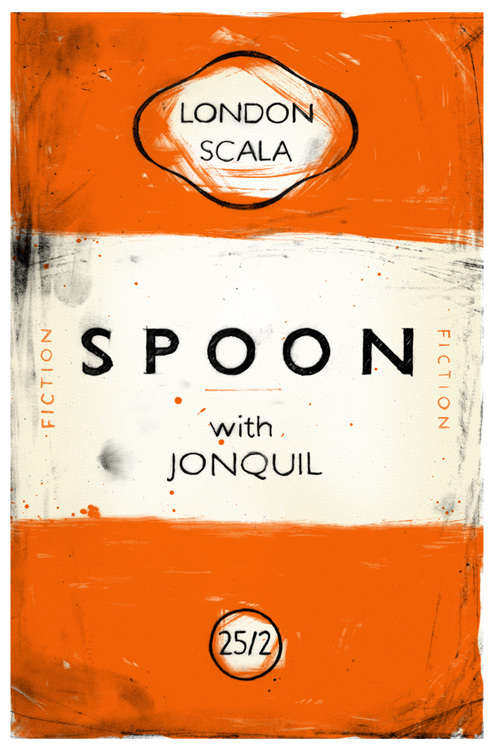 Luke Drozd's gig poster for Spoon.
Bonnie 'Prince' Billy – St. John Church, London, 2014.
I have long admired Will Oldham and he has been on my wish list for some time so it was great to get to work on this poster. Plus I dealt directly with Will, who is a wonderful chap. His only request was 'Maybe it could have a Tiger on it?'. Done!
Stewart Lee – Much A-Stew About Nothing Tour, 2013/14.
As a teenager I loved Stewart Lee's double act with Richard Herring, and their shows "Fist of Fun" and "This Morning With Richard Not Judy" had a huge impact on my sense of humour. I have followed what he has done ever since and Stewart's solo comedy and writing is complex, intelligent, and hilarious. Working on this was a highlight of my career and has led on to more work for him.
Adam Buxton – Green Man Festival, 2015.
Following straight on from Stewart Lee, Adam Buxton of comedy duo Adam & Joe, is another comedy hero of mine. His TV shows, live shows and podcasts, both with Joe and solo, are things to be treasured so making a poster for him was a real treat. STEPHEN!
Melvins – Budapest, 2008.
Is it a great poster? Probably not. Does it feature kids with their dicks out? Yes it does. Every gig poster artist wants to do a Melvins poster, don't they? It's a sort of right of passage. This one was mine.
There are so many others I am missing out. I loved working on ones for Tortoise and Michael Rother recently, Andrew Bird has been great to work for on 3 occasions, and it was a pleasure to make a series of prints for SHHH festival. There are very many more…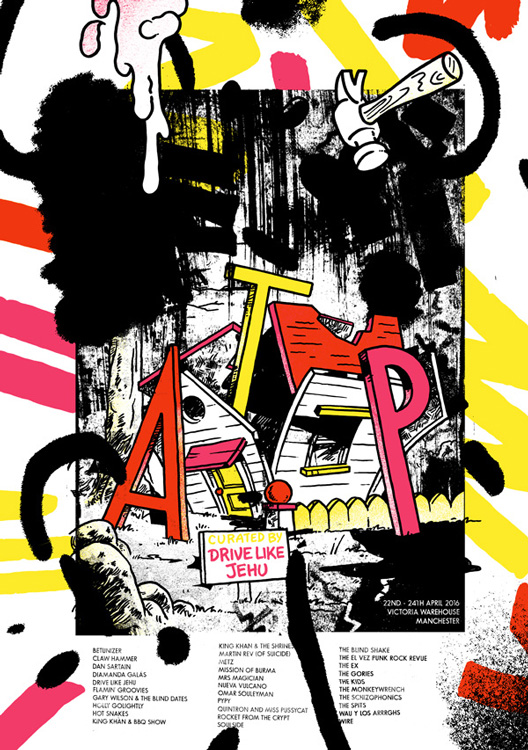 Luke Drozd for ATP/Drive Like Jehu
Do you feel part of the gig poster scene? What are your favourite artists out there?
Yes, very much so, whether they like it or not. From the early shows that Chris White organized in the UK called Poster Roast, there grew a tight knit British poster scene. From there the American Poster institute began to organize Flatstock Europe in Hamburg and those friendships became international. This has grown over the years and many of those artists are now close friends of mine. I feel very privileged to be able to say that.
You not only design gig posters but you also work on comics, apparel, illustration, art installations and more...
I studied Fine Art and have always continued to make my own sculptures and installations alongside the commercial arm of my work. The other strands came about off the back of other projects. For instance I was asked to produce a comic for a small publication and people seemed to like it so I made a couple of books worth. There were some stories from there that didn't seem to translate well into comic strip form, so they became stories which formed the basis for the spoken word and sound collage project I do called Reet Maff'l with artist and musician Andy Abbott. I am always open to new ways of working and try to allow the idea to dictate the format it should be realized in, and not the other way around.
Possible Landscape – BIF Live Demo Print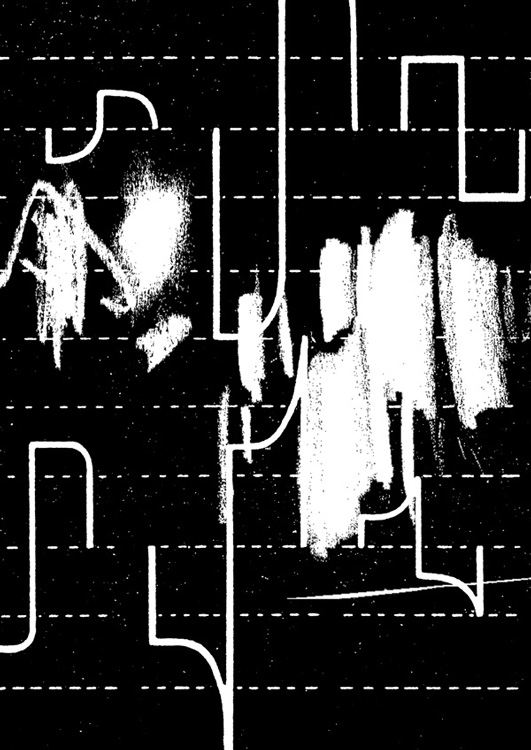 Tell us some more about this new official Monty Python print; how did you conceive it?
Growing up, Monty Python were some of my heroes. I watched Holy Grail over and over again. I was amazed that people could be paid to be so daft and creative, to seemingly be allowed this amazing freedom of expression. Then this year Colour+Noun got in contact explaining that they were organizing an exhibition of officially licensed Python work and they would like me to contribute. I knew straight away I wanted to do something Holy Grail related as this had been my gateway into their world. I found it a struggle to try and pin down a moment or an idea that captured the film for me, but in the end I opted for a print that acknowledged Terry Gilliam's Medieval art inspired animations from the film, whilst hopefully making it my own at the same time. Colour+Noun then asked me to create a Life of Brian inspired lapel pin too which was based on the monumental stone text design of the film's poster crossed with a crucifix tattoo design, and is suitable for very naughty boys and girls everywhere.
Do you make a living from your art or you also have a regular job? Is it hard to be an independent artist?
I do many things to keep afloat. I work one day a week in a gallery in London, as well as doing occasional lecturing, commissioned illustration work, my own projects, etc. All of it just about adds up to a livable wage. It can feel hard to be an independent artist sometimes, but there are far harder existences out there so I try to remind myself that I spend a lot of time sat around colouring-in or making sculptures, so it's rather wonderful too.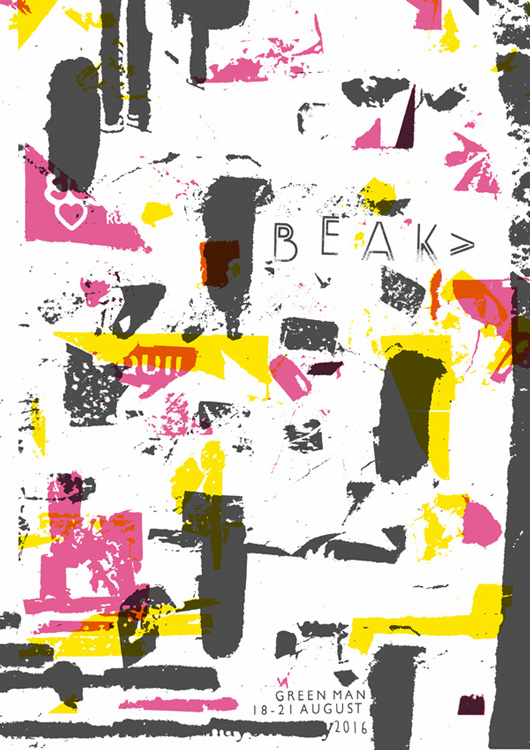 What's next for Luke Drozd? Upcoming projects?
I am currently working on a load of different things. I have a host of fun freelance illustration projects on the go, I'm working on a series of new sculptures, a new Reet Maff'l recording based on a performance we did in Barcelona is due out soon, and a book of (very) short stories is now finished and will be self-published some time this year. There is always something fun around the corner.
***