Canadian sneaker retailer Livestock is one of the first spots that I ever found brands like The Hundreds or Stussy. I remember one of the only days I ever skipped class in high school was to go to a meet-and-greet with N.E.R.D. at Livestock. Only Shae and P showed up, and I was wearing a BBC hoodie that I know now is fake. Shame. But the thing is, both Livestock and The Hundreds were gateways into what I'm doing now, so I'm thankful for this spot.
Owners Chris and Gary Bone decided the time was right to re-define the shop's presence in Vancouver, and teaming up with Chinatown's Fortune Sound Club provided the ultimate opportunity. The result is a four-storey concept that includes the re-designed Livestock boutique, a multipurpose gallery space, a restaurant that may or may not be named Hunger Hut, and of course, Fortune Sound Club. The comprehensive announcement has yet to be officially made by Livestock, but hopefully this well-rounded lifestyle forum should be fully functional during the summer.
Originally in 1912, the building itself was built in Vancouver's Chinatown, and Ming's Restaurant was the main proprietor at the time. The 3rd floor of the building was formerly home to the Royal Unicorn Cabaret, when Fortune Sound Club took over in 2009. Today in 2014, Livestock will be calling the new building home. As much as Livestock was an institution in music and nightlife on top of sneaker culture, this new project should draw more eyes from North America and on a global level. I chopped it up with Lukas Peet, the industrial designer who was tasked with the building's ambitious re-design.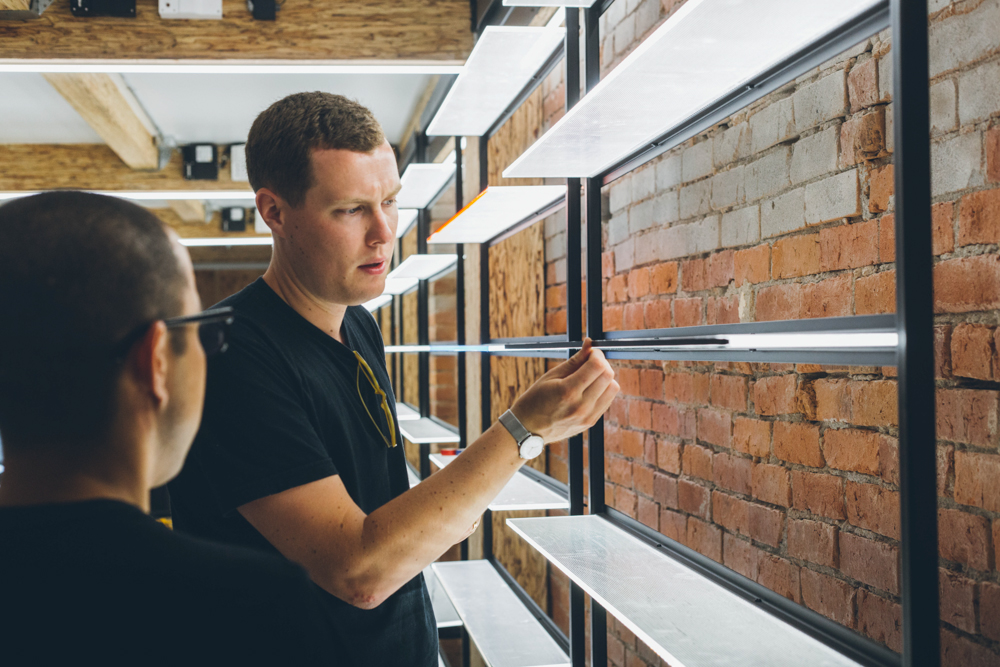 CHRIS: What are the main ideas you took into account with the new Livestock space?
LUKAS: Working with owner Gary Bone and understanding Livestock's needs as well as the space, which is long and narrow; typical for Vancouver's historic Chinatown area. We decided to design every aspect of the store to be modular. I came up with three modular systems. The footwear and apparel racks hang from a rail system allowing them to be placed along any wall in the space, while the floor tables/racks are one design that can be oriented three ways by flipping and rotating to suit the store's layout and needs at that particular time and carrying over the magnet wall that was a feature in the original store, I altered it to now include magnetized shelving.
What is significant about the heritage of the building?
The building is located in Vancouver's historic Chinatown, which is Canada's largest Chinatown and designated as a Canadian National Historic Site. I think the age of the building is roughly 100 years old.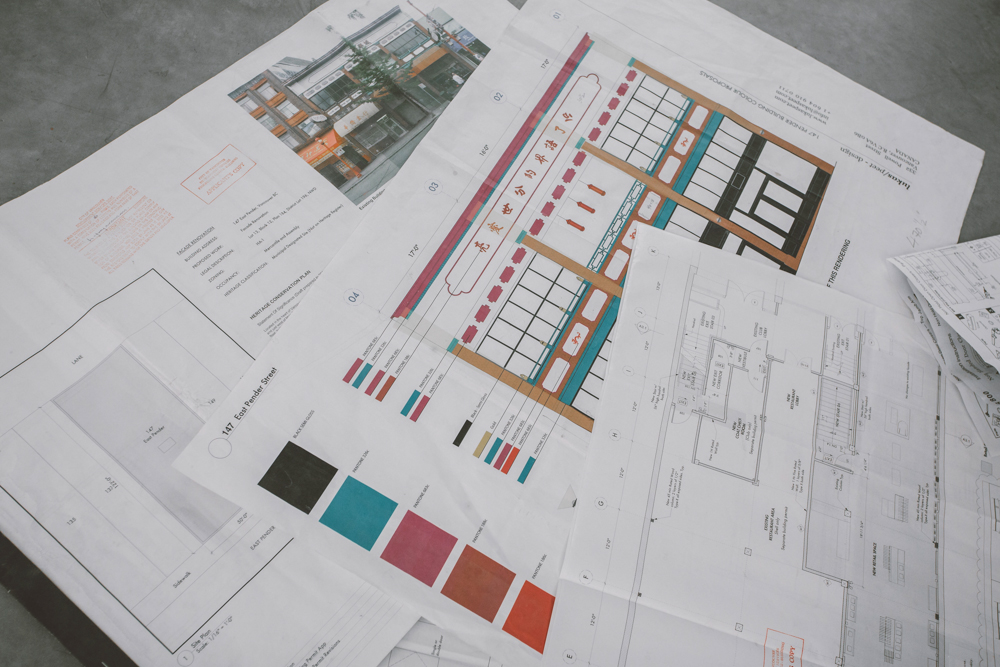 The original building's street facade.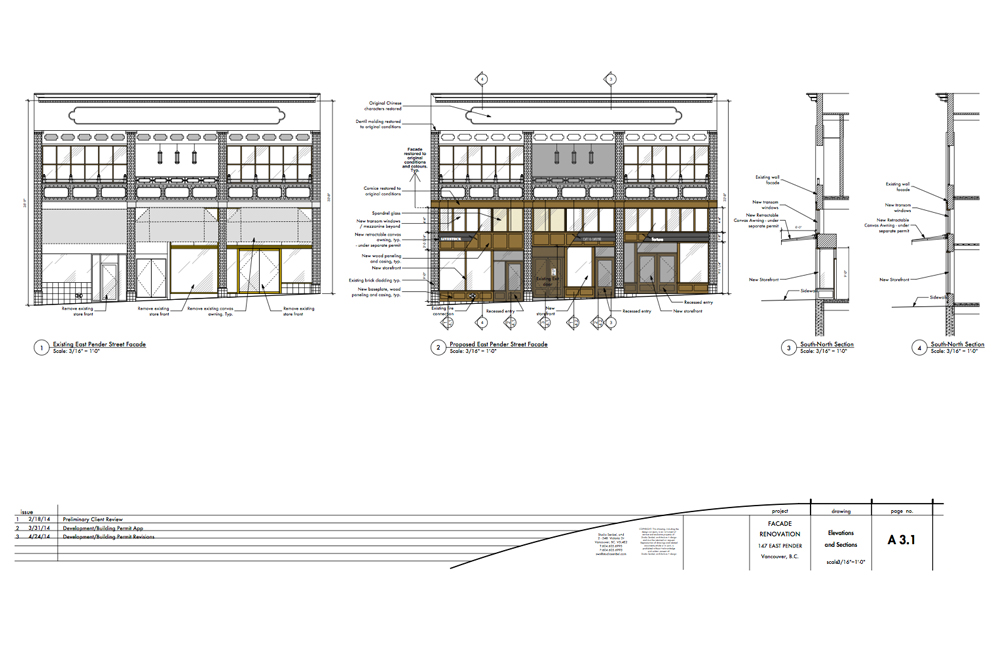 Plans for the all-new Livestock facade.
What challenges are inherent with re-working an older building?
The main challenge with such an old building was bringing it up to code – reinforcing the structure, as well as redoing all of the electrical, and adding modern sprinklers and mechanical. As you will see, in the final design of the space, there are large beams and posts that support the ceiling in the space. Part of the design challenge was to incorporate these as they are such a dominant feature in the space. We embraced them and made them part of our hanging system which actually uses these beams to our advantage.
What is the overall concept of the space, in connection with the other floors of the building?
The building has a past history of being the entertainment district of Chinatown. Fortune Sound Club is located upstairs. This, combined with a forthcoming addition to the building, will create a multi-level and disciplinary aspect to the building that will make it a destination at all times of the day.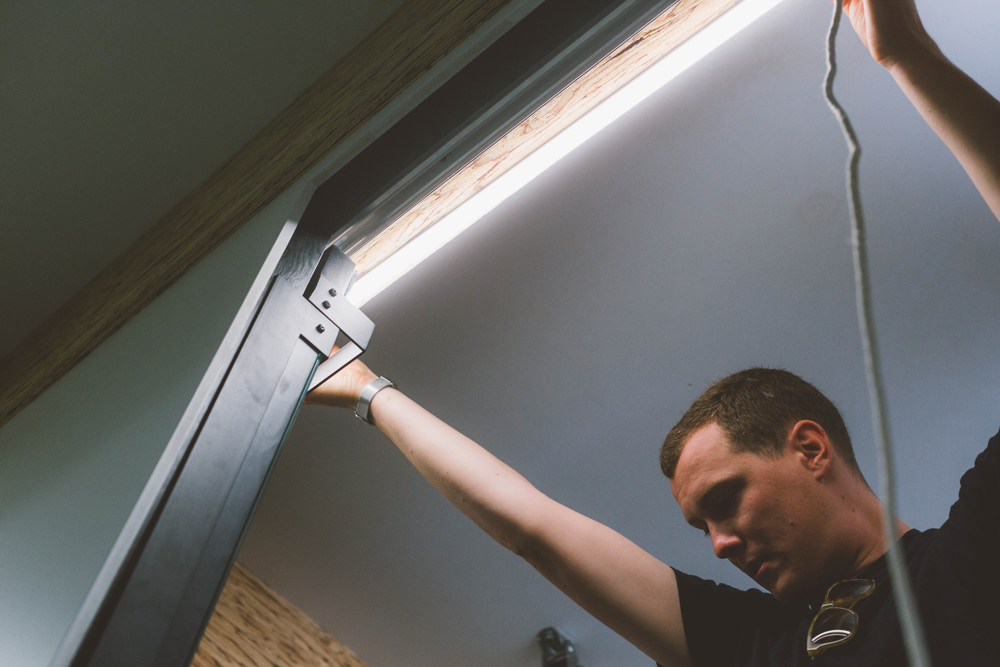 As an industrial designer, how did you consider merchandising within the shop?
Although I am formally trained as an industrial designer, I have previous work experience for Ilse Crawford/Studio Ilse in London, working on restaurants, hotels, and events, as well as working for Sean Pearson/RUFproject in Vancouver where we worked on Nike Retail concepts for the Olympics, Mercer Street NY, 1948 London, and World Cup in Brazil, to name a few. This valuable spacial experience helped greatly in designing the Livestock space. As a product designer, you are constantly thinking about all aspects of the product. One of these is of course how it will or could be presented in a store or window. As a store sells products, I approached the design of it by designing backwards from the product to the space. The modularity of the design also allows the product and the store layout to be continually re-arranged and re-merchandised.
I saw the retail space in four layers:
1. Product
2. Fixtures, tables, shelves and racking (product design to me)
3. Lighting (with my experience with ANDlight)
4. Retail space of the store (experience with Ilse and Sean)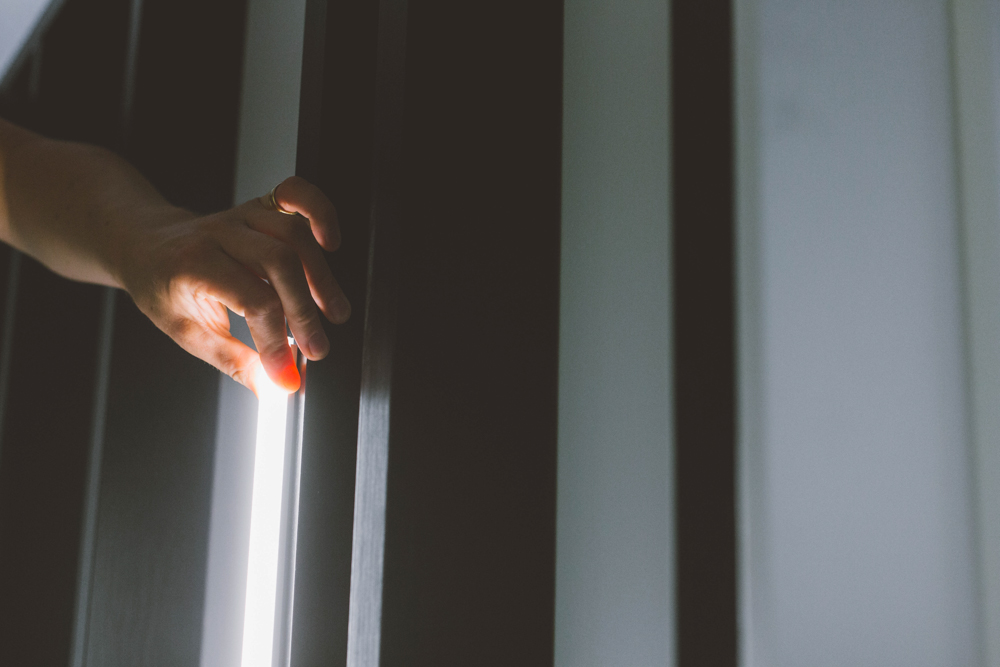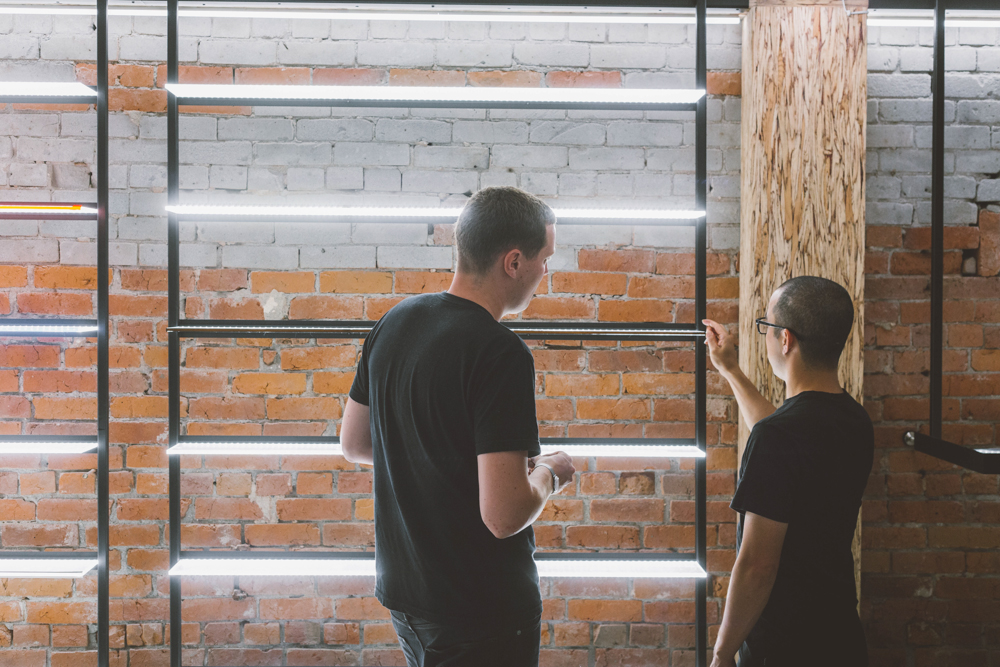 Talk about the experience of designing your first retail space.
Working with Gary Bone and the Livestock team was great, they gave me a lot of creative freedom and had a lot of trust in me. From the beginning, we were very open about our ideas and we were both flexible towards getting the best results. I really couldn't have asked for a better client.
What type of projects have you largely been working on in the past?
I have worked on a wide range of projects. As I mentioned, working for Studio Ilse and RUF we covered a lot of different spaces. For myself I have a number of products being produced by different manufacturers, which are designed under my own studio lukas/peet. I am also a co-owner of ANDLight which is a Vancouver-based lighting company that will be officially launching this fall – we are focusing on decorative LED lighting.
What sneakers will you be rocking this summer?
My original Volt colorway Nike Flyknit trainers that I picked up in Portland on launch day. I was down there for work with Nike and seeing my friend from design school who works there as a material designer. It is the only product I have ever got on launch day. Though I could always use another colorway.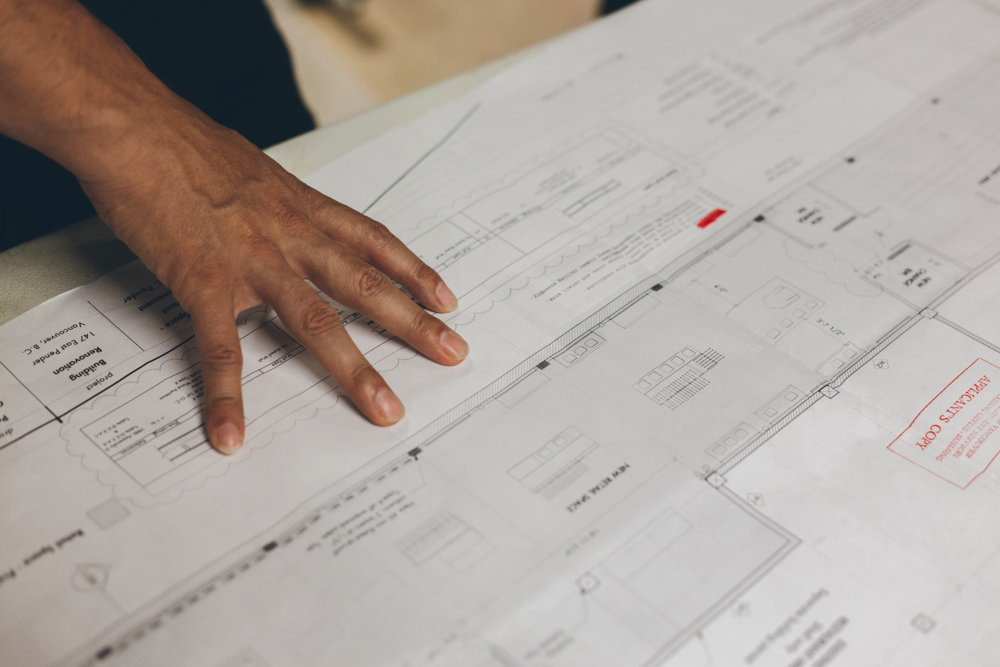 Who do you draw inspiration from in terms of other designers/architects?
Im inspired by many designers and architects more for the amount of new and interesting work that they produce. Its exciting and motivating to see other great work and try to add what i can to the industry, which helps keep me going.
Your portfolio boasts variety. Why is it important to have a well-rounded understanding of different design applications? 
One of the things i learned while in Design school was to create my own set of "rules" regarding design. These rules stand for the ways in which i deal with shapes, Forms, Materials and function. These help keep my work consistent as well as determining certain choices during the design process that i am currently working on. In the end this allows me to approach a variety of projects ( spaces, Products or concepts ) while maintaining my ideas about design.
Fashion retailers often express their brand identity through architectural displays, such as Tokyo's Maison Hermès or Seoul's Neil Barrett flagship. How do you see this intersection?
I feel that the way in which a product is displayed and the environment in which it is displayed is very important, Much like the actual 'branding' of the product. The setting is another vehicle to express what the brand and product is about. These alternate ways of expressing the product are very important in the sense that it needs to compliment it but not take away from the product. In fashion i would say this is even more sensitive since the industry is so fast. The physical space and presentation usually needs to represent the product for multiple years where as the Branding may need to last generations.
Do you think there is enough general consciousness about design elements in products we use every day?
I think with quality products that fundamentally tackle a problem in form, material and function are very conscious. I feel the problem is with the amount of waste in time, energy and materials to produce frivolous products and ideas that are easily forgotten and thrown away. Obviously we can not ignore the impact we are having on the world at this point and I would like to hope that there will be a return to higher quality and longer lasting / useful products in the future.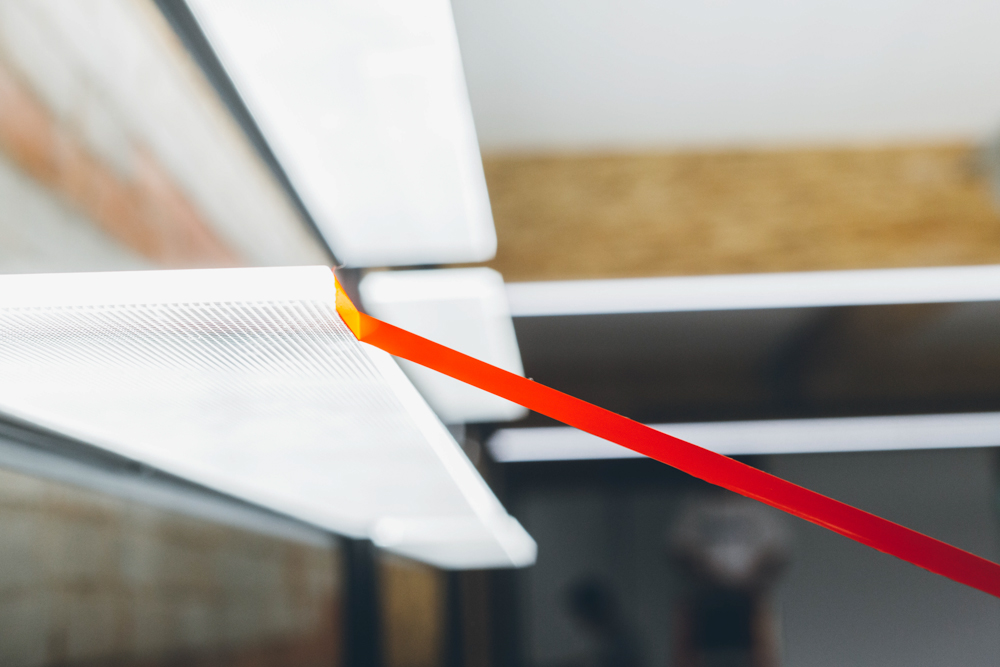 ::
Read more:
The Hundreds' Cool Store, Bro! visit to Livestock's Toronto location
Bobby Hundreds reflects on a few paragons of LA architecture like Grand Arts High School and Walt Disney Concert Hall