In anticipation of the live painting going down at The Hundreds Santa Monica this Friday (tomorrow!), we figured we'd take the time to get you a little cozier with the world-renowned guest artist that'll be painting. Lora Zombie's her name, and if you don't already know, her art has been dubbed as one of the first launch pads for modern grunge art. What all started out on Gorillaz forums, Banksy forums, and DeviantArt quickly escalated into the self-taught Russian artist's elegant and colorful, yet gritty works wide reach to global acclaim. "God bless the Internet!" says Lora.
So if you're looking for something to do this weekend, shoot over to BDWY to see Lora Zombie paint a massive canvas, get your custom shirts, gift bags, and free, limited edition posters (more info here). We caught up with her when she visited The Hundreds HQ, and she talked to us about the history of her work and its marriage with the Internet, her live signing tomorrow, and more. Check it out below.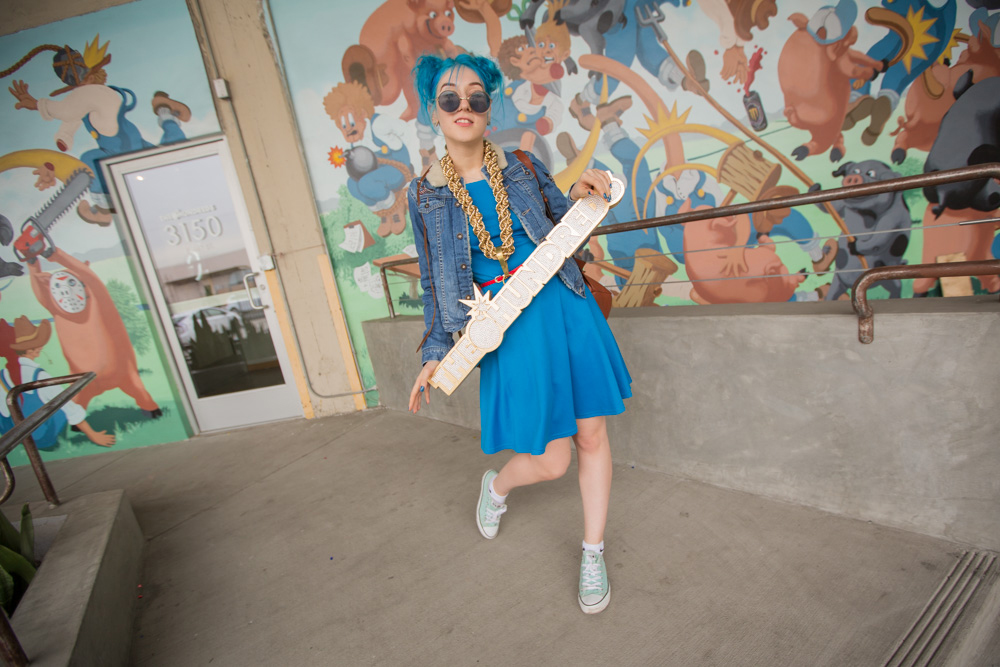 Do you remember the first music that got you to pick up and paint?
When I was young – 15, 16 years old, I was super inspired by the Gorillaz. Everything about it, the music, art, and how it worked together. I just started drawing fan art and posting it on Gorillaz forums. My ultimate dream at the time was to work for their creative studio, the Zombie Flesh Eaters. It was for this reason I first started calling myself Lora Zombie.
What ideas or themes or stories do you like to portray in your art?
Themes change always, lately there have been a lot of animals in outer space. I like to combine things, weird things, opposite things, violent things, dark things, with happy things. I don't really think about themes, I just paint ideas as they come to me.
Can you tell us more about the live-painting event this Friday?
Art, music, tees, prints, fun stuff, free stuff. I'll be painting a huge canvas. Come see me paint and say hello, doors open at 7PM. It's my first time being in LA for a long time, and I can't wait to see everyone there.
How has social media helped your career?
I started sharing my work on forums, posting to Gorillaz forums, Banksy forums, then eventually DeviantArt, Tumblr, Facebook, Instagram. God bless the Internet! So much of anything I have ever done with my art would never have been possible if I weren't able to share it so easily.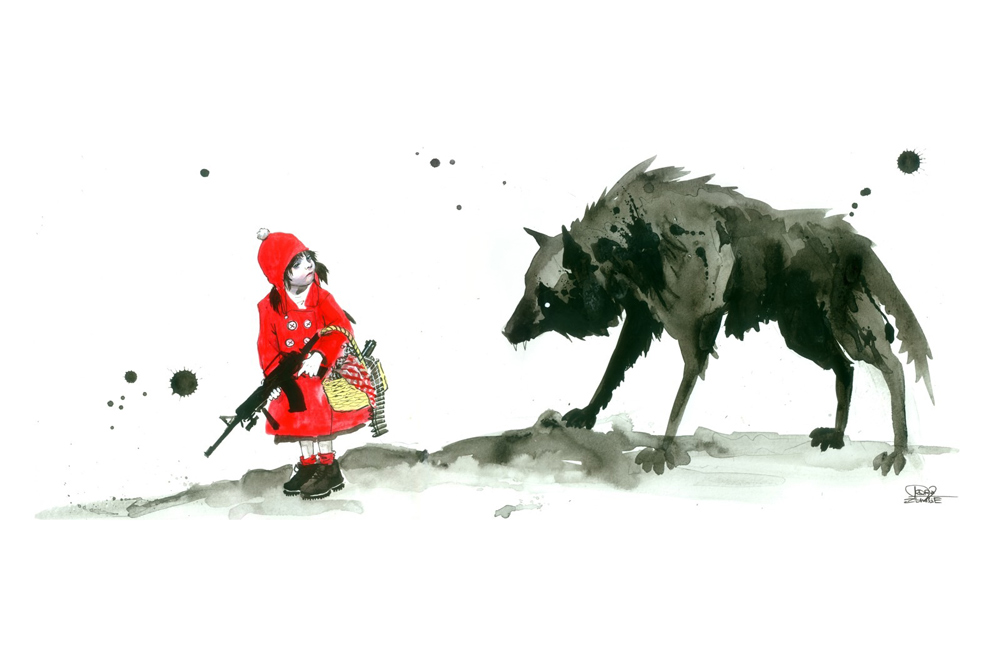 How did you first get introduced to The Hundreds?
Bobby Hundreds first contacted me requesting a commission for a friend after seeing my work in a gallery in Los Angeles. Tom [Rowlandson], who publishes my work through his company Eyes On Walls, was a fan of the brand suggested doing a collaboration. I put together a few pieces and it went from there. It has been a real pleasure and inspiration for us to work with their team. Can't wait for the event on Friday and to see the collaborative T-shirt release.
Is there a piece you're most proud of or you think defines you the most?
My favorites change all the time. right now, it's Unicorn Kiss, which I just recently finished. My most popular pieces aren't always my favorites, but many people know me from Red Riding Hood, Rainy, Creator of the Universe, Meow.
Does something need to happen to inspire you to paint, or do you feel solely self-driven?
No. Creativity is super constant. Even when I sleep, all the time. I'm at an age where it's normal to create – ideas come to me non-stop.
::