"GIRL SCHOOL" is a new weekly column by Yasi Salek of Cultist Zine & Crying Magazine that's going to school us on all the women we need to know about – right now.
If you're looking for a new addition to your "inspirational women who are younger than me whose lives I covet" file (do only I have one of these?), I'd like to bring 26-year-old artist Clare Kelly to your attention. The Los Angeles-based photographer, dancer, choreographer, and video artist isn't shy about the diversity of her mediums, and recently added a new role to her already robust list: art book publisher. In October of last year, along with her close friend, the musician and artist John Wiese, Kelly launched Hesse Press with two monographs, one featuring the work of Cali Thornill DeWitt and one featuring a body of her own photography. And while she's deftly donned the role of entrepreneur, she also easily slides back and forth between her business and her art practice, having continued to stage experimental dance performances in Los Angeles as well as explore more video work (her first music video for musician Kevin Morby, which Kelly choreographed, danced in, and also edited, is set to premiere next week) – all while concurrently navigating the evolution of Hesse Press. She's doing a bang up job, too: with its second round of books from Wiese and photographer Zen Sekizawa out this weekend to coincide with the Los Angeles Art Book Fair, Hesse Press is quickly becoming one of the most interesting independent publishing houses around. None of this makes me feel inferior, so stop saying that, okay? It's rude.
I interviewed Kelly about her art and her modern day take on art patronage, her time in a girl gang, and overcoming insecurity, with additional thoughts from Wiese. Then I made a collage of her face for my scrapbook.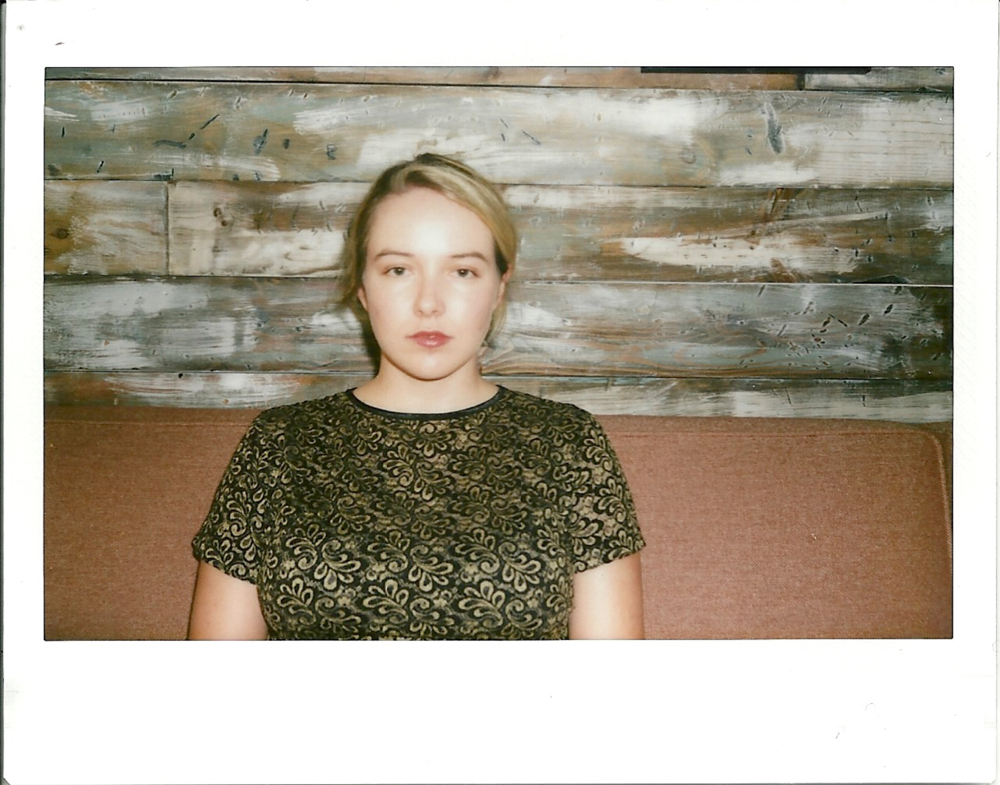 YASI SALEK: Tell me a little about your background as an artist.
CLARE KELLY: I like taking pictures, and have been doing it since elementary school. I took a lot of pictures of my parents from the perspective of a child, where they are much taller than me and looking down at me and it's a very unflattering angle. I take pictures daily. I won $250 in a national poetry contest in 7th grade and that gave me this misguided idea that there was a lot of money in poetry. I've always danced, since I could walk, but I never enjoyed classes. My grandmother directed a ballet academy and that was my first experience of dance. I quit ballet almost immediately. I used to dance to the Spice Girls with my friend Daniel Moreno in elementary school and he would critique my dances: "You should smile more!" Last I heard, he lives in NYC and was part of the gay men's chorus that sang at Joan Rivers' funeral, so cool.
In middle school I asked my mom to take me to Ladyfest and I saw Chicks On Speed and Bratmobile and I loved it. I went to high school in San Francisco, and I was part of an infamous teenage girl gang called MINOR SECTION and we did all kinds of dumb and smart shit. As juniors, me and my fellow MINOR SECTION member Hannah Forsberg helped curate a series of shows called "Girlyfest." It was a direct rip-off of Ladyfest, but was focused on teen female artists. That was my first art show.
I was accepted into the undergrad studio art program at UCLA in 2006, and dropped out in 2009. I graduated from The Evergreen State College in 2011, with a BA in liberal arts with a focus on Latin American and Spanish literature, culture, and language. I love reading.
I did take adult beginner ballet in college. I realized somewhere in or around college that dance as an art form can be subject to the same kind of deconstruction as music and sound art; music turns into possibilities of sound, dance turns into the awareness of existing in physical space. Realizing that movement can operate on these multiple levels was amazing because it helped me stop worrying as much about how I looked or what people thought. It created a space between my work and myself, but also let me be myself more fully.
In 2013 I started filming myself, and put it up on the Internet. Being okay with seeing myself on the Internet made it bearable for me to start editing videos of myself, and then it became possible to start performing in public, which I started doing in 2014. I'm really interested in making and editing more videos.
How did you meet John [Wiese]?
KELLY: I met him in 2008 at an opening at Cali Thornhill DeWitt's Hope Gallery (RIP).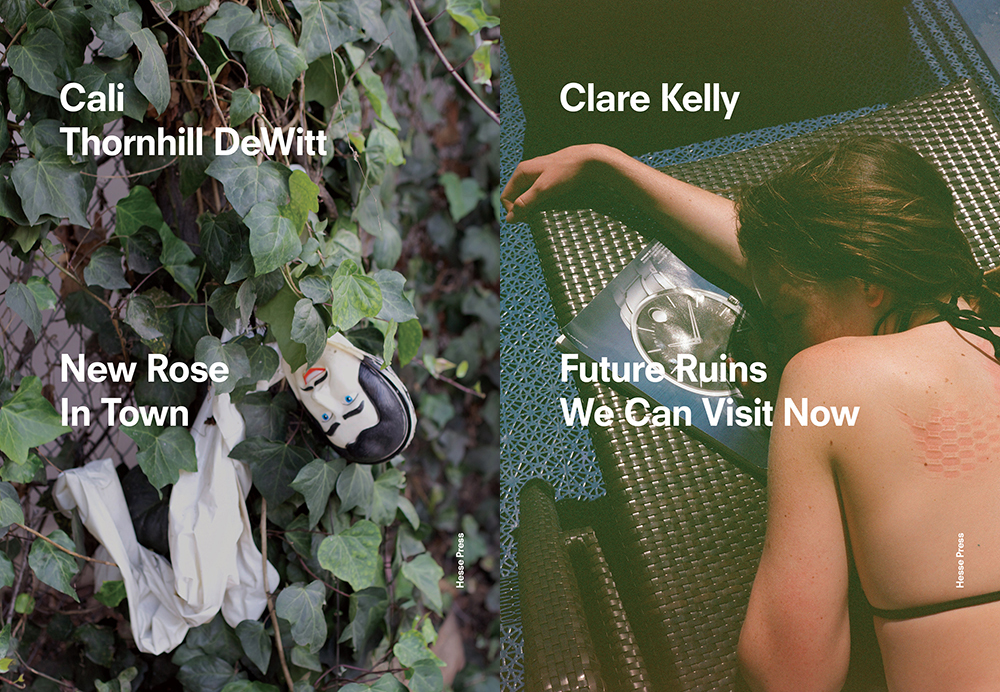 What spurred you to start Hesse Press? How did you choose your first two artists?
KELLY: I inherited money, and was trying to think of the best way to do something positive with it. I want to support my scene in a lasting way, something that could provide paid work and support, as well as make [and] help beautiful things exist. I reached out to a few older/wiser working artists to help me think out ideas and scenarios. John [Wiese] and I got super in-depth about it and it just felt right, made sense, and happened naturally. John was definitely a muse for the project: he was able to help me take these more abstract concepts I had about what I wanted to help create and help me see a physical form that met all the conceptual goals.
As for the first two artists: Cali is great. Inspirational and positive. Cali has a studio on the same floor as me, and it's always so fun to be in – so full of colorful stuff, and he just never stops producing work, whether it's his own or other people's stuff. He also has given me great advice, about starting the press, supporting other people, about relationships, about gratitude. His book was an obvious choice for Hesse Press #1.
My book was a less easy decision for me because I felt insecure about publishing my own book of photography right off the bat, but I got over it with encouragement from friends. I'm glad I did it – I worked hard on it.
What was the behind the decision to release monographs? And why in multiples of two?
JOHN WIESE: It's easy to think that everything exists, or could exist on the Internet, but it's far from true. Such an insignificant fraction of human knowledge and experience is represented, or even could be represented. You experience things in a totally different way in books, and we've just always appreciated them as something that can't be replaced.
The multiples of two is pretty practical – easier to distribute two titles on the same amount of effort, and affordable to buy two at once.
What's been the most challenging aspect of launching an independent book press? What about the most fulfilling?
WIESE: Challenging our realities.
KELLY: Fulfilling is when you give the artist their own published work and they are happy and you are happy seeing them happy.
Are there any obstacles or friction you've dealt with being a young woman in the publishing world? How do you deal with it?
KELLY: People have been mostly very supportive of me, which has been incredibly helpful. It's anxiety-provoking to put yourself out there. Artists need money and patrons, and I get to be one, and I don't take it lightly. I work. I'm not a "trust fund baby." I'm a "trust fund woman." I care about the press, which means I'm committed to it. I'm young and I'm trying to take on responsibility in a culture that expects less from me.
As for how to deal: Talk to older or wiser people. Find people you trust, and value those relationships. Being consciously grateful that I have the time and resources to do this work is key. Gratitude makes you more generous.
What is your support system like? How important is your friend group to your work as an artist, and as a business person?
KELLY: My friends are how I am able to do this. Encouraging words from people make all the difference. Community is so valuable, so precious. I'm lucky to have a few different friends groups. Support from other artists fuels me. Business-wise, I have learned the most from my friends who are in their 30's and beyond. They will tell me when I don't know what I'm talking about.
What are some of your specific goals with Hesse Press?
WIESE: One of the things that I like about Los Angeles so much is that there are so many different worlds within it. The one we're involved in, interact with, and hope to continue creating, is a good one! It's important to us to document it and help it grow in as many ways as possible. Art exists in communities.
KELLY: I want to be an "arts patron" without being patronizing. I want to put out affordable books I'm proud of, both from the front end and the back end.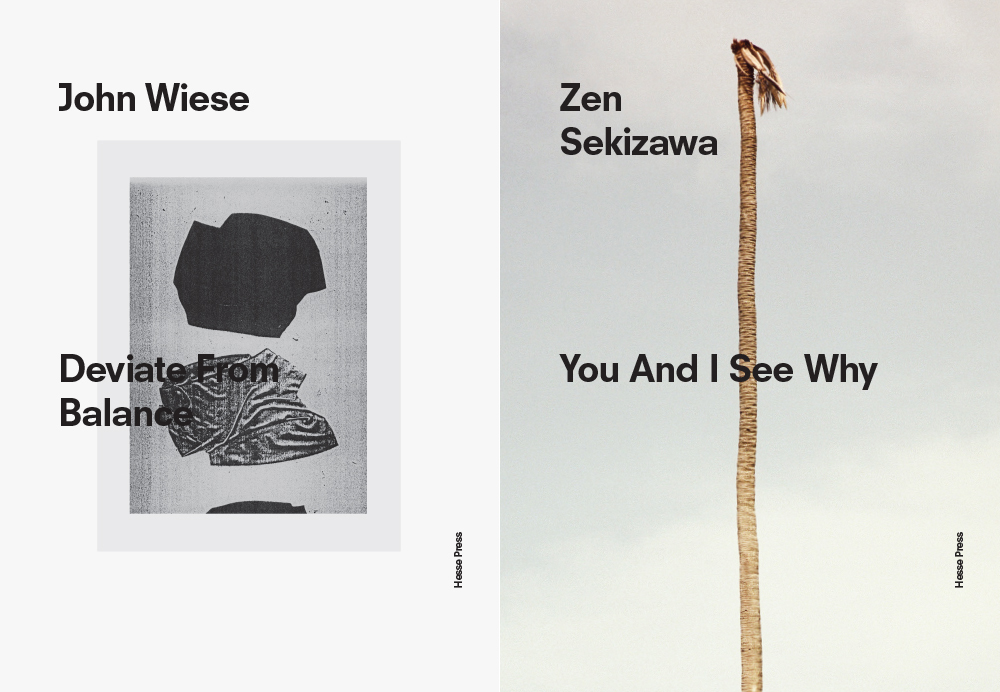 Tell me about your latest round of books.
WIESE: Zen Sekizawa is interesting because she rides this line of commercial-level quality with the weirdest ideas. When you look through her book, for example, each image has such specific and clear world surrounding it; totally dynamic and different from the next, but at the same time cohesive in the way that can only be achieved when it's just a genuine expression of yourself. I'm really drawn to this idea in general, across different mediums, where there is no formal simplicity to recognize, but instead it's the complexity of the artist's personal vision that is the constant and becomes the unifier.
KELLY: John's work encompasses a wide range of media, and to me, the common thread is that he looks at our relationship to our senses and how we process them. John is known for his work as a designer and an experimental musician and composer, but he is also a filmmaker, which is on display in this new book in the form of video stills. He also makes typographic sound scores, which means he uses his background in graphic design to create a new system of notation for ensembles. Getting into his stuff will give you synesthesia.
What's the story behind this promo video?
KELLY: The video uses images from both of the new books as settings to show off the books themselves. Every shot is a re-creation of a work featured in either John or Zen's book. We're really into videos.
[HESSE PRESS PROMO VIDEO PREMIERE BELOW]
What can people look forward to from Hesse Press, at the LAABF and beyond?
WIESE: Our model is LA-based artists. We're interested in all sorts of work – even though there's been a bit of a leaning towards photography so far, I think that will even out when more books are released. At our table at the book fair we'll of course have all our releases, plus some editions from the artists involved so far, like print sets, objects, and records.
KELLY: We are having a book signing party on Friday at 2pm, on the mezzanine level of the MOCA Geffen – I'm bringing this giant thing of mezcal from Costco and my roommate is making cookies. I think you should look forward to more books, more book parties.
Who are some women you think everyone needs to know about, who would nominate for this Girl School column?
KELLY: Maria Garcia – she is a sound/noise artist and performer, who co-runs MATA noise gallery here in LA. She's 26 too! There will be a table at the LAABF in the zine area composed of women artists who are amazing. Alexis Gross will be there. Some of the other artists at that table: Sonya Cohen, Emma Kohlman, my friend Carrie Schaff co-runs Dark Chart. Chiro is a great photographer and artist from Tokyo. Amelia Baxter was in my girl gang. Stephanie Chan is lead singer of Dunes and runs this Outer Worth (which I helped support and worked on strategy/concept). Elizabeth Skadden is director working on a cool documentary. and Veronica Ortuno runs this beautiful shop in Austin, TX.
::
Along with the video promo for Hesse Press' newest releases, be sure to check them out at the LA Art Book Fair this weekend, which is free and open to the public: