Jay Worthy and Sean House have never met Dr. Dre.
Worthy says he "just missed him" when the renowned Aftermath producer was in Los Angeles with Kendrick Lamar to oversee filming of various scenes for the Straight Outta Compton biopic.
The duo, collectively known as LNDN DRGS, recently released their debut mixtape AKTIVE and sonically, it's drawn comparisons to the G-funk sound Dre and Snoop Dogg popularized in the early '90s.
House, the producer of all 14-tracks on AKTIVE, will admit that Dre, Snoop, and Warren G. were influences, however, the LNDN DRGS sound he has created alongside Worthy is unique.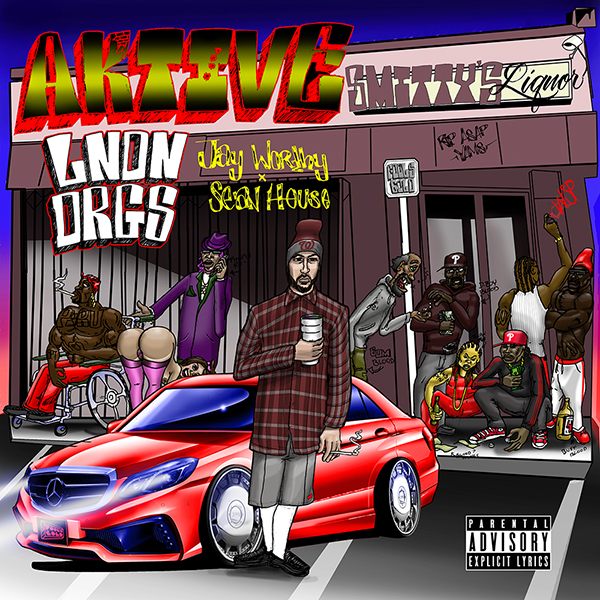 Cover art by Darryl "Joe Cool" Daniel, who last drew Snoop's iconic Doggystyle cover.
"Dr. Dre's The Chronic is probably one of the first rap albums I ever had," says House. "That was the first rap I ever heard. It's some of the most iconic to me, [The Chronic] or Doggystyle, I can still listen to those. But it's kinda different how they do their thing. They'll take a sample and add a part and add all these different arrangements—super high synth lead, a G lead. Ours is real minimal, just let the sample do its thing. We're trying to pay homage to the original samples, the original funk sound with more modern lyrics."
"We never set out to make G-funk, the blogs and people say, 'This is G-funk,'" Worthy adds. "My whole thing was, I grew up listening to oldies when the big homies would come through the hood—slappin' S.O.S. Band—all that stuff has always been an influence in L.A. and also in my life... Our formula is we take loop samples, we don't even change 'em, we don't add drums, we don't do nothing, we just rock to the loop. Whatever people want to call it, they'll call it. I just rock to the loop of my favorite records."
Worthy and House initially met in Vancouver, Canada. The two friends bonded over music, and agreed to one day release music together. When Worthy relocated to Compton, California, House kept in touch and the duo never lost sight of their original plan. Three years ago, as the ratchet-tunes—purveyed by DJ Mustard, YG, and Ty Dolla $ign—began to blow up on both coasts, Worthy and House started to craft AKTIVE.
One of their first supporters and possible label suitors was the late A$AP Yams and his Yamborghini Records imprint.
"Yams was so supportive throughout the whole process of making the album," says Worthy. "He just knew that we were on some other shit and knew that there wasn't anything sounding like it. He was like, 'Keep doing what you're doing.' Certain [tracks] he'd be like, 'Yo, this is fire,' or, 'You need to do this,' or, 'You should get this person on that song.'"
Before Yams' untimely death, Hou$e recorded the A$AP founder on two tracks ("Fast Blakk" and "UZA TRIKK") at his home studio. "His support definitely pushed us and motivated us," Hou$e says of Yams' involvement.
In addition to advice on the arrangement of their album, Yams suggested that LNDN DRGS seek former hip-hop mogul Suge Knight to executive produce their album. The group had already enlisted Darryl "Joe Cool" Daniel (Snoop Dogg's first cousin and Doggystyle album artist) to illustrate their album cover—the first album cover he's done since '93.
Suge, a friend of Worthy's, agreed verbally, but legal constraints—among other reasons—prevented it from happening.
"Me and Yams thought it would be crazy to put out this West Coast sound and have it executive produced by Suge," says Worthy. "Me and him [Suge] sat down and talked about it, it just didn't happen."
"We just thought that was like the stamp of the classic Death Row Records," Hou$e adds.
Although their tutelage proved to be invaluable, Yams and Suge were unable to enjoy the final product. And instead of unleashing AKTIVE on Yamborghini or Death Row, House and Worthy found solace in A-Trak and Fool's Gold Records.
"I moved to LA, I went over his house, he heard some tracks, and the next thing you know, we were on the Fool's Gold "Day Off" L.A. stop, and we were on the label," recalls Worthy. "We just felt like Trak had our best interest and kinda understood. Not a lot of labels are going to touch an album like this because it's all samples and Fool's Gold was like, 'Let us just be the backbone to this project and help you guys put it out and attach our names to it.'"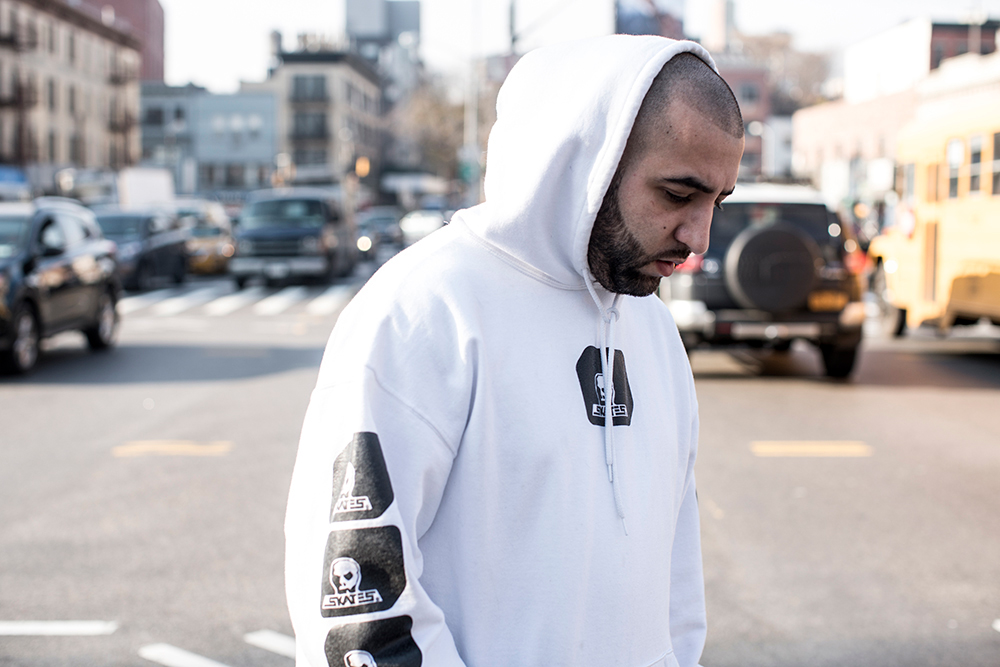 Jay Worthy in New York, shot by Sammy Glucksman.
A Fool's Gold representative told Worthy that if the group wanted to release AKTIVE as a true album for sale, it would cost "probably half a million [dollars] to clear all of the samples."
In late November, 2015, with the help of A Trak and Fool's Gold Records, Worthy and House opted to stream the album on Soundcloud, and debut it via The Fader.
Both Worthy and House are content with creating free music in the digital age, and they don't plan to abandon their sample-looping-sound in 2016.
"What makes us happy is when we can go on Twitter and see someone say, 'Yo, this is the hardest album,' or, 'This beat is slapping,' says Worthy, who raps on each track. "I'm glad the world is picking it up, but really I'm just speaking to my neighborhood and the homies."
***
Listen to AKTIVE on Soundcloud and keep up with LNDN DRGS on Instagram @jayworthy142.