It's pretty astounding to think about how one photograph can alter your life, but that's exactly happened with Devin Allen. The Baltimore activist is now an acclaimed photographer, but at the start of last year, he was mostly unknown, "an aspiring photographer documenting his city on Instagram," according to TIME. That changed, however, when TIME published one of his images on the cover of its May 11 issue.
It was a powerful black and white photograph captured during the unrest that followed Freddie Gray's death. The image of a young black protester with a legion of police behind him, against the stark background of Baltimore's unrest, reminded viewers that photography can also be a potent tool for activism. It highlighted the fury and sadness of the moment, and in turn, gave TIME one of its most poignant covers of the year. It also changed Devin Allen's life.
Since then, Devin's had to adjust to newfound fame. "It's been like a roller coaster," he says during our recent The Hundreds interview. "It's been kind of like a struggle because I went from being an amateur photographer who was still learning, to adjusting to the spotlight. Since then, in my hometown, I'm like a hero and it's real awkward because I'm still a regular guy. But when I'm out in certain places, people are like, 'Oh my God. It's Devin Allen.'"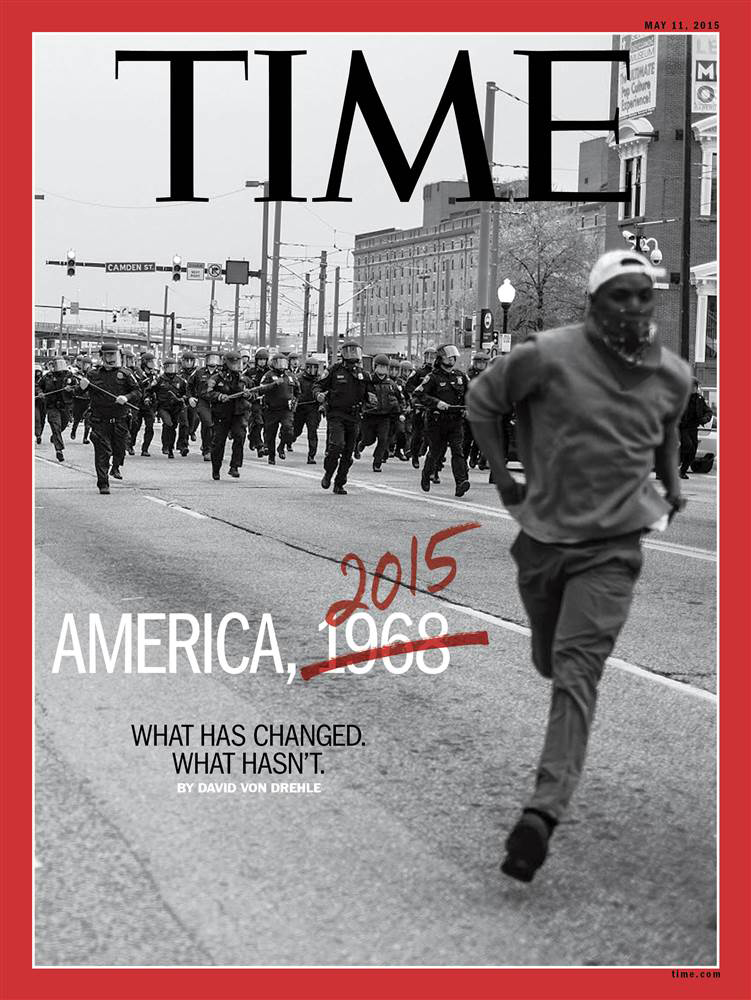 "One of the Most Powerful Voices in Baltimore"
One minute, as he puts it, he was a "guy who hung out in the city and took pictures for fun." The next, he found himself as "one of the most powerful voices in Baltimore as an activist."
Soon, Rihanna was sharing his images on Instagram. So did Beyoncé. And Erykah Badu, Usher, The Roots' Black Thought, and SZA. The newfound recognition all just helped fuel his drive. "When DJ Drama posted [my picture]," he says, recalling his early years, listening to Gangsta Grillz mixtapes. "I died... That was inspiration."
Baltimore City State's Attorney Marilyn Mosby attended one of Devin's recent exhibits with her husband, Baltimore City councilman Nick Mosby. Then, of course, there's Allen's bond with DeRay McKesson, a prominent Black Lives Matter activist, who he calls a friend. Before DeRay made his bid for mayor in B-More, Devin explains, he reached out to him. Those are some powerful people to have in your corner.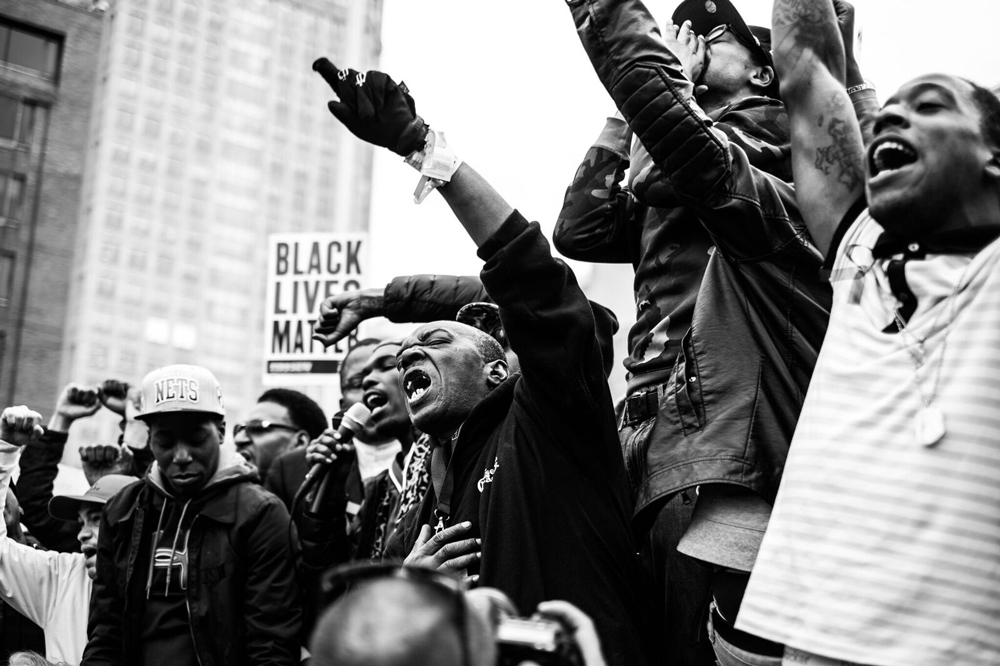 Today though, Devin's impact goes beyond these endorsements. It even goes beyond his own photographs. Since his TIME cover, Allen has launched a youth photography program, run by donations from Russell Simmons, Samsung, himself. He works with some of these students "hand-in-hand," he says, while giving cameras to other youngsters to let them "do what they do." He mentors them all and calls their recent exhibit one of his "proudest moments."
"Each kid had their best three pictures put up and I worked with about seven kids from my neighborhood," he says with pride. "That was amazing."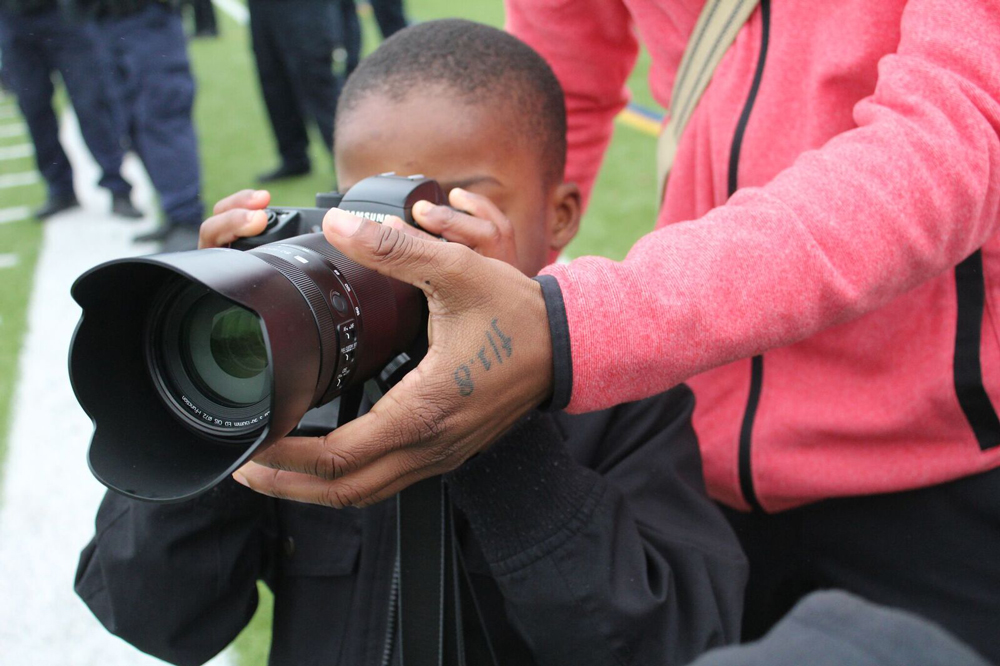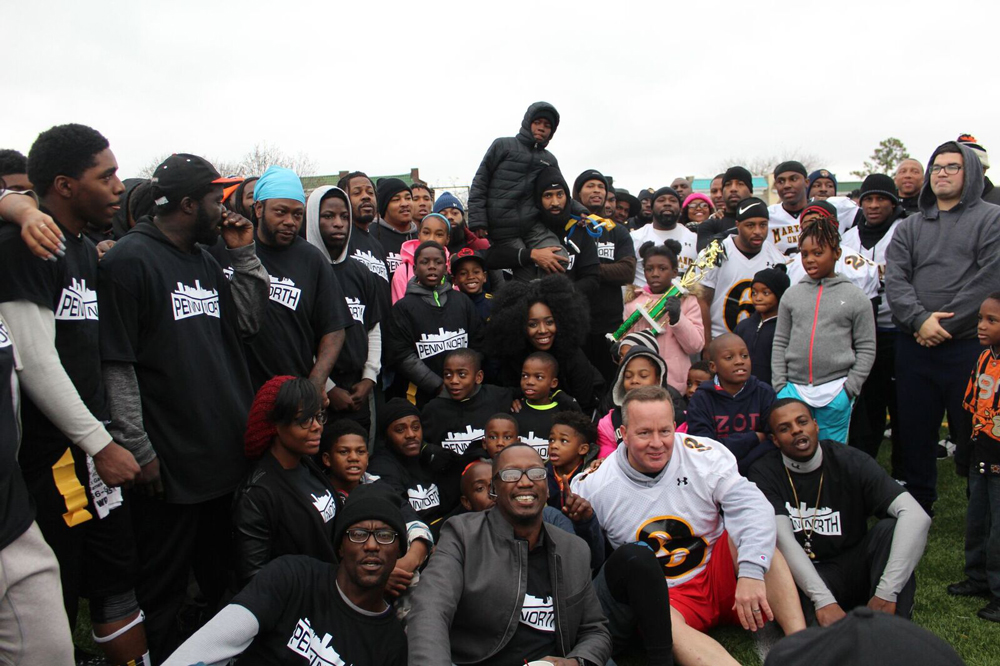 One of the outreach groups Devin Allen has conducted photography workshops with, The Penn North Kids Safe Zone.
"Just a Kid from the Hood with a Camera"
Allen's also since become a public speaker, working with universities like Princeton and Stevenson to address racial injustice, police brutality, and more.
"I've sat on panels with scholars, and I'm just a kid from the hood with a camera," he says. "I'm sitting and talking to people who study sociology and how people's brains work, and history, but I'm able to talk to them."
He's also celebrated by the academic world. In January, for example, the opening ceremony for Devin's "A Beautiful Ghetto" show at Slought in Philadelphia featured a conversation led by scholar and activist Keeanga-Yamahtta Taylor, Assistant Professor in the Department of African American Studies at Princeton University. That exhibit analyzed negative stereotypes attached to "the ghetto"—something he'll be exploring in future works too.
In April, Stevenson University held a reception at its School of Design Gallery in honor of Allen's work, noting that it "has truly made a mark on society." Last year, the Reginald F. Lewis Museum in Maryland opened its doors to his "Awakenings, in a New Light" exhibit, featuring photographs of the protests unraveling in the city he loves. The museum's description of the exhibit helps explain why Devin's work is so crucial: "The images on view reveal diverse moments, showing both the struggle and humanity of protest, including from the side of law enforcement."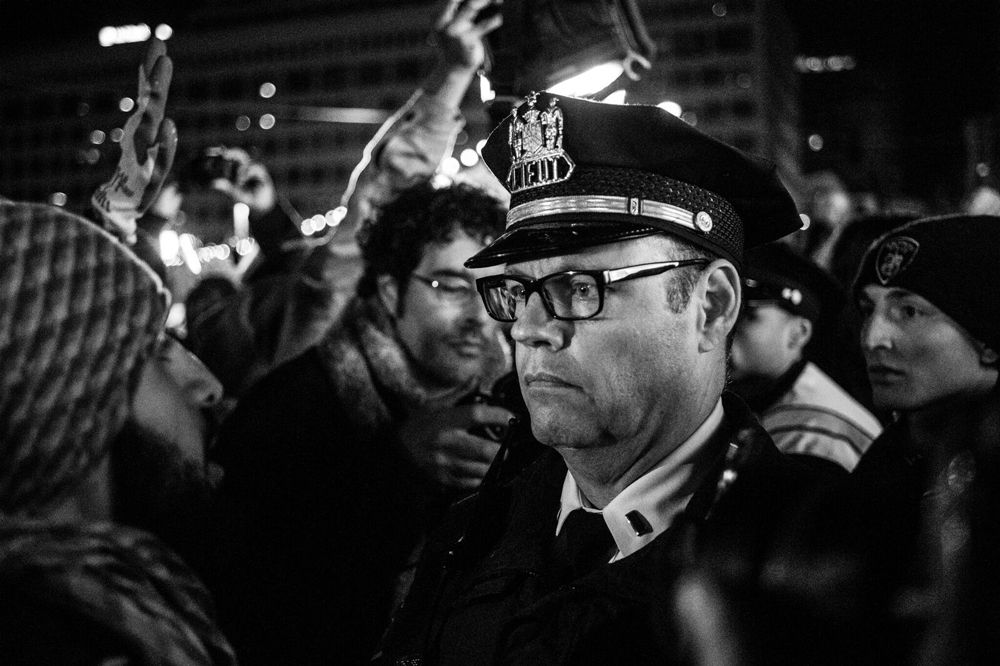 By bringing the reality of the streets into the academic realm, Devin's been able to showcase the struggles and triumphs of inner city life in a way that is often unseen. He's also been able to highlight police brutality and the Black Lives Matter movement from a photojournalistic lens, providing further context to ongoing dialogue about the state of our nation and law enforcement.
Those are also all examples of how Devin's journey sees no boundaries. He's catapulted into new territories with almost every step, using each opportunity as a building block. His work as a speaker, for instance, has led to his work in publishing.
"Princeton got me a book deal," he explains, noting that he's aiming for a 2016 release through Haymarket Books. "It's a three book series," he later clarified. "But the first book will be challenging the stigma of the word ghetto and the negative thoughts that follow... I will show the beauty in the struggle, at the same time setting the tone for the uprising here in Baltimore."
Devin makes it a point to explain that he hasn't lost himself in these new adventures. Take the Princeton relationship, for example. He didn't just speak with scholars there; he pulled them into his hometown. By doing this, he continued to show love to the complex city that helped raise him.
"Scholars from Princeton came to Baltimore, hung out with me, and went to my exhibit," he says. "We went to this place called Mo's in Baltimore where all the drug dealers go because it's real expensive. They have the best Baltimore crab cakes."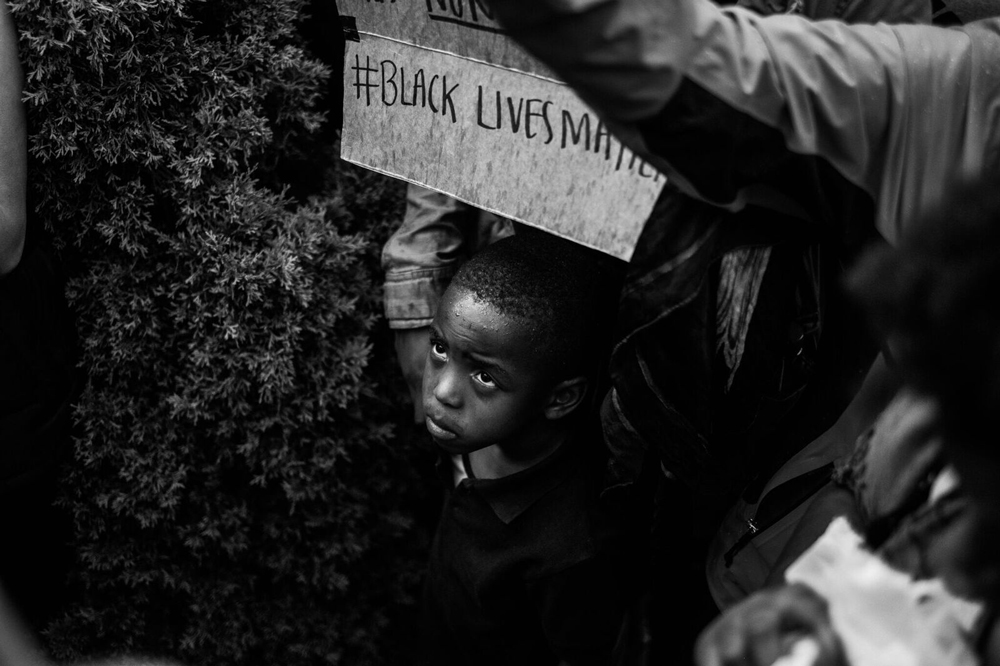 "A Big-Ass Kid"
Baltimore might be where his heart is, but Devin's gifts are also allowing him to explore the world. "We're taking my [photo] show to Rome this summer," he says with a bit of disbelief in his voice. "It's crazy. I'm going to Rome."
But it shouldn't come as too much of a surprise. After all, this summer's trip to Italy won't be the first time his photography has allowed him to fly to a new locale. Just last year, Under Armour, where Allen works now, flew him out to Asia with Stephen Curry—you know, just one of the most popular basketball players on the planet. Together, he says, they visited Tokyo, Philippines, Chongqing, Beijing, and Shanghai, while he hosted their Snapchat and uploaded photos to Instagram.
"I felt like a kid," he says of that trip with the now two-time MVP. "A big-ass kid. Everyday I'm just happy as shit to get out and I don't have to sit at a desk being miserable or I don't have to go out and sell drugs or do stuff in the streets to hurt people. I just go out and take pictures. That's it. I swear I'm in heaven. I swear to God I done died already. Everything I want, I'm getting."
Photo: Baltimore Sun, courtesy of Under Armour
The Asia trip, a freelance opportunity, turned out to be the start of a strong relationship between Devin and Under Armour. "I took a full-time job with [them] doing photography and media design," he says. "It's a permanent job. They've allowed me to stay in Baltimore and dedicate my work to Baltimore and do my youth outreach program... I have a daughter so this allows me to make money and not worry about when the next check is coming."
Financially, this was an important step for Devin who says he's "still struggling to pay bills," even with all the notoriety he's gotten. "Everyone thinks I'm rich because of TIME, [but] I'm still struggling everyday so I had to get a job," he explains. "A lot of people from the outside looking in felt a way like I'm selling out for taking a job. I still have to eat. A lot of activists out here get funded. I don't. So, I had to get a job."
He stresses that Under Armour understands his activism and that he is "an activist every day," but his photography is also versatile so he's branching out, beyond the protest photos that made him a TIME cover star.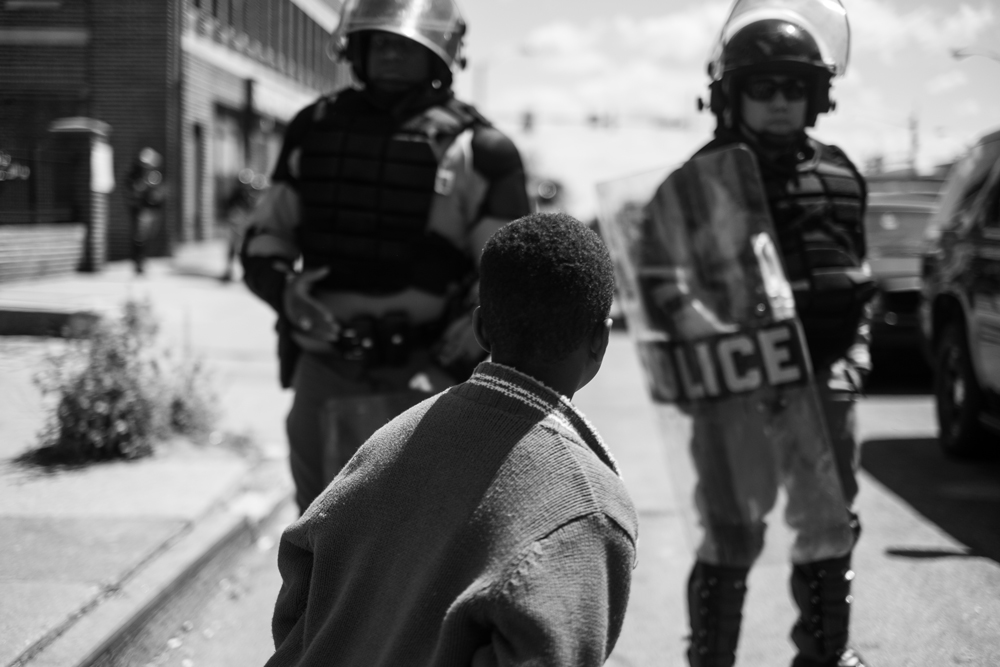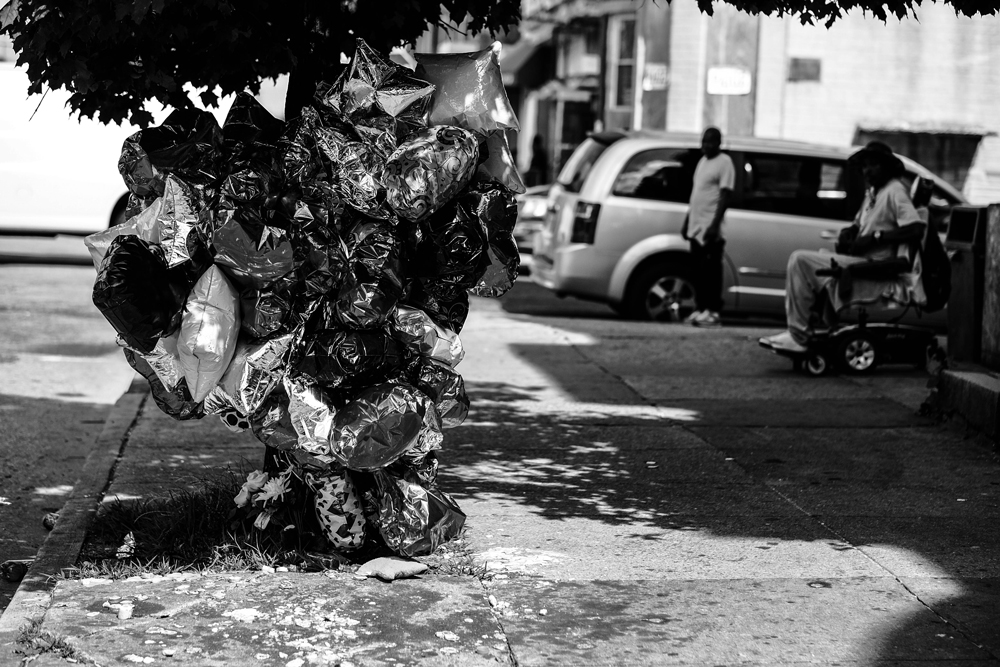 "It feels like a dream"
"I want to be the best," he says. "I don't want to be a good photographer. No, I'm trying to be the best to where ten, twenty years from now, people are still talking about me. [Photographer] Gordon Parks was an activist, but he shot everything. He shot models. He shot Muhammad Ali."
"With me, I still shoot [protests] but my activism is actually working with the youth, inspiring them, and giving them tools," he continues. "Now, I'm still in the streets, but my work is different. Protests don't happen everyday. I'm not a protest chaser. I was just documenting what was in my city. But I want to shoot everything."
He definitely wants to shoot more athletes too, so Steph Curry was just a start. "Cam Newton is with Under Armour," he says. "[So are] Misty Copeland, Tom Brady, Michael Phelps. I want to shoot all of them and I want to be the best who's shot them and then eventually I want to shoot something else."
And to think, all of it started on Instagram. "When I wake up, I still be in awe when I look at the TIME cover," he says. "I'm like, 'Yo, I'm Devin Allen.' It feels like a dream. It feels weird because, how many people really get to live out their dreams and do what they love? I'm doing what I love."
***
Follow Devin Allen on Instagram @bydvnll.