You've basically been sleeping if you don't know by now that emojis are so yesterday. Have you NOT been using stickers?! You might be familiar with squishy fat-cat Pusheen and the other stickers Facebook now allows users to comment with as of October. But before FB jumped on the bandwagon, an app cleverly named LINE was actually the OG app-for-that. So are you on LINE?
Anyone from Takashi Murakami, Snoop Dogg, and "SIR" P. McCartney have endorsed the app – along with over 500 million registered users – and it's kind of crazy. So it's a messaging app where you can call and videochat for free, but the company touts itself as a "lifestyle platform," the meaning of which keeps unraveling. After rolling out LINE Camera, LINE Selfie Sticker (brilliant), the Tokyo-based subsidiary of Naver Corp (one of South Korea's biggest Internet companies) also launched a food delivery service in Japan called LINE Wow, LINE Maps, LINE Taxi, and apparently some type of Spotify-like app is currently on its way. Oh, and they just released a new app called LINE Pay and opened their first pop-up store in Times Square called LINE Friends, featuring, like, plush versions of the stickers. I know, it's almost too IRL and a little confusing, but hold on, okay.
Last week, I attended the #LINEGROUPCHATPARTY at Siren Studios, featuring music from Fade to Mind's Prince William, Rae Sremmurd, and Kingdom.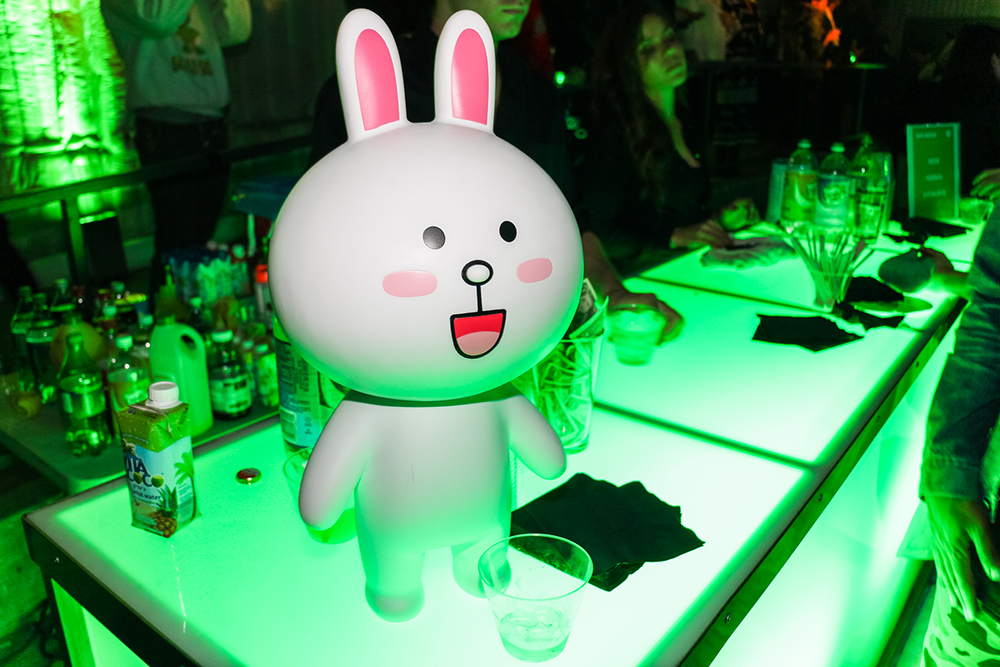 The party was basically thrown to celebrate the winners of the insane Sticker Shop Contest LINE had with Giphy – which was a huge sticker design competition with 19 finalists and a "Grand Prix Winner" (wow). (My friend Max, who invited me to this party, showed me a particularly enlightening entry to the contest that featured boobs personified as bipedal boob-things. Definitely a non-basic sticker I'd immediately spend some Apple ID money on.)
BUT it was more of LINE's official soft-launch party in the USA. They went big, too. Everyone at the party was on their phone groupchatting on LINE (it was projected on the wall in real-time). Every cyber micro and macro-celebutante accompanied by their friend-with-less-followers was there like @_thechanel (below), everyone's favorite beenfluencer @boytweetsworldx (I'm not sure if parties in LA even really happen if he isn't there?), wifislilangel, etc.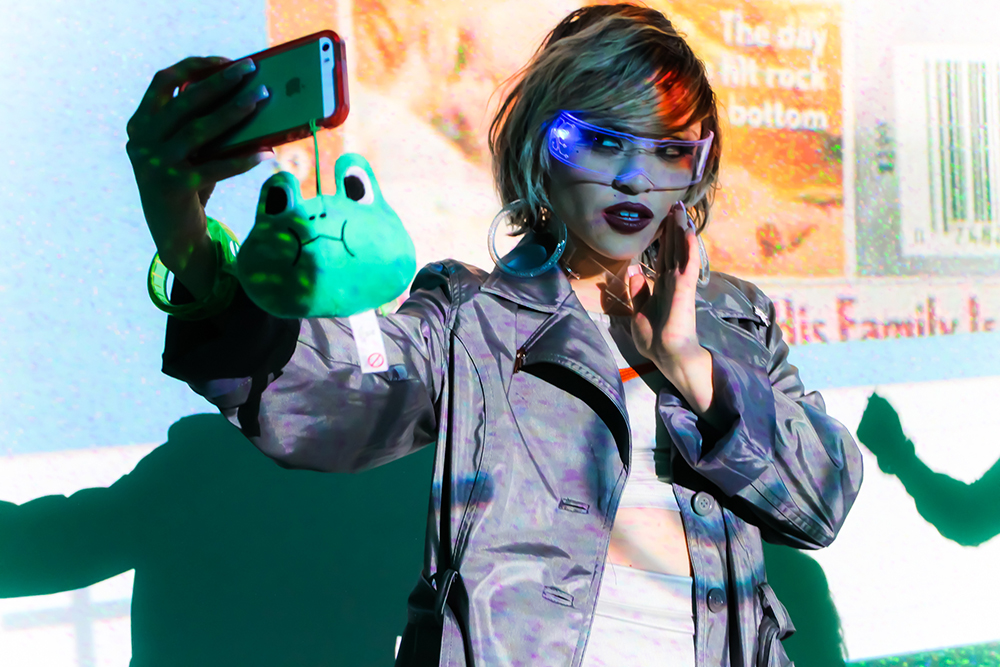 The party was supposed to be from 7-10pm. I got dropped off embarrassingly up the street by my mini van Uber. NOTE TO SELF: UberX CAN and WILL take you stylishly to your party like your dad would… in a white mini van. I stomped up to the VIP line after doing that mini van thing where you pull the handle and the door closes on its own – only to be turned away, and sauntered over sadly to the Regular People line. I told 2 girls that they cut me and they called me "so elementary," so I pretended to text someone on my phone. Then Mr. Security guard found me on the VIP list and I quietly rejoiced as he handed me a green light-up wristband. Once I got in, I zipped right over to the bar and immediately got a vodka soda and a VitaCoco.
This girl was wearing an iPad. Someone told me she's @vallyg_irl from Freak City.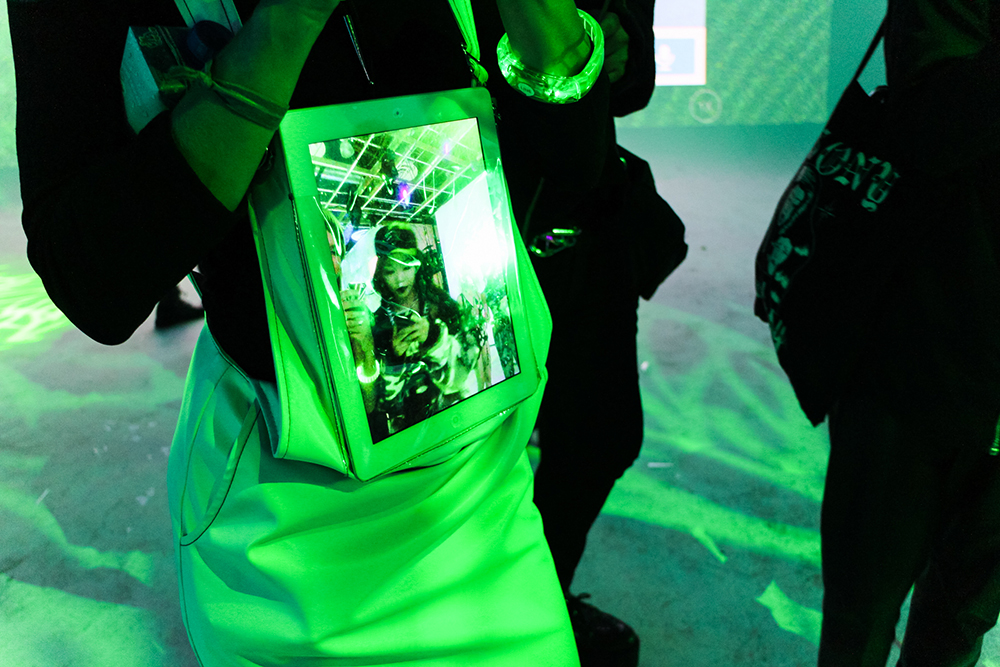 Babyalmondeyes or wifislilangel, I really don't know what her name is but SHE CUTE. She was the host of sorts of the night, I think, and moderated the group chat.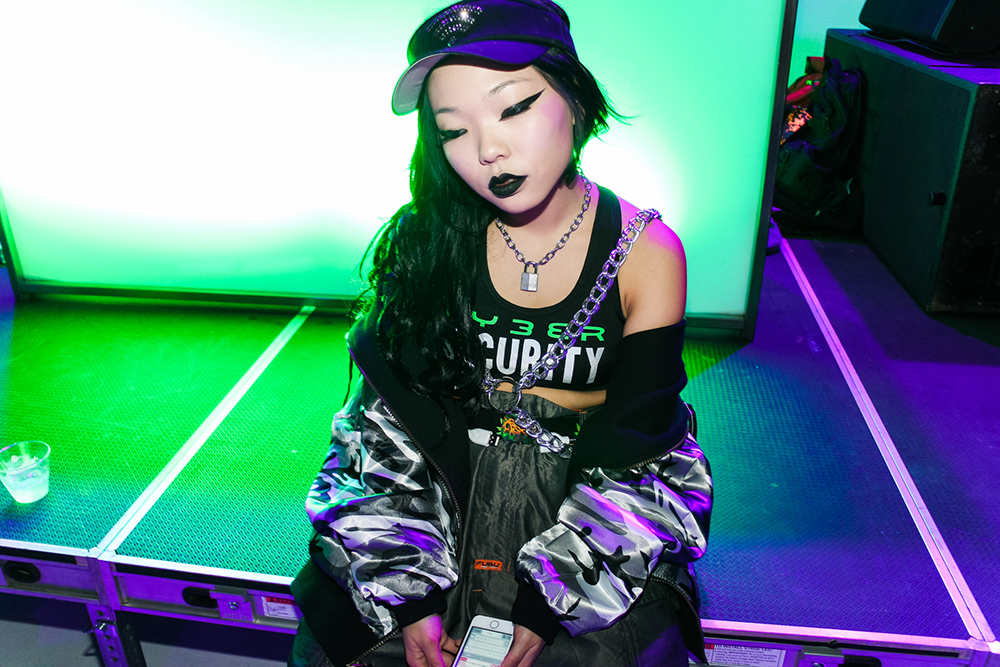 Twinsies! I overheard someone say, "OMG, I love LINE, it's like crack for text addicts."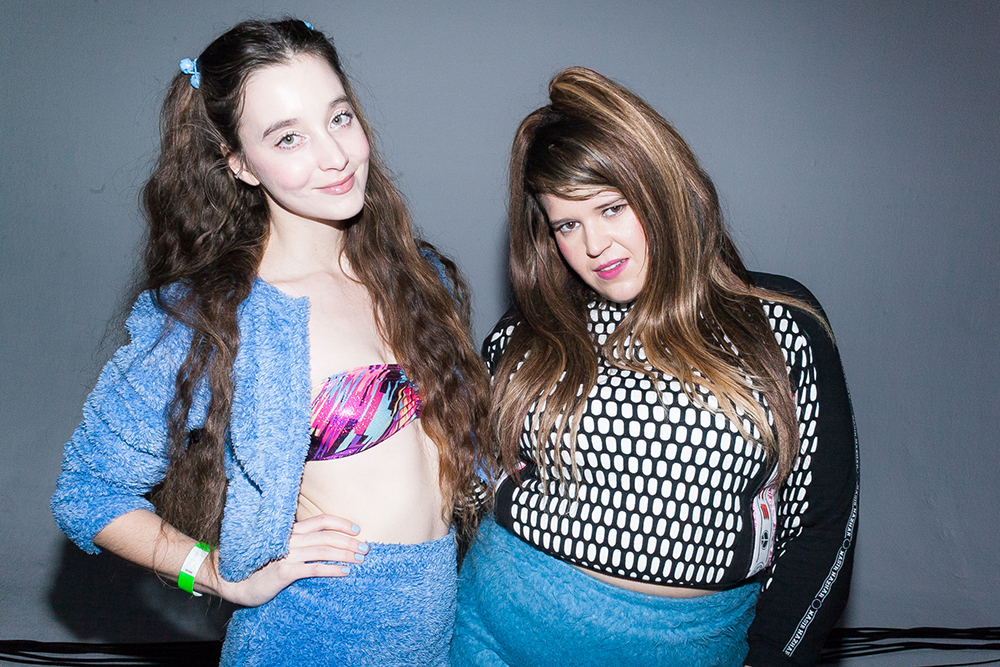 After Prince William, we had a half hour Rae Sremmurd chatroom-like group chat. Again, everyone was on their phones at a party where it was totally encouraged. It's the future, people!
NOTE TO NEW LINE USERS: Free stickers seem so basic. It's all about collecting the weirder, more obscure sticker packs… I think. When someone added a cool new sticker to the chat, I was like WHO just sent that really funny sticker? Was it the cute guy in the Maharishi bomber to the left staring at his phone or the aZn bro guy in the 5-panel to the right staring at his phone? I mean, they both SEEEEM like they could be LINE savvy.
It was like futuristic online speed dating where everyone's groupchatting simultaneously and I never get laid.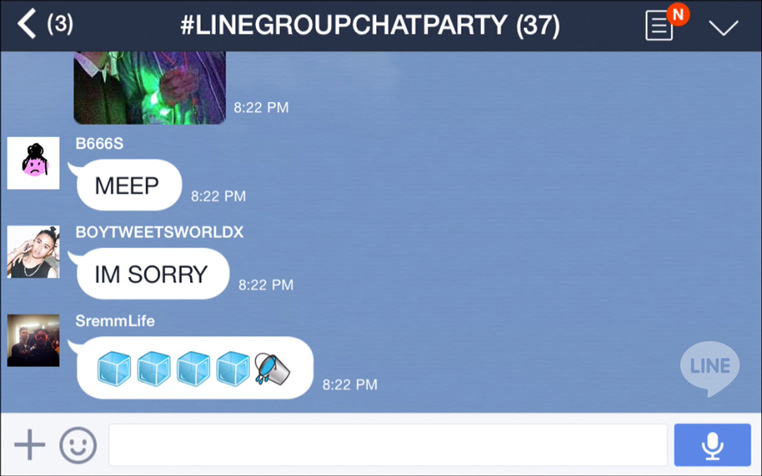 Rae Sremmurd's Slim Jimmy and Swae Lee began their set and ummm, it was really cool. They started with "No Flex Zone," you know, to get it out of the way, and performed songs from their upcoming album SremmLife which is slated for a January '15 release. You know I had to sing along to the one line I know from "No Type" which is "extendo long as an extension cord." JK, I know all the lyrics.
@babyalmondeyes (aka wifislilangel) added a comprehensive emoji version of the lyrics to "No Type" to the groupchat.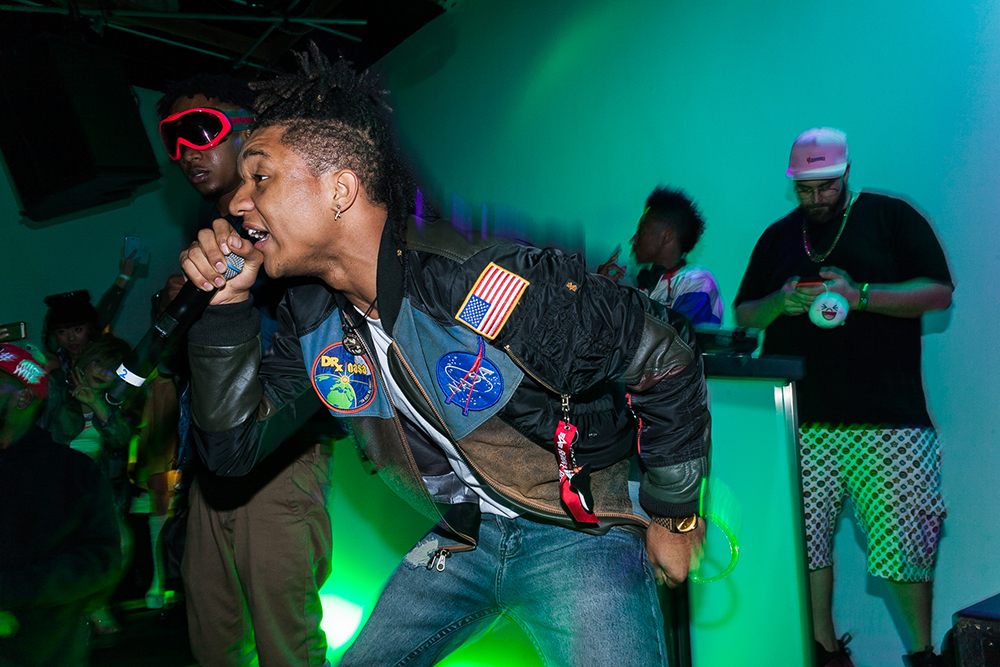 That DRx Romanelli x N.A.S.A. jacket!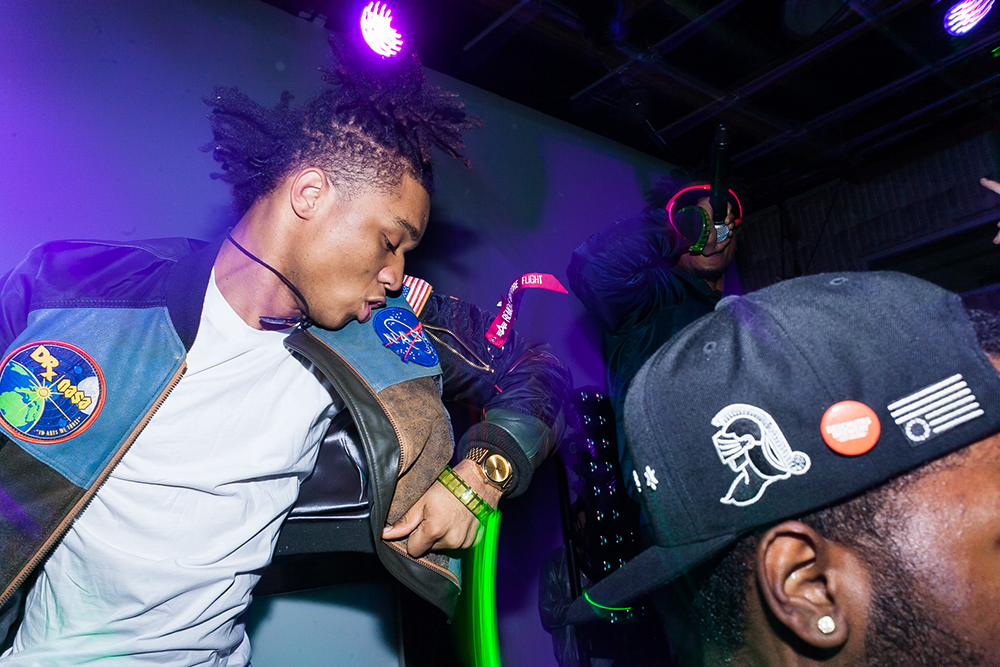 Mike Will Made It actually made it!!!
Lots of WIFI-themed stuff like the dude's shirt behind MWMI.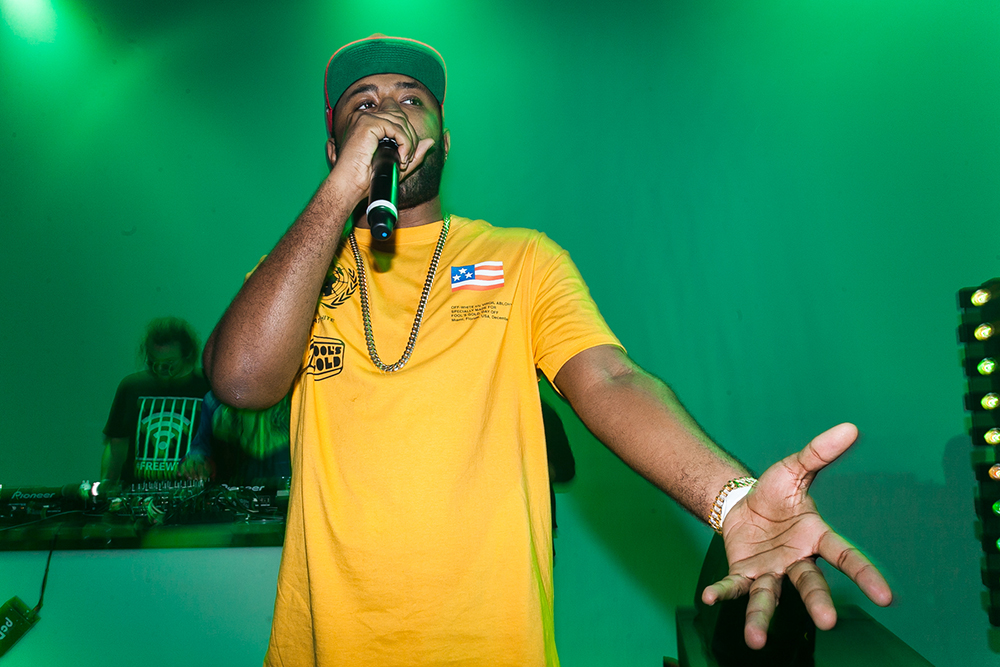 The dude in the glasses behind him with the paper fan was freaking the fuck out.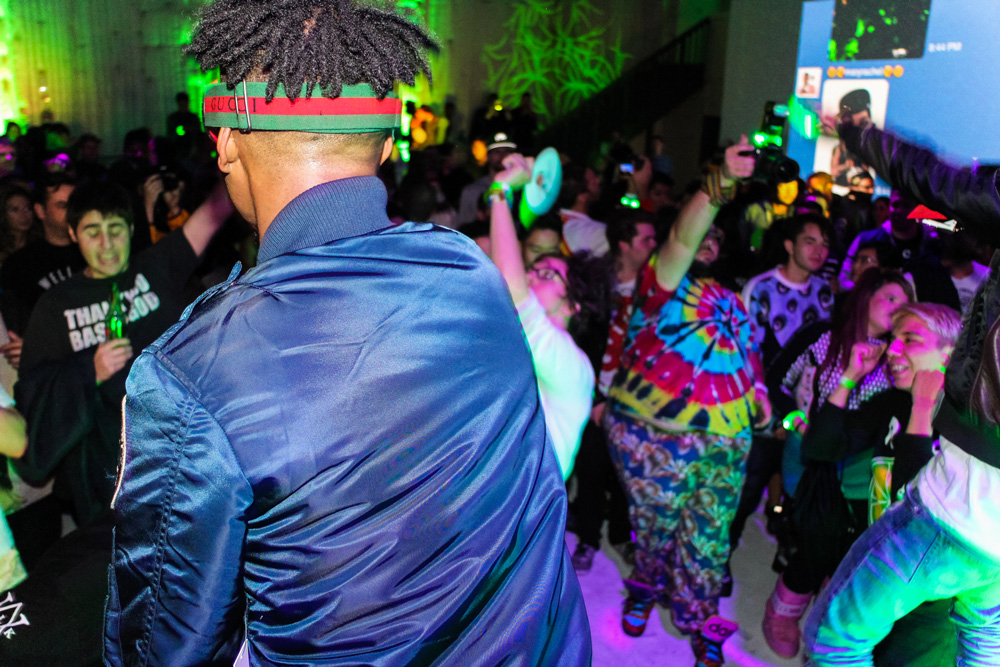 Mmm-bai Pusheen, it's James and Moon. James is hot.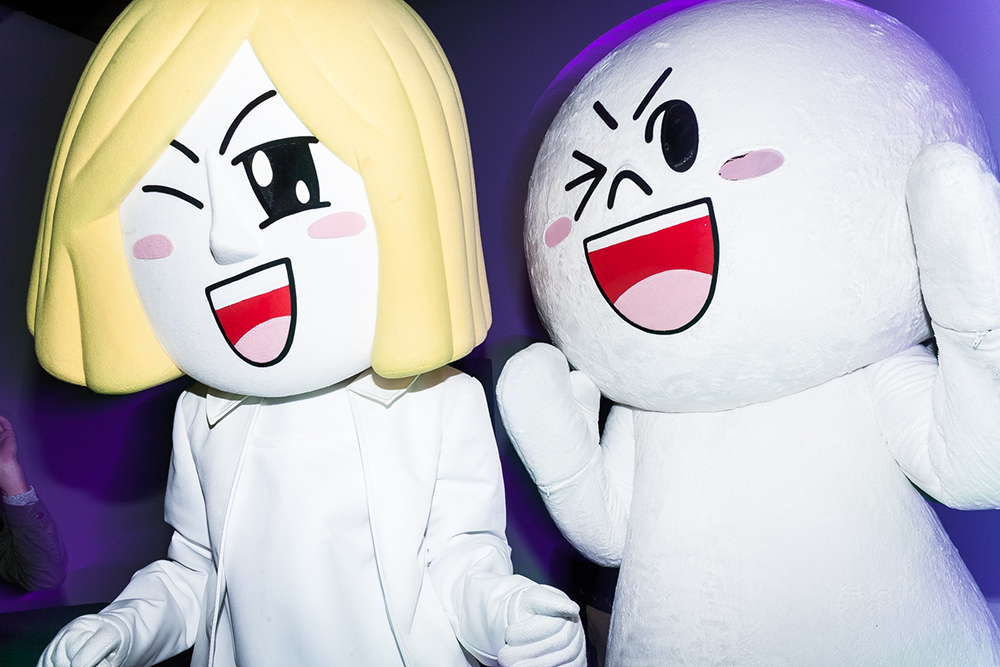 Okamax (below) had the best stickers because I heard he "hacked" LINE! His stickers weren't basic, and you KNOW I'm not a basic girl. Someone please teach me how to "hack."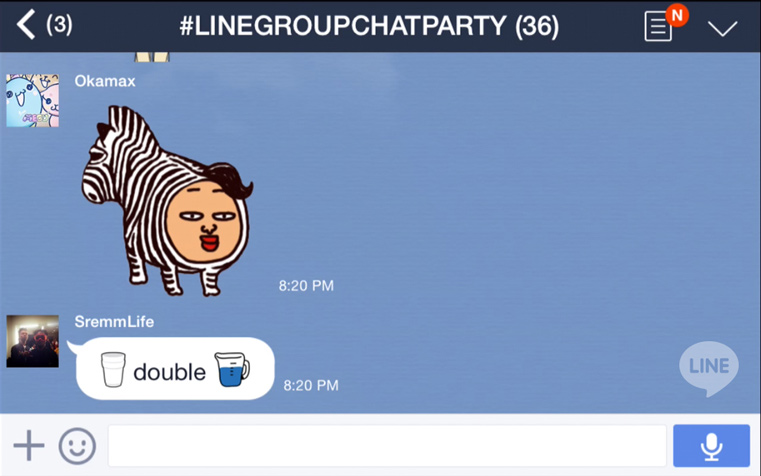 Lots of hot girls were there and I didn't see ANY HBA on ANYONE!!! LINE girl @missglitt3r pictured below.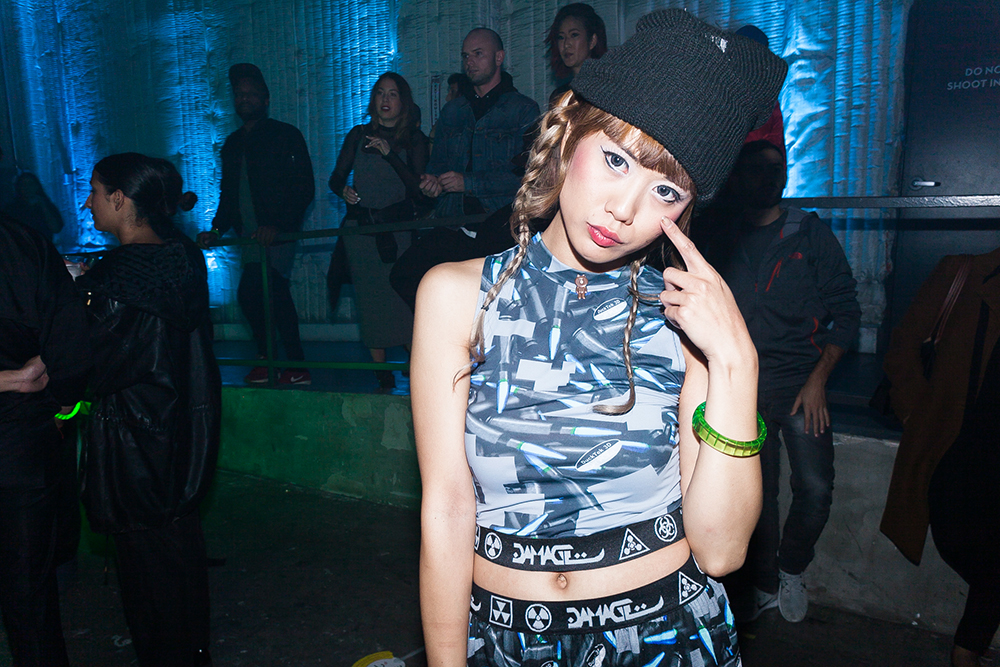 She cute but she not VIP.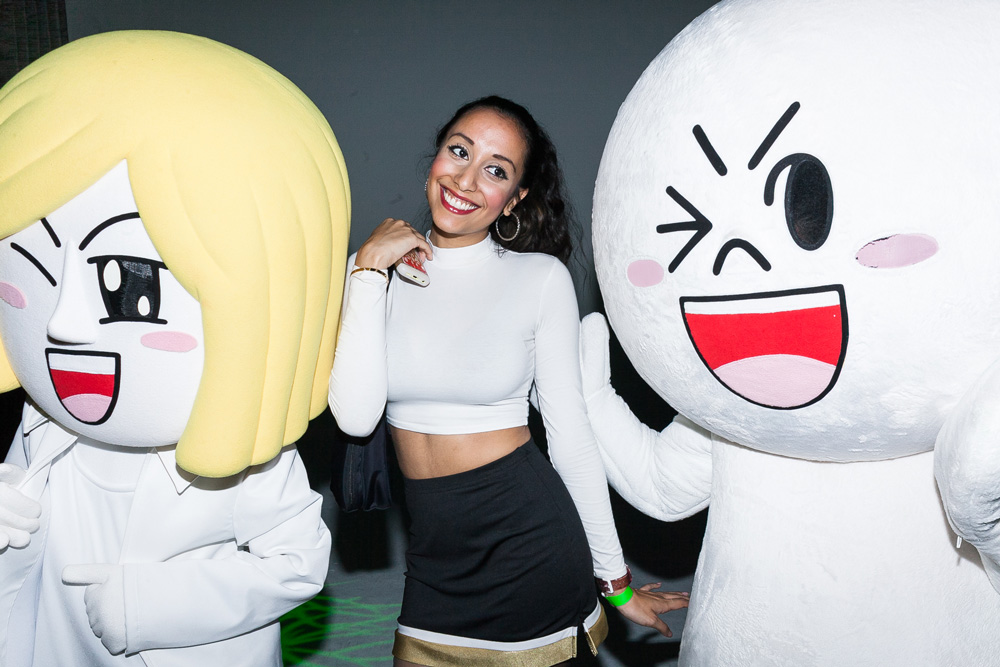 My favorite pic of the night with Jazper (@boytweetsworldx) taking a Cam'ron-esque call. I tried to say hi to him but he looked right through me. The girl with the best tattoo ever "imaflirt.com" is @chippy_nonstop.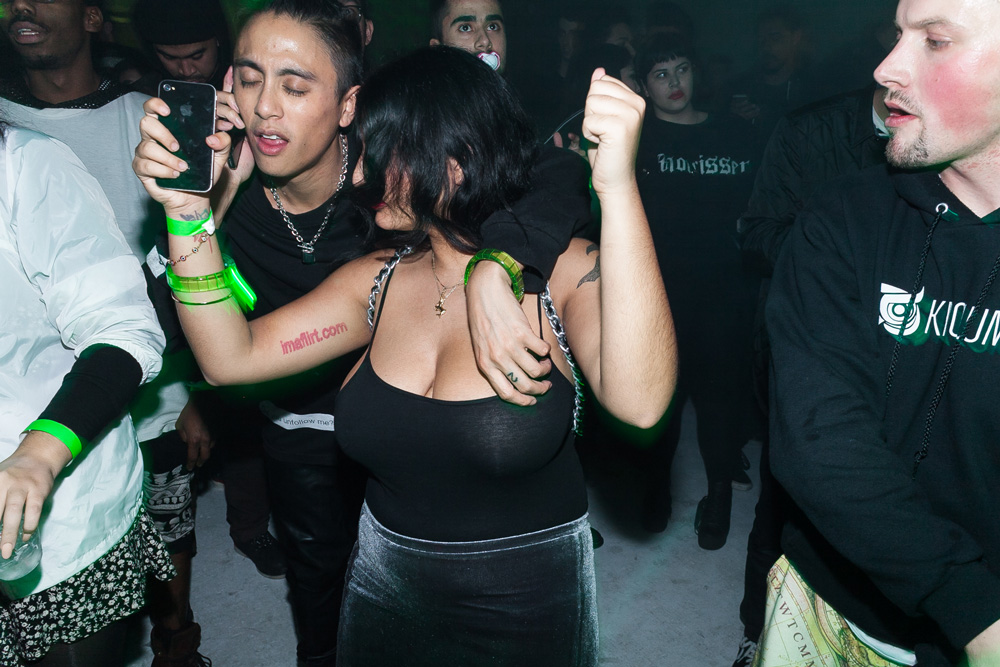 Look at this LINE merch table. I think my friend got a plush wristlet for free. I like the Moon fans more than anything.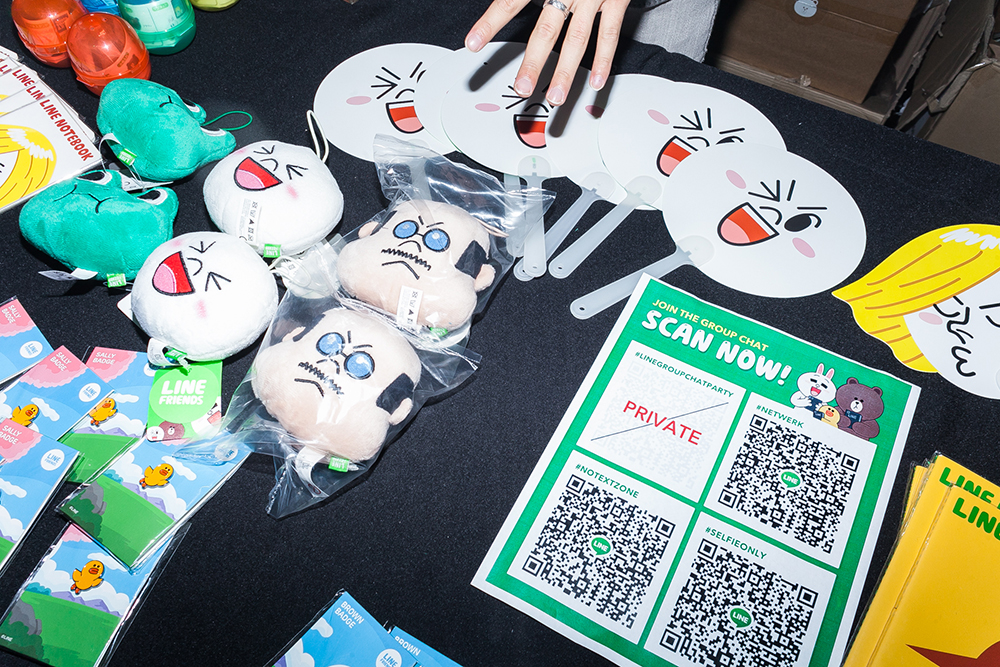 I was hooked up with one of these VIP light-up wristbands Natasha Lillipore (@lillipore) below is wearing. Free drinks all night at a party that started at 7pm on a Thursday had me on an extra sloppy-rude tip.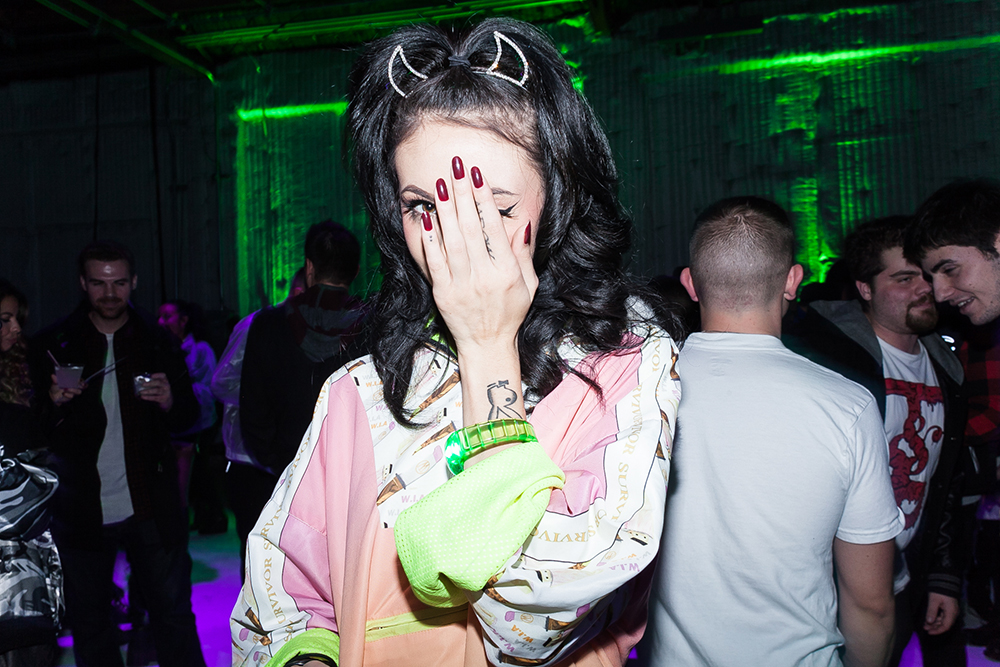 KINGDOM.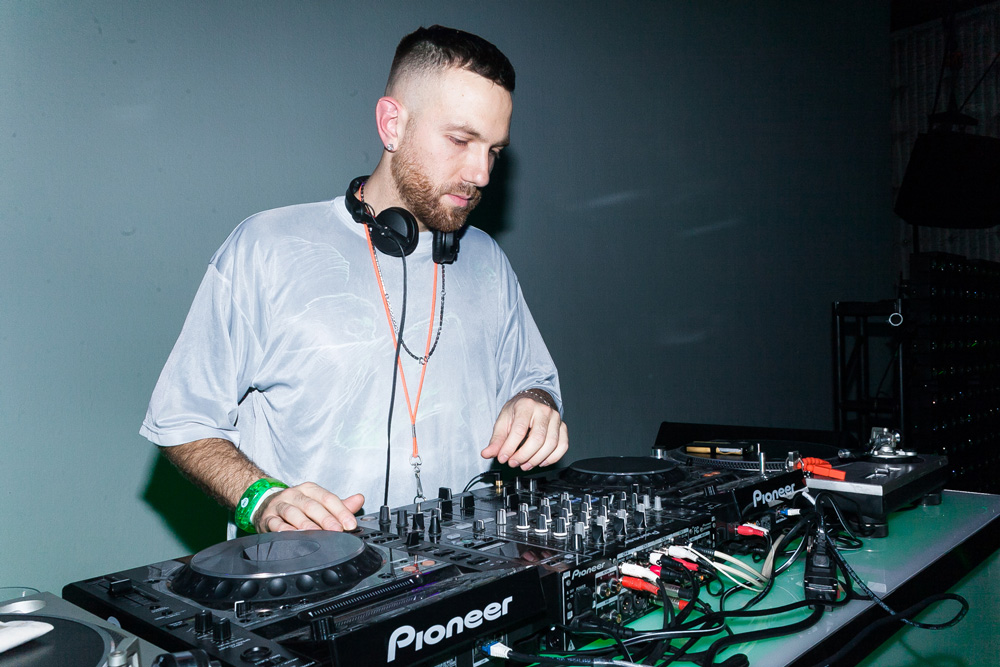 The party started to die down after Kingdom and my phone was at 2% because the constant barrage of group chat messages was just too much for my broke screen, background-app-refreshing iPhone 5. Am I basic?
Wait, look at his cute plush ringlet.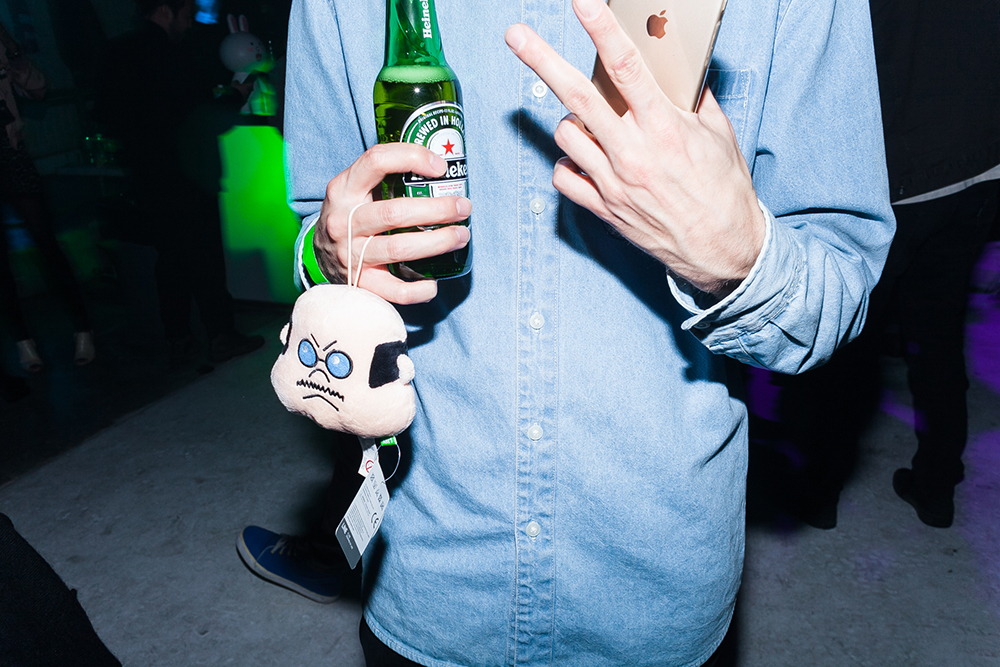 Brittney Scott (@B666S)'s wearing her own shirt like, "Please buy my shirt." I can't really see it, but it definitely has a Solo Jazz cup kind of vibe. Buy me one?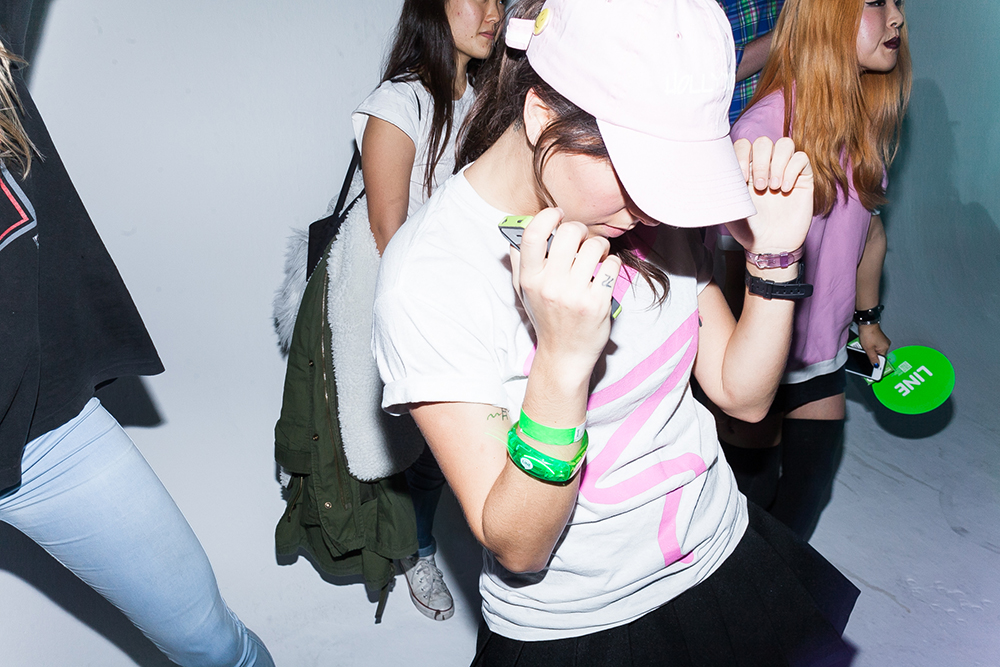 DJ SOSUPERSAM. STANCE. AND TWIRL. SASHAY. SHANTAY. She's probably using LINE Selfie. Is that Them Jeans in the background holding her shopping bag?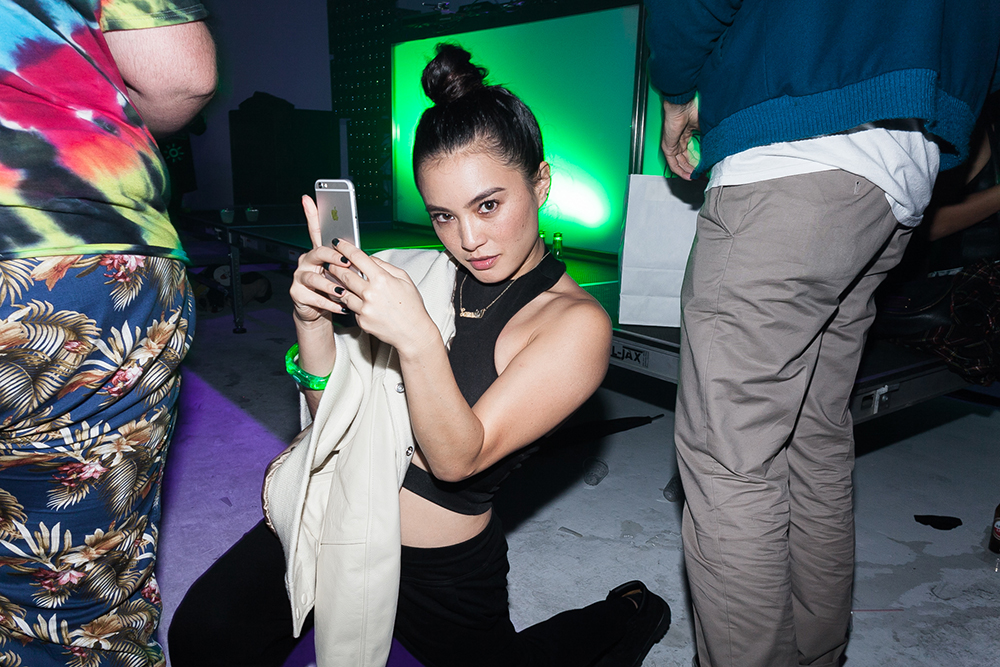 DOWNLOAD LINE AND CHAT WITH ME. My username is "imcurrentlyonline" – I know.
***
Photos courtesy of Rony's Photobooth and LINE.