Now more than ever, it is crucial that women eschew our conditioning to silence and shrink ourselves. Canadian artist Tasha Schumann—who raps as Tasha the Amazon—is a woman unafraid to accept this task.
Regarding her moniker, the artist tells me that when she finally decided to break out solo, she was looking at comic book art from the '60s and '70s for inspiration and came across a series of illustrations of female warriors. Tasha was immediately drawn to the Amazon tribe: "If I was to be in some sort of mythical tribe," she tells me, "I would be in this one with spears running through the jungle."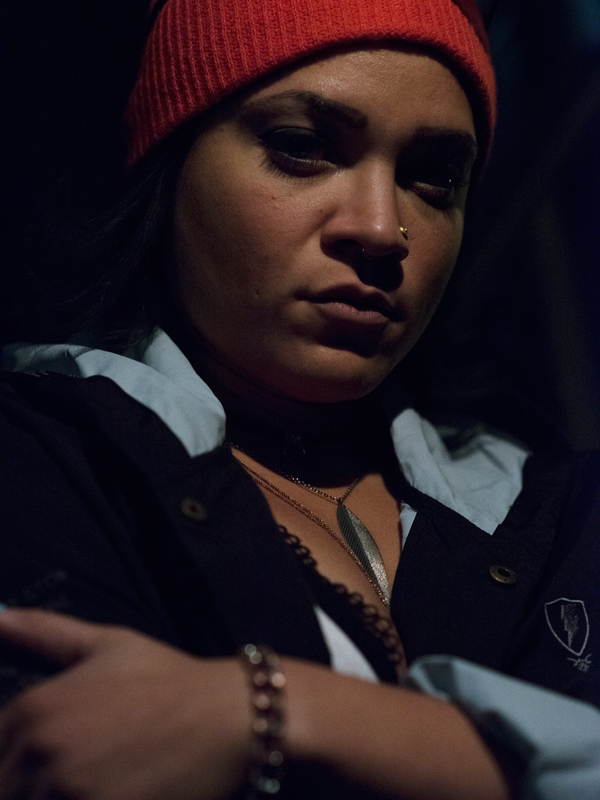 The jungle warrior theme permeates her music. Two years ago, Tasha filmed her music video for "Cry of the Warrior" in the alligator-infested Everglades. Shortly thereafter, she walked an enormous Bengal tiger through Toronto neighborhood Kensington Market in the video for "Thru the Fire," a political track on which she spits: "Done led an army and I brought down walls of castles / Done been alone against the world and I done battled through the fire." On the phone, the artist comes off as savvy, sharp, and—most acutely—devoid of bullshit. When asked whether her music has a message, she says that it's difficult to pinpoint just one, but her work is united by one adjective: "Intensity."
Tasha, who refuses to reveal her current age (citing feminist reasons), moved from the Toronto suburbs to Kensington Market around age 17. After jumping between studios to learn the ropes of music production, she eventually met future collaborator Michael Akinlabi while bartending. They formed a group called Candy Coated Killahz along with producer Danthrax (which whom Tasha she still works tightly today). The group was quickly signed to a label, and Tasha was "thrown into the deep-end." After years of learning the business and "building her production chops," Tasha decided to break out solo in 2012 because she was excited by hip-hop at that time. "What was happening in rap was just about to blow," she says, citing A$AP mob and Danny Brown in particular, "and I was excited about what was happening in that landscape."
Tasha continues to keep everything in her team, and vows not to outsource any creative task. She continues to work with Danthrax on all her production and with Collin G Cooper on her videos so that her vision remains coherent. (The artist, however, prefers to write alone—"I like to feel [my lyrics] in a dark room with beats playing" in order to nail that "dark, introspective quality.") The crew was rewarded last year when feminist comedic icons Ilana Glazer and Abbi Jacobson reached out use "Cubby" on Broad City.
Tasha told me that while her goal is to get "as big as possible," the most important thing is her maintenance of artistic control. More than any cosign, she stresses, she wants to bring to life the vision of herself and her team. This sentiment is reflected on "My Level," the bossy banger that immediately drew me to the Canadian rapper, on which she spits: "No matter how much gold we get / no matter where we flyin next / we still be leanin' out the whip/ gods and guerillas never quit." Of this track, Tasha explained to The FADER:
"It's dope when artists talk about their successes, and I guess 'My Level' is my way of doing that. But I'm not interested in cliches. I'm not interested in the trappings of fame or money. Success is about building something real. I ain't about that other shit."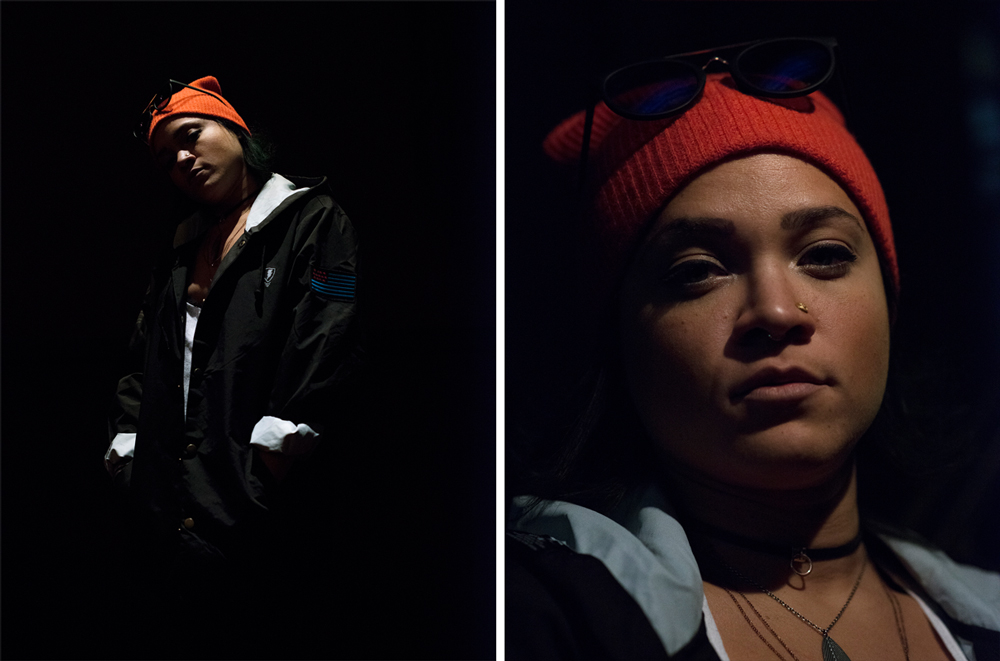 Her crew recently signed with the biggest booking agent in Canada, about which Tasha is excited because she wants to open for bigger artists and eventually headline her own worldwide tour. Tasha has a similar attitude towards performing live that she has towards fame. She doesn't crave the spotlight, but rather enjoys bringing her vision to large audiences. "I'm more the party conductor than the spectacle on stage," she tells me, "I'm just the one who happens to be holding the mic."
I talked to Tasha just after she finished touring. She wants to give herself a two-week break to "do the Christmas thing," and then it's back to the hustle. In January, she plans to bang out an EP, film three music videos, and then, it's on the road again.
While the rapper admits that the music industry can be difficult at times, citing in particularly selfish and manipulative people, she has faith and stamina. "You have to be clear with yourself about what it is you came to do," she says with self-assurance, "and know that it will probably take longer than you thought."
***
tashatheamazon.com. Photos by Nathanael Turner.