After a chance meeting at a Virgin Megastore in 2004, Kid Cudi and Kanye West were destined to do great things together. "Kid Cudi Saved My Life" is a sentiment most recently shared by SNL star, Pete Davidson, but has been echoed throughout the internet by hip-hop fans for years. The Cleveland rapper's unprecedented vulnerability when it came to mental health, depression, and heartbreak also inspired West during what would be one of the most tragic moments of his life so far. This galvanized the raw and unguarded moments that made 808s & Heartbreak one of West's most influential and celebrated albums.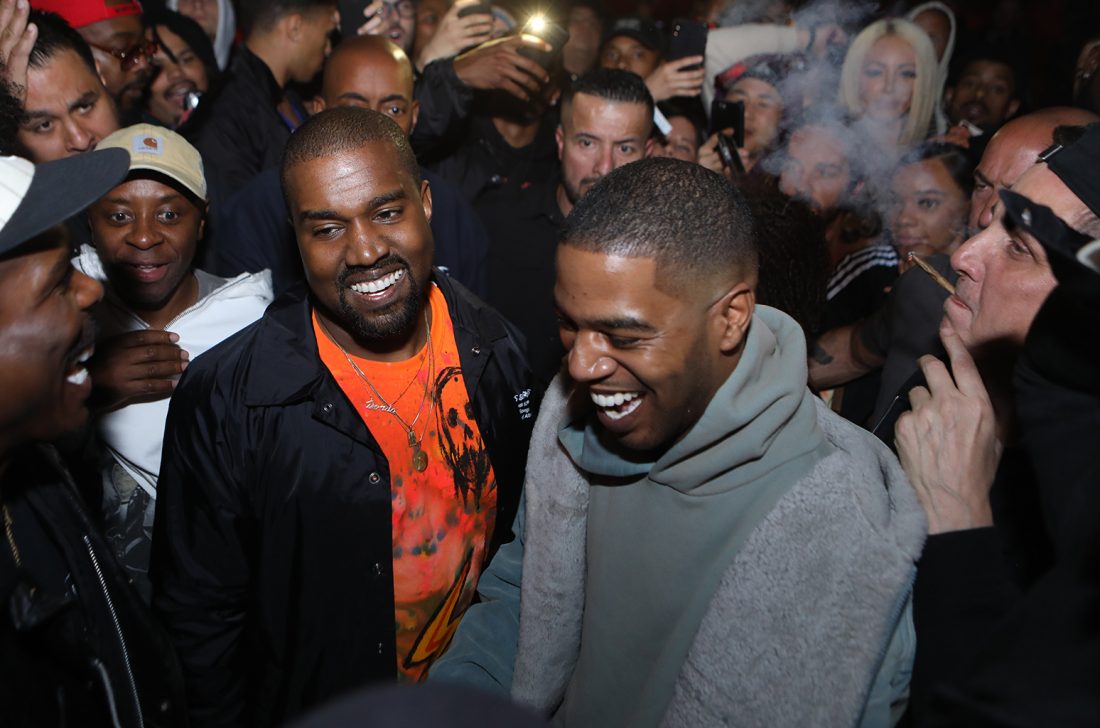 Before 2008, the exploration of emotional distress was uncharted territory in hip-hop. Without 808s & Heartbreak, we may never have known the robotic trap of Travis Scott or Drake's sad hyperbole — but we would never have had 808s without Kid Cudi.
When Cudi took to the stage at Coachella in 2014, wearing a navel-grazing cherry-red crop top, and BAPE briefs that peeked over dusty stone-washed denim shorts, it became a touchpoint in men's fashion. Frenzied media outlets reported Cudi had started a burgeoning trend, but his influence and fashion prowess began long before this iconic moment.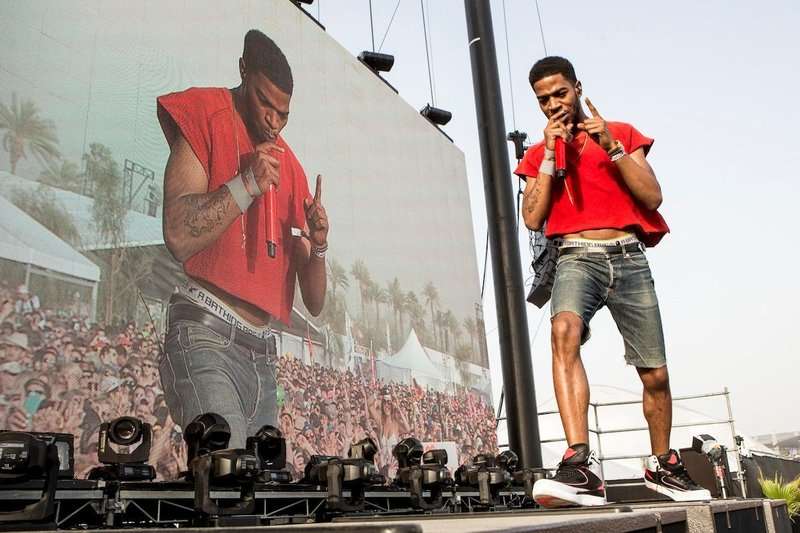 Born Scott Mescudi, Cudi was enamored by fashion well before he found stardom. As a fan of A Bathing Ape (BAPE), working at their New York store was for him, an early realized fantasy. "I remember working there my first couple of weeks in the same uniform cause I didn't own anything prior to being hired," he reminisced. "So it was a dream come true to be able to work at the store I dreamed of shopping in one day... I fell in love with BAPE because of their color selection and artwork. I love the style of their cartoons." Admitting that he couldn't afford to buy anything, he borrowed clothes from his managers, but that didn't deter him. "I couldn't believe I was working in the fucking BAPE store," he told Pharrell Williams on his OTHERtone Radio Show.
West, also a BAPE fan, once again ran into Cudi, this time at the Soho store; it was clear their paths were intertwined.  
Photographed for the Street Detail section of Complex in 2007, Cudi made his editorial debut. The now-defunct vertical profiled the then 23-year-old aspiring star, who donned a pair of Southern Californian label, Univ Jeans and a New Era Apparel tee. Cudi's gray denim ensemble made him hard to ignore. Just a year later, he'd release his breakout hit, "Day 'N' Nite", a song from his first mixtape, A Kid Named Cudi which would propel him to superstardom. Cudi was on the precipice of fame, he just didn't know it yet. In 2009, he'd find himself again in Complex's orbit, making the August cover for their Style & Design issue. "They say I'm Complex like the magazine," he rapped on Cleveland Is The Reason, "I want my closet complex like the magazine."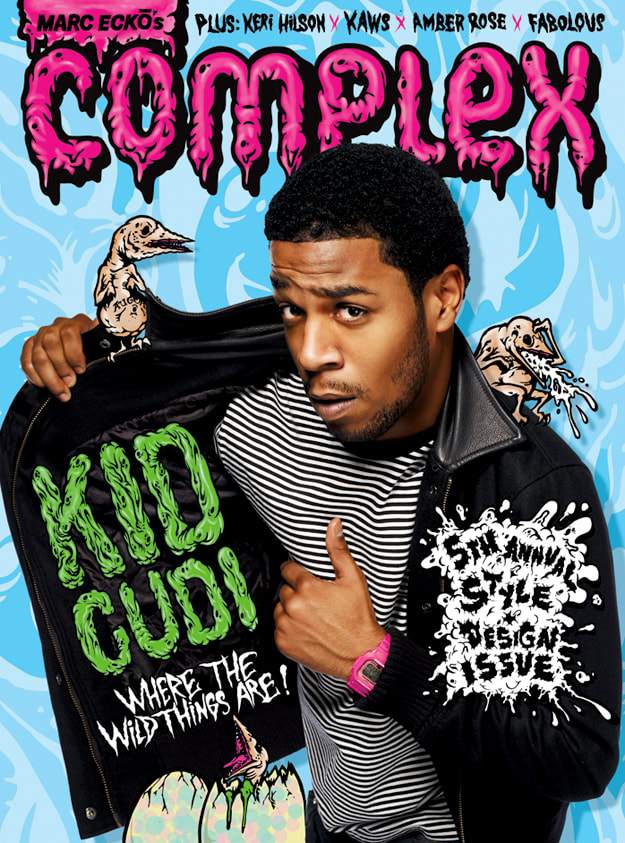 Released as Cudi's commercial debut single on February 5, 2008, "Day 'N' Nite" has since sold over 2,000,000 digital downloads in the United States. Peaking at No. 3 on the Billboard Hot 100, "Day 'N' Nite" ranked amongst the "Best 25 Songs of 2009" by Rolling Stone and was included at No. 7 on Complex's "100 Best Songs of The Complex Decade". It was more than just his breakout hit, as the interpolation of electronic and indie music with hip-hop would become the cornerstone for modern rap music.
The release of the nu-disco remix of "Day 'N' Nite" by The Crookers was au courant with the music of the time. Blog-house and indie influences were dispensed throughout his music, but also with his style. Skinny jeans, leather jackets, lensless glasses were all part of the Cudi-uniform. Similarly to West, he veered outside the constraints of hip-hop and not only challenged them but evolved, with both style and music.
Brands were quick to notice his influence, which scored Cudi his first BAPE collaboration in 2009. From there, Parisian label Surface To Air released a capsule collection of leather jackets from his 'Mr. Rager' music video, which he also wore in the video for West's anthemic, "All of the Lights." In 2014, Giuseppe Zanotti designed an exclusive sneaker inspired by the rapper's energy, artistry, and style after attending one of his concerts.
It's no wonder that in 2019, he is making his first foray into design. Announcing his collaboration with A.P.C in February, Cudder once again is making fantasy a reality. "Working w [sic] APC has been a dream of mine for a long time," he announced on Instagram, just weeks following his 35th birthday. Reminiscent of his Coachella performance, the collection mirrors his indie influences, which have remained at the forefront of his stylistic choices since the beginning of his career. Putting his hidden talents in plain sight, Cudi reinterprets A.P.C's collection with his unique vision. Interpolated with citrus shades, his multifaceted point-of-view comes across on white sneakers branded "Cudder" in red, orange and pink, a paint-splattered shirt, denim overalls, and the ultimate piece, a dusty-red leather jacket.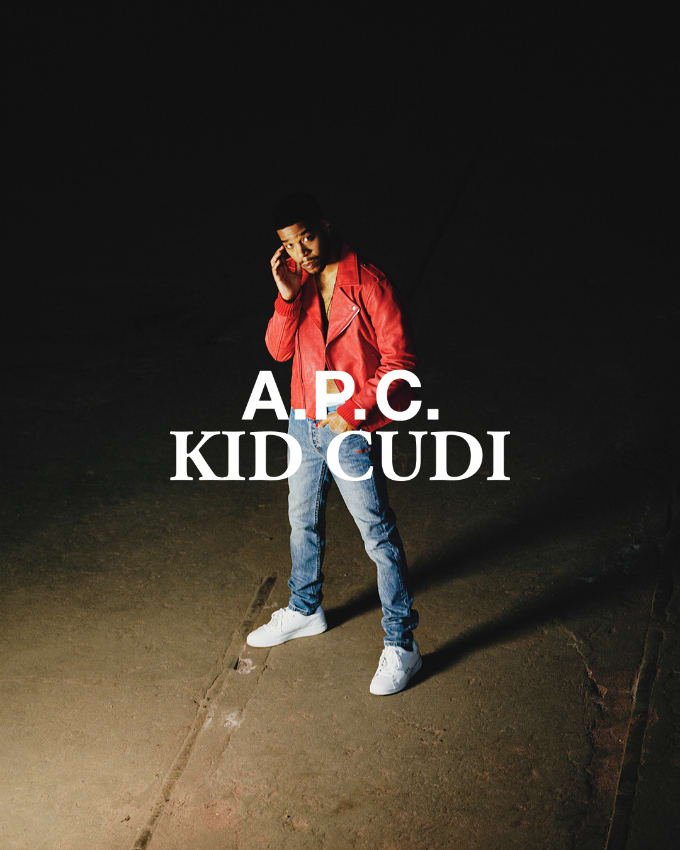 "When reading my mother's cookbook, what I've always found funny is that after giving instructions for a certain recipe, she would write 'have someone taste it,'" said A.P.C. founder Jean Touitou. "I thought of applying the same principle to what we do. I've always felt the urge to ask people on the outside for their take on our work. I remembered my mom's advice: 'have someone taste it.' The first one to do so is Kid Cudi."
The collection, titled "Interaction #1," is Cudder's fresh take on the chic basics the French fashion house is known for. It isn't in Cudi's DNA to chase trends but to hone in on classic cuts, textures, and materials. "Fashion fades," Yves Saint Laurent once said, "but style is forever."
The collection features pieces emblazoned with the words "dream on" stitched on the petit standard and petit new standard jeans, a nod to Cudi tireless rise to fame, despite the odds.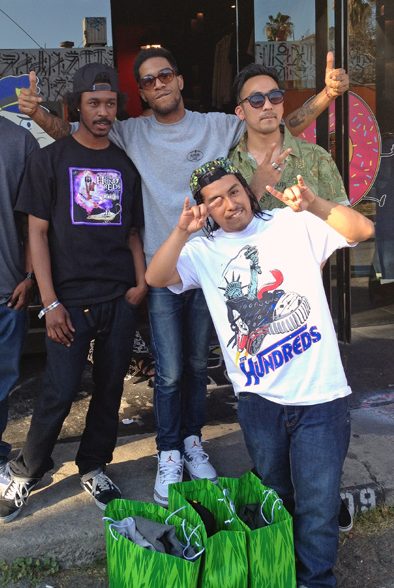 In 2012, Kid Cudi walked into The Hundreds' Los Angeles store with LA rapper Casey Veggies, and upon doing a little shopping for himself, decided to treat the entire store to a spree. Cudi charged up a $2,000 gift card and anyone who headed up to the register was told, "It's free. On Kid Cudi." Despite reaching a level of fame beyond his wildest fantasies, the Ohio rapper has never lost sight of his beginnings.
"At one point, I got made fun of because I wore skinny jeans," he told Jaden Smith in an interview for VMAN. "I remember I wore a kilt, and everyone made fun of me, like, "Cudi wears a dress." It was just people being ignorant. But at that time, I thought, "Hip hop is the most judgmental genre of music." Now, you can be yourself and do your own thing. This is what I dreamed the business would be like."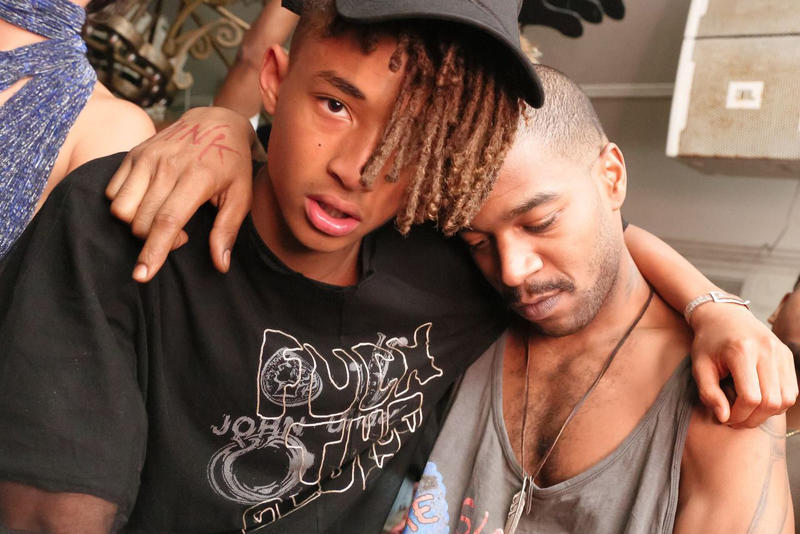 Cudi's fashion risks weren't always celebrated, but that was never enough to stop him. Whether he's wearing embellished Balmain vests, Christian Louboutin Tartan Rollerboy Spike Slippers, modeling for Coach or posing for a fashion spread in GQ, few other rappers carry themselves with his quiet confidence.
"I feel fashion is in a beautiful place, especially seeing what Virgil's doing [as Louis Vuitton's menswear artistic director]," Cudi beams at an admiring Jaden Smith. "It was an incredible experience to be part of that — a monumental moment. It makes me excited for fashion. He's doing groundbreaking things. That's what this business needs: thinkers, people that push boundaries."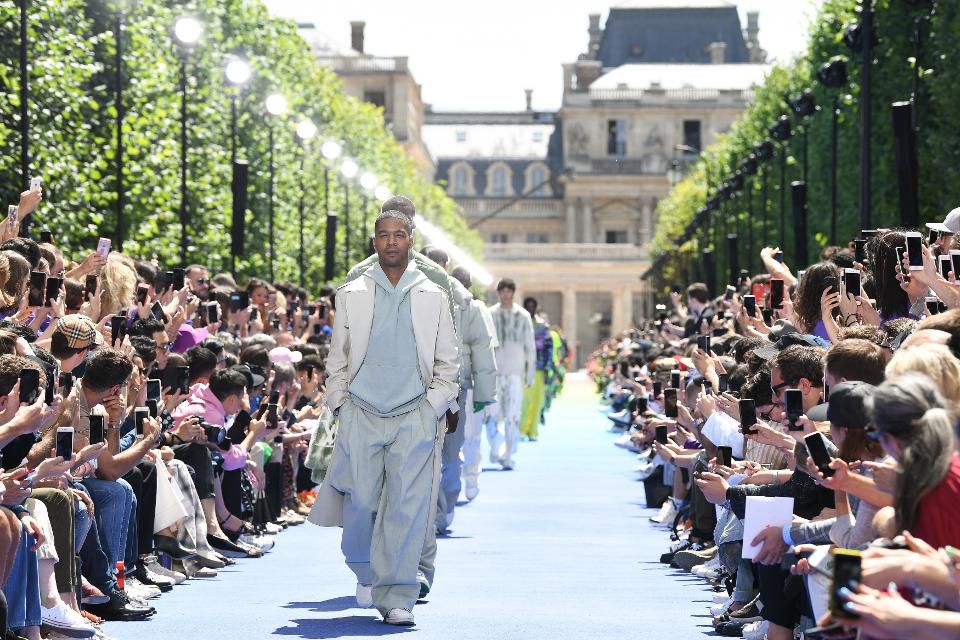 Upon the release of Kids See Ghosts, the eponymous album from his new collaboration with Kanye West, Cudi promises there's more to come. "I have no fear because I've been given a gift," he told Billboard, "I'm blessed." Having fought with his demons so publicly and for so long, Cudi exudes the lightness of a man who has finally escaped the dark. His influence across hip-hop has been undeniable, but his fashion prowess has been there all along.
"I actually pull a lot of fashion inspiration from you," Jaden admits to Cudi, echoing a shared sentiment amongst hip hop fans. If you're a fan of fashion, you're probably a fan of Kid Cudi.
***
featured image courtesy of Julian Berman