The Hundreds is proud to announce the release of The Hundreds X Grizzly by KC Ortiz, available May 25th, 2017 at flagship locations, our Online Shop, and the Grizzly Online Shop.
The Hundreds X Grizzly is our second collaboration with the leading griptape company, rooted in friendship and mutual respect between both brands. The collection melds inspiration from early 2000s-era streetwear—defined by its vivid, clashing colors and funky, irreverent designs—with classic buddy films and video games from the '80s, resulting in an action-packed, humorous, and vivid collection. Inspired by the likes of Contra and Rambo, the graphics are a narrative in which we follow Grizzly the bear and Adam Bomb through a high-stakes adventure—all illustrations done by prolific graffiti artist, illustrator, and war photographer KC Ortiz (read our interview with him HERE).
The collection features T-shirts, hoodies, long sleeves, headwear, and grip tape—all of which depict different challenges that Grizzly and Adam must face as a duo.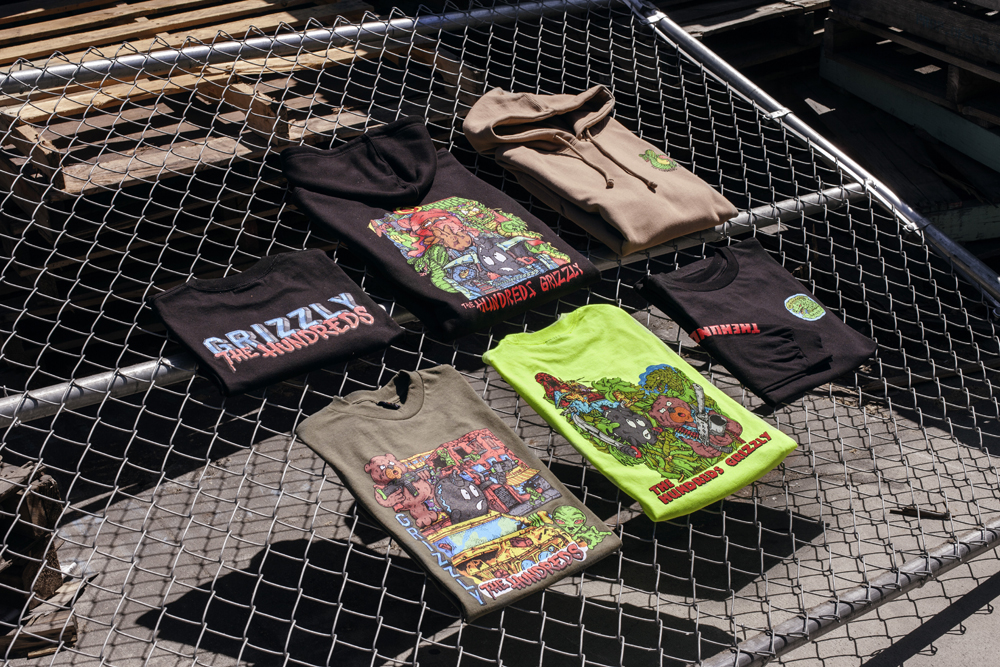 "The pieces all stand alone but there is a narrative connecting all the work with Adam and Grizzly's adventure against the system. They are two buddies thrown into situations out of their control, over and over (like any good buddy franchise), and they are able to team up together and beat their enemies in their own style and terms, like true rebels do." -KC Ortiz