"I have to make the work to process my life."
Kate Klingbeil is a 26-year-old Oakland-based painter, printmaker, animator, and sculptor, originally hailing from the Midwest. Her striking, sensual paintings act as diary entries to past experiences, brought to life in a variety of strong textures and colors. Always sporting a pair of paint-covered jumpsuits, Kate is constantly experimenting with her work, looking for more volume, texture, concept, and sexuality. We picked Kate's brain a bit, discussing various processes, her studio situation, and about her new body of work for "Hanging Gardens," which opens today, March 12th in Downtown Oakland at Athen B. Gallery alongside new works by Andrea Joyce Heimer, Michael Olivo, and Woodrow White.
Kate's work goes deeper than a female artist rendering the female form. Recently, the work has been depicting women in control, sexual dominance, promiscuity, and unabashedness. Kate draws from personal experience, projecting the viewer as voyeur. It's raw and personal, speaking to the powerhouse in all women.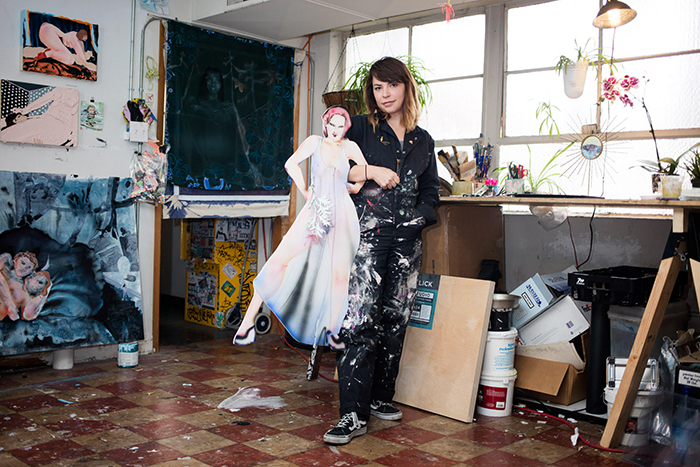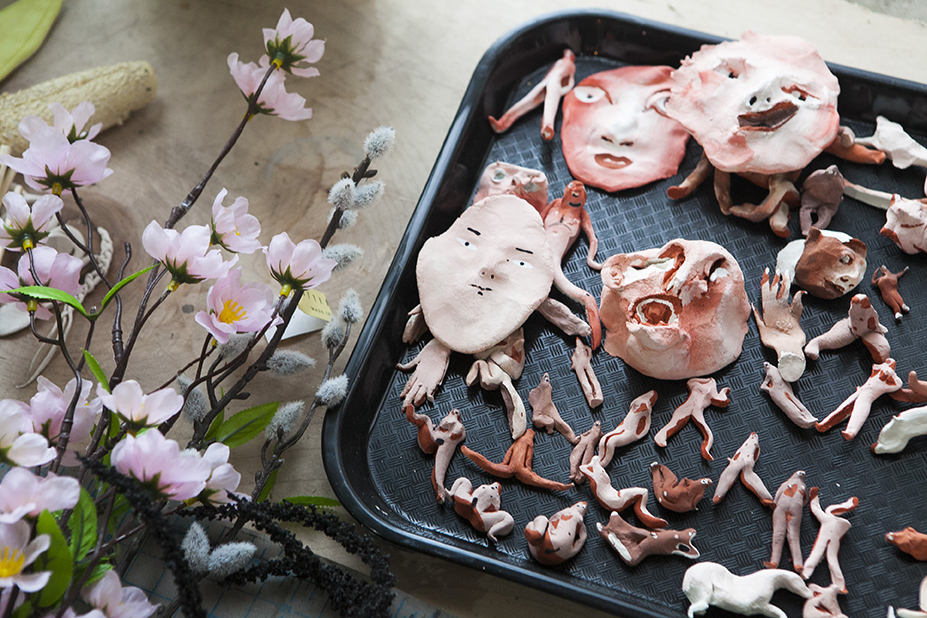 BROCK BRAKE: How did you decide you wanted to be an artist?
KATE KLINGBEIL: I always knew that I wanted to be an artist. My parents are not artists, but from the beginning, they were supportive of me becoming one. When I was younger, I wanted to be a veterinarian, but I later realized that I couldn't handle the blood. I went to a Catholic school because they had a really great art program, and they let me get weird. Even though it was a Catholic school, I never felt censored, and we were always encouraged to be emotionally honest with ourselves and our work. I've always tried to hold on to that.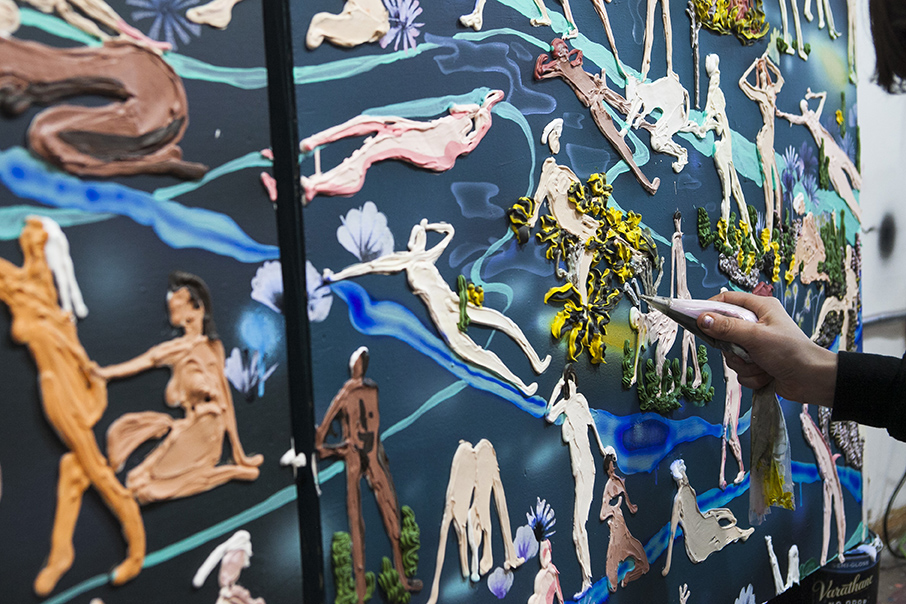 Where did you go to school? What are some invaluable things you've learned in the art school environment?
I did my undergrad at California College of the Arts in Oakland where I studied traditional printmaking. I figured that I'd have a lifetime to learn how to paint, but could only learn about the dying art of print while I was in school. The program was very technically-focused and I picked up processes and techniques that would have been difficult to learn outside of school. Mastering the techniques was the goal, but I was more interested in using printmaking as a tool in creating one of a kind prints that resembled paintings than becoming a printer. CCA was where I fell in love with stone lithography and monotype. There's nothing like preparing a slab of limestone for drawing and smelling the ocean from a million years ago. Lithography stones are magical objects. They only can be quarried from a few places in the world, and can be used over and over again for hundreds of years. I love the idea that many different artists have used and loved the same stone as me. Each stone carries its own secret story of past lives and loves. The best part of art school ended up being the relationships with other students and faculty people that I still call my best friends.
Eventually, I would like to go to graduate school. I love the focus and critical feedback that school offers, but am scared of the debt. I've been in Oakland for so long and am starting to feel a bit of wanderlust.
"I HAVE TO MAKE THE WORK TO PROCESS MY LIFE."
Your background is in printmaking. At what point did you transition into painting and sculpture?
Printmaking is how I was trained, but I see it as a tool for creating a painting, a sculpture, animation, etc. While I was studying abroad in 2011, I figured out that I wanted to make animations. Everything is fair game with animation because the scene is temporary, the photograph is what remains. I started playing around with cut up prints, clay, found objects, and painted backgrounds. The animation led to a lot of experimentation and a celebration of failure that I wasn't able to get with printmaking.
About 8 months ago, I had to take a break from printmaking. The chemicals were affecting my health, so I had to drastically change my lifestyle and direction of my work. I'd been using printmaking to make everything and it's been confusing to have the process I love contribute to sickness. I hadn't been protecting myself from the chemicals, like not wearing gloves or a mask all the time. So, I started painting with water-based inks, acrylic, and house paint almost exclusively so that I could heal myself. I'm still in the middle of all of this, and I miss printmaking, but I feel better without the exposure and am enjoying making in a different way with new materials. Remember to use protection!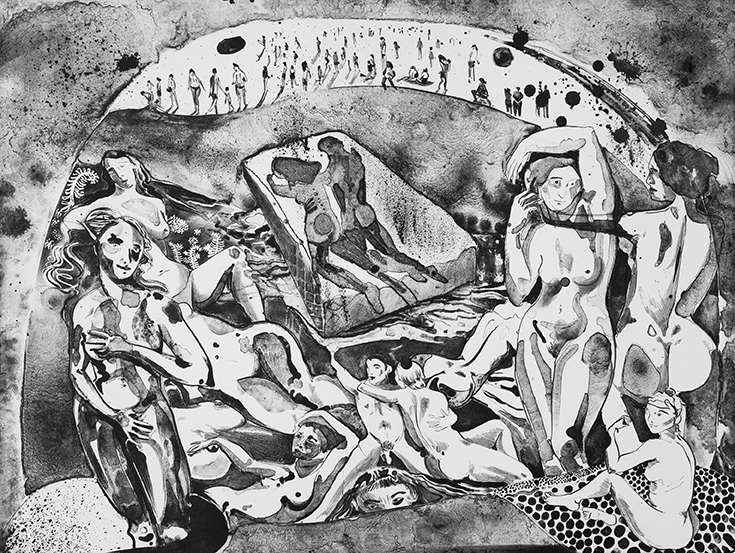 The more and more you make, the braver, bolder, and more sensual your work becomes. Where do you see your work evolving from here?
I have to make the work to process my life. I think with my hands. Since what I make is directly based on life experiences and actual events—or skewed memories of events—I can't say where the work will go in the future. With the newer work, I have intentionally tried to make myself more vulnerable than ever before—to really lay myself out there. I think this is a response to being in relationships where I felt unable to be honest, so I am creating that space for myself within the work. While it feels uncomfortable, it also feels liberating. I intend on continuing to explore this.
I am also planning more collaborative animations with Michael Olivo and with Grace Lannon, separately. The collaboration with Grace is going to be for a local band, Gaymous.
What artists in particular do you admire at this point in time? Have any influenced you or your work?
I admire Heironymous Bosch, Lucas Cranach the Elder, Cecily Brown, Lisa Yuskavage, Jamian Juliano-Villani, Elliott Hundley, Helen O'Leary, Martha Colburn, James Ensor, Carravaggio to name a few. I've been doing this project where I make bootleg copies of historical paintings on sweatshirts, so I've been looking at the old masters again.
When I saw Bruce Bickford, Alison Schulnik, and Martha Colburn's animations, I realized that animation can be approached in a painterly way instead of the Disney storytelling route. That changed everything for me. Animation became the ultimate way to realize a feeling, the most complete method of communication.
I'm also influenced by things like forgetting, humor, bathing, Drake, things you would never tell anyone, illusion, women in positions of authority, hookup culture, secrets, sets, airbrush on cakes, Italian Renaissance painting, mistakes, movement, botany, and romance.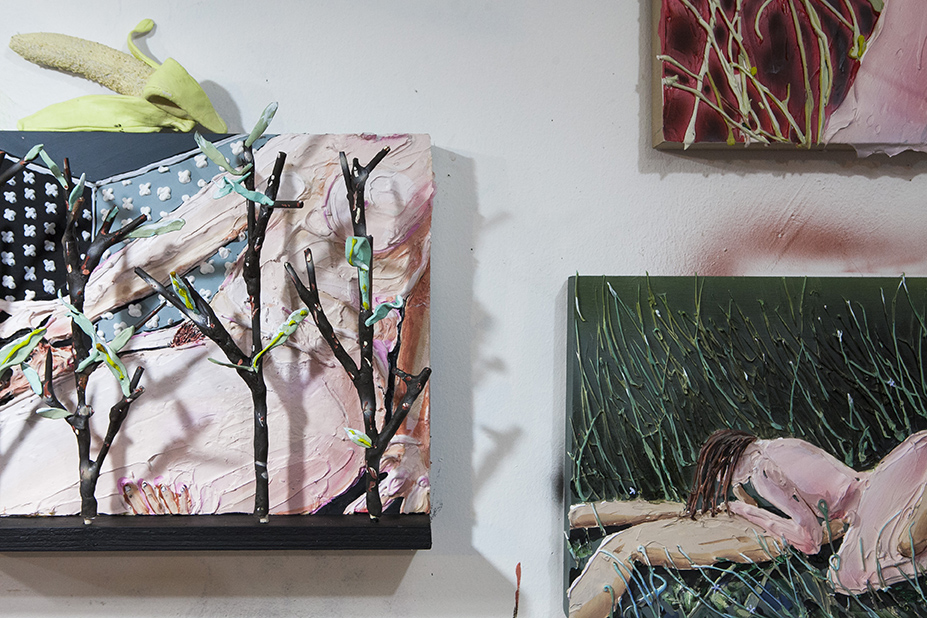 How does it feel to be a female artist in today's society making the kind of sensual work that you do?
My work has always been sensual, but it has taken a distinct turn in the past year after dealing with some failed relationships and waking up to the reality and weight of my own internalized misogyny. Since honesty is the most important approach to beginning a painting, I try to harness this anger into making emotionally potent work. This has been manifesting as imagery of powerful women engaging in sexual acts, reveling in pleasure while being the ones in control.
When I'm painting, I'm not thinking about the moment that someone else sees it. The act of painting is sacred, a daily ritual. When it comes to showing the work, it's a conflicting mix of feelings that's always evolving. Because of the content of my work, I feel a responsibility when approaching feminist issues. I don't want to be a "bad feminist," but I'm not necessarily making the work from a political perspective. The work is coming from a personal place, from real life events that have happened to me, or from fantasies. In the end, it ends up reading as political. The personal becomes political.
"I HAVE BEEN TOLD NOT TO SPEAK ABOUT MY WORK, THAT THE WORK SHOULD SPEAK FOR ITSELF. THE MORE FRICTION MY WORK CAUSES, THE MORE I FEEL I HAVE TO MAKE IT."
I have been getting an amazing amount of support from other women who see my paintings, and usually a lot of support from men. There are definitely times when I have received negative feedback—from men—when I verbalize the concepts behind the paintings. I have been told to not speak about my work, that the work should speak for itself. The more friction the work causes, the more I feel I have to make it. I have always enjoyed the awkward moment, and placing myself in uncomfortable situations to test my own instincts. Sometimes it seems some men think that because I make sensual artwork that I must be easy or always horny or simply want to hear about their own private sex lives. People are quick to judge. Most of the time the work is more psychological than anything, but sex and emotion are so deeply connected that they co-exist in the work in the same way they do in real life.
Have you had any mentors to your art career?
Yes. There have been people along the way that have taught me a lot. Jack Ford is an amazing print professor at CCA who's been teaching for like half a century. He's taught me a lot about pulling a good print and about the importance of drinking beer with your friends. Tim Sharman, another printmaking professor at CCA, also taught me a lot about experimentation and combining processes, and about the seriousness of being silly.
In 2013 I apprenticed with a local poster artist, David Goines. From him I learned about letterpress and how it's possible to make practically any gourmet meal in a microwave.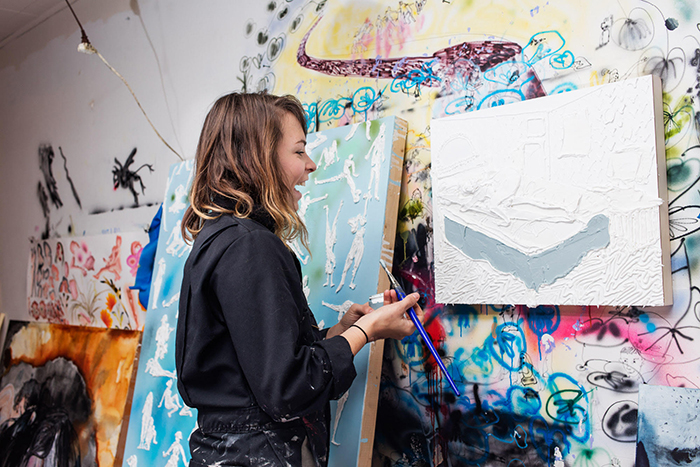 How have you approached your upcoming group exhibition "Hanging Gardens" differently than past exhibitions? Also, tell us about the show.
I was stoked on the lineup as soon as I heard about this show. I really admire all three artists, it's great to be able to work on an exhibition for 6 months in the same building as where the work will be hung. Having a studio above Athen B, I've been alongside Michael Olivo and Woodrow White, putting in a lot of hours for the past 2 months. We've had some time to get to know each other and bounce ideas for the collaborative aspects of this show.
The way I've approached the work for this show has been a shift. I talked before about my break from printmaking, and I think that's pretty apparent in my work for "Hanging Gardens." Most of my paintings are thick, creating a three-dimensionality that I was previously trying to get at with paper cut outs and pins. I plan on going back to that method, and combining it with what I'm doing right now, but for this body of work I wanted to focus on the physical appeal of thick paint. I want to communicate a physical and psychological hunger. I spent a lot of hours squeezing paint through tubes.
What's a day in the life for Kate Klingbeil?
I wake up, caffeinate, go to the studio, probably listen to the same song over and over, take a lot of breaks, and eat snacks while looking at things.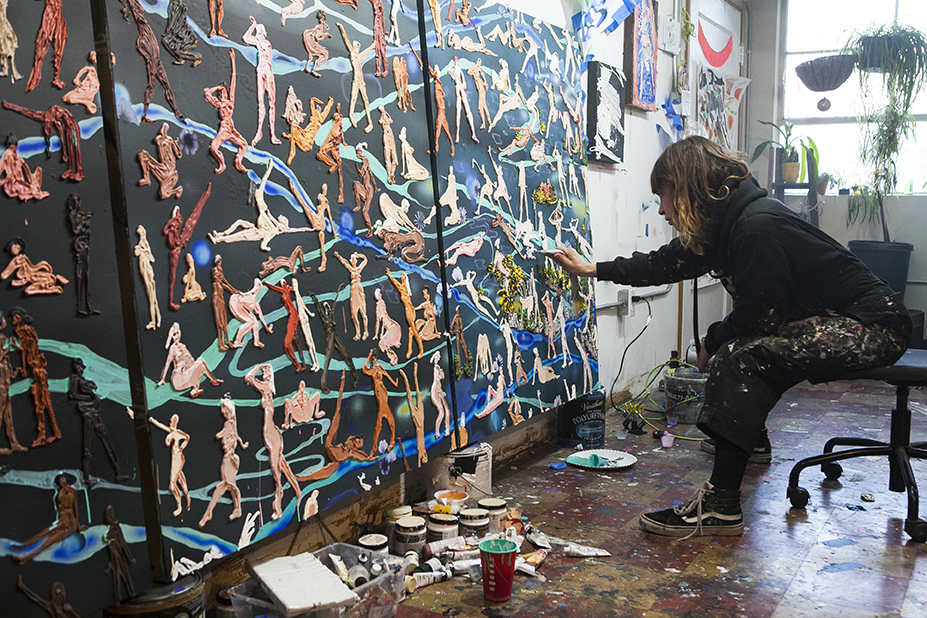 Tell us about your technique, how you may start a work? Do you do any planning or do you mainly go for it? How do you introduce a 3 dimensional feel to your paintings?
The work begins as a thumbnail drawing in my sketchbook. Usually, I'm just going for it with the modeling paste and palette knives, which takes a couple of days to dry, so I'm working on other paintings while I wait. I like to have multiple things going, all at different stages. I've got a steady production of little paper clay things that don't necessarily have a planned "home," so I'll pull from my collection when I see a painting needs something. Then I squeeze more thickness on and add small flourishes after—like placing the cherry on a sundae.
Who are your female characters? Tell us about some of their personalities or, are they a type of self portrait?
They're strong women with conflicting feelings just trying to live their lives. Sometimes, they're self portraits, other times they're physical embodiments of a singular feeling or motion. I don't like to be precious with how I depict the women. I like them to emulate life or how I wish life was—thick and unapologetic.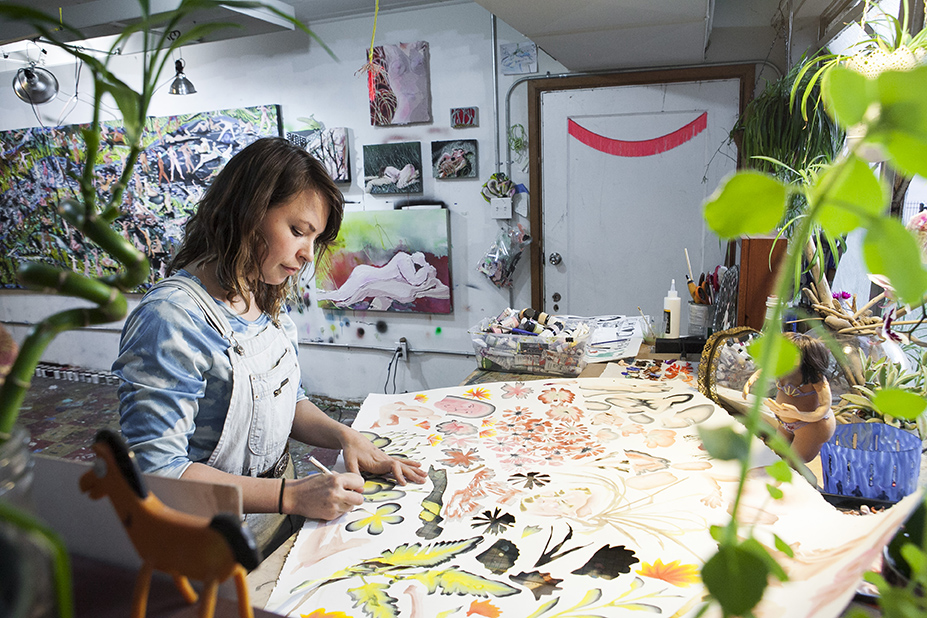 ***
Keep up with Kate on Instagram @k8klingbeil. "Hanging Gardens" will be showing through April 1, 2016.
Photos by Brock Brake and Eva O'Leary. To see more on Kate's process, visit Vimeo.com.