There would be no C.L. Smooth without Pete Rock, no Guru without Premo, and definitely no Future without DJ Esco. When it comes to a song, the producer or rapper debate is very much like the chicken or the egg — who came first? While both are important in the creation of a bomb omelette, the producer is the main ingredient that you don't necessarily see, but taste loud and clear. "On The Beat" is a monthly column where we get to know the enigmatic figures behind the beats to your favorite songs.
For our third installment of On The Beat, we interviewed a rather enigmatic, up-and-coming producer from Brampton (a city just outside of Toronto), 24-year-old Jake Aujla, AKA Jaegen. After many weeks of trying to lock down a time, we finally sat down over Google Hangout. Known primarily for his extensive work with the Drake co-signed "Sweeterman," Ramriddlz, Jaegen has since worked with more international artists, most recently remixing Zayn's solo debut, "Pillowtalk," that Lil Wayne jumped onto last minute (which Jaegen coincidentally didn't get credited for, but we'll get into that later). He also landed himself on The Fader's list of "20 Musicians You Need To Know in 2016." Not bad for someone who is juggling his final year of school at Ryerson University and simultaneously producing.
More keen on his music than his Graphic Communications major, Jaegen has recently decided to go full throttle with producing. "[The] thing is I've always done this for fun, I didn't expect anything to ever come out of it, I never pushed my music to anybody," he humbly admits from a dimly lit studio in Toronto, the chatter of his producer buddies providing ample background noise. Having low expectations seems to have been a good strategy for this young producer. For someone who used to make beats as a hobby, Jaegen has already developed a range of sounds, with his beats often having complex layers that sound like he's been making music for 10+ years. Citing two of Canada's greatest treasures as his influences—Drake and The Weeknd—Jaegen is still pushing himself to create unforgettable, catchy songs that speak to the diversity of Toronto and the suburban cities surrounding it.
"What really got me back into production was vaporwave stuff, very sample-based, [and] trap drums." And that's the best part about his sound: He's not a one-trick pony. He can go from future R&B slow jams, to spacey reggaeton, to big room anthems and beyond—a range that is not easy to develop for any producer, and one that Jaegen seems to be able to do with great ease. "[I try] to make new fresh sounds that nobody has ever heard before."
Fresh off of his remix for Zayn, Jaegen is now working on Ramriddlz's EP, Sweet 16, amongst other things: "[I'm] just tryna work with artists that I fuck with." Being the child of first-generation Indian immigrants, that is no easy feat. With the OVO camp "keeping tabs" on him, we're excited to see what 2016 will bring for this novice producer who has already accomplished so much in so little time.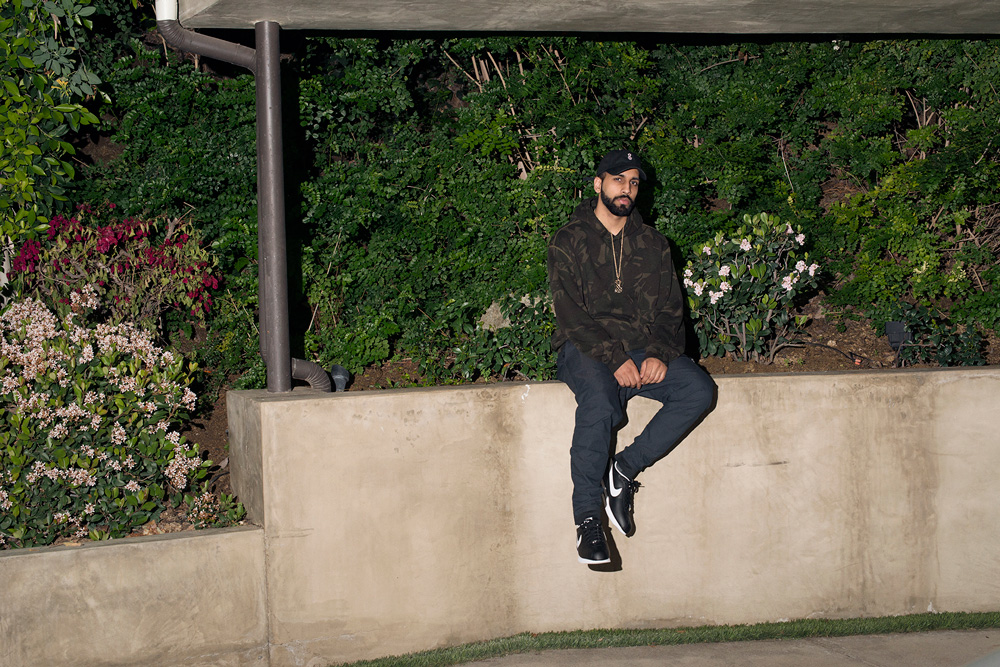 ZEEMUFFIN: Good finally getting to chat with you, Jake! First things first, tell us about your love affair with producing. Was music always a big part of your life?
JAEGEN: My initial plan was to do designing and shit. That's kind of what I was into first. Turns out this program [at Ryerson University] wasn't completely design. I'm just going to go through and finish it, I guess. In some senses, it was always a big part of my life because I would always listen to music, but it was in 2011 that I opened my mind more to different genres and got interested in the production aspect. I tried using [Fruity Loops] then, I did a few things, I think a couple rappers actually used my beats. I had no idea what I was doing, I was just making stuff that I thought sounded good. I just kinda quit after that. I picked it up [again] in early 2014 and that's cuz my friends wanted to make music and rap and shit and my boy had a mic in his apartment. So I'm like, I'll just make some beats and we can just fuck around. That's actually how I met [Ram]riddlz. We were both in the same program. We had all the same classes together in the first year and we used to record stupid shit for the hell of it.
Was Ram[riddlz] your first big break as a producer?
A lot of stuff I had with Riddlz was just for fun, before "Sweeterman" even. There were random beats I would just send him, and one day I sent him one and he was like, "Yo this one's hard." And that was the same day he found out that "Sweeterman" was getting remixed [by Drake]. So he's like, "Send some more beats," and I'm like, "Okay, why? What are you gonna do [with them]?" And he basically called me and said, "Yo we have to meet up in person ASAP." So the next day I went over and he told me everything and I'm just like, damn, I might as well put my all into this, switch up my styles even. And make something people could dance to, and help build our names together.
Speaking of the infamous "Drake Remix," some artists haven't taken well to them. Specifically, D.R.A.M. with the "Cha Cha Remix", which arguably became 2015's biggest hit: "Hotline Bling." Where do you stand on Drake's remixing of Internet hits?
Even though it caused controversy, [honestly] I've always been a fan of Drake. I don't necessarily see a problem with it. If he's inspired by something regardless, it's just flattering that someone like him would reach out and want to give his take on the track. Especially when the track "Sweeterman" was all for fun. Even when it was recorded it wasn't serious. We were just in the studio one night and got high and pretty much freestyled the whole track. It was all fun. There's way more to gain than to lose for something like that. Regardless, for up and coming artists, it gives them a look. People will notice. It's a matter of how you take that cosign and how you want to take the next step.
Staying on remixes. What happened with your official "Pillowtalk" remix for Zayn? I heard that they didn't credit you on the official release?
His A&R management team reached out to me via email. [They didn't credit me] because [Lil] Wayne hopped on it so I guess they didn't wanna double-credit it.
Damn, how did that make you feel? I would have been pissed.
[Laughs] I've had my time to be mad. I'm having my lawyer deal with it. I had to go hit up my Fader and Complex plugs to add me into [their official press release]. They didn't even give me a final MP3.
"EVEN THOUGH YOU CAN DO SOME CRAZY STUFF WITH SAMPLES, IT'S ALWAYS GOOD TO MAKE NEW FRESH SOUNDS THAT NOBODY HAS EVER HEARD BEFORE."
You seem very mellow about it.
[Laughs] I'm in Cali, I've been smoking all day. Honestly with this music shit, I always have a pessimistic view of it. Like in the back of my head I knew something was gonna fuck up. So I didn't put too many high expectations.
It's good that you didn't have high expectations, but it's sad that you sort of saw something coming. Big labels seem to shit on the little guys who are the real movers and shakers.
Exactly. It's classic shit. [Laughs] I don't even wanna listen to the song any more. I haven't even heard it in like 3 days.
You're a good sport. Back in Toronto, are there any artists you are super keen to work with?
There's a lot of people I want to work with, especially [in Toronto]. I work closely with another artist that I'm doing a whole EP for, his name is Travie. He actually had no music out, and the only stuff he has out right now was done by me. Other than that, there are artists that are establishing themselves and their sounds in Toronto, like SAFE and Lais. I'm trying to do some more things with them.
With people like Tory Lanez, Roy Woods and Riddlz, Toronto's young music scene is thriving. Or as some people like to call it, "The New Toronto." Tell us about that.
There are certain parts of [the scene] that seem competitive. For me, I feel like the collaborative side is more of what it is. Anyone I've wanted to work with, it's pretty much happened. It's nothing too difficult. It's also a pretty broad scene. It's not only Toronto, it's all the cities outside of it that make up the greater Toronto area. I don't think there are too many artists that are from Toronto, most of the producers I know are from outside of it.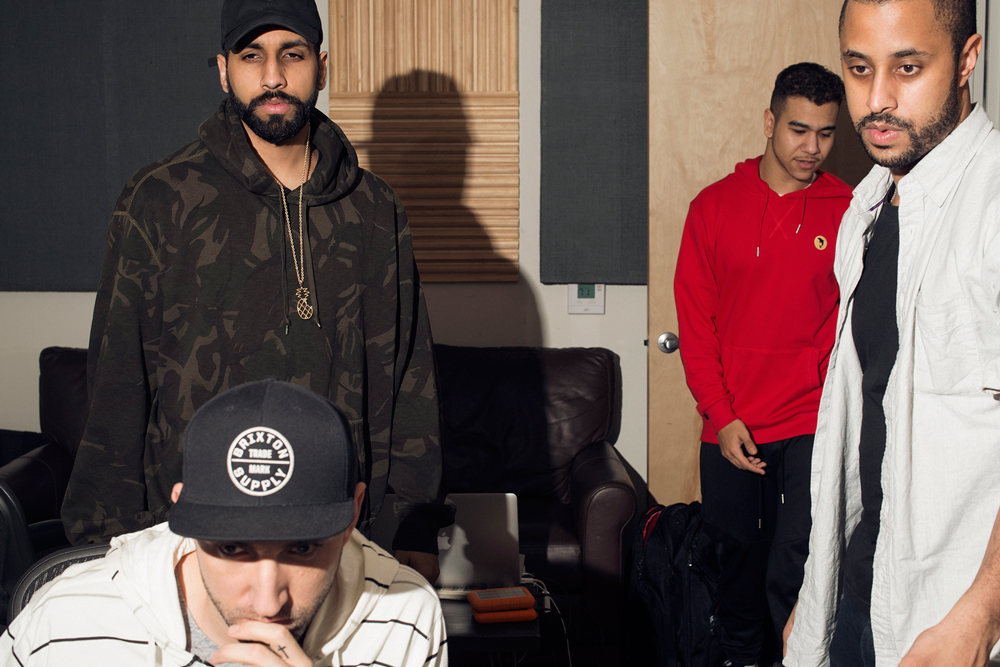 Jaegen and Ramriddlz in the studio, putting finishing touches on 
I feel that. So when it comes to your own work, are you more of a Mr. Solo Dolo or more collaborative? Describe your process.
It depends, sometimes I sit on [a beat] for days. Some beats took me less time than others and [some] got way better over time. There's some beats that I completely flipped that I did years ago. Recently I've been working with people in person, but usually I do everything alone at night. I do like to collaborate with people. I learn a lot, and they learn a lot. It's just fun to share knowledge. Even right now, I'm at a studio with my boys who produce, and we've been collaborating a lot the past few weeks.
I used to be heavily sample-based. Even though you can do some crazy stuff with samples, it's always good to make new fresh sounds that nobody has ever heard before. That's what I've been trying to do recently, ['cause] sometimes it also gets in the way if you want to get a placement. It takes a chunk out of your earnings too.
Zeemuffin's own TRAPISTAN mix of Jaegen-produced tracks.
I noticed on the latest track you co-produced for Ram[riddlz], "Hey Mr. RamRod," that it had a bit of an Arab influence with the vocal sounds. Toronto definitely seems like a blend of cultures. Do you take that into account when you produce?
Nowadays I'm doing more stuff that is kinda like Dancehall. And [dancehall] is kind of a big thing around here, or at least it was. There are a lot of Jamaican people in Toronto, that culture and vibe [is something] pretty much anybody can fuck with. There are a lot of cultures, so dancehall was a big one for us. That one track that Riddlz had with Nemesis that I produced, "Call Me," got a lot of positive feedback. We were just bringing back that dancehall wave now, or "futuristic dancehall," as they like to call it. Ram always listened to that kind of music and his sound is a combination of different languages and cultures. It's not even [just] Jamaican Patois slang, there's Arabic references in his music, Somali references. It's a mixture of everyone he hangs around with.
You're also part of that blend of cultures, being the son of Indian immigrants. I know the struggle of being from a traditional background. Do your parents support what you're doing?
Jeez. I mean, at first, not really. They still feel like it's all about work, 9-to-5 working your way up and not just building something. Just because it's traditional. For me, [producing is] what I enjoy doing, why not make a living out of it. They're coming around. My mom is pretty much already there. My dad's really into being a really hard worker. Not saying that this isn't hard work, but they don't [necessarily] see it hard work. Eventually they'll come around.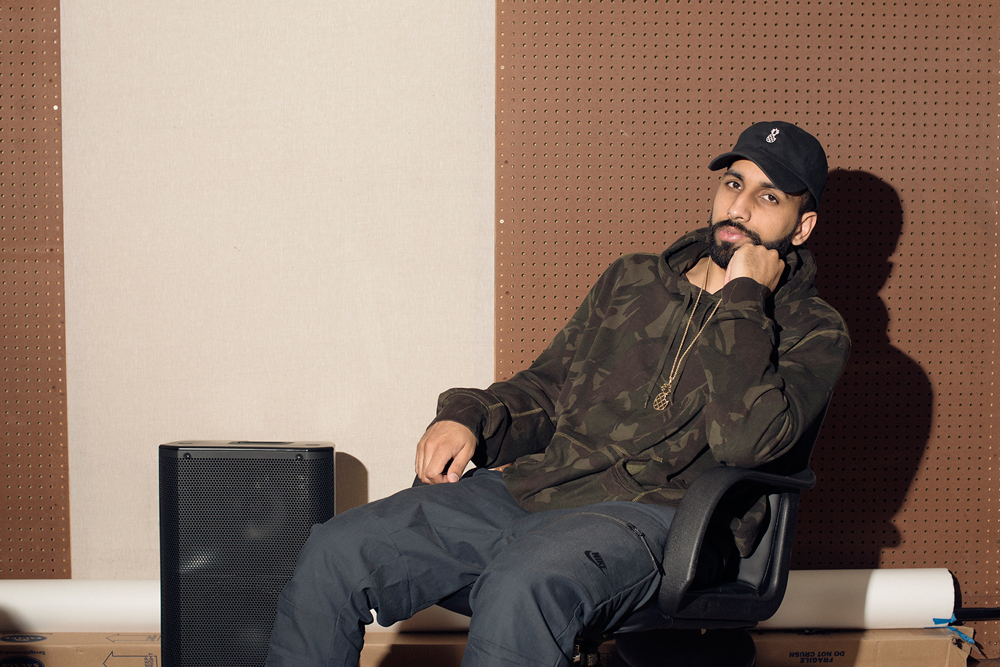 I feel that. So what's next for you? What can we expect?
Well for the most part, working on Ram[riddlz]'s EP, Sweet 16. Other than that, just working with artists that I fuck with. [Also] going to L.A. [again to] link up with my other producer friends out there, and expand my sound to different parts of the world.
Last but definitely not least, what's your advice to someone who is at a crossroads of making music their career or staying on a more stable path?
I've been still kind of at that crossroads, most parts leading towards producing. If you're going to do something, you're going to put your foot into it first, but eventually you're going to have to take the full leap. Sometimes it's just a matter of risk management and calculation. I would say, be sure of yourself, but at the same time, you could think your stuff is really good, and it's not. Or you think your stuff is really bad, when it's amazing. It's a matter of having the right people around you who will not only encourage you, but guide you and show you where you can go with your sound. It's also not completely doing the same thing and trying something different—something you're not comfortable with.
***
Follow Jaegen on Soundcloud at soundcloud.com/jaegen. Ramriddlz's Sweet 16 EP drops soon.
Photography by Nathanael Turner.