Two weekends ago, I went to Night Gallery for Karl Haendel's show UNWINDING UNBOXING, UNBENDING UNCOCKING. I was hesitant to go and was pretty much expecting to just drink fancy beer surrounded by some pretty art. I'm sure that sounds terrible, but honestly Night Gallery is now something of an institution and therefore not as accessible or exciting for me. In the end, I was persuaded to drive to the downtown space and was subsequently reminded why it is touted as one of the best places to see young artists in L.A.
I first noticed everyone was standing in what looked like sand pits at a new age playground. The floor was divided into browns, yellows, pinks, and blues with confetti-like scraps of each scattered across the warehouse floor. I'm a sucker for play and all things that bring me back to childhood, and I was immediately tempted to jump into all these pits (perhaps thanks also to the beer). Each section was, in fact, filled with some dried good – lentils, split peas, brown rice, packing peanuts, etc. – and each was walled by large colored panels. The panels contained oddly framed, highly detailed pencil drawings of women doing yoga. I felt like I'd stepped into a deconstructed Whole Foods.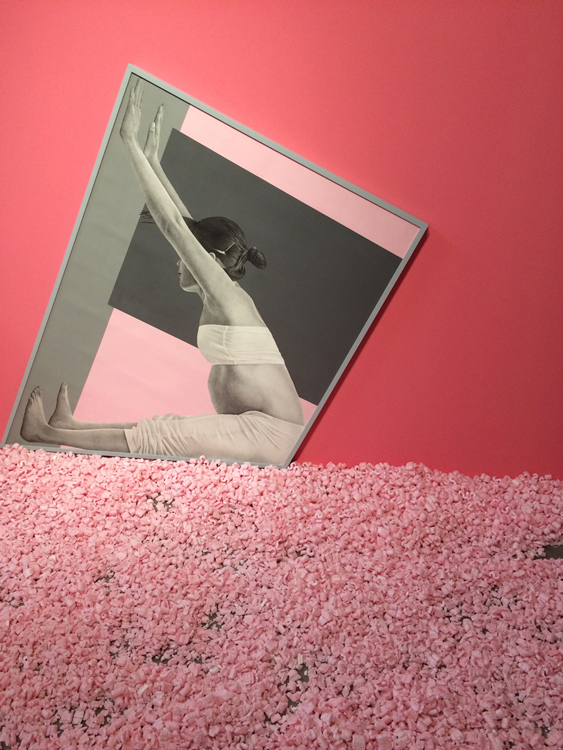 The show is called UNWINDING UNBOXING, UNBENDING UNCOCKING. Each verb reminding me of the promised spiritual release of a good yoga session or the promised spiritual release of opening a new package. The show suddenly seemed to be a wonderful examination of L.A. and what I like to call it's "mucho namaste" culture. Stock images of fit women that I've seen around the city on juice cleanse, lounging at yoga places were imported into the cultural sphere, floored by things like brown rice or packing peanuts – which recall the strange superficial joy of the commodity.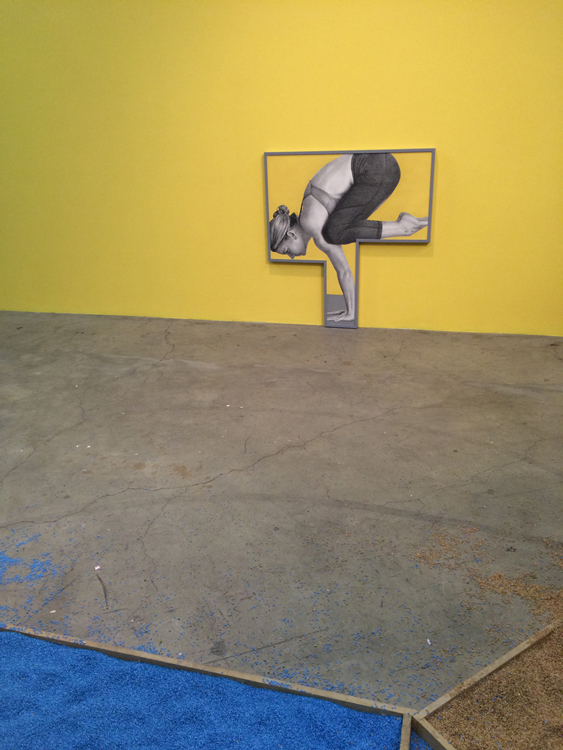 These works dominated the room, but after spending time wandering the maze of giant yoga moms, I noticed blocks covered with drawings and vinyl stickers of various objects and symbols. Staring at each, there seemed to be no correlation – each contained an astrological sign and three other completely disparate goods (a butt plug, a tampon, a pace maker, Beloved by Toni Morison). Each box contained a poem of objects, read like a strange astrological reading. I immediately sought out my own like I would in a horoscope column and found "Virgo, vape, strap-on, tampon" lightly scratched in a corner of the box. In the banality and apparent nonsense of these words, I began searching for relevance to myself. "That's totally me," I found myself thinking. Just like my horoscope, I somehow found a way to apply some vague meaning to my own life and identity.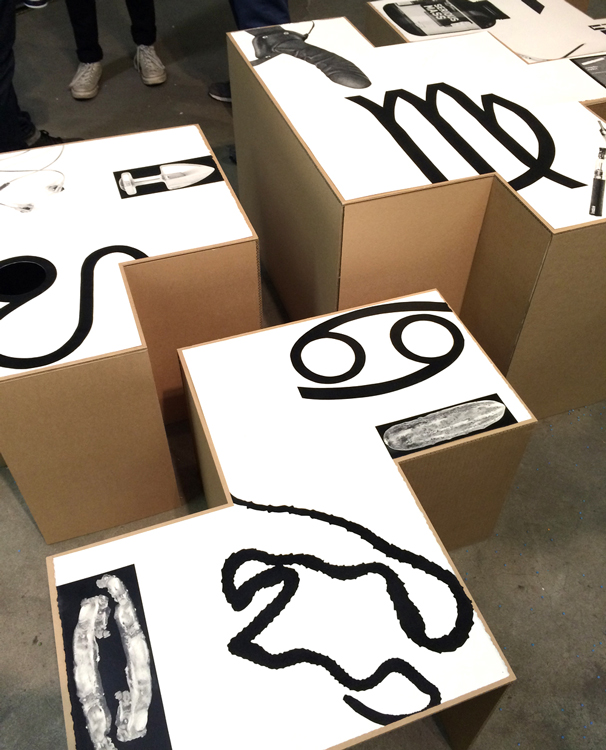 I think that was the most exciting part of the show. I couldn't stop myself from running to each cube and reading the poems. The emptiness of the symbols is the funniest thing, but I was thinking about something I'd always kind of wanted to leave behind in critical theory classes. These boxes so perfectly communicate the way we use objects to construct our identities and the strange phenomenon of unboxing videos. Haendel captures the strange idea of buying who you are, filling the existential holes with arbitrary symbols for purchase.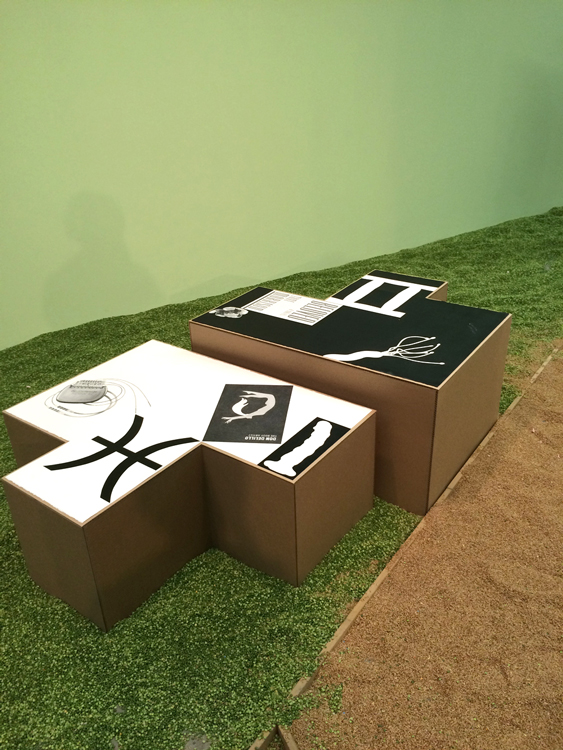 I haven't seen work that so articulately and joyfully represents contemporary life. That this show is in L.A. makes it even better. I really love it when art seems to fit so perfectly into the culture that is displaying it. Haendel's work made me feel like I understood L.A. better than I ever have before, and it made me strangely happy to be here.
::
UNWINDING UNBOXING, UNBENDING UNCOCKING will be on display at Night Gallery through April 4.