There's good, then there's Greats. You might know the brand from seeing your friends sporting their signature Bab or Royale models – both made of premium Italian leather.
The fledgling sneaker brand attempted to disrupt the entire landscape of the footwear industry with its "online-preferred" business model when it came onto the scene in 2013. That is opting to cut out the middleman, the big shot retailers, and selling items on their own terms with both their E-commerce and M-commerce platforms. Cutting out retailers equates to lower prices for consumers and the ability to control the sales and marketing for a product, which is a win-win for both Greats and consumers.
In its 18 months, the line, co-founded by ex-K-Swiss executive Ryan Babenzien and Jon Buscemi of Gourmet, has had an explosion of sales. Having once sold out their stock in under 90 days, Greats boasts celebrity fans from the likes of Kevin Durant to Ellen Degeneres, and has had collaborations with brands like Parabellum, Orley, Nick Wooster, and an upcoming one with Kerby Jean-Raymond of Pyer Moss.
Below, we sat down with Babenzien, who gave us a candid account of his success, his upbringing with only a brother and a single mother, and his ambitious plans of taking over market share from Nike.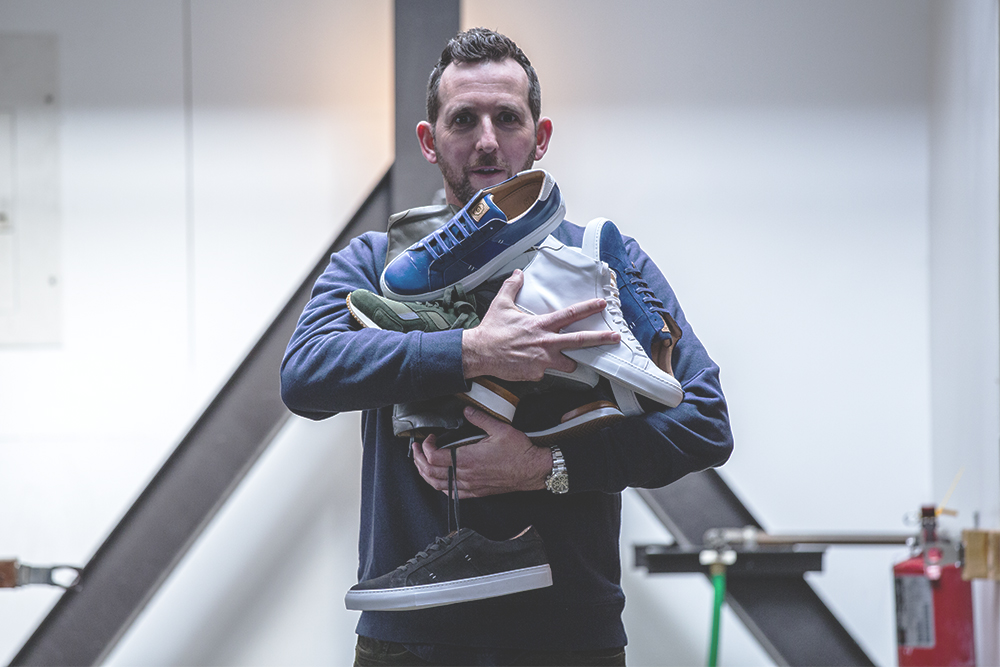 DAVID YI: You've gotten so much attention since you launched, and now, I see so many people sporting your shoes here in New York. Tell me about the online-preferred business model.
RYAN BABENZIEN: Nobody had ever done it – the online preferred. The first company to start online was Zappos, and it paved the way for everyone else. People were comfortable shopping shoes online for years, but no one did it for shoes from a brand perspective.
It seems so risky to have delved into a new footwear brand going against titans in the industry.
It's a risk. It's a risk every day, even if we've proven some level of scale 18 months later. But without risk, there's no reward.
There are only two companies who have a hold of the market. Nike, which owns the Jordan brand and Converse; and adidas, which now owns Reebok. Among those five brands, that's who owns the better part of the business. When Nike launched in 1973, adidas and Puma owned 90 percent of the market. Ten years later, Nike has the biggest part of the brand. Disruption happens and technology helps disrupt. I'm not saying we're not a tech brand, but we benefit with tech. Mobile and social helped us. Today, our mobile traffic has a lot of people buying. Forty percent of our entire sales come from m-commerce. Last week, we launched a shoe and 52 percent came from mobile. We've never seen that kind of jump. So our ability to disrupt the industry without having to rely on the industry is our advantage.
How did you launch the brand?
We went from an idea that we [along with Buscemi] had in our heads, and we took seven meetings and we took money from four. We had a number we wanted, and with the last guy, we said, "Sorry, we're out." We both quit our jobs and we set a ridiculous calendar for April. We closed it April 13 and launched it. It was super intense. We launched in August with two shoes and three colors each, so six SKUs. That first day we were late. We said we'd be up by noon, but it didn't go up until 1:30. It didn't take American Express. We weren't ready to launch, but press went out. That first day we sold a shoe every 90 seconds until 10 o'clock. Then we were like, "Wow, we have a business."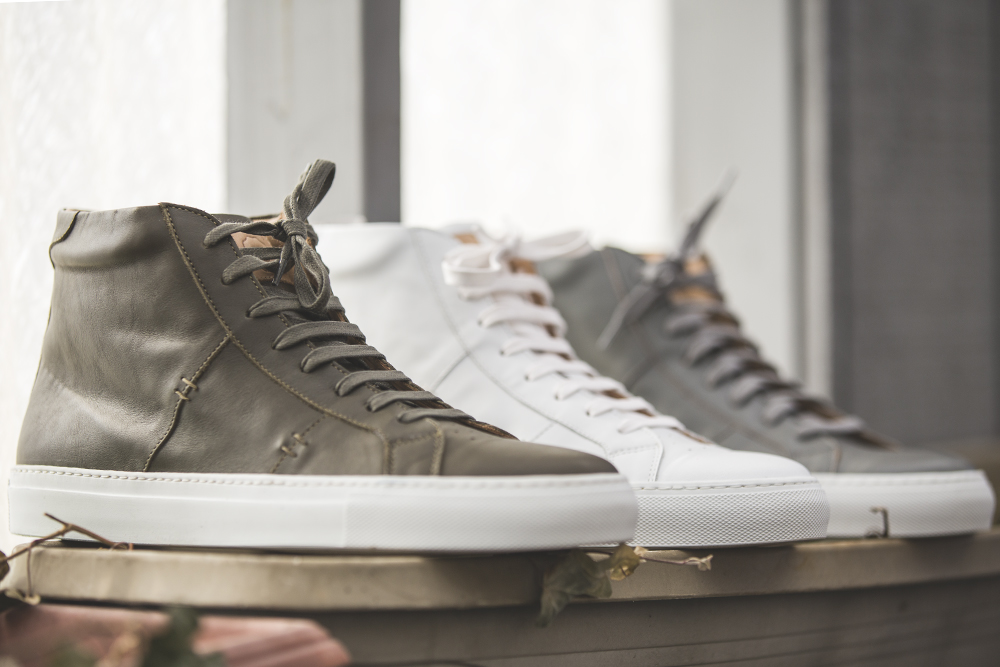 The Royale Hi.
Was there a conscious effort in creating all the press and interest before launching?
We had 10,000 followers on Instagram, which was a lot. Started posting in May, and then by August we had 10,000. Press was involved, social was involved, and we got influencers involved. There are no accidents. I'm not saying we don't get lucky sometimes – we do. Kevin Durant saw one of our shoes and was like, "Can you make me a size 18?" We created the luck. It was the tactics that made the luck, but it's still luck. Kevin Durant could have not called.
Why did you decide to cut out the middleman and retailers?
We just felt that that was a very competitive market. It's broken and dated. You don't need the big box retailers to scare your business. It's hard to get in there too, because the big guys are controlling it. That's what made us consider this model. The great thing is that customers save money. It's a greater product for less.
You worked in Los Angeles and lived there for years and years. Why did you decide to launch the brand in Williamsburg?
I was living with Santa Monica, I had a great life – my life was fantastic. If I didn't move here, I wasn't giving an extra thing that's necessary for the company. It's going to benefit more from being here. Brooklyn, specifically Williamsburg, has become a curator for global style. You're coming to Williamsburg for food and style. New York is where the industry is.
"WE CREATED THE LUCK."
What were you doing in L.A.?
I had many jobs when I first moved there years ago. I was working on Wall Street after graduating from Fordham with an economics major. It was a place fit for me – competitive, full of alpha males, the pace. But I'm not going to lie, I hated it and you couldn't pay me enough fucking money to do it. So I packed and moved to L.A. I went out there with no money, didn't know anyone in California. I paid six months in advance for studios. I didn't have a car, I took a bus. I then took a used motorcycle, and then, for six months, scraped up enough money to buy a Nissan Sentra. I took a bus for six months. I remember looking at the car – one had a CD player and one had AC. I picked the one with the CD player. I got my first job by hustling. I'd apply and I'd call every other day.
Then what did you do?
I worked in Hollywood. I was an agent, then manager for actors. And being a manager is entrepreneurial in spirit. It's like, "Should I put them in an endorsement deal or a drink commercial?" It's interesting to take an actor and brand them. I learned how to build a brand. I eventually went to K-Swiss.
Tell me about that time there and what you accomplished.
At K-Swiss, I did the Undefeated collaborations, which was a brand that wasn't even on their radar. And the Billy Reid collaboration, that's still at J. Crew.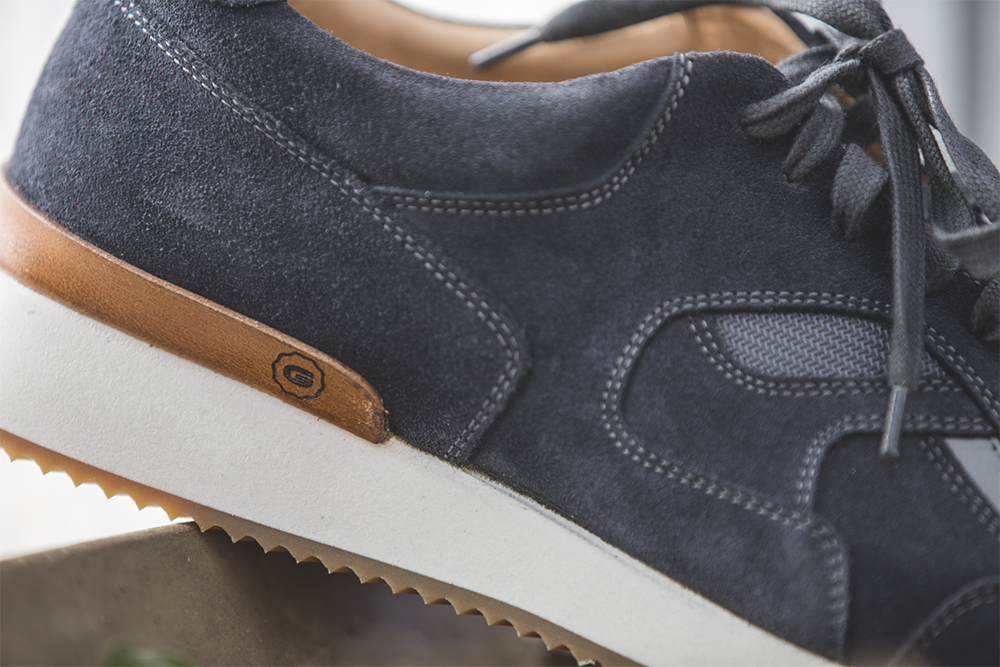 What advice do you have for those who want to do what you do and are young and have entrepreneurial aspirations?
You're going to be told "no" literally every day. No, you can't do this. No, you can't do that. Your job as an entrepreneur is to change red lights into green lights. There's no one way to do that, but that's how you win. You just gotta keep doing it. Everyday's going to be different. Ultimately, you gotta keep driving and driving. Work really hard and never get up – it doesn't matter if you're 20, 30, 40 years old.
What's a common misconception about you?
It's funny. I did a Hypebeast Essentials piece because I like watches and I have a few. I laid out some watches and then the comments on Hypebeast are always haters. Pure fucking haters. Kids were like, "He's a fucking rich kid who's coasting off his brother from Supreme [Brendon]." Some kid, in his mind, has made up, in his life, that I'm somebody who came from something. First of all, my brother is my younger brother. My brother and I came from a single mom – we didn't come from shit. Here's life, it can crush you into the ground or get ahead. No one's going to give it to [you].
Tell me about that time in your life and your upbringing.
I haven't talked to my father since I was 18. They got divorced when I was 8. When I was 18, I was like, "I'm not asking you to pay for my education, I'm taking out loans, etc. But I would love if you could give me some beer money or movies. A couple hundreds of dollars a month." And he was like, "I can't do that." He had the means, but he didn't want to. I was like, "Yo, your dad, my grandfather paid for your undergrad, your masters, bought you a car. I'm asking for a couple hundred dollars to help me in college and you can't do that? That means you're not a parent and there's no reason that I need to fucking talk to you again." My dad was like, "Okay, if that's how you feel, fine." Ultimately, people always look at the party and your success, but they don't know how it happened. It's fucking hard work.
Is that an aspect of your drive?
I think I was shaped before that. But also my mother. My mother was fantastic. Without her, I'd be in jail or dead. My mom made up for my dad not being there. Support, focus, love. My mom was my role model growing up and my friends.
But it also comes from my sports background. I played everything – lacrosse and football are team sports. I was BMX, surf, skate. I played sports at a high level and these single guy sports that I was super passionate about. I think competition [is in] everything I do and how I do my company, there's always a reference to sport.
Like, Michael Jordan didn't make his JV team! He got cut from his JV team, then he became the best fucking player in the world. How do you motivate yourself? He needed to be cut to become the best in the world. If you look at great athletes, it's about their intensity, ability to focus, and blindness to win.
Greats is a great athlete. We were the best player in high school. Then we went to get recruited in college. But we're with everyone who's great. We need to constantly work harder to get into the next level. And we will.
::
Keep up with Greats' latest at Greats.com and on Instagram at @greatsbrand.