A somewhat disappointed female fan I briefly stood next to while exiting the Hollywood Bowl last Friday night started her concert review with, "I can appreciate the artistry, but..." I didn't hear the rest of her thoughts but I could guess how the sentence ended because I assumed a majority of the 25,000 other attendees who filled the historical venue expected the same finale medley, filled with greatest hits from the man of the hour, Kanye West. Fans yearned for fun tracks they could connect with and dance to, even though it was billed as the first time he'd perform his cult classic, and most artistic, album, 808s & Heartbreak in its entirety. Listen, I can understand where she was coming from. I would've loved to hear "Monster" or "Through The Wire" or "All Day" too, but the bigger question is: When witnessing the work of rap's most polarizing personality, why do we expect to know what's about to happen? Because I doubt even he knows at this point.
This was a month after he hijacked the VMA stage to ramble incoherently and eventually announce his 2020 presidential run—like that was a normal closing line. It was weeks after his Season 2 runway show for a fashion line that only makes sense to wear if you're about to be picked for the Hunger Games, and a day after he took the stage at a private Verizon corporate event for reportedly $1,000,000, only to ask the company to completely fill the stage with smoke to hide his presence before he began performing. He's one Elephant Man's bones story away from really becoming the King of Pop. And much like we did with MJ, we let it slide because honestly, Yeezus is the most quality consistent—and entertaining—figure in modern day music. So when I saw someone hanging her head while walking out of a concert that literally had the word "heartbreak" in the title, I had to ask, "What did you think was going to happen?"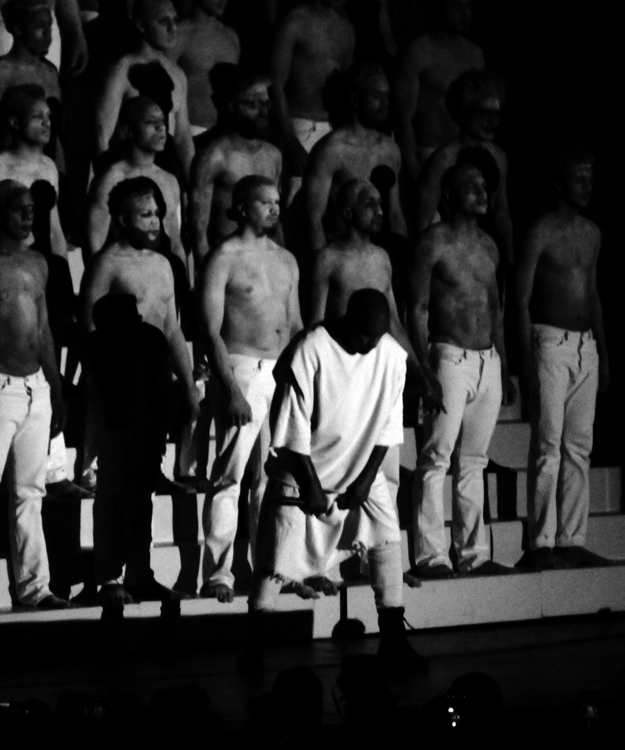 The songs from 808s & Heartbreak, which are as influenced by Depeche Mode and The Cure as they are hip-hop or R&B, are deeply personal, and so weighted in emotion that a world arena tour would never have seemed to make sense. But for two nights in Los Angeles (he would perform the same show Saturday), that logic would be defied and Kanye's dream could come true. We would share his vision for his least commercial album and that's all we'd see. Since Kanye never toured for this album—inspired by his own loneliness and depression after a break-up and the unexpected death of his mother—this performance was more like a moment for Kanye than an experience for the fans.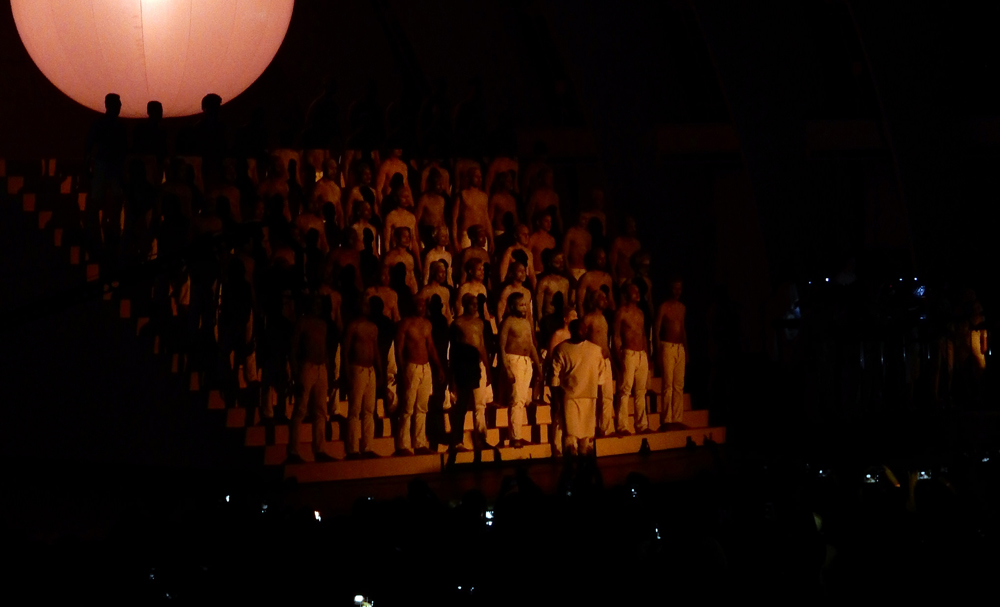 When the stage show started and robe-wearing cult members and a barely-dressed woman covered in gold paint took the stage, we all should've realized we weren't hearing "Gold Digger" that night. All wearing the same outfit, like the coolest Heaven's Gate cult ever, a full orchestra and band flanked the stage to play the album's first track, "Say You Will." Kanye stood with his underlings, almost unnoticed amongst the set-up, and sang with the signature Auto-Tune treatment that defined the entire album. It wasn't until the end of the song that Kanye was shown on the Bowl's big screens, finally making the audience aware of his presence and differentiating him from the extras.
The cult shifted, the golden women squirmed, and Kid Cudi, also dressed like a homeless kid in Les Miserables, joined Kanye for their track together, and one of my favorite songs from the album, "Welcome to Heartbreak." Where Kanye remained unsure of his voice and almost undetectable at times, Cudi reveled in the moment, energetic and sounding great. Cudi even created the night's only laugh when, during a break between songs—a common silent occurrence all night long where no one moved on stage for almost a minute—he started to do the Running Man, almost acknowledging the audience's question of "What's going on here?" Where Cudi seemed at ease and ready for his cameo, Kanye had to walk backstage to find Young Jeezy, who barely made, or remembered, his part in "Amazing," and for good reason: it's his birthday this week and he seemed drunk.
But Kanye still seemed happy. You could only imagine he had been waiting for this opportunity for quite some time. A large glowing globe hung above the stage and a rotating grandstand that could be pushed around to transform into different shapes took up a majority of the available space. Dozens of shirtless men, covered in ash, would fill the stairs, but eventually walk into the audience, where most fans took smiling selfies with them. Fireworks went off for almost every song. I could hear Kanye's money manager crunching the numbers. The fourth song could've easily been the finale as repeated explosions filled the air, and deep down Kanye may wish that were the case.
From this point on, he was plagued by technical issues and a bit of rust, which seemed inevitable after it was leaked later that Kanye missed his rehearsal earlier in the day, a fact he would hint at after forgetting the words to "See You In My Nightmares." "Best dress rehearsal I ever had," Kanye joked, forgetting everyone paid to see the performance he was now minimizing. But to me, a few snafus and some confusion seemed on brand for this album: his most vulnerable attempt at music yet.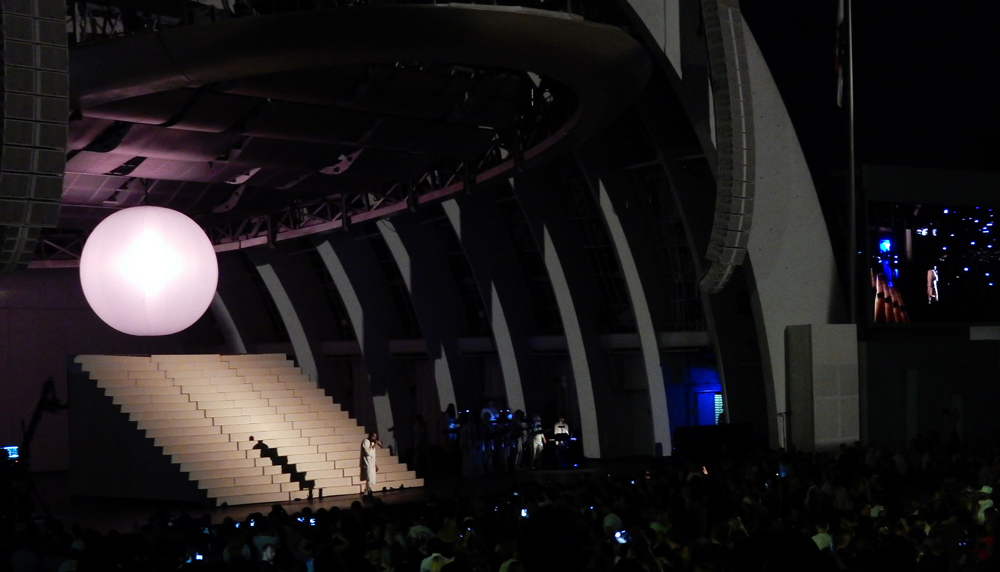 Mr. Hudson joined him for "Paranoid" while Cudi weaved in and out like a well-oiled basketball drill to help. We'd only hear Lil' Wayne's voice (the sole guest from the album who couldn't make it) and eventually see a man lay down on a center stage bed while West watched on, sad from an above stair. The show was somewhere between an ancient Greek play and a fashion show Zoolander would be in. And as if that wasn't enough, foam snow was shot from canons around the amphitheater for "Coldest Winter" and Kanye performed the album's bonus track, the insanely personal "Pinocchio Story," wearing a full body burlap mummy suit that resembled a terrifying scarecrow, an attack dog trainer, or Oogie Boogie from The Nightmare Before Christmas. Kanye repeated the haunting lyric "I just wanna be a real boy," and somehow in the burlap get-up, it echoed even sadder. In contrast, however, he followed up the emo lyric "You'll never figure out real love" with a freestyled "I feel so much love tonight!" to the standing Bowl crowd. Then he muttered the album title and stumbled off stage like a robot breaking down.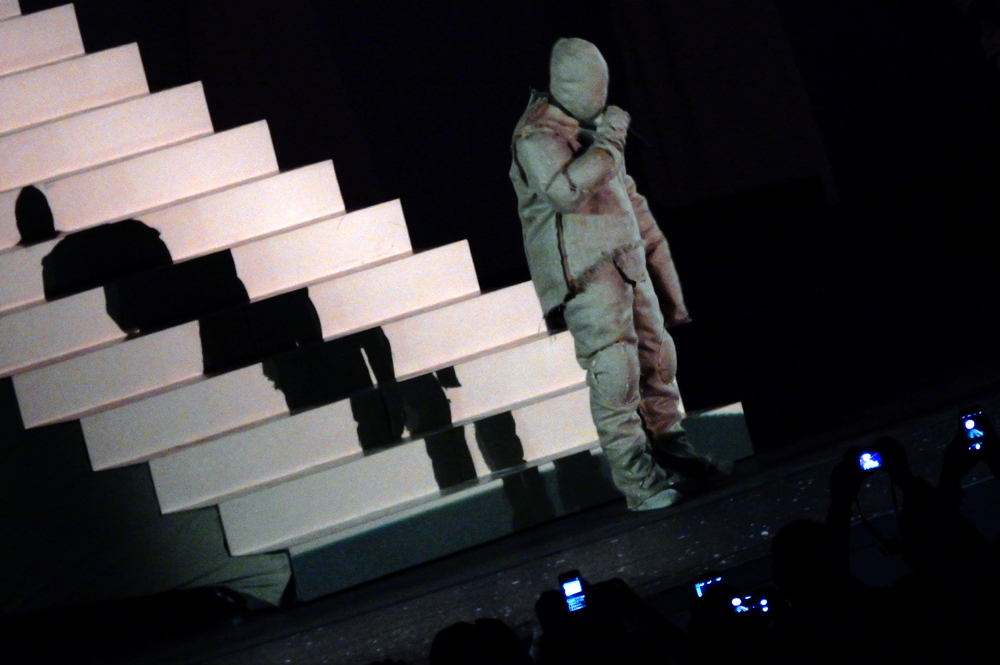 You could feel the expectations from the audience—each member who paid an upwards of $400 for their seat, hoping to hear the bass line to "Stronger" or the keyboard strikes from "Runaway." The show lasted a little over an hour without any openers or elongated instrumental pieces, so if a fan had to hire a babysitter for the night, they were getting off easy. And just like that, the orchestra, band, and over 150 background performers bowed, only to be joined by Kanye raising his hands above his head like the Pope blessing his followers this past week in New York. House lights up. Show over.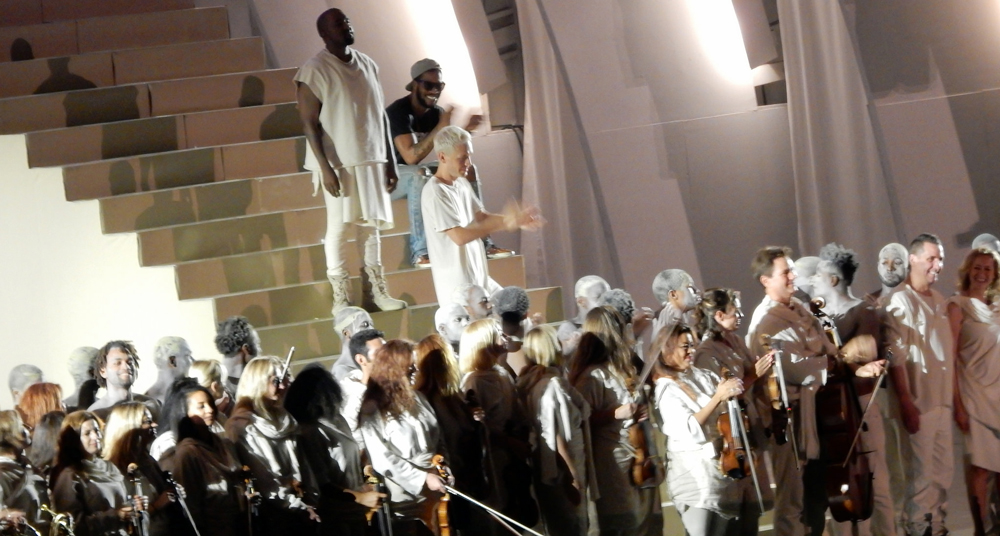 In the end, Kanye West rented the Hollywood Bowl to perform an album he never got the chance to explore. I'm sure if you asked him, he'd say the ashy men, the golden goddess, the foam snow, the wedge bed—they were always in his mind when producing the album. This was the plan he wasn't able to follow. And now he did. Whether or not you enjoyed the concert solely rests in your opinion of 808s & Heartbreaks and what you expect from Kanye West. As his career progresses and we have to wait endlessly for Swish, I have a feeling your opinions, or even presence, are going to mean less and less to the icon. On one hand you have to respect the man's art and drive to create it, no matter the response or success. On the other hand, you're going to dearly miss the accessibility. It's another dichotomy for the most contradicting figure in hip-hop history. So next time you're contemplating buying a ticket to see Kanye perform, remember, he's giving you what he wants you to see, and that's it. Nothing else. So keep your head high, walk to your car, and be thankful we have him at all.
***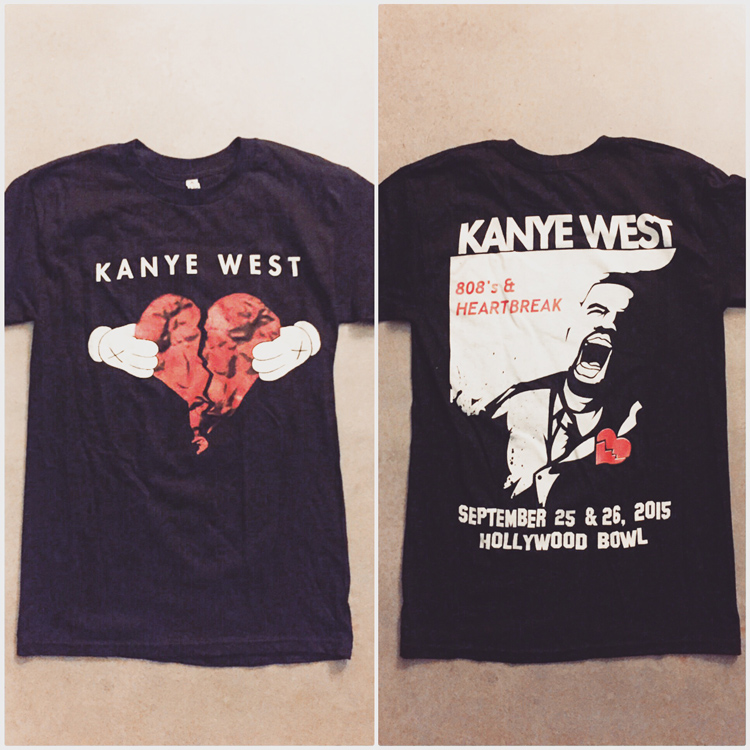 One thing I had no qualms with: this perfect bootleg shirt I bought outside the Bowl for only $9. No one tell KAWS.
***
Photos by Justin Santos.