When The Hundreds asked me to write about my favorite RSWD memory, so many thoughts came to mind. I spent a lot of my formative years on that block, listening to cARTer preach street sermons, watching Nak skate an 8″ board at 10 years old, hiding from T1000, laughing at Gomez's stories about the time before us and just overall shooting the shit. We were living The Porch Life—a California tradition. RSWD was our sanctuary from the BS and a home away from home. During that time, I saw and learned a lot from how to run a business to how to roll a joint. I'm very appreciative for what Bobby and Ben built. Something has to be said for their ability to inject a sense of community into their business. From the rappers to the photographers, and despite our beefs and fall outs, we all felt apart of a family. No other brand in Streetwear can say they built the same.
My greatest RSWD memory is a story that has never been publicly told: the making of CDC. "CDC"—as in Casey Veggies, Dom Kennedy and cARTer—was a seminal track not only for those 3 artists but for the entire West Coast street culture scene. The super group that never was crafted an underground hit that would be played at sneaker conventions, collaboration release parties, and Agenda showrooms for many years to come. Thinking back, it's amazing to remember that this track was recorded on the very block that birthed modern day Streetwear.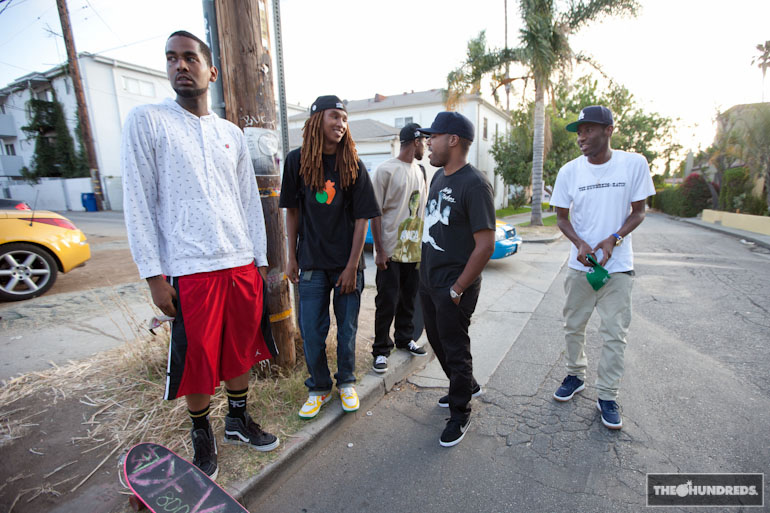 The crew on RSWD in 2011.
I recently read a story that said Mickey Factz was the first rapper rapping about Japanese Denim and Nike Trainers; if that is true, Dom Kennedy was the first rapper talking about APC denim and Jordan 1s. Before we had the new leaders of the West such as YG and Kendrick Lamar, Dom Kennedy was our spokesman with laid-back rhymes about keeping it player and keeping it West Coast. I became a fan in high school around the same time I started managing Casey Veggies. I really appreciated the fact that he repped Leimert Park, a historically famous neighborhood in LA that was under-represented in the current state of Hip-Hop. Dom and his team were big fans of Casey Veggies and the young energy that our brand Peas and Carrots brought to the game.
"RSWD was our sanctuary from the BS and a home away from home."
We got in touch with Dom through mutual friends and his manager Archie Davis. A few weeks prior to the recording of the song "CDC," Anwar Carrots and I accompanied Casey to Dom's RSWD studio/office to meet with Archie sans Dom. Archie had an opportunity for Casey to be apart of a new freestyle series on DJBooth.com. He decided to go in over the Timbaland and Magoo classic, "Indian Flute." Anwar and I settled in for a long night, while Archie played engineer and recorded the session. About an hour later, Casey Veggies had finished his verse, absolutely ripping the beat. At the time, it was honestly one of my favorite verses I had heard from the kid. About a week later, I hit Archie to check when the DJBooth feature would run and it told me that somehow the session had been deleted and lost. It sucked—but shit happens.
After that experience, Archie ended up inviting us by again to kick it and vibe out with him and Dom. He had just received a batch of beats from a producer by the name of Hit-Boy. A little-known fact is that the original beat for "Niggaz In Paris" was in this batch and made around the same time. I remember thinking how all of the snares, synths, and drums sounded like something out of a futuristic industrial revolution. No music out at the time had the same sound or feel. From "CDC" to "Niggaz In Paris," you could tell Hit-Boy had found his groove and was on his way to becoming a superstar producer.
I don't remember where the idea for the back and forth verses came from, but CV finished his verse first and hopped right into the booth. With his first verse, he would go on to birth his catchphrase to this day: "Aww man." His verse was a snapshot of the LA scene for us at the time from his references to the Santa Monica sand dunes to dirty macking at the function and wearing Nike Destroyer letterman jackets. Dom followed up with one of his better verses, giving male rap fans a tip that is ever relevant today: "Never let your girlfriend kick it with no rappers."
CV's second verse will always hold a special place in my heart. He was speaking for the entire PNCINTL crew, who were the young kids thugging through an old man's industry. The claps in the beat were steroids for Young Veggies, and turned him into a lyrical monster. He denounced Jerk Music, which was the mainstream California sound of the time, compared himself to the voice of the Los Angeles Lakers Chick Hearn, and threw in a sly shout out to Lil B with the 30,000 line. After he left the booth from recording that verse, we all knew we were in the presence of a future Hip-Hop star.
"[Casey Veggies] was speaking for the entire PNCINTL crew, who were the young kids thugging through an old man's industry."
My most fondest memory behind the song is one of the most skipped parts of the record. After CV set the booth on fire with his third verse, Dom called cARTer by the studio to hear what they were cooking up. As soon as he heard the beat, cARTer went crazy asking if he could throw a verse on it. I remember Anwar and I awkwardly being silent, hoping he wouldn't ask again. But cARTer is a persistent person and he bogarted his way on the track. He hurriedly wrote a verse to tack on to the end. If you notice, when he comes on to the song he says: "Niggas tried to play me on this." No one tried to play him, we were just in search of a true West Coast collaboration between two bubbling lyricist. In the end, I'm glad he jumped on it because it played into the RSWD ethos of being inclusive of all.
CDC still lives on today. Even though I no longer work with the artist who created it, I always let it play when it comes on shuffle. One of my favorite memories of the song is seeing Dom and Casey perform it in New York City at the legendary SOB's. The usually off-putting NYC crowd welcomed the West Coast natives with open arms. Once the beat dropped, the crowd went wild, rapping the song bar for bar. I had never seen that type of energy in a building for two unsigned artists. I vividly remember a female fan screaming while climbing on the shoulders of her friend and exposing her breast as CV ripped his second verse. Two LA natives in the middle of New York City in the dead of winter. It was truly a moment, courtesy of RSWD.
***
This month marks The Hundreds' 10th year on the block—RSWD10—and will be throwing the RSWD10 Photo Show tonight on RSWD from 7-10pm.