Each year, the NBA chooses a city to gather their best and brightest for the weekend-long party known as NBA All Star Weekend. The event is full of basketball, parties, after parties, special events, exclusive sneaker releases, and various sorts of debauchery. I'm guessing about that last part, but I mean… C'mon, it was in New Orleans. For years, All Star Weekend has been a reason for players to rest their bodies, ease away from their on court duties, and celebrate their love of the game with festivities built around all things hoops. For some reason—or many reasons, actually—the All Star Game and its accompanying weekend has seen its popularity waning.
This year's All Star Weekend was a testament to that. The Skills Challenge was one of the more interesting events, and saying that hurts deep down in my soul. It's partly a bummer, but also speaks to how fun it is watching seven footers like Kristaps Porzingis race against guards and WIN (he truly is a unicorn). The Three Point Shootout was the same ol' thing it is every year. Eric Gordon won, but that's only because somebody had to, right? The Celebrity game was lacking when it came to celebrities and/or decent hoopers. A few actors, a few owners, a couple internet famous kids, Nick Cannon, and the dude who can ball from Arcade Fire? No thanks. The Dunk Contest was mediocre at best. Zach Lavine was sorely missed and Aaron Gordon sorely missed (three or four times). All of these weekend woes contribute to the downfall of the NBA's (formerly) most popular weekend. I'm here to investigate the decline in hype, and offer some suggestions to get the crowd pumped again.
The Celebrity Game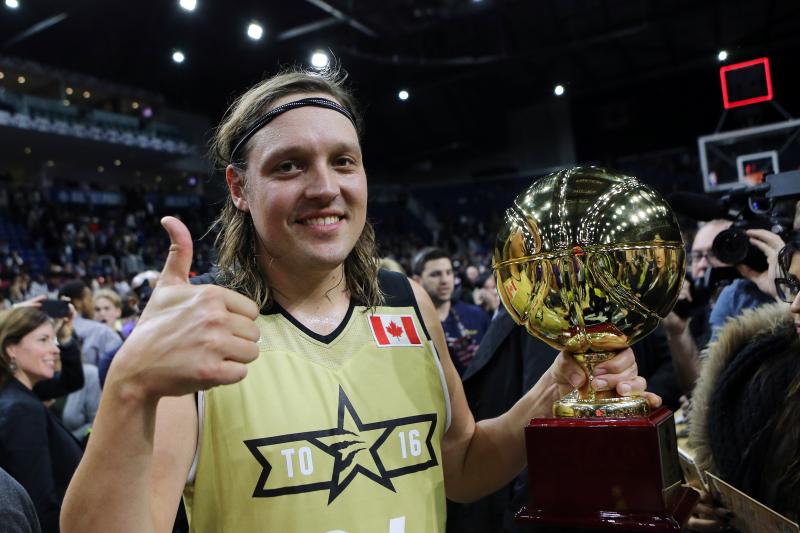 ESPN analyst Bomani Jones put it best on Twitter, "celebrity games: stretching the definition of "celebrity" for decades." That may seem a bit harsh, but really—I didn't know half the people involved this year. The event's first problem is that they need bigger names. The NBA aims for a "Rock N Jock" style game with rosters comprised of popular celebs from movies, music, and more, mixed with current and former athletes—but they're so bad at it that the squads end up full of people no one cares about (or KNOWS about).
celebrity games: stretching the definition of "celebrity" for decades.
— El Flaco (@bomani_jones) February 18, 2017