Each year, the NBA chooses a city to gather their best and brightest for the weekend-long party known as NBA All Star Weekend. The event is full of basketball, parties, after parties, special events, exclusive sneaker releases, and various sorts of debauchery. I'm guessing about that last part, but I mean… C'mon, it was in New Orleans. For years, All Star Weekend has been a reason for players to rest their bodies, ease away from their on court duties, and celebrate their love of the game with festivities built around all things hoops. For some reason—or many reasons, actually—the All Star Game and its accompanying weekend has seen its popularity waning.
This year's All Star Weekend was a testament to that. The Skills Challenge was one of the more interesting events, and saying that hurts deep down in my soul. It's partly a bummer, but also speaks to how fun it is watching seven footers like Kristaps Porzingis race against guards and WIN (he truly is a unicorn). The Three Point Shootout was the same ol' thing it is every year. Eric Gordon won, but that's only because somebody had to, right? The Celebrity game was lacking when it came to celebrities and/or decent hoopers. A few actors, a few owners, a couple internet famous kids, Nick Cannon, and the dude who can ball from Arcade Fire? No thanks. The Dunk Contest was mediocre at best. Zach Lavine was sorely missed and Aaron Gordon sorely missed (three or four times). All of these weekend woes contribute to the downfall of the NBA's (formerly) most popular weekend. I'm here to investigate the decline in hype, and offer some suggestions to get the crowd pumped again.
The Celebrity Game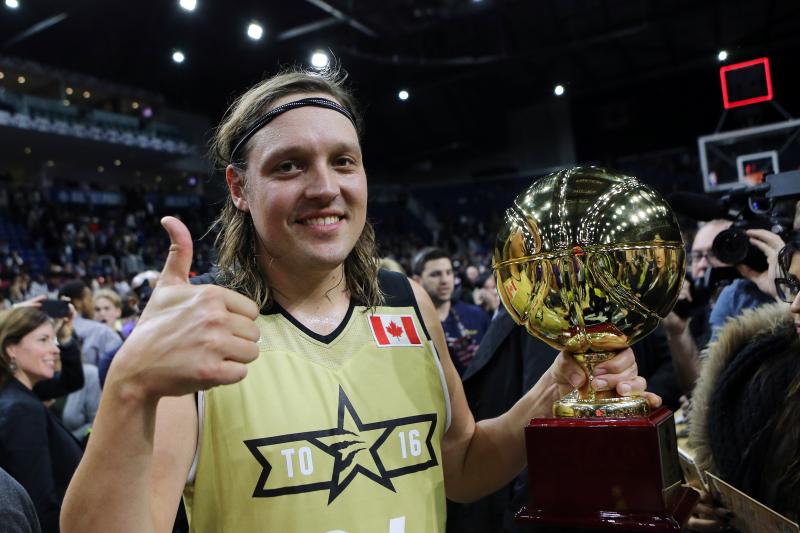 ESPN analyst Bomani Jones put it best on Twitter, "celebrity games: stretching the definition of "celebrity" for decades." That may seem a bit harsh, but really—I didn't know half the people involved this year. The event's first problem is that they need bigger names. The NBA aims for a "Rock N Jock" style game with rosters comprised of popular celebs from movies, music, and more, mixed with current and former athletes—but they're so bad at it that the squads end up full of people no one cares about (or KNOWS about).
celebrity games: stretching the definition of "celebrity" for decades.
— El Flaco (@bomani_jones) February 18, 2017
Their second problem is that the games end up boring, because there's too few actually decent players on the court. The names are one thing, but the talent is important too. Anthony Mackie was out there making it pretty clear that there's no indoor gym at Avengers HQ. You mean to tell me that Kevin Hart and What'sHisName from Arcade Fire are the only guys you can find that ACTUALLY play basketball? Next year, All Star Weekend is going to be held in Los Angeles, so my hopes are high that the event will set the gold standard for Celebrity Games. The event will literally be held in the mecca of celebritydom, and LA is also a town known for producing talented basketball players. The Game and 2Chainz should be playing. They're celebs who actually know how to hoop. Ice Cube is a huge hoops fan. Past and present Lakers and Sparks players can get involved. Get a charity involved (which will be a sentiment I suggest for every event) and make people want to make money for a good cause. To me, this is an easy event that the league should be getting right every year, but a good opportunity for a strong reset is popping up next year in LA. Bigger names, better ballers… Problem solved.
The Three Point Shootout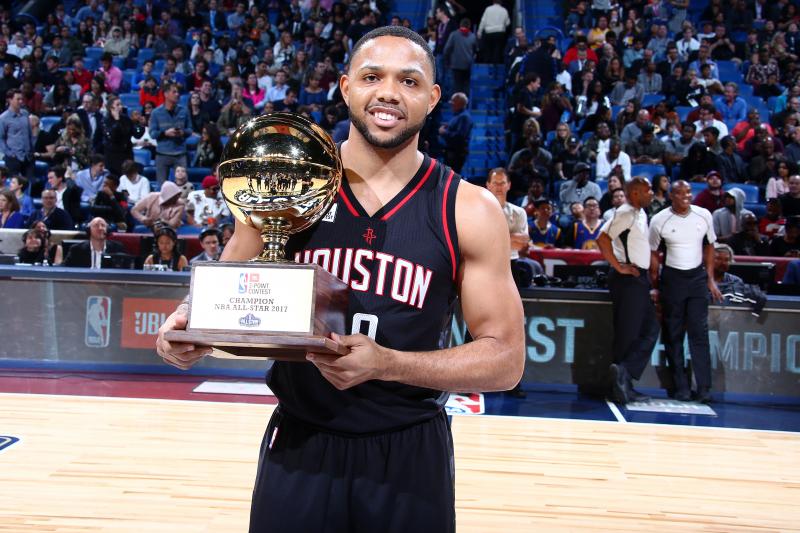 The situation with the three point contest is a bit more difficult because there's nothing inherently wrong with the event or talent, but sometimes it can just be so uneventful. More often than not, the guy who's the best shooter shows everyone that he is indeed the best shooter. This year, that didn't happen. Klay Thompson was probably the best in the lineup and he didn't make it to the final round. I'd spice up the competition with a more heated setup. Put the contestants against each other in sudden death style rounds where the loser has to then spend a year in the D-League. May be a bit much, but at least no one will take it lightly. The NBA and Reggie Miller tried to add some heart and generosity to the event by having a shootout in which random players (and DJ Khaled?) could shoot to make money for Craig Sager's cancer research fund, and that was as much fun to watch as the contest while adding some inspiration and heartfelt motivation to the weekend's festivities. The weekend needed more moments like that throughout. For the most part, everything felt stale and boring, while the heartfelt stuff stood out. NBA, take note.
The Dunk Contest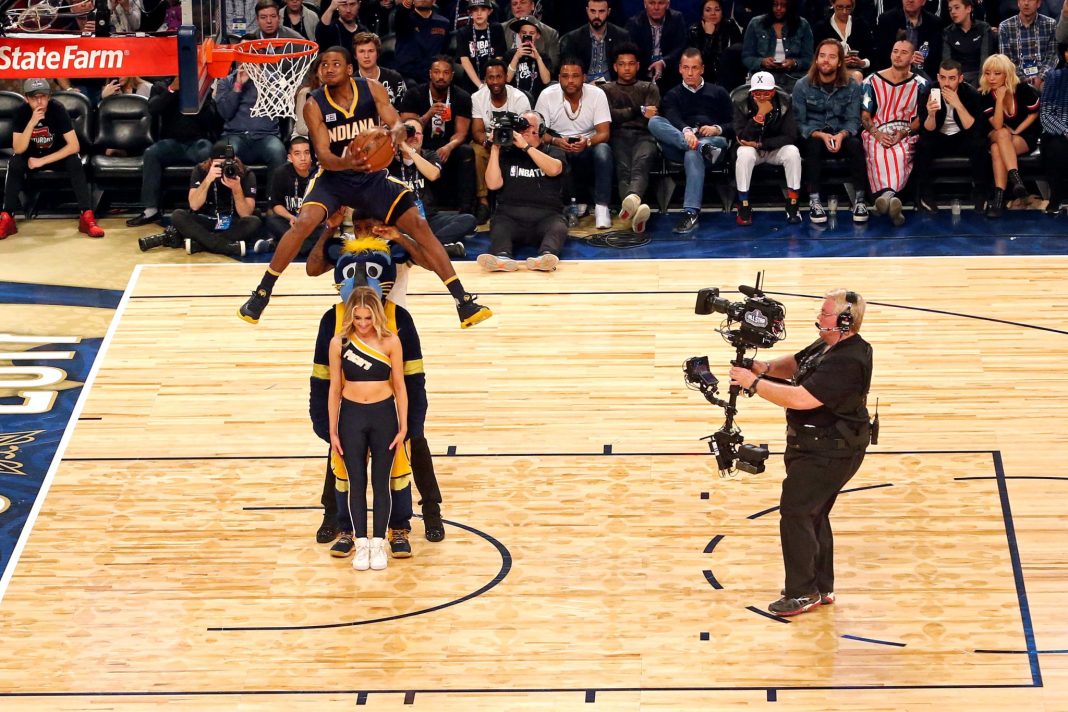 Saturday night holds the make or break event of the weekend: The Dunk Contest. This event almost always decides how people look back on the weekend. This year will not go down favorably in the world of sports as it was one of the weaker dunk contests in recent memory. Its weakness was made worse by the fact that last year's contest was possibly one of the best of all time. After a handful of stale contests, hope was revitalized last year by Zach Lavine and Aaron Gordon's two man dunktopia, but this year's contest fell way short. The league needs to tighten things back up. Lose the goofy props, for one. The most popular dunk contests in NBA history are (arguably) Jordan's battle with Dominique Wilkins and Vince Carter's standoff with Steve Francis. Know how many props were used in those competitions? None. They came down to athleticism and creativity. The NBA needs to set rules that challenge the athletes to deliver their best performance. The dunkers shouldn't be hindered by the rules, but there needs to be something in place that sets a standard and drives the competition. One contestant this year received an 8 for a MISSED dunk. That can't happen.
Aaron Gordon's drone dunk—which wouldn't have been that cool on its first try±took four attempts. It should've been dead after the third, but Intel had to get the payoff on its sponsorship. Again, charity involvement incentivizes players to get out and go hard. No one wants to come out and compete because there's nothing driving the competition anymore. Bragging rights aren't enough in a day and age when no one wants to get hurt or be embarrassed on social media. Make competing worthwhile to the athletes and the competition will be worthwhile to the fans. The Dunk Contest needs some rules, some set standards of scoring, some incentive, and athletes willing to create and compete.
The All Star Game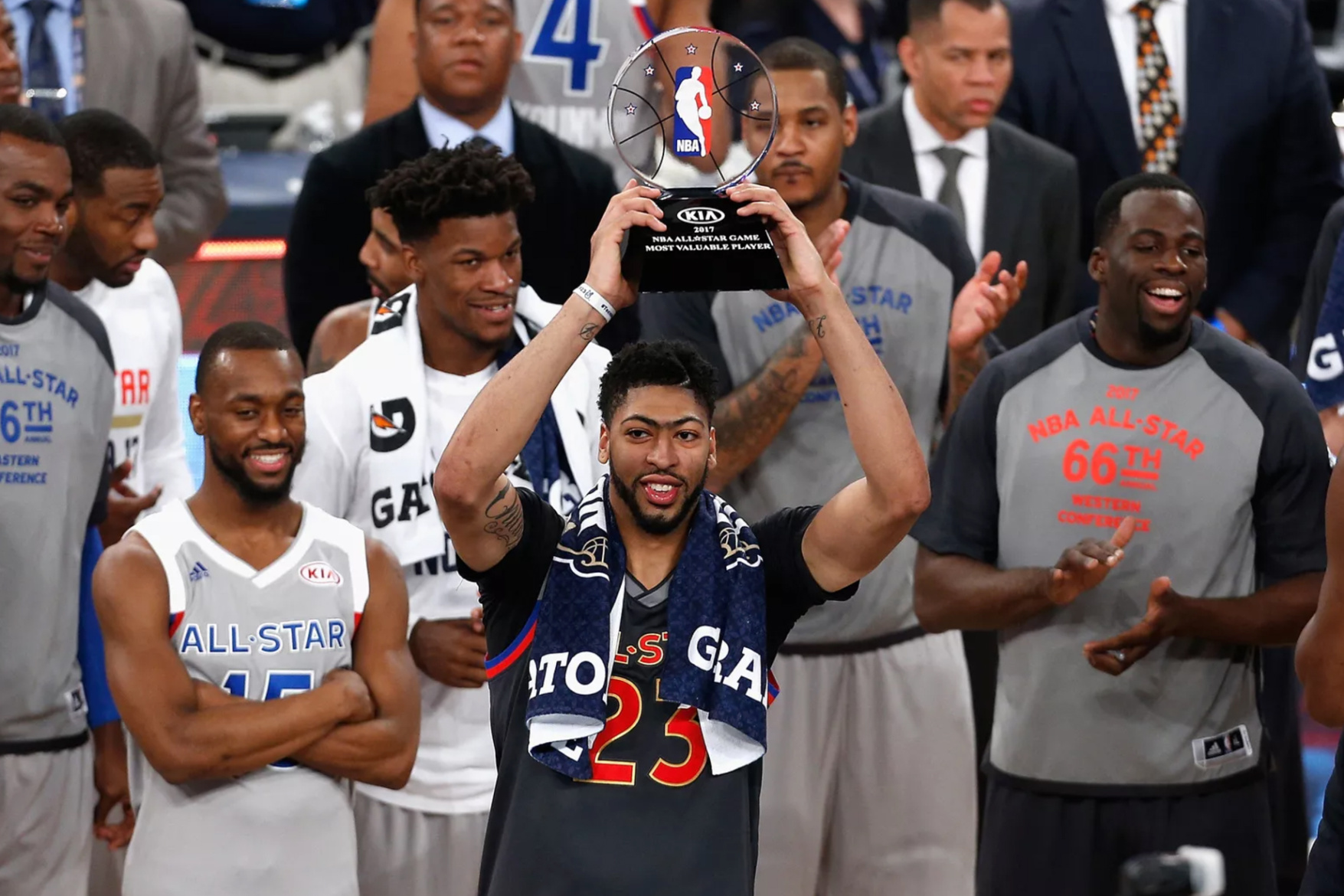 Unlike some basketball fans, I didn't have a problem with this year's ASG. Many were critical of its lack of defense and loose competition, but to me this game isn't about that. These athletes leave it all on the floor all year during regular season and playoff games. I don't need to see them killing themselves or each other in a game that doesn't matter. I'd rather see monstrous dunks, tricky passes, insane shots—elite level players just enjoying the game and having fun. Sure, it would be nice to see the ten best guys in the league get split up and really go at each other, but it doesn't need to be in the All Star Game. Let them and the fans enjoy the fruits of their labor. The All Star Game isn't the part of All Star Weekend that needs work. It's the build up of the other days and events that need some fresh ideas. The Lakers just refreshed the powers that be in their organization, so maybe them and the NBA can do the same for All Star Weekend when it hits Hollywood next year. Myself and many other hoops fans are hoping so.
***