There's never been anyone quite like Jimmy Briggs. He lived everyday to the fullest and inspired us with what Five calls a "smile like a new gold chain." It was like his very heart was made of gold. We've been shaking our heads in disbelief that our friend is gone. From Rancho to Delistatus to RSWD, Jimmy left a legacy of friendship, loyalty, and a true love for skateboarding, music, and his brothers. We will live more fully in remembrance of the one who did it best.
The Hundreds will be throwing a 5iveday at RSWD today from 1-6pm to raise money for Jimmy's family, and there will be a special exhibit for him at our #RSWD10 photo show after from 7-10pm.
We asked a few of Jimmy's friends from Delistatus, RSWD, and Bobby Hundreds to share some words about him below. Rest in peace, friend. Jimm Briggs Forever.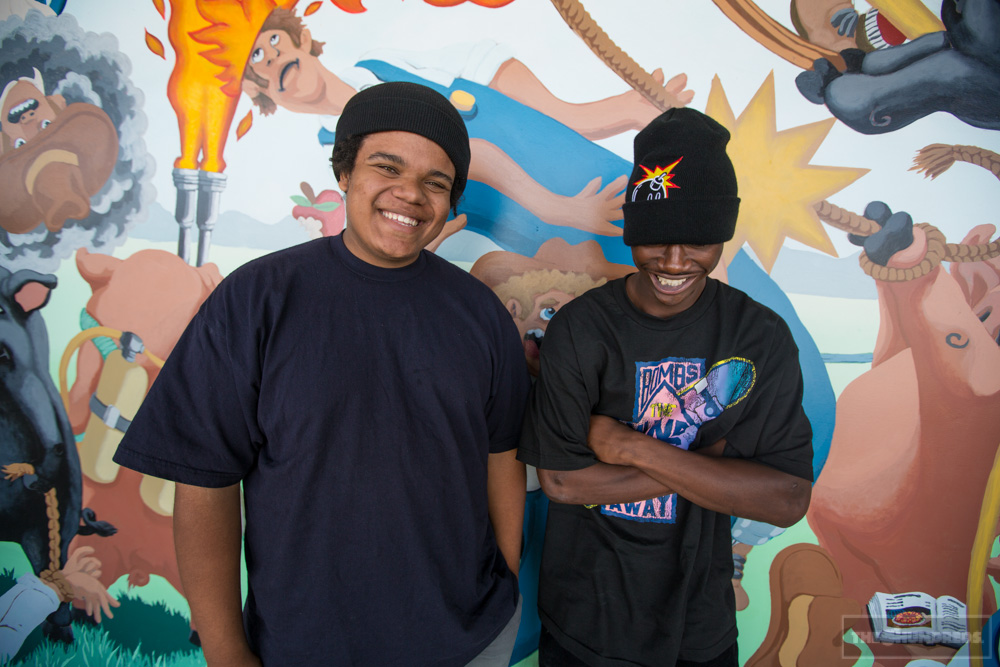 Ryan Rigsby and Jimmy Briggs at The Hundreds Homebase in 2013.
Ryan Rigsby: There's not another JIMMY BRIGGS anywhere else out there and there never will be again. Throughout the time we spent together I learned that there really truly is no one else out there like you. Even if it was you completely acting a fool I've always admired your passion for living it up. You made the best out of every moment and you never let anything get you down, you just kept it pushing.. I can't even put into words how unfortunate it is to see you go like this, but I'm honored to have been able to spend the past years with you and watch you really make an impact on kids from all over with your skating and one-of-a-kind personality. #LongLiveJimmBriggs through the stories, memories, photos, videos, music, inside jokes, quotes and the whole legacy of @jimmbriggs that you left behind. Rest in peace man I'll never forget that day you had me hit that U-turn on Crenshaw and you hopped out with 0% hesitation and saved that random kid from getting jumped by like 10 guys… You didn't even wait around for the kid to say thank you lmao …that's a real hero.