Jordy van den Nieuwendijk is a Dutch illustrator, designer, and artist based in the Netherlands. He studied at the renowned Royal Academy of Art in The Hague and has worked with clients such as Lacoste, Le Monde, Converse, and many others. Jordy mixes his highly personal style, full of nerve and excitement, with his colorful world of illustrative tension to effectively pinpoint the essence of what he is trying to express in a few specific gestures.
His job is to visually translate an essence, an idea, an object, or a person into an easily recognizable form using mainly primary colors. It is no vague representation. Jordy, through his illustrations, is being as accurate and close to his subject matter, while remaining abstract and playful. He seems to be very confident when manipulating lines and forms. This way, he achieves a balance in his client-based work and his own artistic activity – each one feeding off the other, keeping things interesting for him as well as for us through an exchange of style and representations. His latest exhibition has extended from the paper and canvas to mirrors, rugs, and stacked boards – opening up his idea of what constitutes a "frame."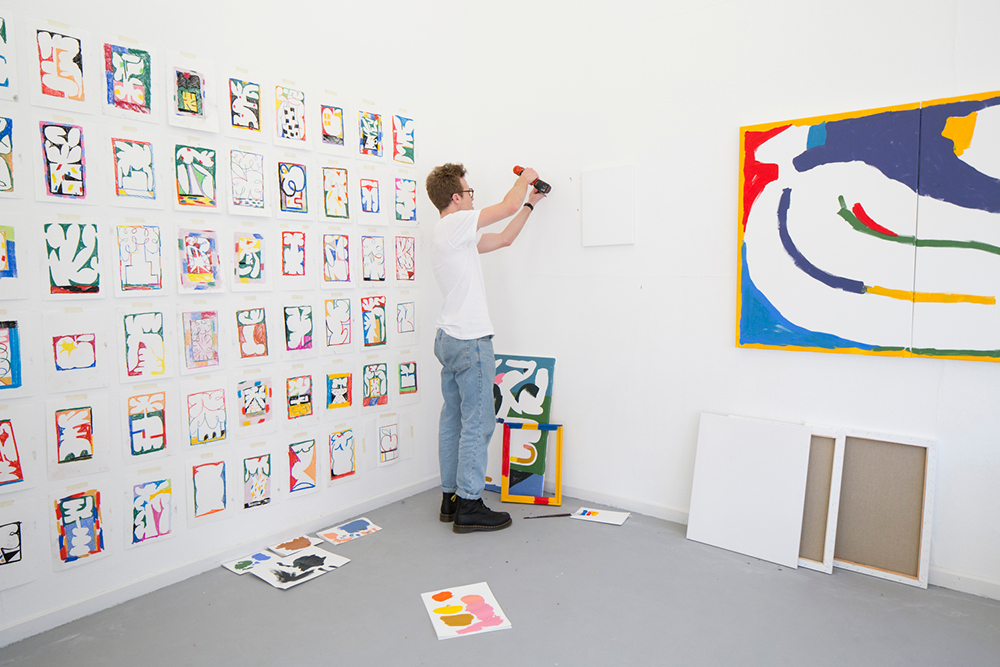 TASOS & MARINA: What inspires you?
JORDY VAN DEN NIEUWENDIJK: The Internet inspires me madly. Can't get enough of it. In the real world, I enjoy visiting museums. The works of Hockney, Picasso, Matisse, Lupertz, Hodgkin, Bogart, Gorchov are currently floating my boat. For the purpose of study, research, and inspiration, I try to archive all the works I enjoy on a Tumblr page at www.librarty.net.
How do you separate your time between creating artwork for yourself and for clients?
This is where I go nuts – I really don't. As much as I enjoy drawing lines, I do not really draw one between client work and autonomous work. I wish I could, but I can't. It's all a lot of fun and I work on all of it all the time. Mostly at night. I find it interesting how my client work inspires paintings, and how I get commissioned for my painting style by clients lately.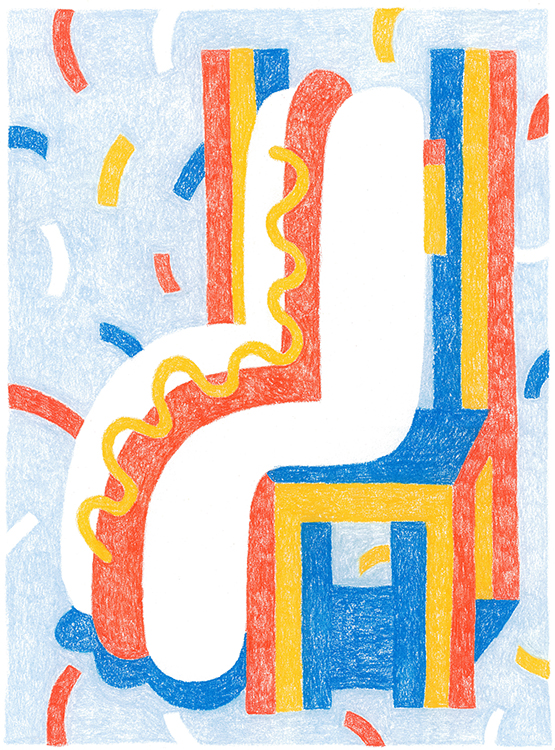 "THE INTERNET INSPIRES ME MADLY."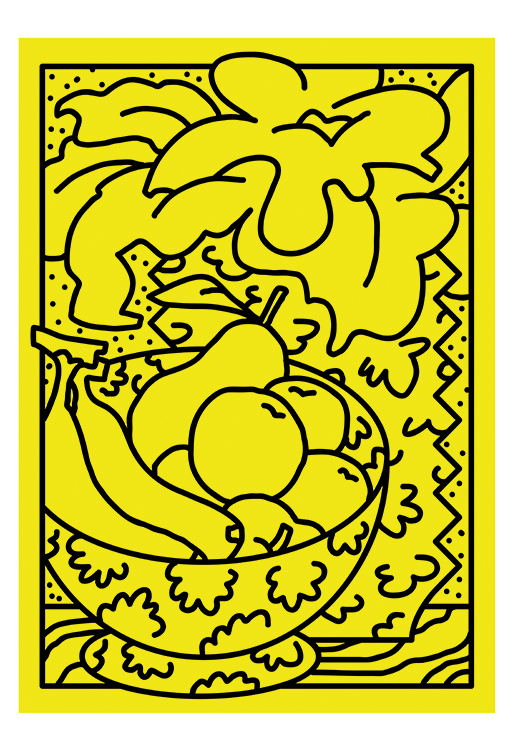 There is a long tradition in Dutch graphic design – how much has this influenced you?
There certainly is, and although I was not a part of this, I must admit I have a proud expression on my face at the moment. I look at the work of the old Dutch veterans a lot and as I came across it many times during my studies — it's hard to escape from it — I am sure it must have influenced my work here and there.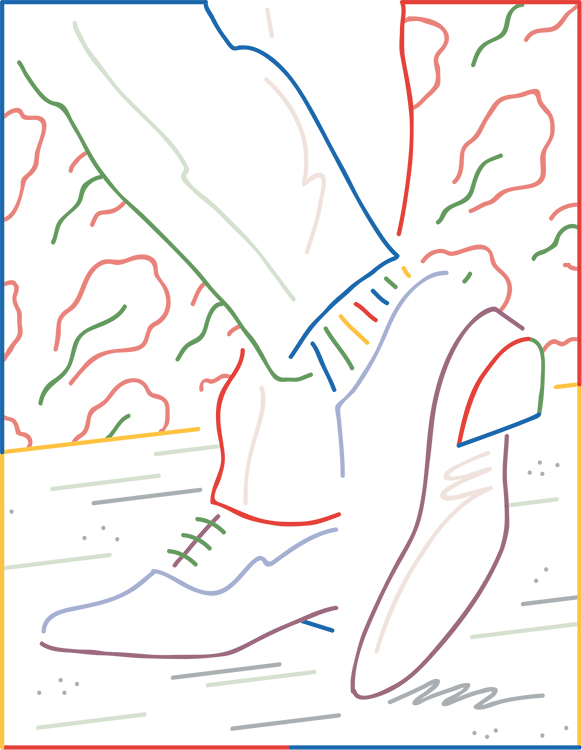 How much did you draw as a child?
I am still drawing as a child, does that answer anything?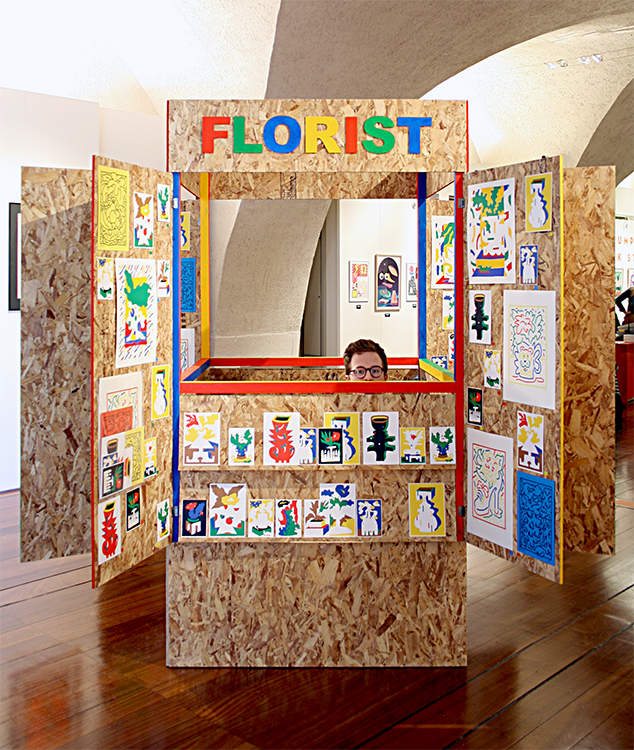 Can you tell us a little bit about your latest solo exhibition "WET!" at Moiety Gallery in New York?
The exhibition in NY is a continuation from my paintings of all things plant and flora related. It's an obsession and I am taking pills and having injections for it. (Really? a quote from Notting Hill? My goodness!) As I worked closely together with Joshua from Moiety, the gallery in Williamsburg, we ended up talking about my work a lot. This resulted in rugs, neon-framed paintings, screenprints on mirrors, and planty (see what I did there?) of classic paintings with the colored frames I can't seem to get enough from.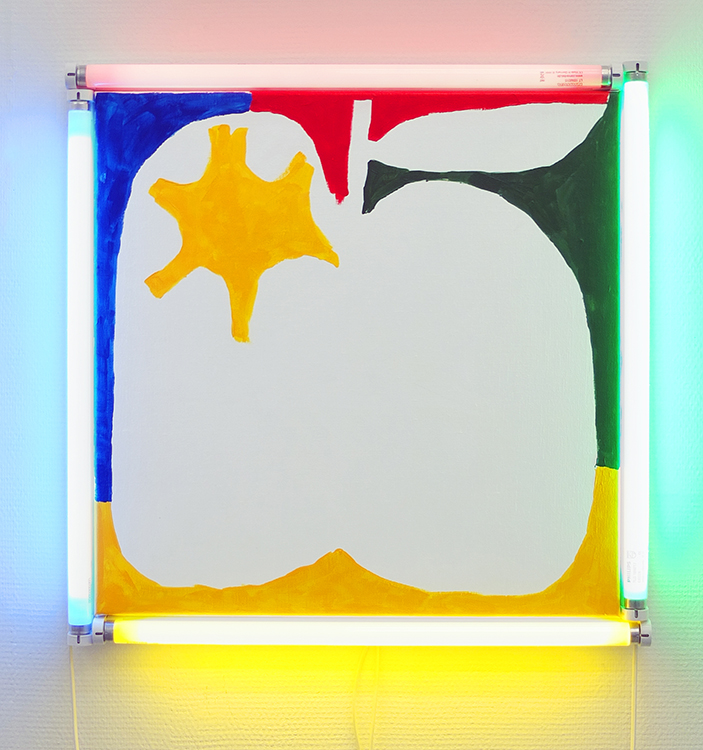 "I WORK FAST – LIKE TO GO AND GO AND GO AND SEE WHAT HAPPENS."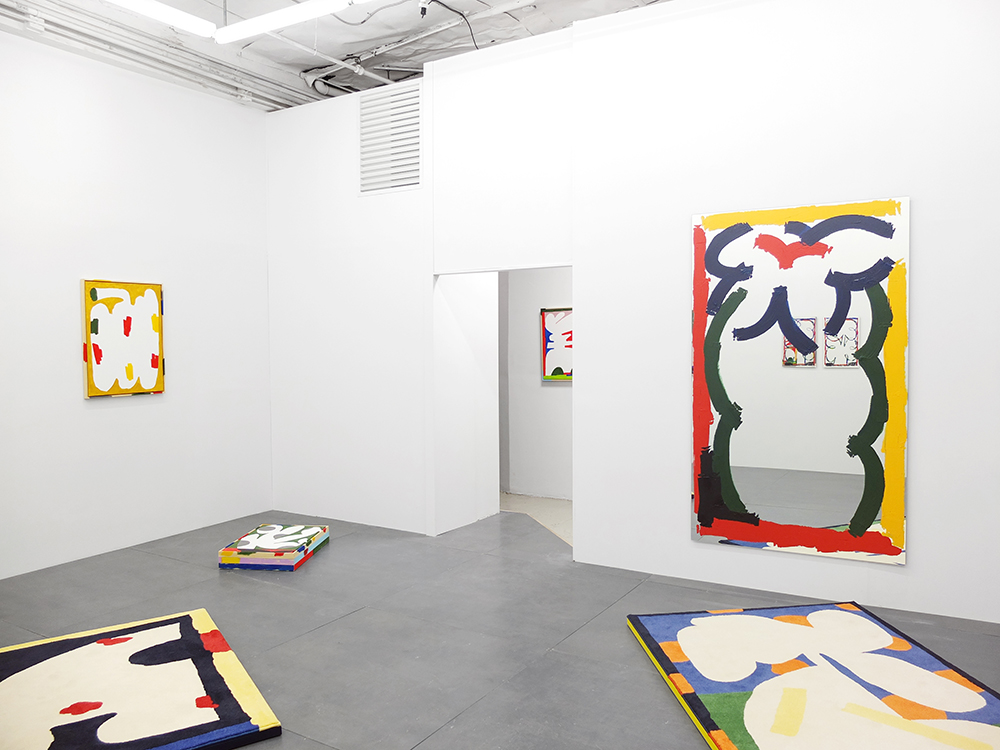 What kind of equipment are you using in your studio?
Brushes and paint. Mostly acrylics. Although the colors of oil paint are way more interesting, I just can't stand the time it all needs to dry. I work fast – like to go and go and go and see what happens.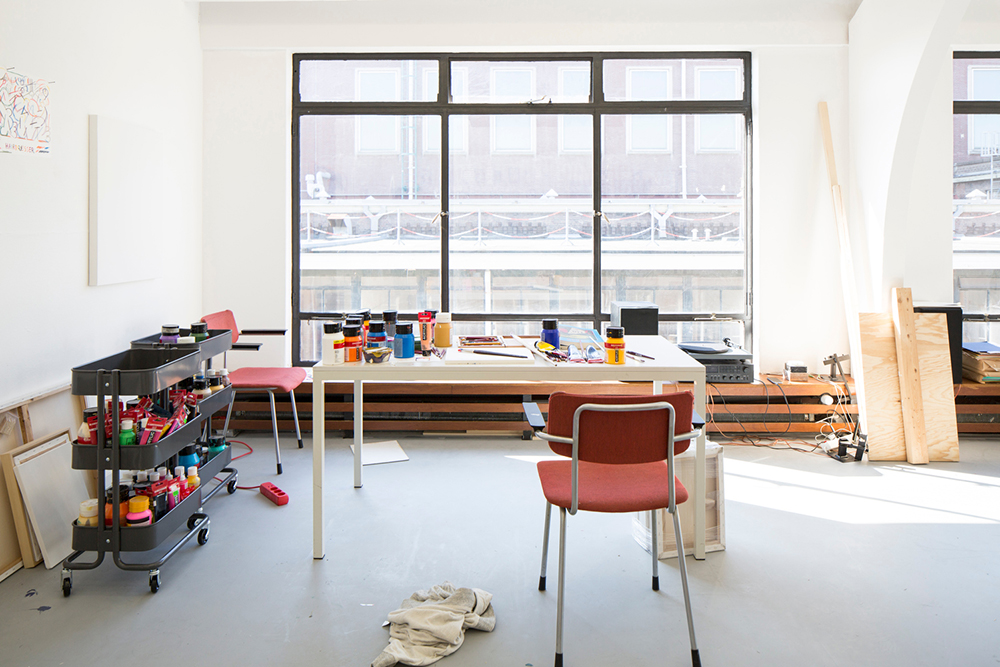 What is the most inspiring exhibition that you have seen?
I went to the Matisse Cut Out show in London and the one in New York last year. An absolute must-see.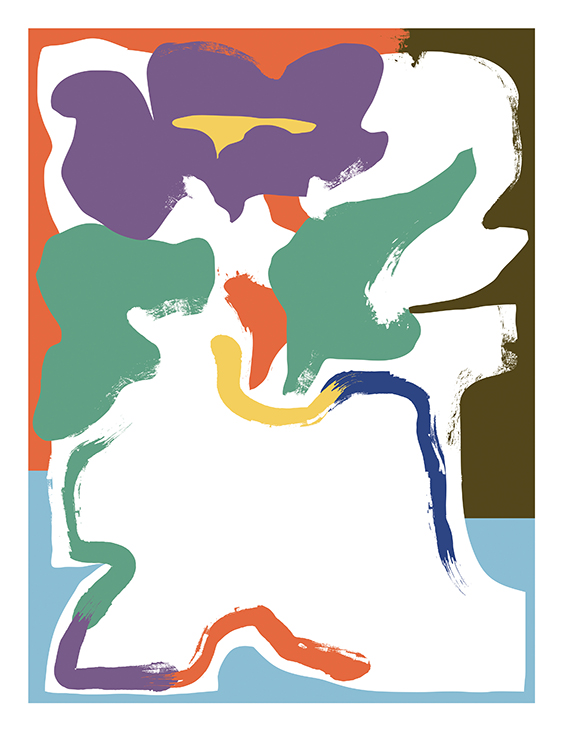 Apart from your artworks, you create a number of signed editions that someone can purchase from your website. How do you approach these works?
These works are approached differently all the time. Sometimes they are produced for the sake of creating something in a limited edition, something that is affordable. Often as a result of receiving emails with the question if I do prints. Other times, I enjoy working onscreen prints with Julian Sirre, a close friend and artist from The Hague. Other times, I enjoy working on the RISO machine with another close friend and illustrator, Viktor Hachmang.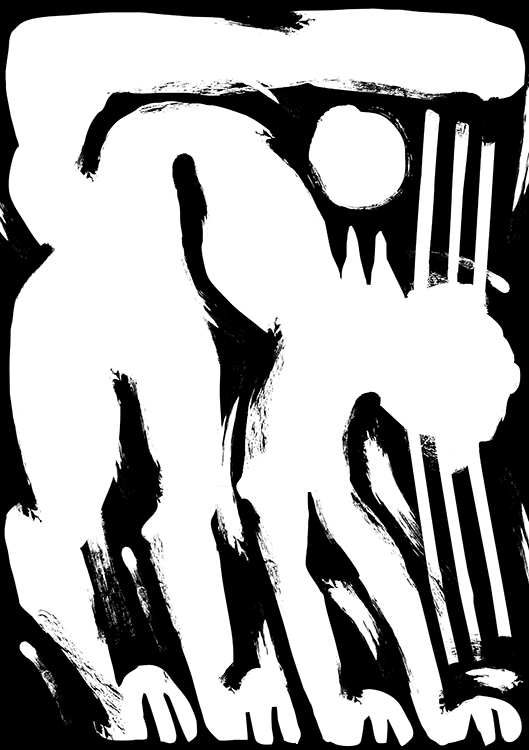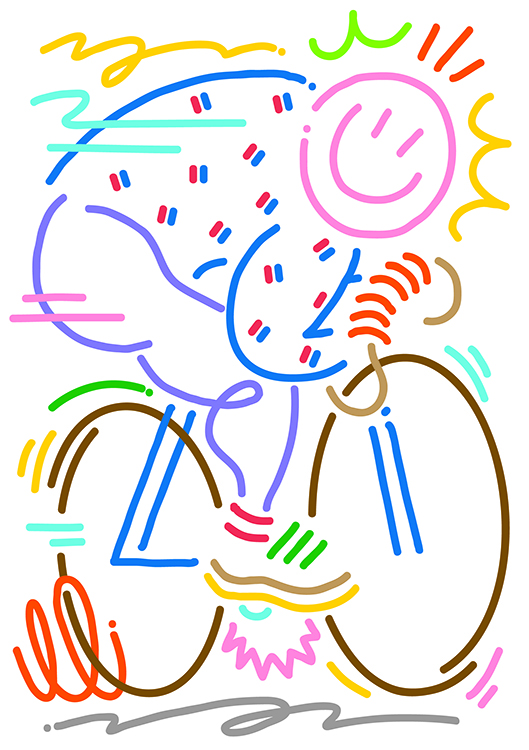 What was the last piece of music you listened to? When and where was that?
To be absolutely honest – here goes my street cred – I [was] listening to Berlin's "Take My Breath Away" this morning. It's so easy to sing along and the tune just sticks in my head for the rest of the weekend. Besides enjoying a beer every now and then, I guess this song is my biggest addiction. I mean, Top Gun, come on guys. This is it. It doesn't get any better.
::
See more of Jordy's work at jordyvandennieuwendijk.nl, on Facebook, and on his very fun Instagram.
Photos by Jordi Huisman for Fontanel.