I've recently been doing the promotional rounds for the release of my new book, Kanye West Owes Me $300 (and other true stories of a white rapper who ALMOST made it big), which came out THIS WEEK! I've easily done 50 podcast appearances in the past two months and participated in more interviews than Dr. Drew when a celebrity he's never met dies of a drug overdose. At every single stop of self-promotion, I mostly focus on the details of the memoir's plot: my early-20's rap career on Interscope Records where I won a radio contest then eventually signed a million dollar recording contract and, despite looking like a cool rabbi, worked with the likes of Redman, Fabolous, DJ Quik, DJ Clue, and Mya. But at every recent stop along the way, now over a decade removed from my MC'ing days, every press outlet asks the same question: What happened to Leelee Sobieski? Naw, I'm fucking with you. No one cares about her. They ask, "What's your favorite rap album of all time?" This question is stupid, so I usually don't answer it, but in reality I'm dying to just list off my favorites.
In hip-hop, and in most of pop culture, we're obsessed with lists, which both makes sense and is problematic. It makes sense because we're always looking to create a competition and pick favorites. It's why everyone tunes into the Academy Awards even though they're boring af and we haven't seen 40% of the nominees. It's problematic because it infers a final opinion on quality. It doesn't take any personal taste into consideration and more than anything, it just helps you judge the lister, not the listed. And most times when a website counts down the "best hip-hop albums of all time," it's just to garner hits, get you commenting to freak the fuck out. It's a real troll move. Anyway, I'm gonna do that now.
In hip-hop, and in most of pop culture, we're obsessed with lists, which both makes sense and is problematic.
In order to get people to read this article, and in turn, learn of my book's release, I finally answered this oft-asked question. For as long as I can remember, I've been considered a hip-hop expert. I have a weekly podcast that tackles rap in some form every episode, and I've even been paid to bring that credibility to many mainstream projects. I even wrote these battle raps last month. Actually, I've written maybe a dozen articles about rap music on this website alone. So what I'm saying is: I know what I'm talking about. I've decided to list MY top 15 rap albums of all time, based SOLELY on MY own opinions and likes, but defended with the type of fervor that will make you incredibly angry. And if you disagree, you're probably wrong.
Let's get this out of the way now: Ready to Die? Not on my list. Tupac in general? Nowhere to be found. Illmatic? NOPE. And it gets worse. But I truly believe in everything I say on this list and it's my genuine opinion. SO GET YOUR COMMENTS READY. Daddy has something to say.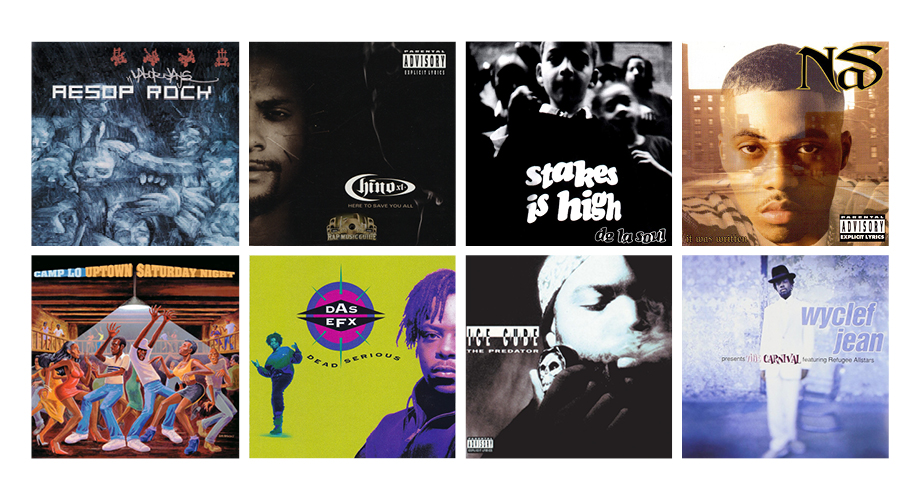 15. Chino XL, Here To Save You All (1996)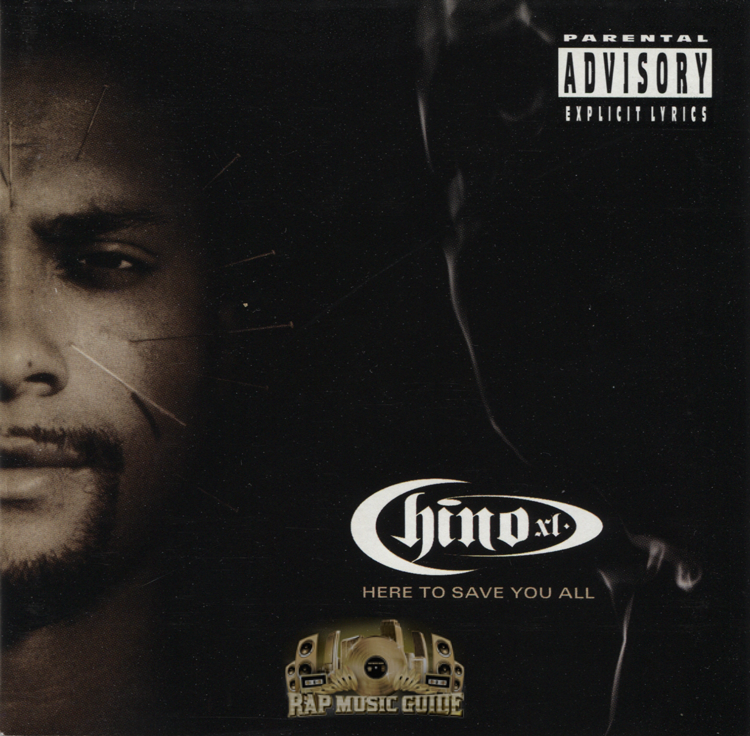 The main commonality with each of my picks are lyrics. It's just what I'm into. It's the reason I didn't pick any Timbaland & Magoo albums. Also because those are shit. But projects like that focus on beats, and I'm more of a wordsmith, so I lean in the opposite direction. For this debut album from Chino XL, released on Rick Rubin's American Recordings imprint, Chino defined the metaphor rapper. A pop culture aficionado, Chino's lyrics were both hard-hitting and funny. The man who once spit, "I'm throwin' your shit out the window like Eric Clapton's son," also made Tupac angry enough to mention him on "Hit 'Em Up," so he was doing something right with his punchlines. He sampled Radiohead and featured a Ras Kass verse on this album, and was hands down the rapper who most influenced my style (and I'd argue Eminem did just the same), so get acquainted with this superstar of the simile.
14. Aesop Rock, Labor Days (2001)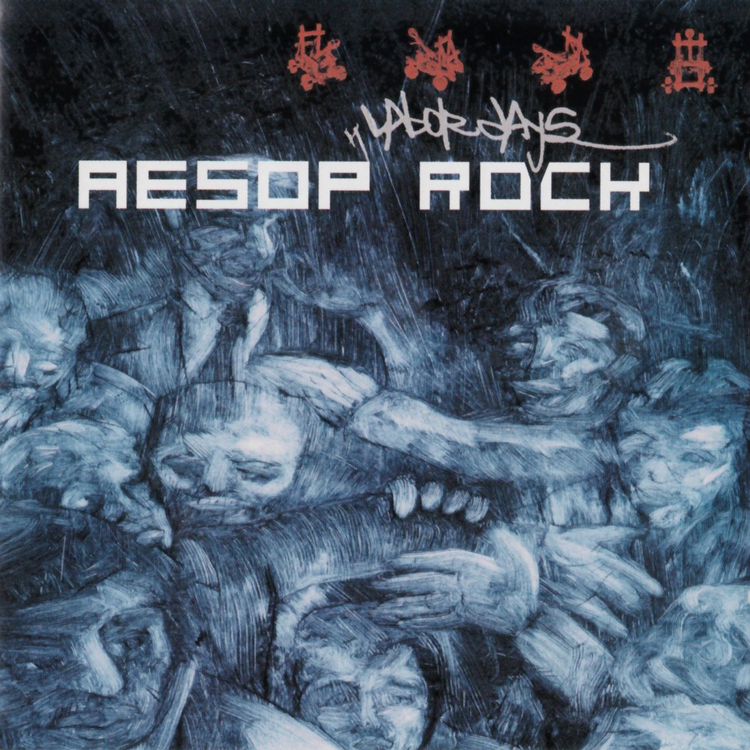 Released September 18, 2001 (which may be a reason you didn't hear it), this independent release from the storied Def Jux label of yesteryear is the most modern album on my list. Born Ian Bavitz, Aesop Rock manipulated rap lyrics in the same way Dominique Dawes earned gold medals: logic-defying gymnastics. The way Aesop manipulates words and concepts on Labor Days is still unprecedented in music. This is a bit of a masterpiece, drenched in self-awareness, therapy talk, humor, and pure depression, but it's also truly art, not something you can commonly say about hip-hop. He's continues to release great music, even dropping something impressive last month, but Labor Days is the perfect place to start.
13. Das Efx, Dead Serious (1992)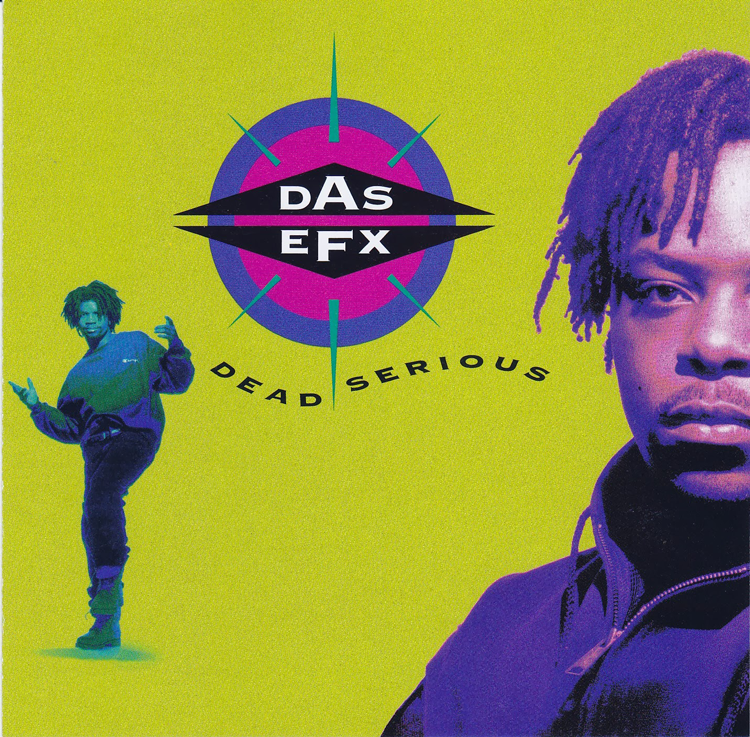 Dead Serious, the debut from Krazy Drayz and Skoob (Books backwards), is a pioneering banger (sure, go ahead and laugh now, but you're wrong). Part of EPMD's Hit Squad, Das Efx is best known for the album's first single "They Want EFX," a fast-paced pop culture explosion of references in the tradition of Fu-Schnickens or Twista, but they are so much more than their commonly referenced gimmick. Yes, they created nonsensical lines, pretended to live in a sewer, and added the phrase "–iggedy" to most words to make them rhyme (word to Family Guy's Quagmire), but they were so influential for their era that it's hard to criticize any calling card that got them there. They helped shape playful NY underground rap forever. Other tracks like "Mic Checka" and "Straight Out the Sewer" are jams as well, and maybe even check out "Looseys," a rap song about having explosive diarrhea. Not a joke.
12. Wyclef Jean Presents The Carnival (1997)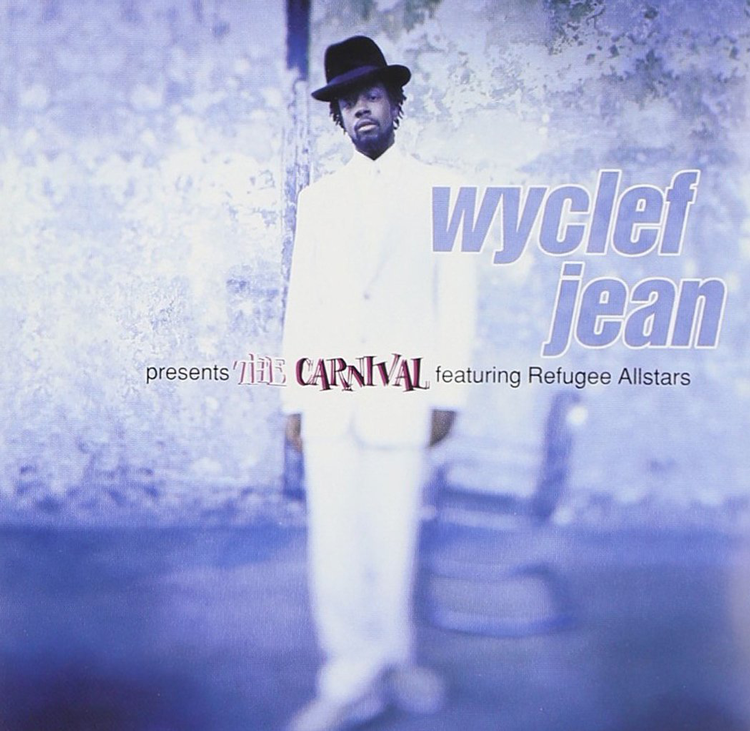 It's true that this somewhat slept-on Wyclef album IS on my list, while Lauryn Hill's Grammy-winning solo debut ISN'T, and you probably hate me for it, but hear me out. Released a year before Lauryn miseducated the world, this record had everything stacked against it. He wasn't the world's most charismatic Fugee (which isn't shocking considering Pras was basically Rap Game Paint Drying) and with its 24-song tracklist, it was quite an ambitious attempt at "world music." And any previous attempts at mashing up international inspiration and hip-hop usually brought lackluster results or rap music that your Spanish teacher played after tests to seem cool. But with guest appearances from Hill (before their unrelenting beef damned the group forever), John Forté and Celia Cruz, this album is seriously impressive. "Guantanamera," "Gone till November," "Anything Can Happen," and "We Trying To Stay Alive," all sound like songs from separate albums, yet he somehow finds a commonality in his role of executive producer. Never forget that before his shit song with Santana, and THIS PICTURE, dude was backpack rapper. This may just be an opus you forgot was good.
11. Camp Lo, Uptown Saturday Night (1997)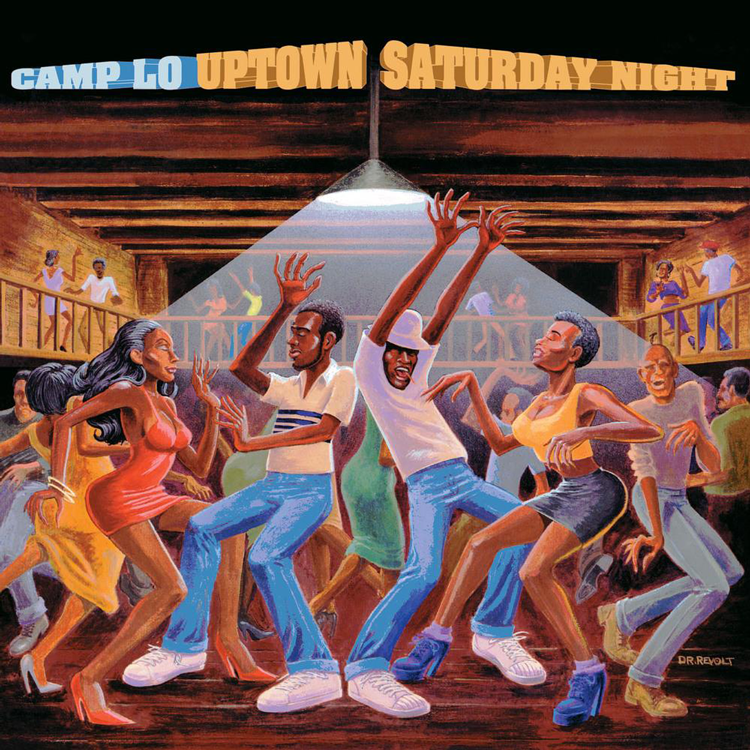 Where Wyclef took cues from world music, Camp Lo (made up of members Sonny Cheeba and Geechi Suede) found their motivation from '70s soul and Blaxploitation films. "Luchini AKA This Is It" was their first single, and no matter how disinterested you were with hip-hop back then, you probably recognize its chopped up, sample-dependent beat. The album is mostly produced by Ski, best known for his work on early Jay Z records, and features guest appearances from Trugoy of De La Soul and Butterfly from Digable Planets. One of the more underrated albums of all time, this debut is jam packed with slappers, but sadly the group, still releasing music, has never been able to recapture this early magic. In a sense, they helped create, and usher in, the era of decadence and swag, yet are hardly remembered for it. Get up on this one.
10. De La Soul, Stakes is High (1996)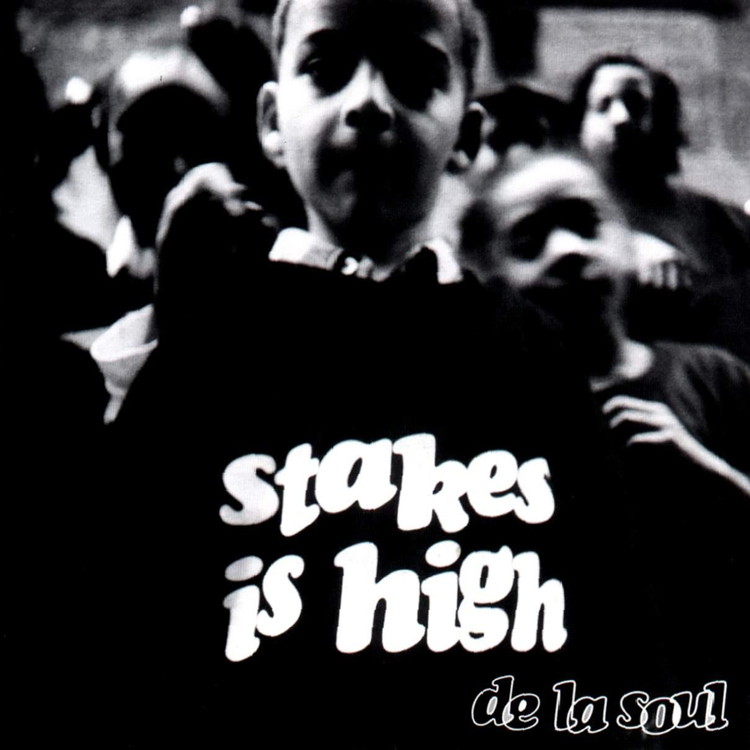 The fourth full-length album from De La Soul is my favorite, which, after reading many of my other picks, is a very rare occurrence. Most of the records celebrated on this list are debuts, when rappers are audibly their hungriest. This was released in what could've easily been a downswing in De La Soul's career, so it's undeniable dopeness came as a bit of a surprise. The hippie angle prevalent on past De La albums like 3 Feet High and Rising and De La Soul is Dead made way for a more realistic approach with stories of street violence and human emotion. They stayed optimistic in their message, but pivoted their subject matter to reflect the world around them. Jams about roller-skating rinks made way for the title track "Stakes is High," reporting the struggles of their hometown surroundings. They still have fun on songs like "Long Island Degrees" and trading bars with a young Mos Def on "Big Brother Beat," but this was our first peek at a maturing trio and it was the perfect direction to enter a new phase of their career.
9. Nas, It Was Written (1996)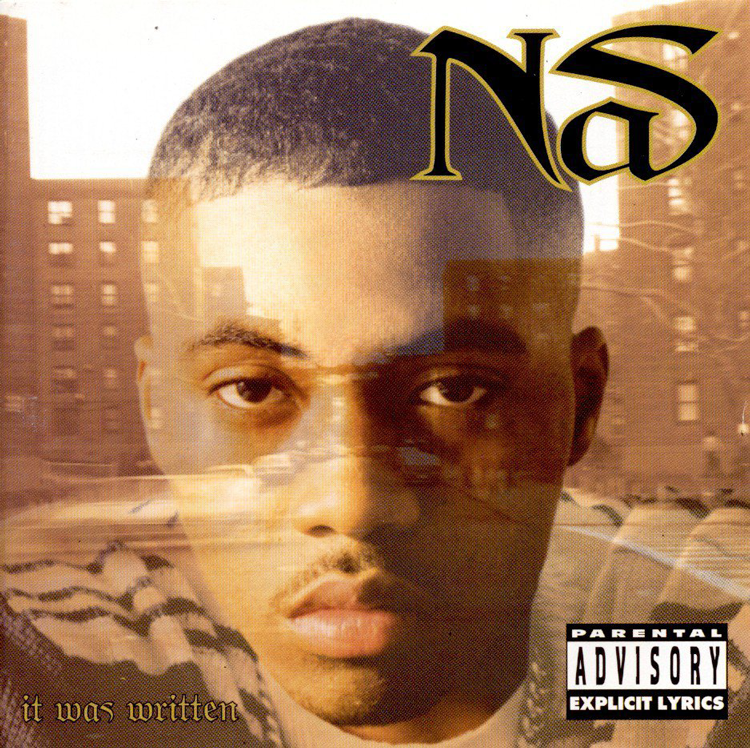 Another 1996 release, It Was Written, is always skipped over when talking about Nas's legacy. After his debut, Illmatic, immediately became a classic, it couldn't have been easy for Nasir Jones to approach a follow-up without crippling fear. How do you elevate something most people considered to be perfect? The answer appears to be with growth and risk. The Sting sampling "The Message," the Dr. Dre produced "Nas Is Coming," and the Lauryn Hill assisted classic "If I Ruled The World" all came from this record, a project that also introduced his attempt at a supergroup called The Firm. Nothing was safe about what he was doing, clearly leaving his comfort zone to try a new sound and subject matter. Nas may have traded in his teenage naïveté for some brand name clothes and jewelry as he became more and more famous, but it would be hard to say anything changed about his songwriting skills, at least at this point in his career. He was, still is, and will always be Nas.
8. Ice Cube, The Predator (1992)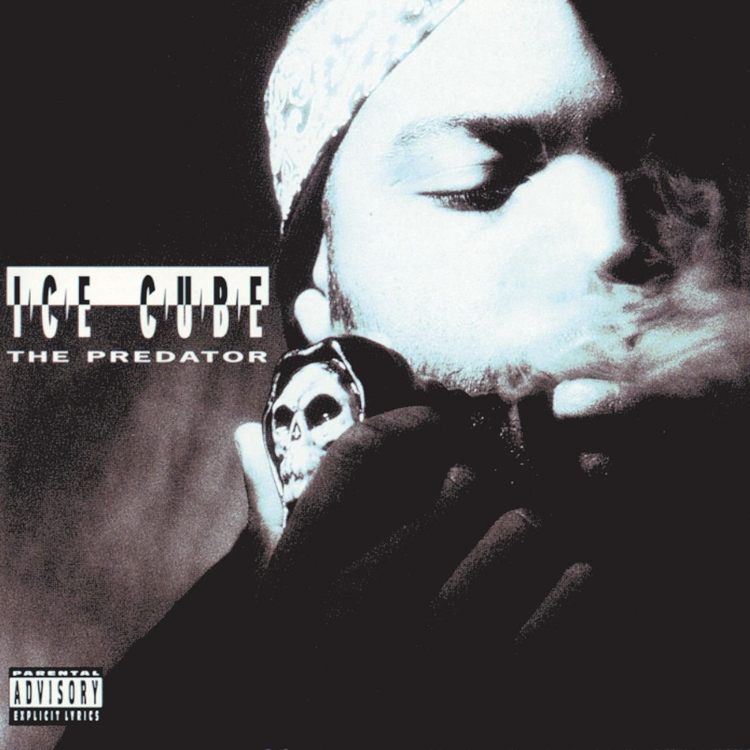 My favorite Ice Cube album is most likely not yours. As an LA native, I became obsessed with The Predator, a concept album of sorts from Cube, where the just-announced Rodney King verdict and resulting LA Riots inspired a majority of the tracks. Ice Cube took aim at each prosecuted police officer from the beating, and went as far as threatening their families. He channeled the anger of the black community through these tracks, but also found levity in songs like "It Was A Good Day" and the Das EFX-assisted "Check Yo Self." Personally, I think this is the smartest and most effective political album of all time, and an obvious inspiration for modern day rappers like Kendrick Lamar. Speaking of, I hope you voted.
***
Ed. note: You can find Jensen's part two to this list here.
Follow Jensen on Twitter @jensenclan88. Order Jensen Karp's book Kanye West Owes Me $300: And Other True Stories from a White Rapper Who Almost Made It Big.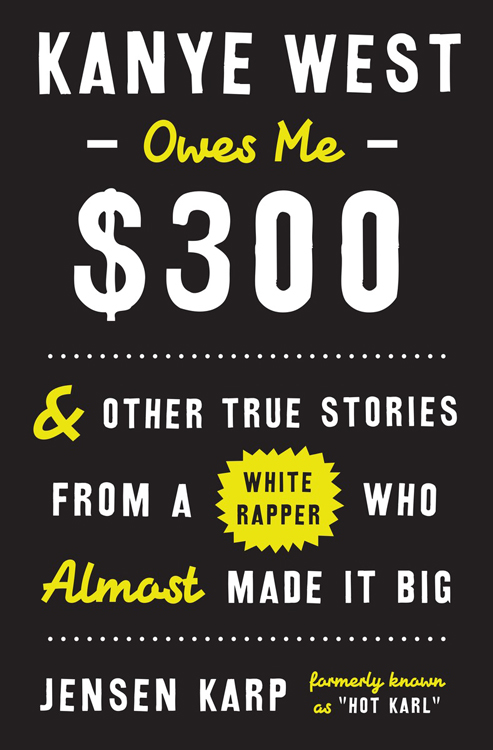 Some reviews of the book, which just dropped yesterday:
"The funniest person I follow on Twitter finally got smart and wrote about his unlikely—and hilarious—odyssey as teenage rapper Hot Karl. Karp's sharp wit and gossipy giggles keep you turning pages, but what lingers is the story of a survivor. This book should be mandatory reading for or anyone who has ever wanted to be famous." —Kevin Smith
 "If I had kids, I'd read passages from this to them at night. Rap careers definitely haven't been explored from this perspective, and I'm excited to see the ripples. Jensen's gonna make some enemies, though. I've been on television." 
—Hannibal Buress
 
"I remember hearing faint whispers about a white kid on the west coast who got like the craziest deal ever from some radio freestyles or some shit. But we never saw anything concrete, so I assumed he was hip-hop's Bigfoot and left it at that. Who knew it was real??!!! This is the story of the rap game's Sasquatch."
—Bun B, Grammy-nominated rapper