Everyone's got their own method of cleaning their beloved kicks. Some of us swear by baking soda, vinegar, Oxyclean, etc. – others have terrible flashbacks of mom's ignorant toss in the wash. Whether you're a sneaker freak boasting a 2 closet-deep collection or just someone who knows what they like on their feet, when it comes to sneaker care and upkeep, there's one question really: How deep is your love? What do you do when your favorite pair is still rocking a scuff and a crease?
On Thursday night, sneakerheads everywhere in LA rejoiced with the opening of premium shoe care brand Jason Markk's first ever flagship store in Little Tokyo. Scali and I stopped by to chat with Jason himself, and of course, stay for the bangin' release party, catered by our friends at Free Range LA with drinks by Belvedere, and sounds by Nosaj Thing, Japan's great MURO, and J Rocc. (Everyone was there. Our own Rob Heppler even showed up fashionably late in an Uber with Buscemi, mad that I beat him to it, since he wanted to cover the event for TheHundreds.com. SORRY, ROB!)
With Jason Markk's signature purple cleaning solution on the shelves and collaborative projects in art and apparel (the homie Naturel[!], ICNY, Starter Black Label, RIF LA, and Killspencer), the retail concept also offers a dry cleaning-like drop-off sneaker care/cleaning service. Yeah, you heard correct. Jason shares, "I went through a lengthy process to really hand-pick who I felt was knowledgeable enough to do this job [what he calls Sneaker Care Technicians or SCTs]. You're dealing with people's prized sneakers here."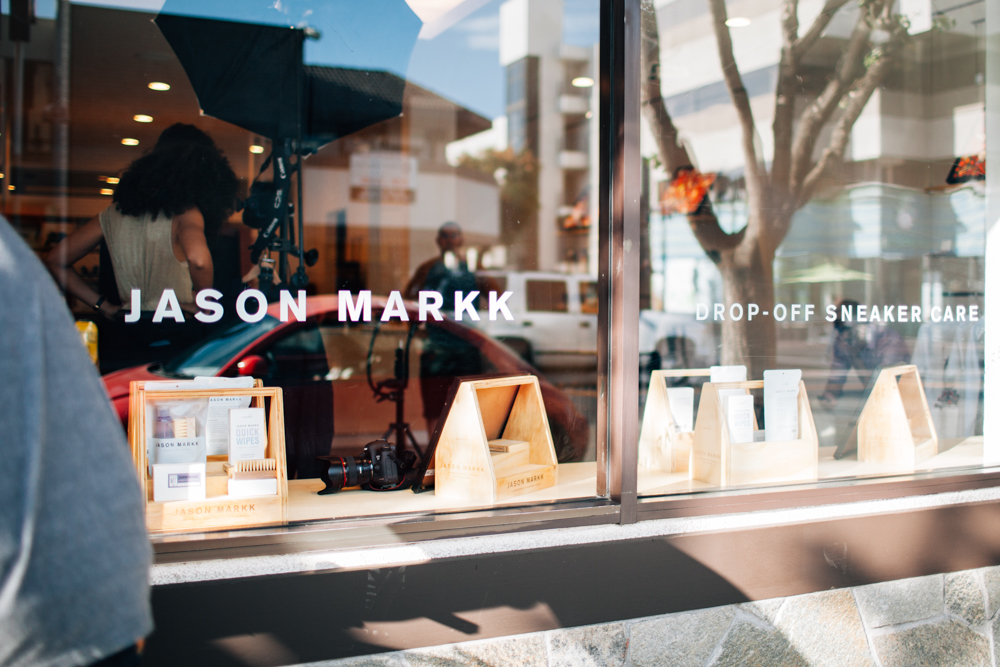 RIF and Illest are up the street, and though the area is no Fairfax, it's carved out its own niche in a way that felt like a perfect home for the Jason Markk brand. After looking at La Brea, Fairfax, and Downtown, Jason says it fell into place in Little Tokyo: "We have a backstory here. We've been in the Arts District for 2 and a half years already and we love it."
The Jason Markk layout has all custom-made cabinetry, clean white walls and ceilings, and Muji-like light wood displays that match the brand's brush handles to intentionally create something he calls "a good flow." "We wanted to reflect the brand... super clean and white – not minimalistic, but just clean. That was the word when we designed our website: Clean. It made sense, that's what we do, that's what our product does," says Jason. He shouts out to Brandon Dismuke of LA design agency Heads Above Water for all of his help in executing the brand vision.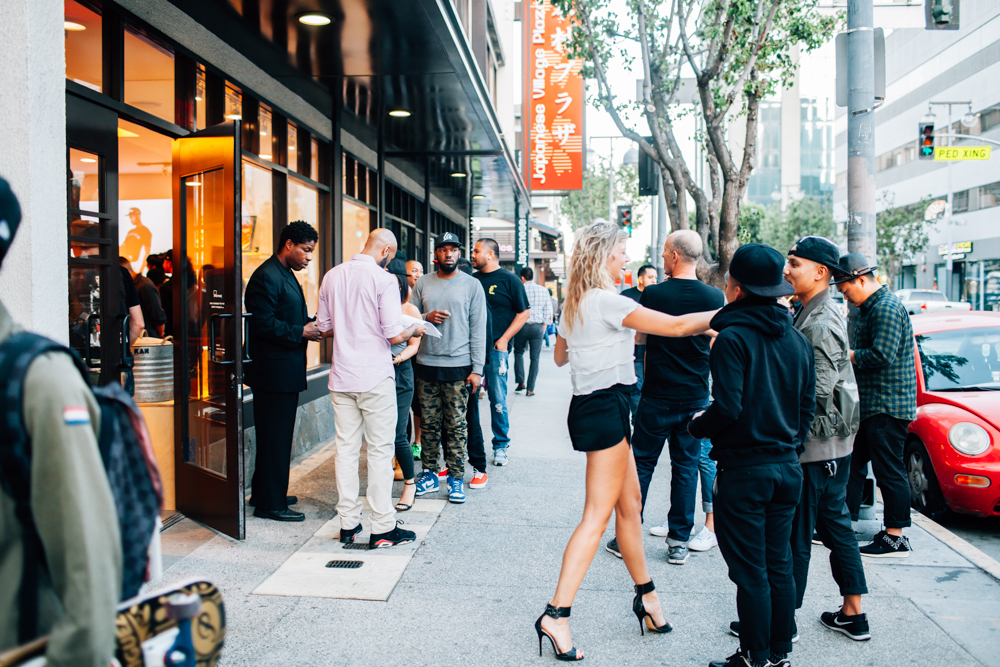 As a patron of Little Tokyo since my high school years when I used to take the 110 bus from Carson to get to Woori Mall, it's refreshing to see a store like this open up shop here on 2nd right up the street from Hama Sushi and the plaza. Jason mentioned that although he's always been inspired by Japanese design, they initially didn't even consider the area until the team went out to lunch one day, but I think the location says a lot about their design and brand sensibilities: favoring subtlety, muted and minimal, going against the grain – classic yet on the pulse of what's to come.
We salute Jason Markk for this idiosyncratic retail concept – keeping the culture and sneaker love fresh and clean, literally.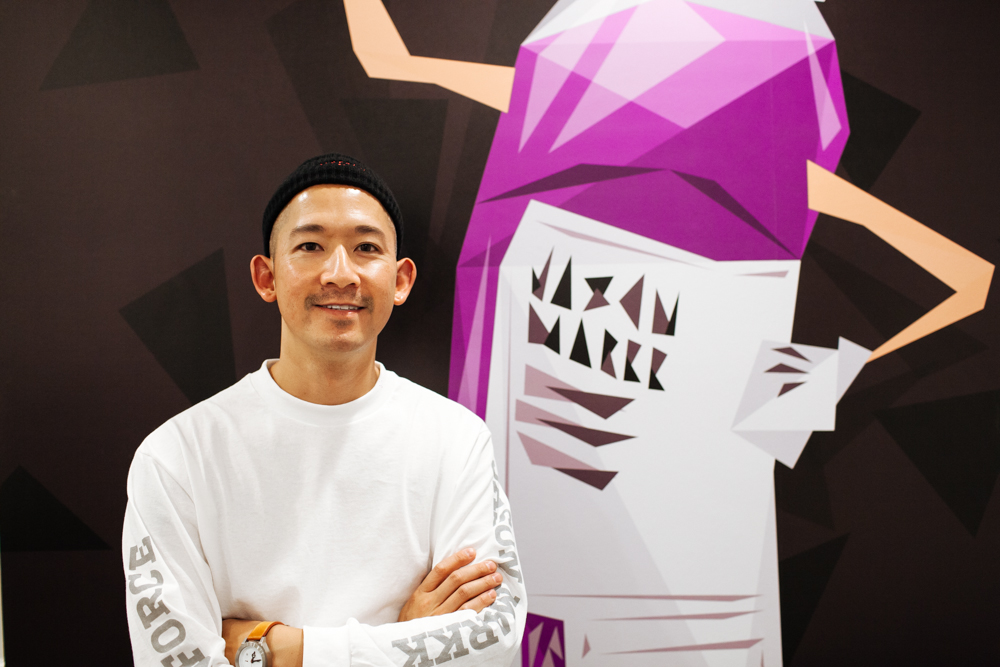 Jason in front of the store's back office's permanent installation by Naturel.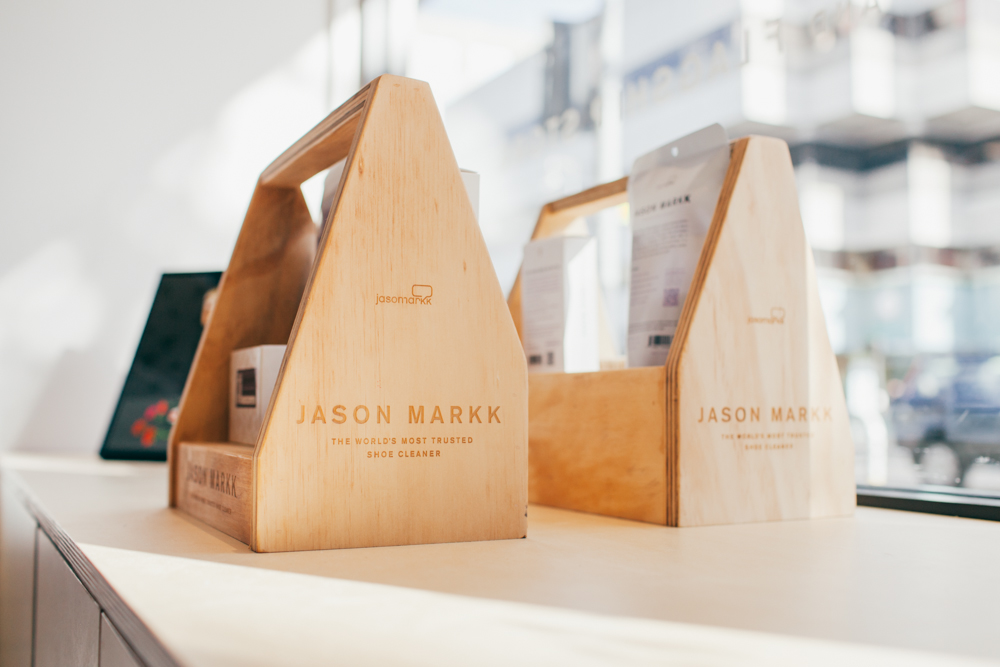 Clean.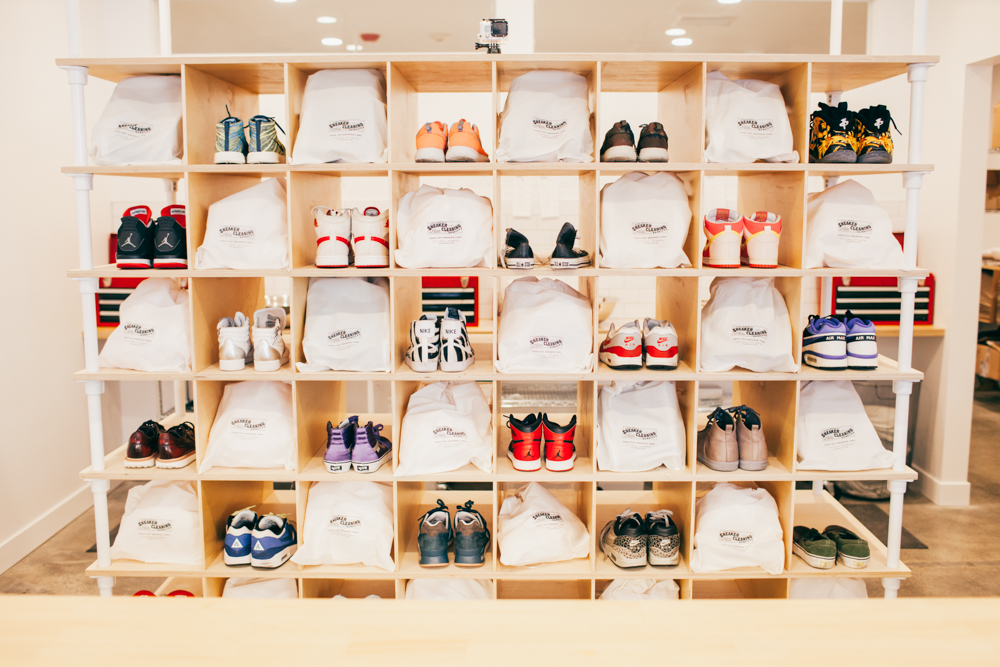 On the innovative retail concept, Jason says, "Of course, having our own flagship now is by far the biggest milestone for our brand, and we've been in business for over 7 years. But to introduce this new [drop-off sneaker care] service model… I know, obviously the whole shoe shine thing isn't new, but we're the first to really focus on sneakers and the culture. Really paying attention to the delicate materials. There's so many different types of materials on sneakers today, it's crazy."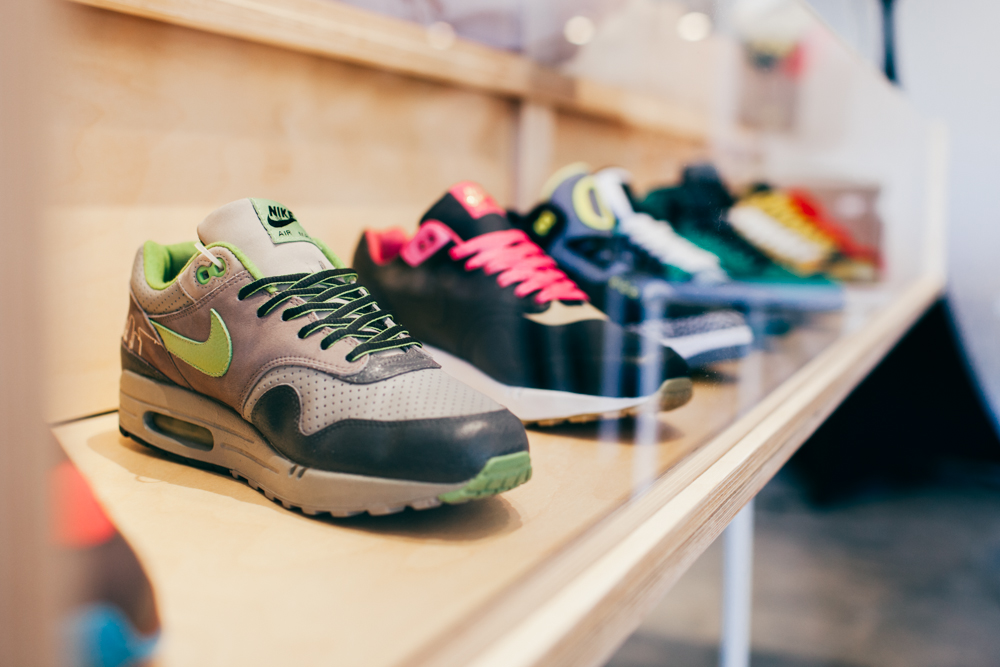 Selections from CroatianStyle's personal collection in the storefront installation. Jason says:
"We wanted to give a platform to our friends that are hardcore collectors… to shine and just show off their rarest of rare. So we built this 8-foot museum/gallery with glass and we want to have it rotate every so often. It's not all gonna be collections – [there'll] be sneaker-relevant art. A good friend of ours Freehand Profit does these crazy masks out of sneakers. We want to keep it fresh, keep it interesting and fun."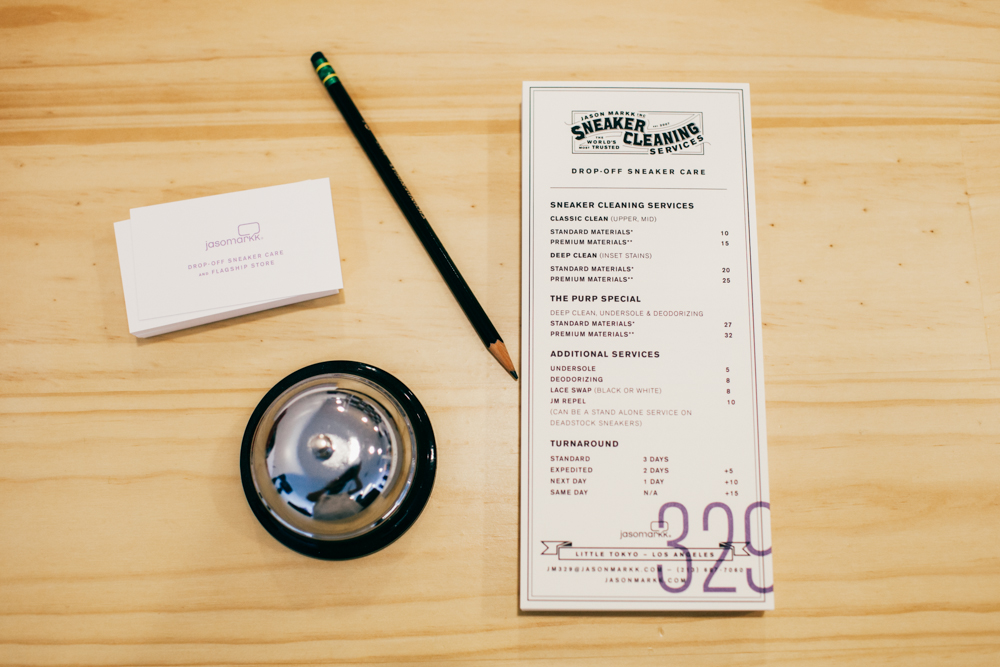 World's first.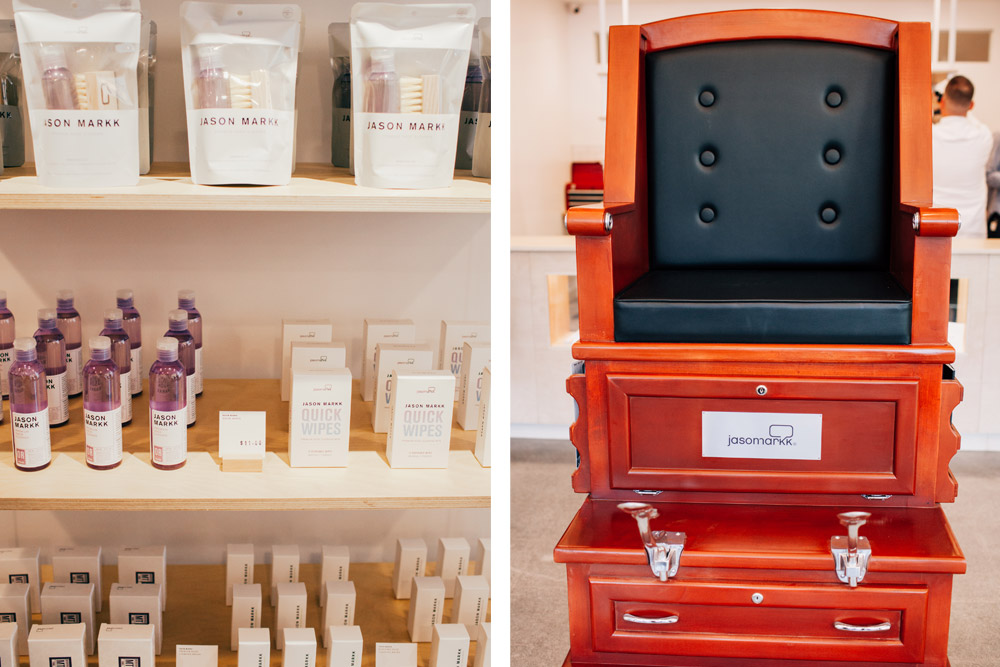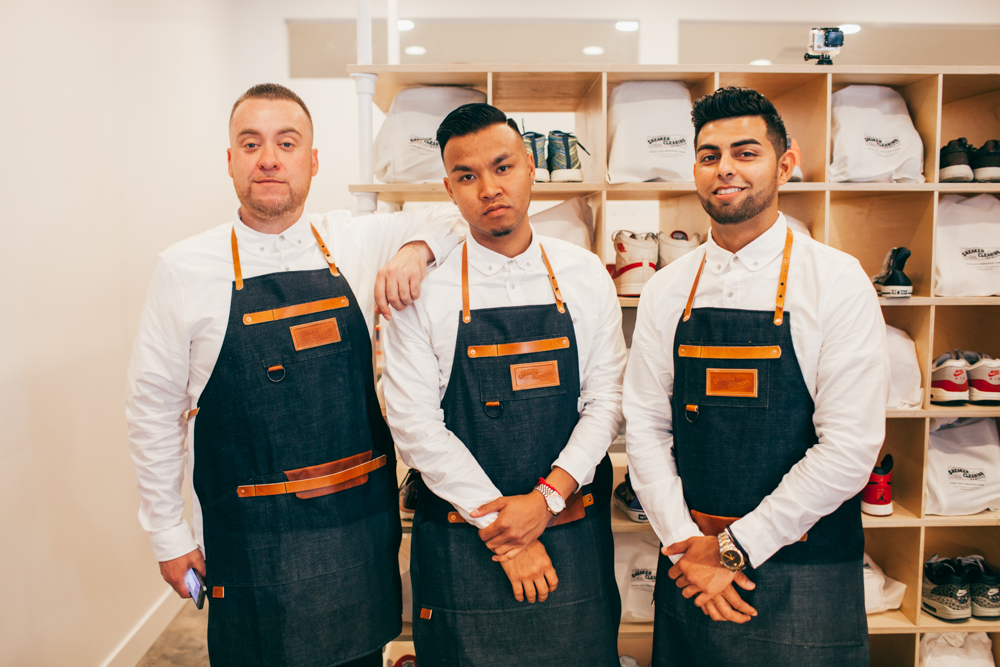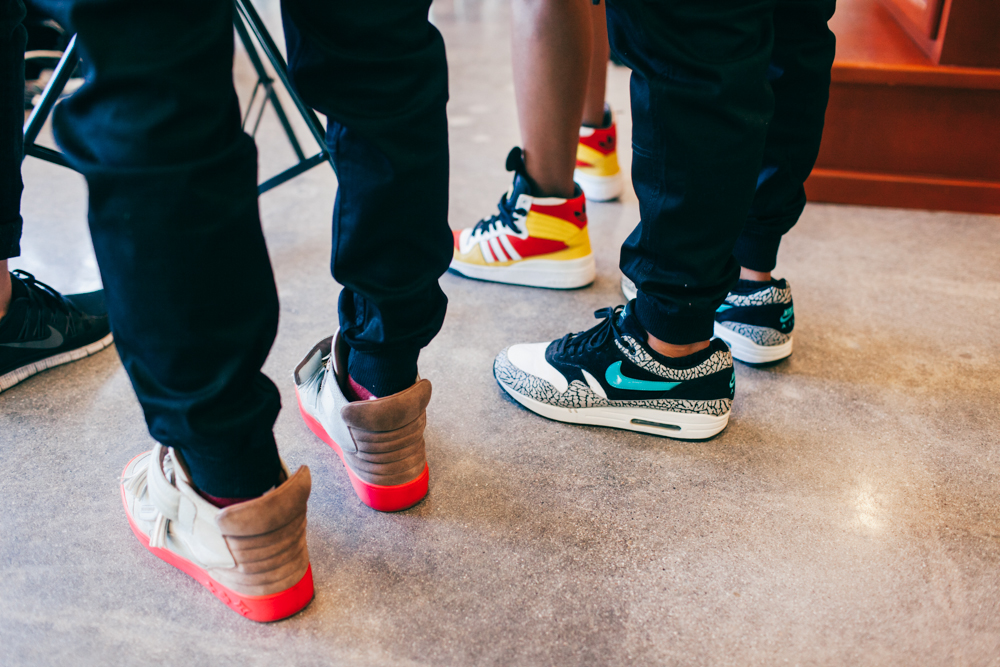 SCT sneaks.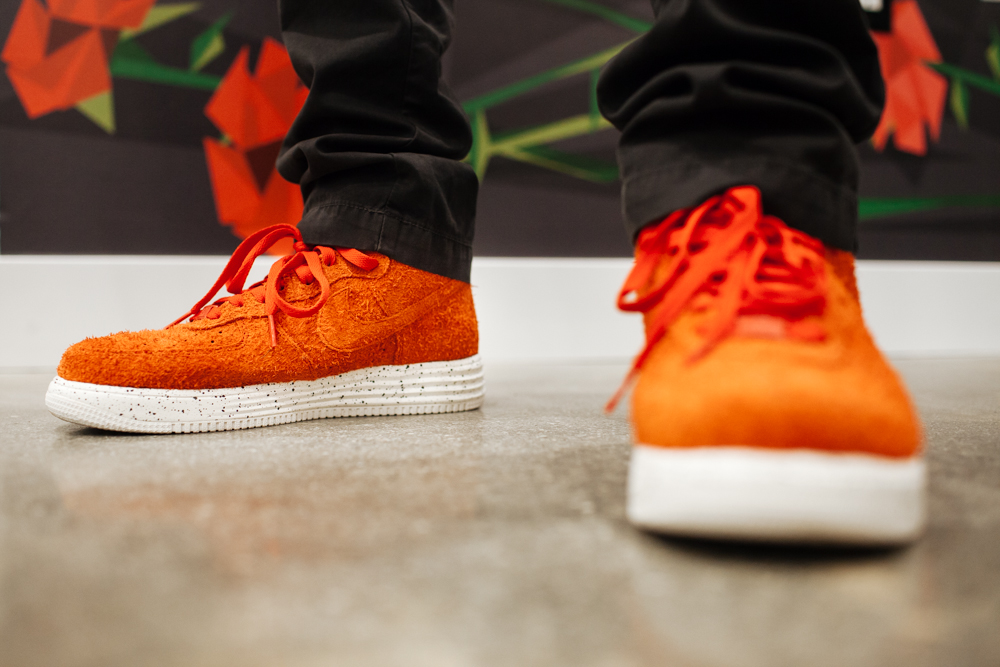 Jason's kicks.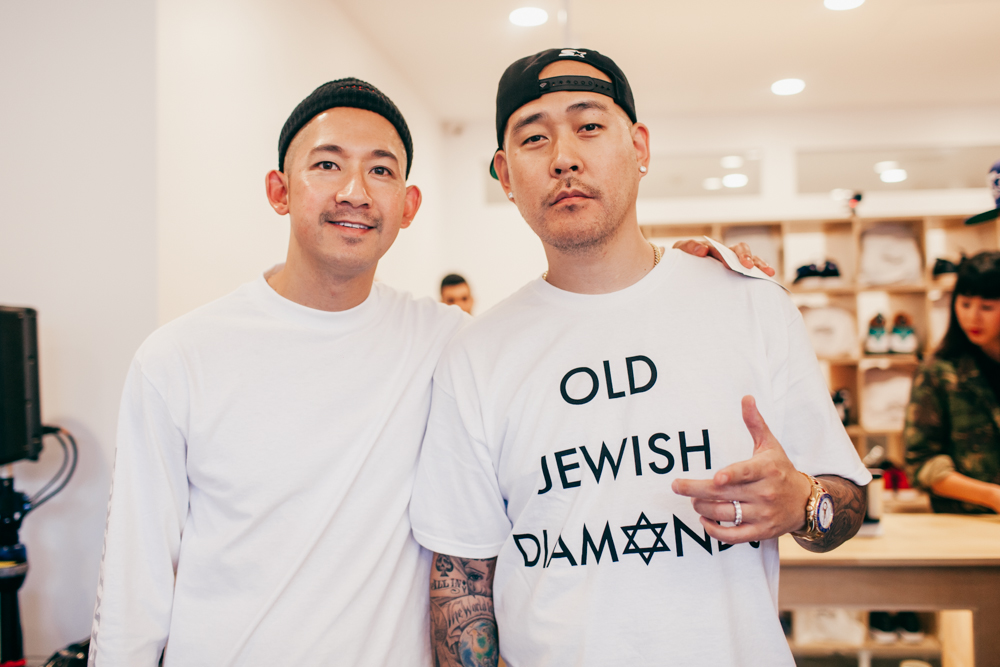 BEN BALLER.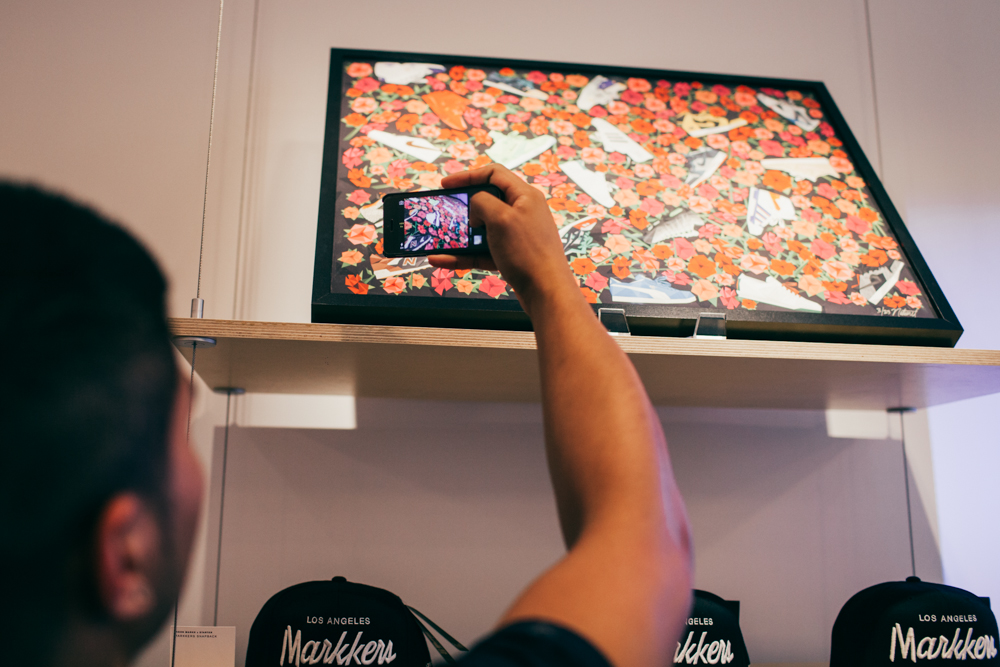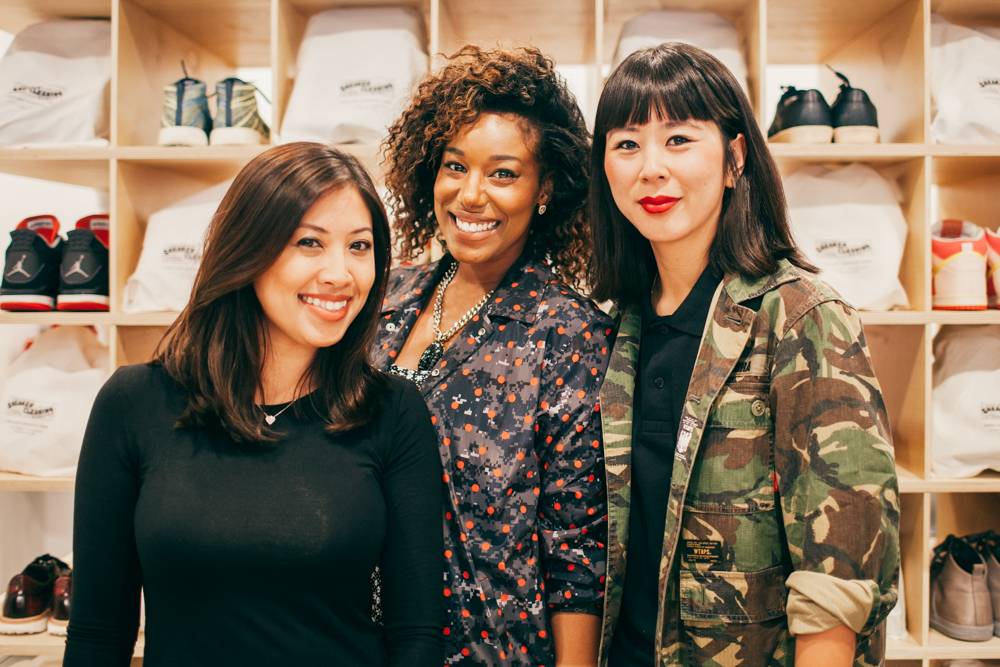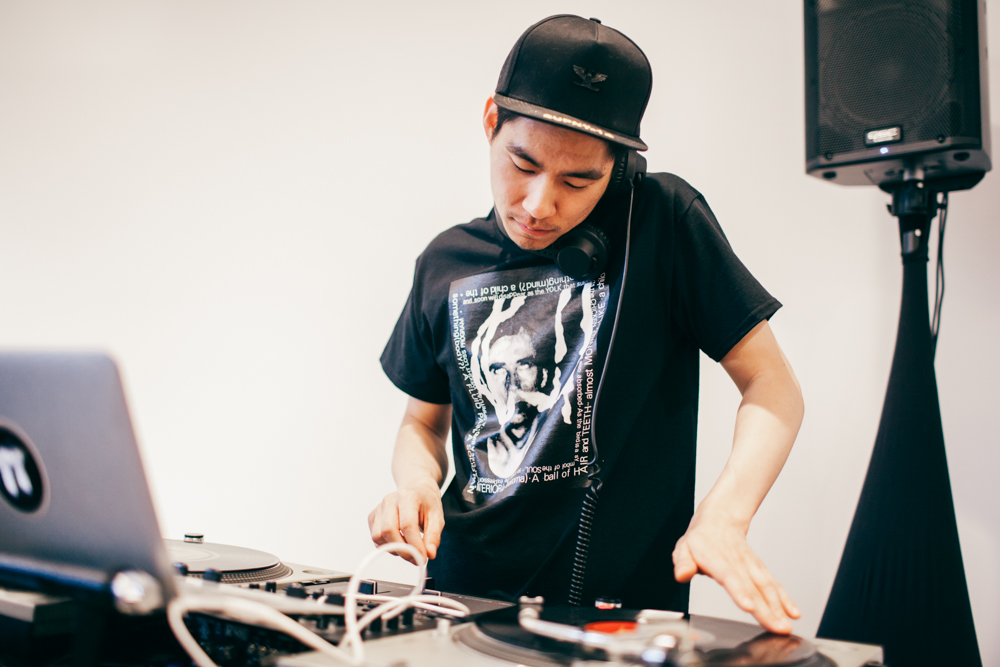 Nosaj Thing. Later on, they had J Rocc and MURO providing sounds as well.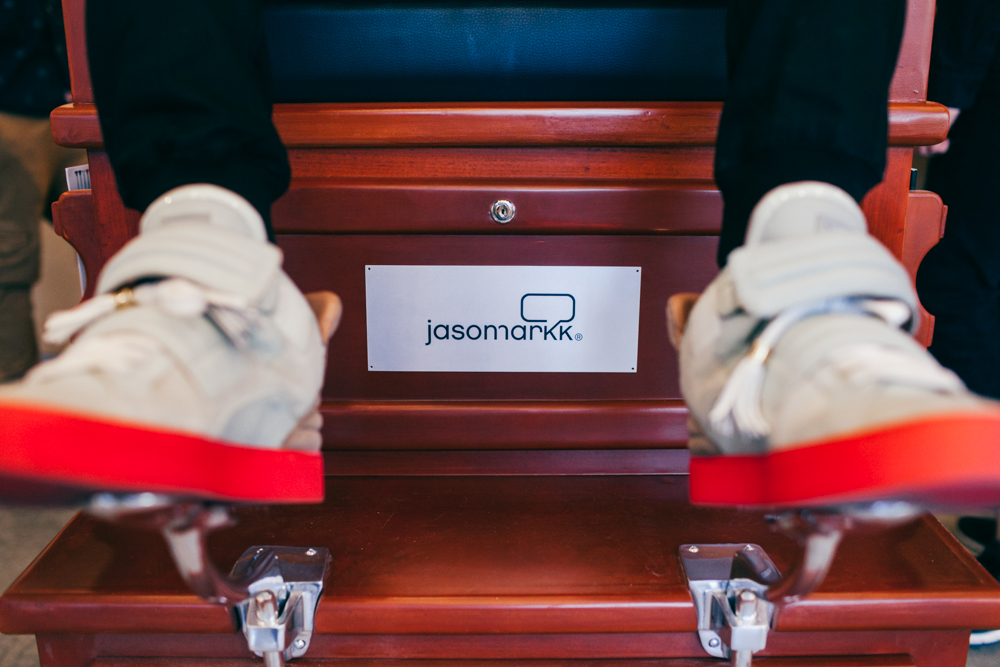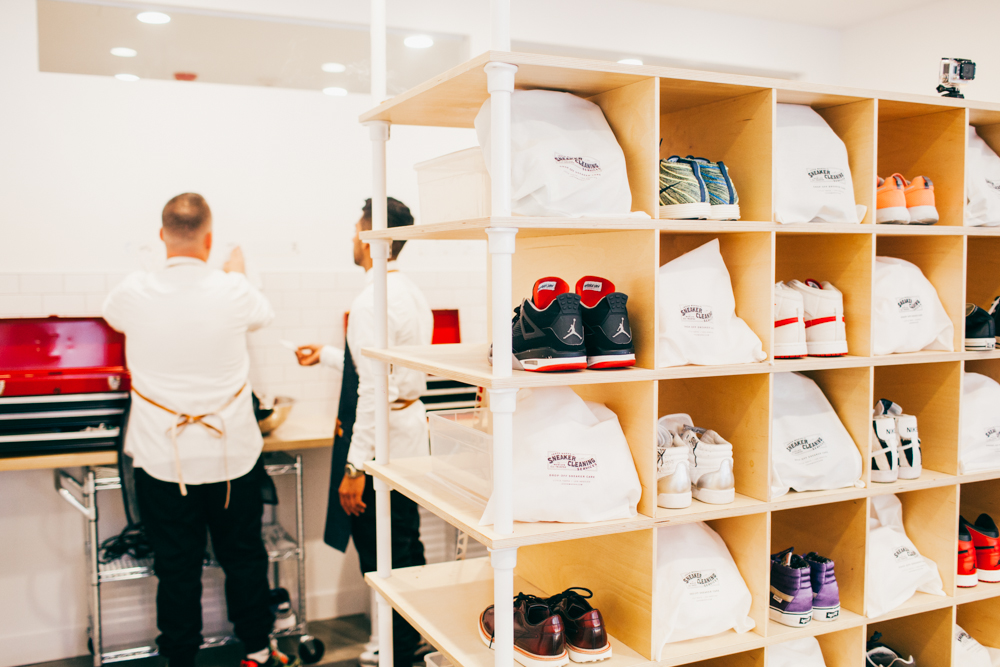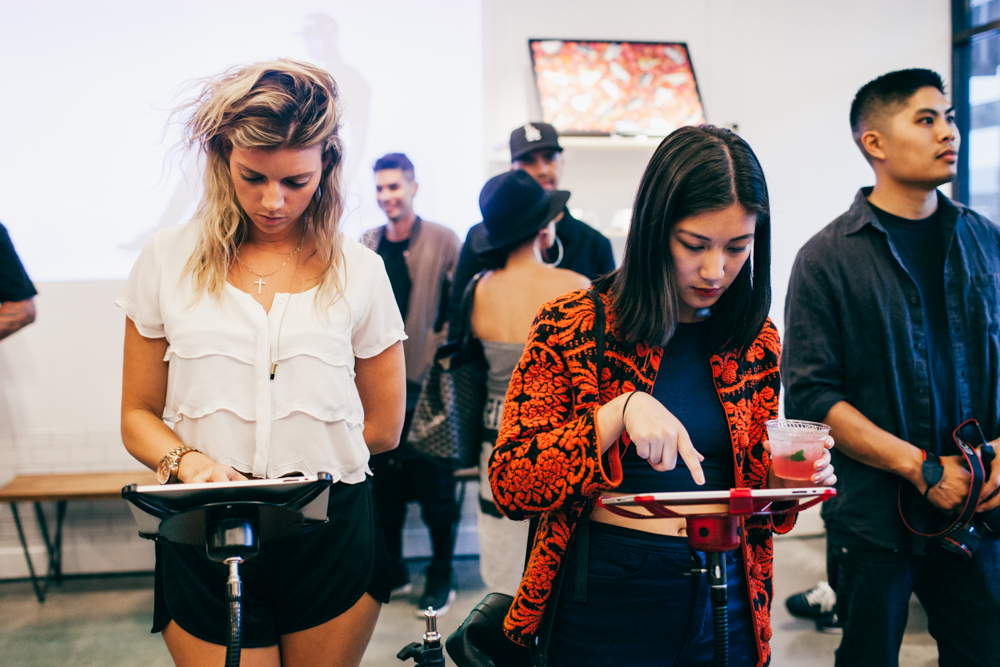 Me on the right looking foolish sharing a picture of myself on Instagram. DREWBACCA from Hypebeast with the camera.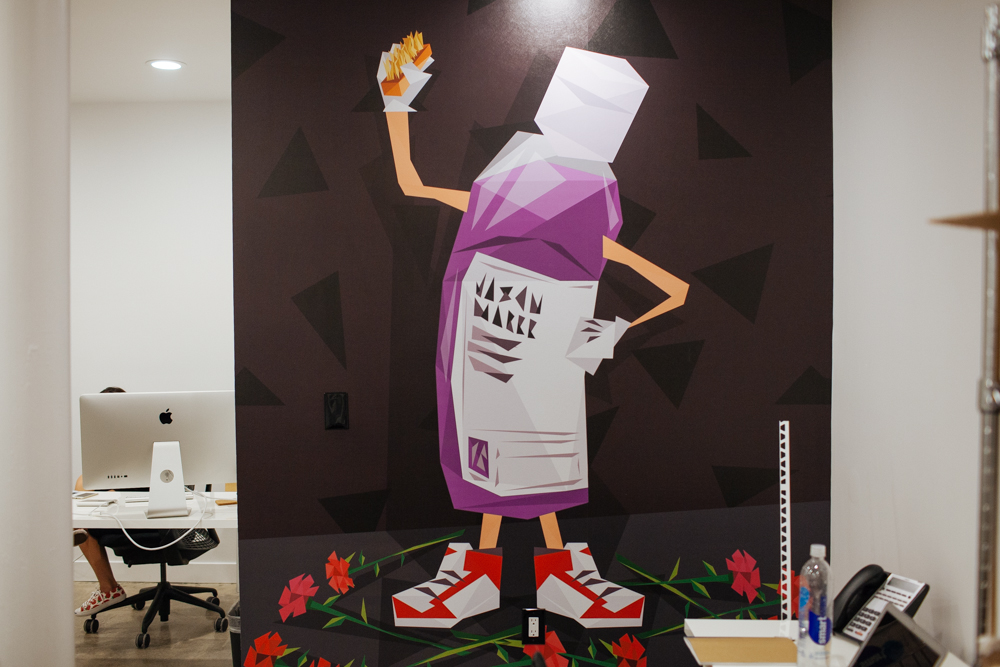 The full Naturel permanent installation for the Jason Markk office, depicting #PURPNORRIS. I was SO STOKED to finally meet him at the party, after learning more about his work from our own Jeremy Deputat's amazing interview with him for our site.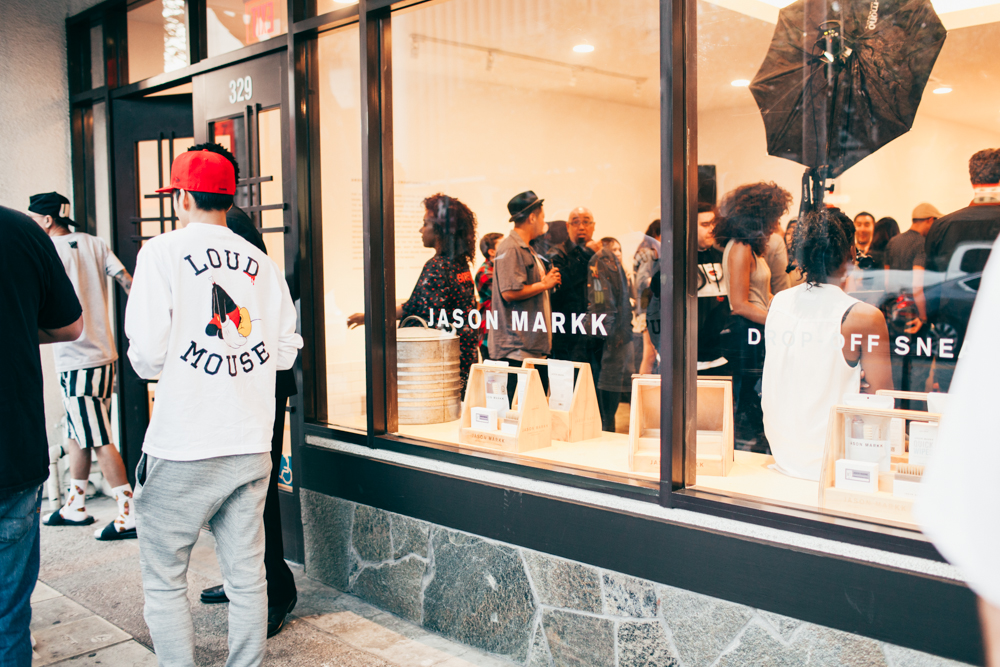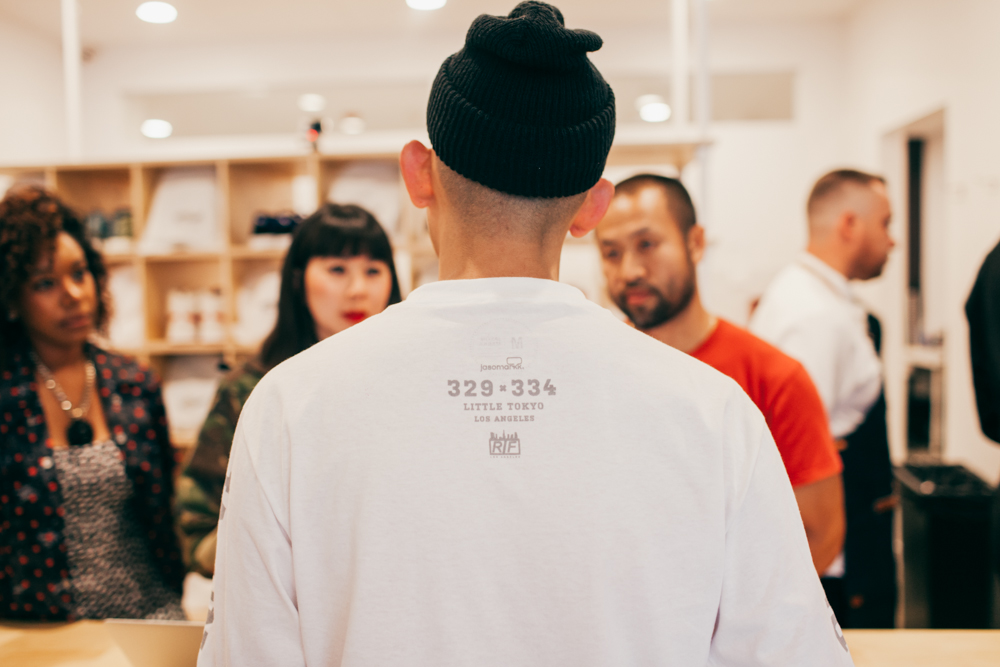 Words by Alina Nguyen