I was first drawn to Chicago-born, LA-based rapper Ohana Bam after hearing "Oralgami" on Pigeons & Planes and thinking it was Drake—albeit a sunnier, less-emo version. I subsequently interviewed Bam for Labeling Men, but as I was living in Oakland at the time, it had to be over the limited medium of telephone. Through our first conversation, I learned that Bam—formerly BK Bambino (the name was changed after generating "legal issues")—flew to California on his very first plane ride last January. Bam had $4000 in the bank at the time, knew no one in LA aside from a childhood friend and his future manager, and no plans aside from a sole meeting with Warner Brothers. For his first few months in the Golden State, Bam was lonely and depressed. But everything changed on March 24, 2015—his 20th birthday—when he got a call from Rolling Stone, who wanted to feature him in the next edition of "10 New Artists You Need to Know." The piece compared Bam's "playful bars" to Chance the Rapper and Danny Brown. "That was like a light to me," Bam told me. "I knew it was moving."
I've since kept my eye on Bam, falling in love with his PartyNextDoor-esque single "Met You" and getting periodic updates from his manager. And when I moved to LA in January with a new gig at The Hundreds, I figured it was time to meet Bam and his Ohana crew in person.
I arrive at Ohana Bam's home on a "Tree Up Tuesday." This is what Bam calls his campaign to release a new song every Tuesday to generate hype for his upcoming Tree Up 2. I ring the doorbell of his unassuming Woodland Hills home and am greeted warmly by Bam's manager and house-mate, Chris Cornell. The night before, Chris asks me over text message if I want to "roll with" them today. I have no idea what this means—a recipe for enticing me.
The house is dark and resembles the Valley's version of a frat house, partially due to the haphazard scattering of empty bottles and pizza boxes, and partially because it houses five boys all around college-age (Chris later tells me that he's "very nervous about turning 24"). As I learned back in October when I interviewed Bam, "Ohana" is the Hawaiian word for "family" (my friend living in Hawaii tells me that the word encompasses something more expansive than the traditional nuclear family).
The Valley Frat accordingly houses Bam's current ohana. There's Chris, who met Bam through a mutual friend from Mizzou, where Bam briefly attended college; KD, Bam's childhood best friend and "go-to guy"; D. Phelps, a producer from Bam's native Chicago who Chris believes is among the best hip-hop producers in the game right now; and Shaan Mehta, a producer from New Zealand who Bam met at Mizzou and who Chris refers to affectionately as "Shaan-ye."
"That's cool," I say as I sit down at the island in the kitchen, pointing to a bamboo stained-glass window over sink.
"Yeah," says Chris. "It kinda fits with the whole Ohana theme." Bam told me this fall that the Ohana symbol is a palm tree. His Tree Up and Tree Up 2 reference a variation of the phrase "turn up"—to "tree up," he told me, means to encourage people to be unique in their own way.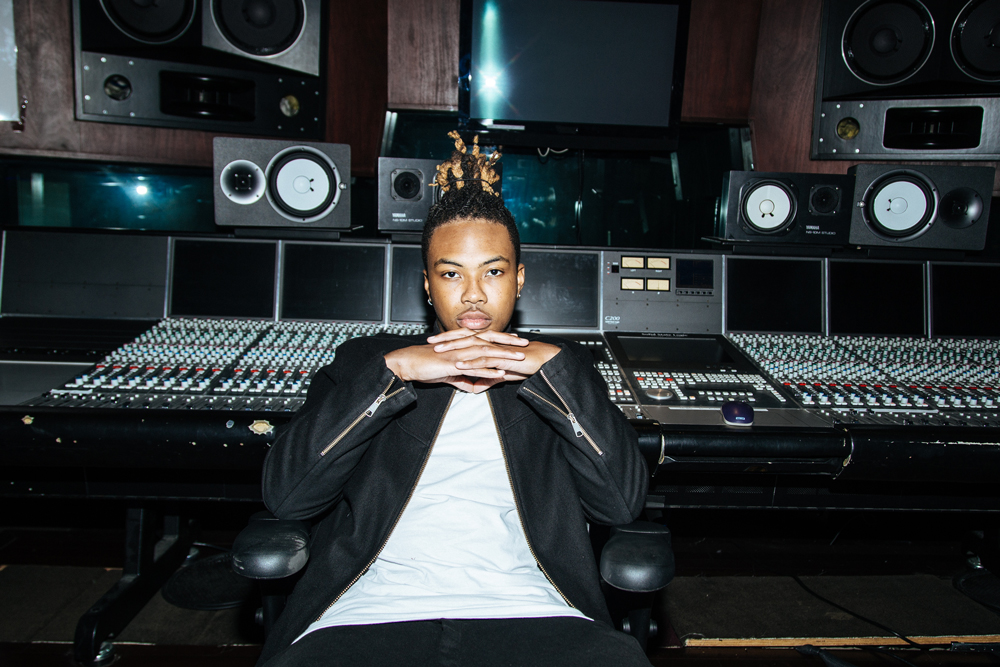 While we wait for Bam, I ask Chris if he likes the area. He tells me that he likes that it's suburban and homey. "There are chains here," he laughs, unashamed. "Red Lobster. Buffalo Wild Wings. We love to get wings."
The next person to arrive is Luis, Bam's Creative Director, a skinny 19-year-old from the Valley with an outsized passion for hip-hop and who, according to Chris, "knows what the kids are into." Known creatively as Stimvlate, Luis films footage throughout the day that will eventually go online to increase Bam's Internet exposure. [Editor's note: Luis shot the photos in this article]
And finally the famous Ohana Bam arrives. Given that this is the first time I've met him and in pictures he typically wears sunglasses and his hair shadows his face, I'm shocked by how pretty he is—he has kind, feline eyes and a soft splattering of freckles along his nose.
After complimenting him on his outfit—Bam indeed looks fresh in a black button down, black jeans, and black shoes that are a mystifying combination of sneakers and sandals—Chris reminds Bam to tweet his newest Tree Up Tuesday release. It's a track called "Done Playin" that samples Stevie Nicks. Bam complies in much the way a son would obey his father, or a younger brother would obey his older sibling—reluctantly, but respectfully, like true ohana-members.
I ask Bam what's been going on since we last spoke. He tells me about dropping Tree Up, which Complex hailed for its pleasing combination of "energ[etic] bangers" and "more lyrical tracks," noting that "Bam's versatility is his biggest strength." Bam also tells me about releasing the jaunty, Lake Effect-directed video for "Red Ferrari," which was featured on HotNewHipHop, and the trippier, more stylized video for "Rest," directed by Visual Mecca.
Bam tells me about Tree Up Tuesdays and opening for Nipsey Hussle in Santa Ana. I liked Bam over the phone, but I like him even more in person. There is an instant familiarity about him. He feels almost like a younger brother, someone I've known for a long time, like a member of my own ohana.
I ask Bam if he still loves Sky Zone, which he described to me enthusiastically in the fall as a "crazy trampoline party."
"I love Sky Zone," he says, then laughs. "I forgot I'd told you that."
We quickly realize we were all at the Kevin Gates show on Saturday night at the El Rey, and we chat about Gates's decision to wear a bow-tie on stage. "Did he come from a wedding?" Bam jokes. As we talk, Bam plays with a pineapple that sits on the island—a gift. "It isn't ripe yet," he comments.
Revealing my utter lack of domesticity, I ask how he knows this.
Bam laughs. "I just had to explain this to Chris."
"I know how pineapples work!" Chris protests. Throughout the day, the boys rag on each other like brothers, again, like any ohana would.
Chris says it's time to head out. We pile into Bam's white Jeep Wrangler to head to Century City to meet with Bam's agents. The meeting's purpose—to get Bam more live shows.
Climbing inside, I compliment Bam on his car. I know nothing about cars, but I love a shiny white SUV. "What about that old Lincoln over there?" Chris asks as he backs out, referencing the beat up old sedan in the driveway.
"That's cool too," I say hesitantly. "A classic." I have no idea what I'm talking about.
"Yeah," says Chris. "It's missing a window." He laughs.
Bam sits in the passenger seat and Luis and I are in the back. As we ride, Bam blasts a number of previously unreleased singles, my favorite of which is a chill banger that samples a Japanese pop song called "Too De Loo."
"Shaan finds the craziest samples," Bam tells me. He plays another song featuring Rob Gueringer, a guitarist currently touring with Kendrick Lamar who he knows through mutual friends in Chicago. The speakers bump and the windows are down and hot wind blows through my hair and for a second I feel like I'm back in college, but in a much nicer car.
Before long, we're in the parking lot of ICM Partners, a "big-three agency" where Chris worked as an agent's assistant before deciding to become Bam's full-time manager. Chris seems pretty happy to be on the other side of things, rolling into the office at 11:30am in a T-shirt and jeans. And it doesn't take much explaining to convince me—a writer who works from home and is almost always in leggings—that he's better off now.
The swanky air-conditioned lobby of ICM feels worlds away from the Valley Frat. We sit in brown leather armchairs around a table with an orchid that's taller than Bam's ponytail and talk basketball. "I'm better than the average white guy," Chris says, before ranking the housemates based on their basketball skills. I ask Luis if he plays. He says no, but he recently made a half-court shot. "You owe me a Gatorade, man," Luis reminds Chris.
We're soon greeted by Bam's agent's assistant, who is new and first takes us to the wrong room. On the second try, we arrive in an immaculate conference room with sprawling views of Los Angeles. I start to feel like I'm on Entourage and only wish I wasn't wearing moccasins. The assistant asks if we want anything to drink. Chris enthusiastically orders a vanilla latte.
The first agent to arrive is Kevin Jergenson, who handles Bam's international shows.
"A little hot out to be wearing all black, isn't it?" Kevin says to Bam, who smiles bashfully. Chris, Bam, and Kevin chat while we wait for Bam's domestic agent, Mitch Blackman. They talk potential partnerships (Dope, Hoverboard, Nike), the Nipsey show, and golf, while Luis films and I type. Chris talks about trying to figure out Bam's target audience. It's not the "West Coast gangster crowd," Chris insists, but more cross-over R&B/hip-hop, "a fanbase that loves to groove."
"The music is already there," Chris continues. "It's just about getting it in the right places, getting it in the right ears. Once they hear it, I have no doubt that it's going to go." I'm not sure whether he's saying this to Kevin, to me, or to himself.
Finally, the much-awaited Mitch arrives. He looks exactly how you would expect a rap concert agent to look. Heavily tatted, a black fitted hat casting a shadow over his blue eyes. He has a confidence that teeters on arrogance, a predilection for name-dropping and off-color humor.
"Time is of the essence," Mitch says, pouring himself a glass of water. "It's time to dig in and be aggressive."
Mitch asks Kevin to use his international connections to land Bam shows and studio time in London and Paris. I admittedly feel a bit faint when Mitch utters the words: Pitchfork Paris. My dizzying fandom only increases as the meeting progresses and Mitch discusses the possibility of Bam's opening for some of my favorite rappers—Danny Brown, Young Thug, Chief Keef, and A$AP Ferg, among others.
"Are you free this weekend?" Mitch asks Bam, who responds with a nod. Mitch makes a phone call, cracking jokes that seem to be made more for us than whoever is on the other end. We continue laughing until he hangs up. "Ok, you're opening for Mobb Deep on Saturday," he proudly announces.
Bam leaves the meeting with a show on Saturday at the Viper Room (which I spend the next few days begging to get on the list for) and a number of enticing prospects. After Chris stops to say what's up to his old employees, we head back out into the blazing LA heat and pile into Bam's jeep. Next stop: Bam's "go-to Hollywood studio" to record possible tracks for the Suicide Squad film. A number of artists, Chris explains to me, are submitting tracks. It's unclear whether what's recorded this afternoon will ultimately make it into the film, but they can maybe use it for Bam.
In the car on the way to Hollywood, we talk Slime Season 3, EVOL, and how Future can generate hype over almost anything at this point. But we mostly talk about wings. A major bonus of the Hollywood studio, Chris tells me, is that it's across the street from Kitchen 24, which the boys believe has the best wings. In fact, they want to ensure I put Kitchen 24 in this article in hopes of getting an endorsement—"free wings!!!" they shout in unison. Bam and Luis hype the pineapple citrus wings, while Chris favors the buffalo. In the day's theme, they rag on Chris for not liking the proper type of wings. It is also in this car-ride that Chris expresses concern over turning 24. "You aren't old until you turn 27," Luis says with confidence. I tell them I'm 29. Bam turns around and examines me thoughtfully. "You look 22," he says. Did I mention I really like him?
At the studio, I get to see first-hand the magic that is Bam's creative process, in which he quickly morphs from easy-going and almost spacy to decisive and laser-focused. "How many beats we got?" He asks the sound engineer after passing on a few. "20ish," says Josh. "Okay, let's keep scrolling," he says. Bam knows when a beat works and when it doesn't. He enters his own private world, and I imagine everyone else fades away. As a beat plays, he sits and bobs his head, singing softly. From my perspective, the initial humming all kind of sounds the same. But then he goes into the booth. And when he comes out—fire.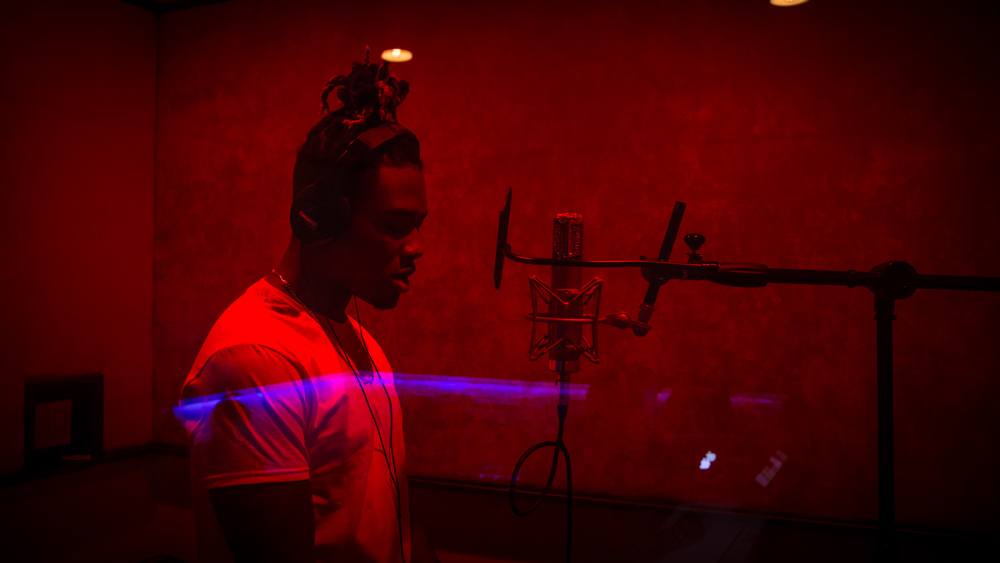 When I told Bam over the phone in the fall that I initially thought he was Drake, he said that made sense because they both make "hits." But after seeing him work, I realize it's their similar mastery of pop-hooks, a rare trait in the rap game. I can only imagine the massive high that is creating a fly hook on a booming beat. I assume there is no greater feeling, which is perhaps why I hope to make a career of following musicians, grasping at even a tiny sliver of contact high.
Watching Bam listen to his songs played back is my favorite thing in the world. He exits the booth in a post-creative haze and turns the volume up full blast. And then he starts dancing. He has cool moves, kind of Hawaiian. Luis and Chris dance too, and then me. Intermittently, the boys take bites of their wings. Sometimes they dance while they eat. The ohana, hyping up its king.
When he returns to the booth, Luis and Chris drink fizzy pink lemonade and talk shop. Chris pulls up a few rappers' Instagram pages as potential inspiration for Bam. Luis asks me if I'm into several rappers whose names sound made up—Lil Uzi Vert, Playboi Carti, Lil Yachty. Chris is adamant on separating Bam from both gangster rappers and ironic Soundcloud rappers, not because he doesn't like them, but rather he sees Bam as having a more specific appeal. Bam is a conscious rapper, a feel-good rapper—the male Kehlani, the West Coast Jeremih, the well-adjusted Drake.
"I handle the business pretty well," Chris says to Luis. "But you know creative direction. You've got style. You know what the kids are into."
Luis frowns, shaking his head. "You aren't supposed to make what the kids are into," he says, pausing for emphasis. "You have to make what the kids are going to be into next."
Most of the songs Bam records that day are about women. While Bam is in the booth, I ask Chris if Bam has a girlfriend.
"He doesn't." He pauses, fumbling for the right words. "Well, he—"
"I'll just ask him," I say, letting Chris off the hook.
When Bam next exits the booth, and after we all dance to yet another fly hook, I ask him if he's writing about a particular girl. "Not yet," he says, an answer which intrigues me. "I write about things, and then they happen."
"So you write about things before they happen to you?" I repeat his words back to him to make sure I'm getting it correctly.
"Yeah," says Bam, peering back at me with kind eyes. "I write in future tense."
Bam records four hooks and a few verses that day. He tells me he comes up with everything on the spot, but he'll come back later to clean it up. Three hours and four songs later, we file out of the studio and into the dark Los Angeles night. "This is perfect," Bam says in reference to the now-cooler temperature, far more fitting for his all black long-sleeved get-up.
In the ride back to the Valley, Bam plays back the songs he just made, once again entering his private creative zone. Then he puts on the radio and we roll down the windows and let the day wash over us. We part ways back at the house, worlds away from ICM and Hollywood. I hug them all and again beg for an invite to Saturday's show.
Chris texts me on Saturday morning to let me know I'm on the list. I ask for a plus one because I'm greedy and I want to bring my best friend slash international tastemaker Elizabeth. We're ten minutes late because I'm cheap and order a Lyft Line, which is hijacked by floral-scented girls rapid-firing Farsi slang. After the girls get out on Melrose, we breathe fresh air out the windows and speed to the Viper Room. Luckily Bam hasn't gone on yet. We order drinks and push our way to the front just in time for the curtains to slide open.
"What do you think of his hair?" I ask Elizabeth of Bam's most instantly-recognizable characteristic.
"I love it," she says, bobbing to the beat. "His potential is palpable."
I nod, smiling at her acknowledgement of my own international taste-making skills.
We sip our PBRs, ogling Bam's swaggy charisma and the same alluring dance moves I fell in love with in the studio. As tends to occur while jamming to his own music, Bam seems to enter his own private world. His eyes close and his arms float mysteriously through the air and I can see why Chris says Bam needs a fanbase that "loves to groove." This admittedly is not the old-school New York rap fans eagerly awaiting Mobb Deep. Bam, however, still owns the space. His smooth confidence works well in a small venue, flowing effortlessly under pink and green lights. While I enjoy watching him perform "Oralgami" and "Met You," I leave the show with a new favorite—"Thursday Night," a fiery track chock full of Biggie allusions that the ohana all agree works well live afterwards.
"I just saw his hair head out back," Elizabeth whispers to me when Bam leaves the stage.
I dart out the back door to find the ohana standing in the dark. I congratulate Bam, chat with Chris, and am introduced to K.D. and "Shaan-ye," with whom I discuss our mutually favorite rap producer—the irreverent Kanye West.
I run back inside to catch the beginning of Mobb Deep before Elizabeth and I have to jet to another party—par for the course when rolling with an international tastemaker. When we return out back to order a Lyft, the ohana remains almost unmoved.
"Let's get wings soon," Chris says to me while we await our car. "You, me and Bam." I smile, nodding. The Lyft arrives, K.D. hands me a Tree Up CD and we all hug all goodbye.
The next morning I text Chris to tell him I've been bumping Tree Up all day in my car. I seriously miss having CDs..
He tells me I'm "now officially an ohana member." I smile, thinking back to us dancing to in the studio amidst the scent of Kitchen 24, looking forward to our wing-date.
***
Tree Up Two drops this spring. Follow Ohana Bam on Soundcloud at soundcloud.com/ohanabam, and on Twitter @OhanaBam and on Instagram @OhanaBam.

Photos by STIMVLATE.