I lived in Valencia, Spain, for 2 years, and during my stay I became very good friends with a street artist working under the moniker "Are You Dead?" He's one of the most anti-social (bordering the term phychopath) cats I've met in my whole life – which reflects on his art and ways. I got into quite a few crazy adventures with him during that time, from living the typical "watch out cops are coming!" paint life to doing what Valencians do best: Eat and party. I heard that he was currently working on some projects for next year, so I wanted to catch up with him and do this little interview to get you guys just a little closer to this crazy character.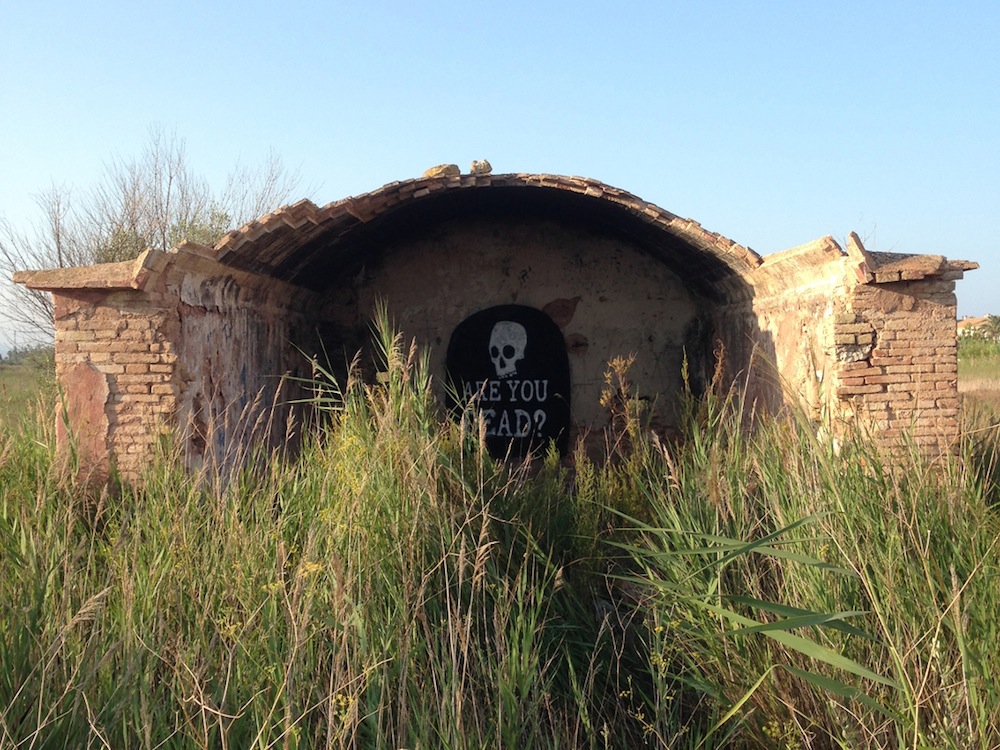 Boring questions first. When and how did you start with "Are You Dead?" About a year ago, I had the need to do something positive. What can be more positive than painting and wheatpasting posters in the streets? I didn't think it too much. How bored are you from people asking you what it means? Terribly. I know when you write in foreign languages (Arab, Chinese or Hebrew), people get many mixed feelings from calling you a racist or taking it as a terrorist threat. Can you talk a bit more about this? Do you think that reflects on the reality of these cultures nowadays? Or do you think you're a magnet for bored people with internet access? A Chinese girl accused me of being a racist after bombing the main street in Valencia's Chinatown the night before the Chinese New Year and the Security Boss of the Jewish Community in Madrid was reporting me as a "threat" to the authorities because I sent them a "Are You Dead?" postcard. I sent over 600 postcards, but this guy is the only one that took it as a threat… I told them all the same: "It's up to you, take it the way you like." And asked him if he did need anymore details to place such a report.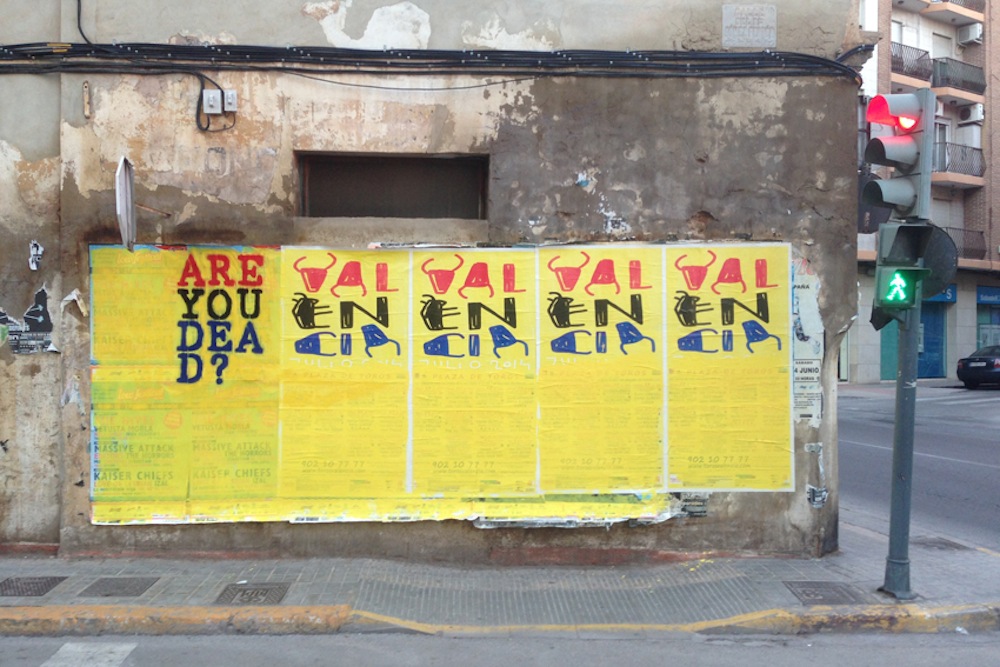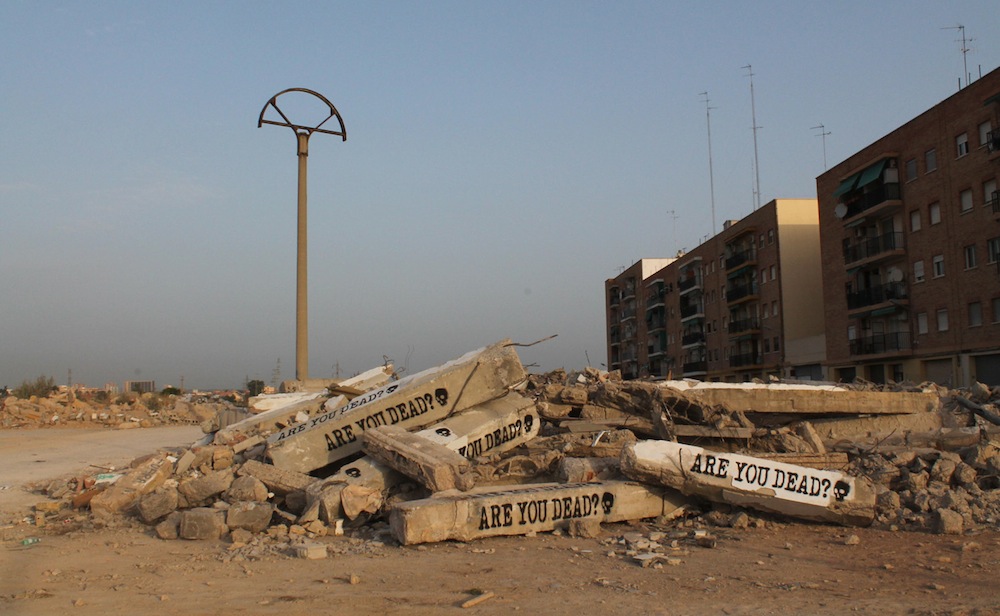 You could take it as a reflection of our society nowadays, but I honestly think it just shows us there are idiots everywhere. I understand people taking it seriously… It's one of the reasons. I love when someone is actually mad at me and gives me some credit. You are obsessed with decay and love to paint during the day. Any funny stories about people on the streets talking to you while you are painting? I have to admit that I don't like to interact with people I don't know, and because of that, I don't follow the conversations or answer back. Probably the funniest was with the police. Once they caught me pasting posters and I told them I just was doing my job. When they asked me what I was pasting and I said it was a publicity campaign and that I had no clue about the meaning and they let it go. Another time they caught me because they had a call from someone nearby – the police parked next to me and told me to show them what I had on my hands (it was a calendar from a hooker club I painted over) they asked me to let it go until they left, when they went inside the building. I thought it was going to take a while and I started to paste it, [but] they were done in minutes and caught me again. And the weirdest [thing] happened when I was painting a mural – the police stopped their car next to me. They asked me if my name was Juan Miguel (it is not), I said, "No," they answered,"Okay, thank you," and left.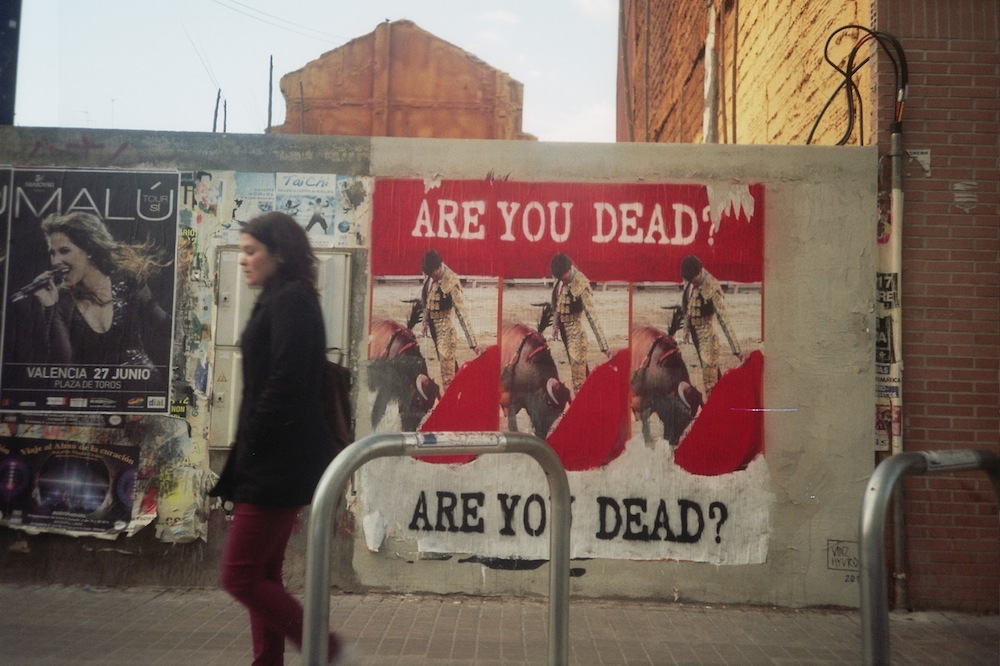 What's next for Are You Dead? A project with you. Don't make me call you everyday asking if the photos are ready. Besides that, not much, I will keep doing this until I get bored or have something better to do or find a new hobby. Few artists you would name from the scene in Valencia? Escif, Hyuro, Vinz Feel Free and Pantone as the most known. Limón 'cause we have fun when we paint together and someone – I don't know his name but he paints these very simple sketches on the street, very comic-strip-from-the-'50s looking. Top 5 albums? In no particular order, Interpol Antics, The Who Who's Next, Turbonegro Scandinavian Leather, The Faint Danse Macabre  and Jupiter Lion's first album (they are the shit! and friends, check them out).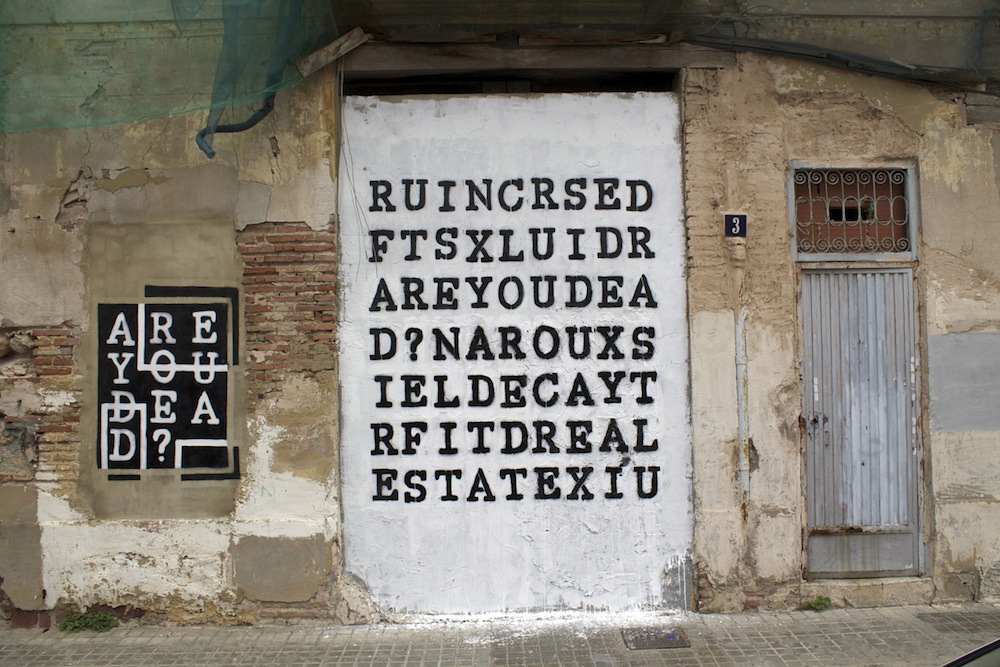 I know you hate people and I'm very impressed with you collaborating with many artists lately. Have you just grown old? I'm getting old, I'm too much in a good mood lately. Major dislike? People. Mainly people asking me about ARE YOU DEAD? Favorite food? Indian, Chinese, Spanish... I don't mind if the product is good. Not pretentious food, please.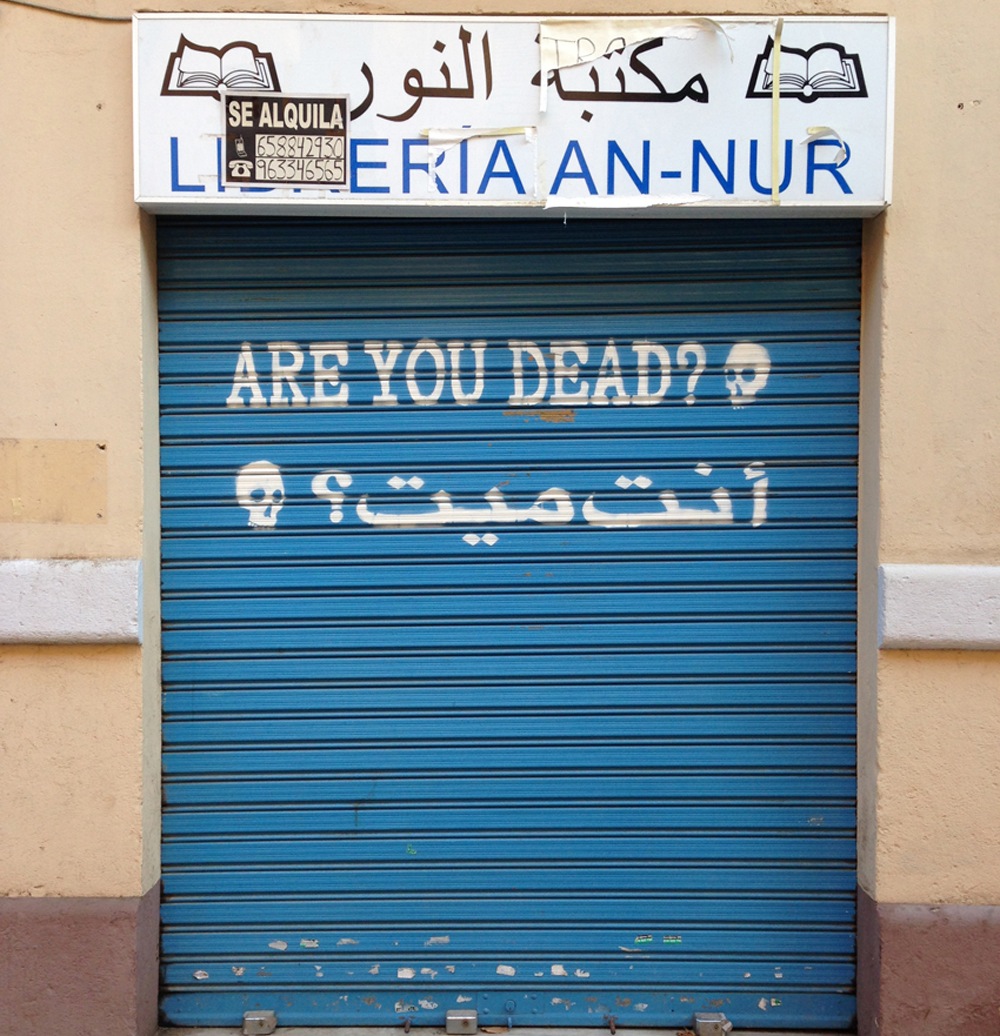 Coffee or tea? Tea, I used to be coffee person, but since I don't drink dairy anymore, I don't want to walk into a café asking for a latte with soy milk. Ass or tits? Hard question. The hardest to answer on this interview. Whatever you wanna add. I've already said too much.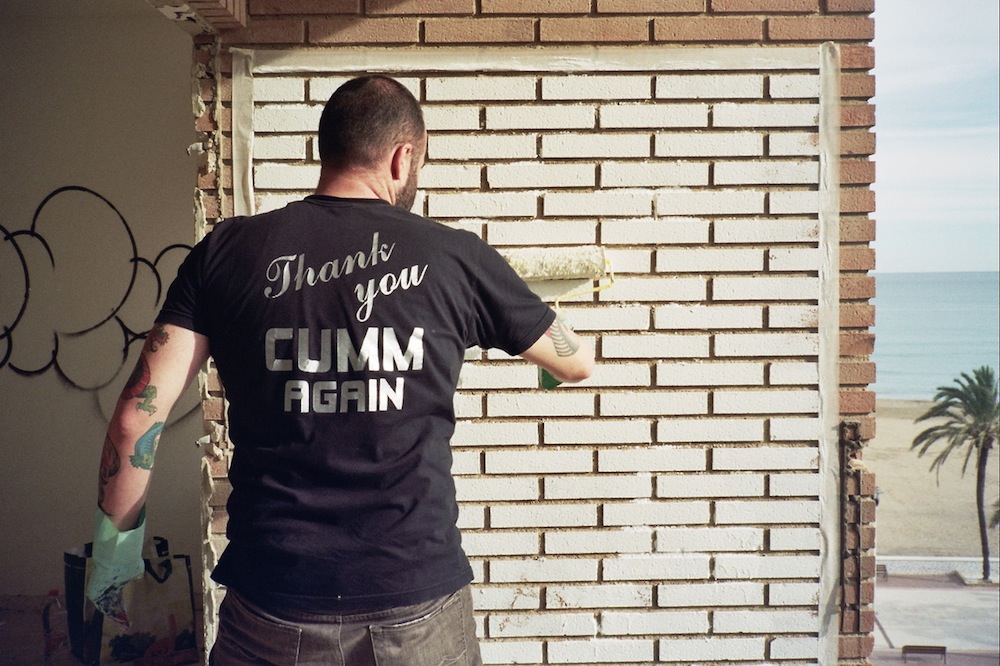 Peep his work here:  http://www.areyoudead.org