"I imagine there's some cool grey scale techno guys who think my music is just melodramatic soap opera shit," the 27-year-old Canadian producer tells me of his debut Jacques Greene album, Feel Infinite, "but I kinda fuck with that, and I stand by it." Recorded in 2015 and 2016, Feel Infinite is club music designed to counter trendy "ironic detachment." Instead, the album is filled with "intense moments and intense emotions" meant to inspire compassion, love, and empathy. As someone who tends to be emotionally detached myself, I tell the artist that I need this album. He says he needs it too, explaining that the album is aspirational (during the interview, the artist is cerebral and articulate in a way characteristic of those who think more than they feel). "I'm not the king of being in touch with my emotions," he says. "But I want to be."
But let me back up.
I'm confused when Jacques Greene's publicist emails me "you can call Phil directly" when coordinating this interview. Phil?
"Is your name Phil?" I ask as soon as I get him on the phone. "I thought it was Jacques."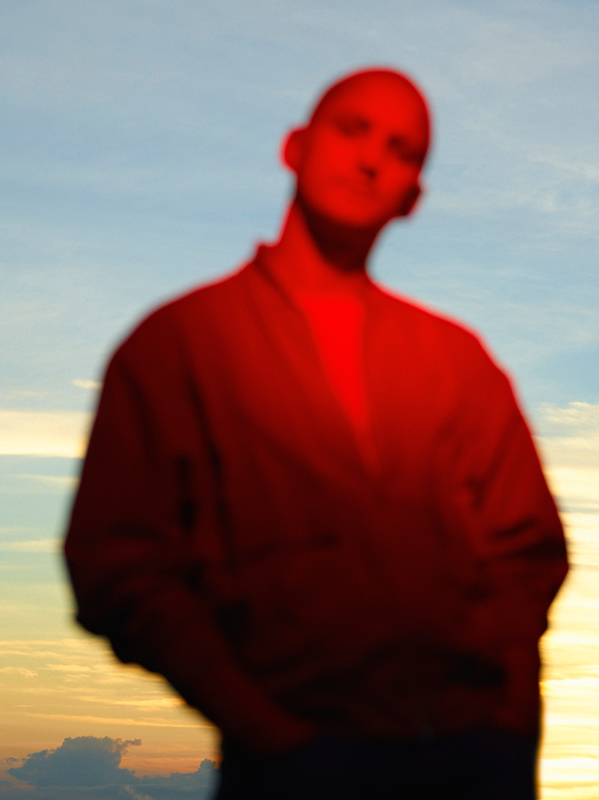 Jacques Greene. Photo: Mathieu Fortin
He laughs. "My name is Philippe Aubin-Dionne—I'm a real French Canadian boy." He explains that Jacques Greene is a moniker inspired by a cross street near where he used to work in Montreal—Saint-Jacques Street and Greene Avenue. He invented the alias as a way to "send music to friends and get honest feedback." (Phil first fell in love with and began creating electronic music when a high school history teacher introduced him to Aphex Twin, precipitating a mind-blowing realization that "music doesn't have to be angry white men over a guitar.") Phil would circulate his own music, announcing: "There's this kid from the West part of Montreal named Jacques Greene and I think he's kind of cool, what do you think?" Phil was friends with with the owners of his future label LuckyMe, and when they expressed interest in Jacques Greene, Phil told them he would put them in touch. When the LuckyMe guys emailed "Jacques Greene" expressing interest in putting out an EP, Phil finally announced his identity: "Actually, it's me Phil." (LuckyMe released Phil's first EP as Jacques Greene, The Look, in 2010.)
"So you were pranking them?" I ask.
"Absolutely," he says, laughing. "It was this funny accident of playing with identity."
"This all makes sense," I say. "Because when I was looking about at your older press, there is a lot of stuff about how you're, like shrouded in mystery." (A 2010 Dazed article writes: "Little is known of the young Jacques Greene, but mystery can be a charming thing...")
"Yeah, I was definitely having fun with it and doing this misdirection stuff," he says. "And since it's a regular-sounding name, it's not like I was hiding behind a mask. I wasn't doing like a SBTRKT, or like 'no pictures of me,' like Burial. It was more of a subtle misdirection I guess."
Eventually, however Phil started to feel gimmicky and said, "Fuck it—I'm not the most comfortable with cameras, but I'll just add my face to photos just because I'm kind of sick of—what you're saying, 'the mysterious producer.'" He laughs. "I'm not that mysterious a guy."
Contributing to this sense of mystery, Phil is the unidentified man with glasses in Azealia Banks's "212" video. In it, 19-year-old Azealia spits in Phil's ear: "Fuck are you into, huh?" Phil was introduced to Azealia by her then-manager when she was living in Montreal—the video was shot in Phil's neighborhood in 2011. Montreal DJ Lunice (of TNGHT and Hudson Mohawke), with whom Phil went to school and used to throw parties, also appears in the video. As an Azealia super-fan and forever apologist, I ask whether Phil keeps in touch with the incendiary rapper. He answers in the negative, citing—unsurprisingly—her troubling interpersonal antics. "But it was also easy to lose touch because she was blowing up," he explains. "It's not that I was turning her down—she was busy hanging out with Karl Lagerfeld."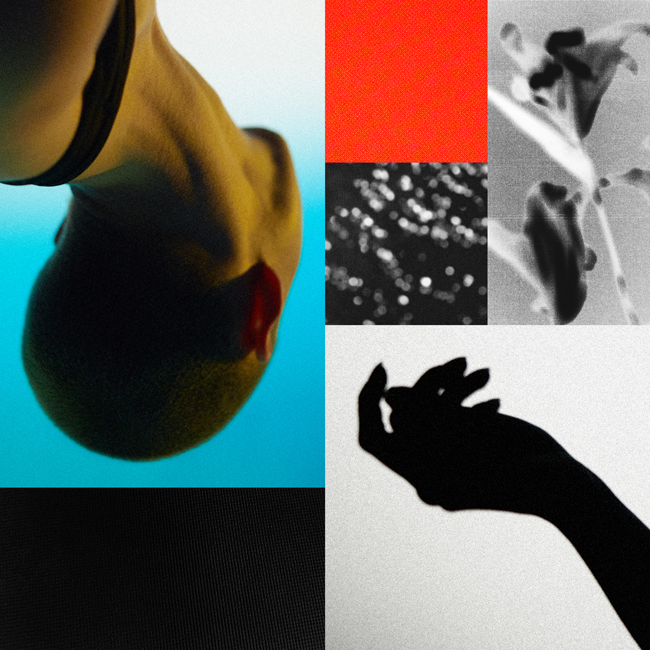 Feel Infinite album art (front)
But Phil is being modest, as he was blowing up himself at the time. The same year "212" dropped, Jacques Greene released the addictive single "Another Girl," which Pitchfork included in its list of best tracks of the decade. The magazine wrote that while this "decade has seen no shortage of dance songs that pluck vocals from R&B and warp them into unfamiliar shapes[,] 'Another Girl' emerged just before reworked deep Brandy cuts dominated SoundCloud dashboards, and it still moves with a distinctly human gait." The Village Voice wrote that "Another Girl" "remains the shimmering peak of [Jacque Greene's] style."
Also that year, Phil launched Vase Records with his friend and Manager Joe Coghill with the aim of releasing their friends' music and "taking on weird projects." While the label is now dormant, Phil speaks fondly of Vase and what it was able to accomplish. In addition to putting out projects by experimental artists like Koreless, Zodiac, Arclight, and Samoyed, Vase put on a multi-media art show at London's Tate Modern in 2013. In it, Jacques performed while wearing "metaprojection jacket," a Rad Hourani garment embedded with hidden cameras to capture and project a live feed of the space onto the walls of the South Tank of the museum. Phil explains that now when people go to the club, "everyone is staring at this one person turning knobs," but the surrounding environment and the people in it "ostensibly much more interesting." Thus, the Tate Modern show was meant to shift the focus from the artist to the surrounding space.
Jacques Greene's 2011 track "Another Girl" was named one of Pitchfork's Best Tracks of the Decade
Vase went on hiatus when Phil committed himself to working on Feel Infinite. This was Phil's second attempt to make an album—the first time was about four years ago. He was only able to put together 7 songs he liked and he was "forcing it." At that point, he was more comfortable with the EP format, so he took his 3 favorite songs out of the 7 and released Phantom Vibrate (named for the false perception that one's phone is vibrating or ringing when it isn't.) While the 2014 EP was well-received (check out the dreamy banger "No Excuse"), releasing it meant that if Phil still wanted to make an album, he had to start from scratch.
And during the summer of 2015, Phil took some time off to do just that. And this time around, the process felt like less of a battle. Phil was enjoying going into the studio every day, and things were flowing more easily. The tracks were complimenting each other, uniting to make a cohesive whole. "I felt like... holy shit maybe this is actually gonna happen."
For Phil, the songwriting process is rapid and random. Sometimes he doesn't work on anything for weeks at a time, and sometimes he sketches out 3-4 song ideas a day. "All the best tracks are impulsive and intuitive." If he feels himself fighting to make something good, he tells me, he assumes that "someone will have to fight to enjoy it." Rather, he's looking for a mental space of no judgement (a Feel Infinite track is appropriately titled "I Won't Judge") and as little thought process as possible.
As with many artists, Phil finds the lack of predictability in the creative process anxiety-producing. And as a career musician, the stakes are high. "It's terrifying," he says. "No one knows the secret to creativity. It ebbs and flows." He pauses. "I've had so many moments where I'm like, oh shit, is this it? Has the Jacques Greene world run its course? Am I done? Should I start looking for another job?"
While he can be a bit of perfectionist when it comes to sound, what he's really striving for is emotional honesty. When he's too in his head, it doesn't feel honest or true. Aiding the process this time around, Phil was able to take breaks and distance himself from the project. And the benefit of being a touring musician is that he was able to test the tracks live and tweak them according to audience response. "None of it was too forced," he says of the album, "which I'm happy about."
[Jacques Greene] says with club music, being in the place where the music is consumed and finds its context is a huge part of making it.
That isn't to say Phil isn't apprehensive for the album's release. When I ask whether he's nervous, he swiftly responds: "So nervous." He expands, "the court of public opinion is a terrifying place." But the sooner the album is released, the sooner Phil gets to do his favorite thing: performing. "Without it," he tells me, "I probably wouldn't make music." He says with club music, being in the place where the music is consumed and finds its context is a huge part of making it. Phil enjoys seeing how the crowd is reacting and improvising accordingly. He says that he fantasizes about being a standup comedian for the same reason– "the adrenaline is quite addictive." He jokes: "For my next tour, my visuals will just be a brick wall, a mic, and shitty leather jacket." He laughs. "I'll make jokes about the failing music industry."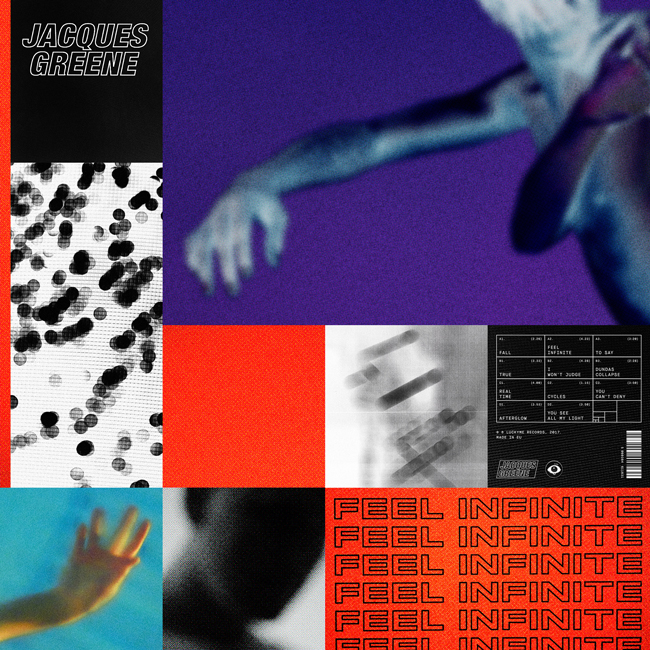 Feel Infinite album art (back)
In addition to comedy, Phil also fantasizes (perhaps more realistically) about scoring films. His favorite aspect of DJing, he tells me, is the "emotional puppeteering"—"the emotional manipulation is quite thrilling." Likewise, he's fascinated by how in movies, a normal conversation can be made tense or funny or scary or sad based on the music. He loves Trent Reznor's scores for David Fincher, and dreams of working with Tom Ford.
But currently, Phil's mind is in the club—where he came of age, where he developed the inspiration behind his debut album, and where he will very soon be spending the majority of his evenings. Of the album's major theme, he tells me, "I'm enjoying the idea of treating the utopian nature of club culture as not escapism, but an affirmation of reality."
***
Feel Infinite drops this Friday, March 10 on LuckyMe, and Jacques Greene's tour kicks off on March 18.
If you're in LA, don't miss his tour stop at Resident on April 4, with supporting act suicideyear. Tickets here.