If you've been sleeping on TheHundreds.com, IMO is a list series that tackles BEST OFs with the indubitable authority of, well, our own opinion. Check out Bobby Hundreds' "IMO :: BEST SNEAKERS EVER" to jog your memory.
Sportswear has always been an influence in the streetwear industry. Both come with a casual attitude, feel comfortable, and have that working class feel. Baseball jerseys have become a staple. There seems to always be a two-tone raglan T-shirt in every season, and every now and then, some brands go as far as replicating the cut, colors, and embellishments. Here's a list of my top 10.
Let's address the elephant in the room, a bias exists for every one of these articles of clothing. If you think that this is a definitive list and treat it as gospel, then I also have a bridge to sell you.
10. Nike x Futura x Yankees
The only reason a Yankee jersey is even mentioned on this list is because Futura is a god. Everything else about it is wrong. Raglan sleeves? That awful color blocking? Thank the Lord Jesus that Futura blessed this atrocious debacle with a custom Pointman and his iconic handstyle.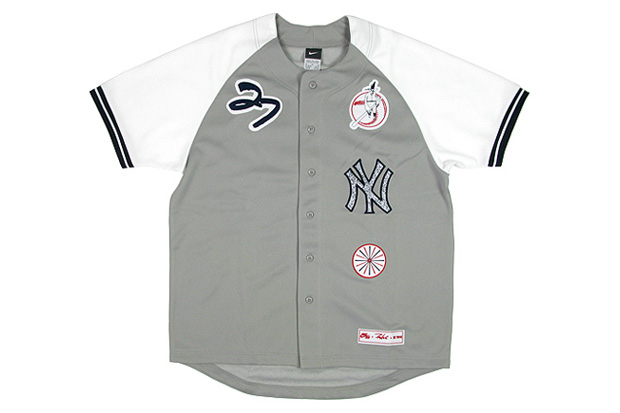 9. Bounty Hunter XIII 2008
With the right branding and support from some notable designers, the Japanese can make a bag of hot dogs the next big thing. I'm talking to you Bedwin & The Heartbreakers. Because of this fact, I tend to stay away from Japanese brands (plus the sizing is all fucked, and I don't live in Japan). However, one label that has been true to its core is Bounty Hunter. These guys have been reppin' the skull and crossbones thing for decades. There really isn't anything spectacular about this jersey, but the fact the number 13 in roman numerals across the front seems a bit original.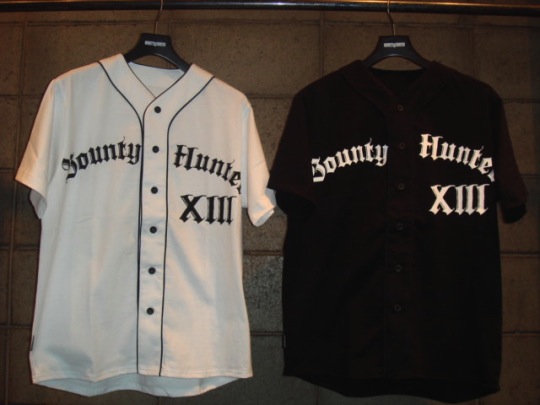 8. CLOT x Undefeated
Last summer, CLOT came to Los Angeles in a big way. Their JUICE store opened on Melrose and along for the ride was Undefeated. They came with a couple of baseball jerseys, but the one that stood out was their "Out for Blood" campaign where they flipped the old Chicago Cubs logo. Most re-appropriations of iconic logos come off contrived, but CLOT and Undefeated did a decent job with this one.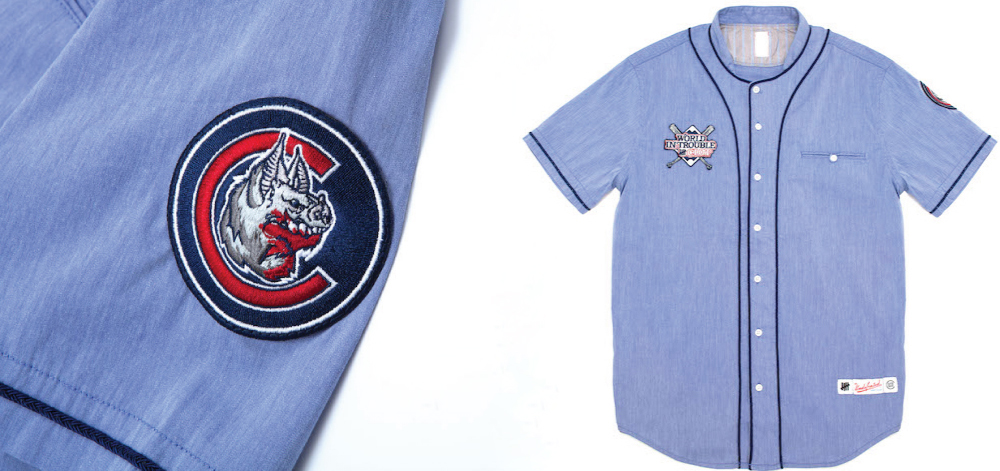 7. 10Deep Snakeskin
I've said it before, and I'll say it again. 10Deep gives no fucks. They have that tried and true streetwear attitude, and they do what they want. No one else on this list would ever think twice to use snakeskin print anywhere on a baseball jersey let alone all-over. 10Deep kept it raw in 2013 and went all in with the python.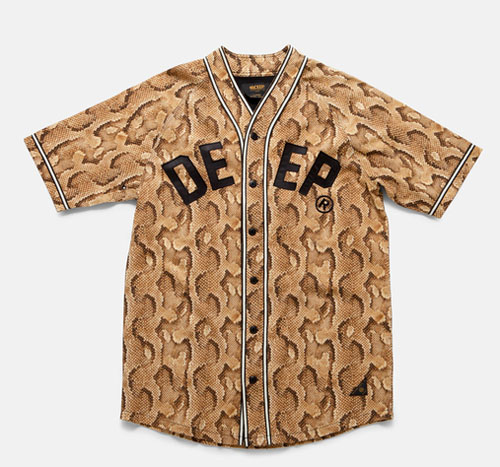 6. aNYthing Bad News Baseball
This jersey from A-Ron the Don's aNYthing just came out this summer, and belongs here because it's from New York and it doesn't have a hard-on for the Yankees. This New York brand pays homage to the working people's Mets with "ANYTHING" across the front in the traditional blue and orange. aNYthing also came correct with the production by sourcing the jersey from a US maker. Plus, I'll ride with any team that is repped by George Constanza and Jerry Seinfeld. Larry David for President!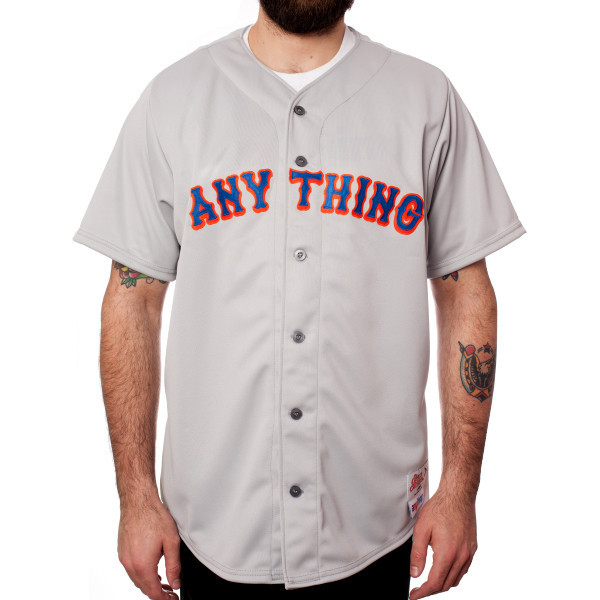 5. RockSmith Ninja Script Baseball Jersey 
Being from Los Angeles, there's got to be something said about that hue of Dodger Blue. The Yankees can keep their stupid pinstripes. RockSmith nails it with their Ninja Script Baseball jersey from 2013. The familiar RockSmith Ninja is used across the front of the jersey in the same script as a Dodger's authentic jersey. RockSmith even went the extra mile and used the red numbers across the front.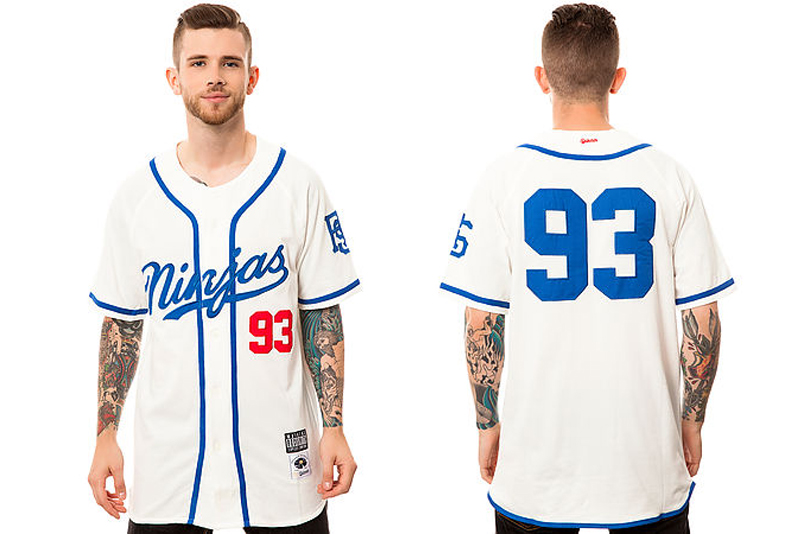 4. Stussy 2014
Every now and then, Stussy comes out with something that is simple and understated. Their latest baseball jersey gets it all the way right. Instead of opting for the whole Shawn Stussy script at the chest (last season) this SoCal brand opted for a clean "S" in Old English. They keep it pretty gully in the back with "STUSSY" emblazoned with the same Old E.
3. CLSC Summer Baseball Jersey
First off, we need to forget about the ridiculous price tag and just go with the aesthetics. CLSC has a runaway hit with their "Sucks 2 Suck" campaign, and this project took it to another level. Instead of using a wool or cotton jersey CLSC opted for mesh. This summer mesh option is a hood jump-off. It looks like it fell off a truck, or from the bodega around the corner—both good things. What I mean to say is that it looks like something a person selling bootleg DVDs would wear. And that's streetwear at its finest.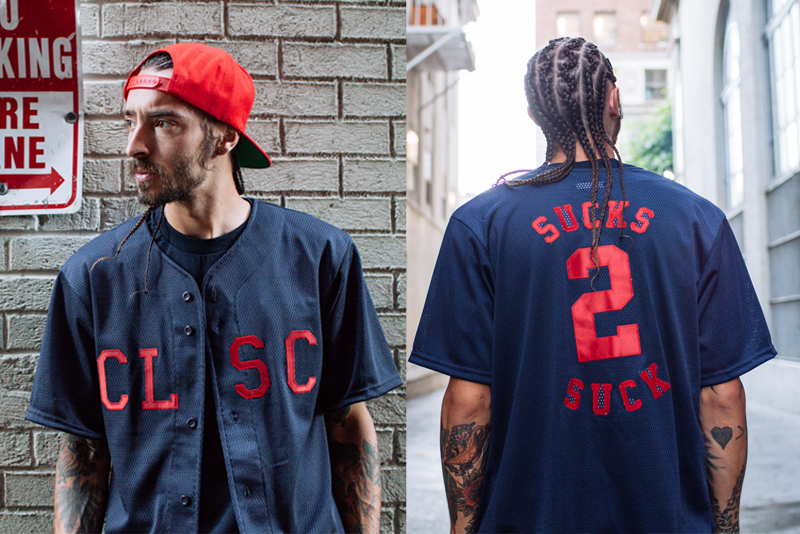 2. Undefeated Reversible
Before Undefeated were selling compression tights, they were one of the best at re-appropriating sportswear. This hit from 2011 had Undefeated borrowing from the polyester baseball jerseys MLB teams were wearing in the '80s. A simple five strikes logo at the chest, a team inspired "Undftd" script across the front, and a sewn on number "5" patch was all Undefeated needed to take you back to those simpler times. This joint was like a time machine, and good design always evokes a feeling of nostalgia.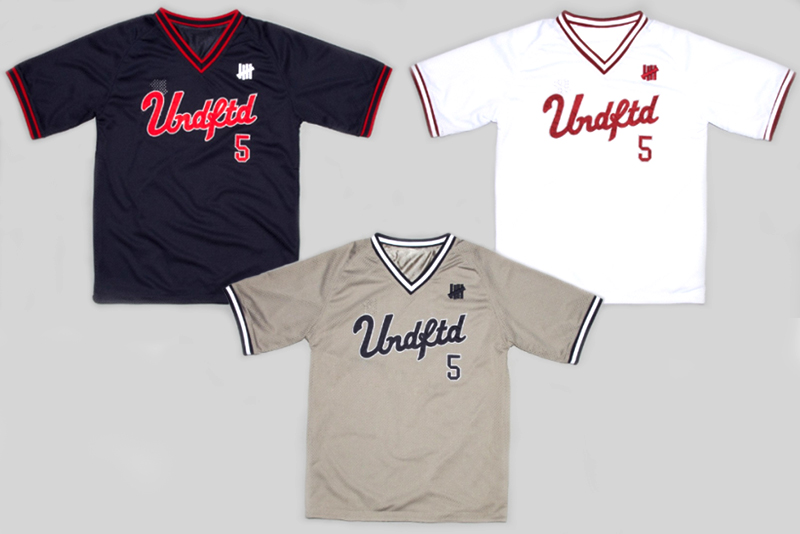 1. Supreme 2006
Supreme has been coming out with a lot of jerseys lately. Nothing comes even close to what they did in 2006 with Mitchell & Ness. The SoHo boutique honored the great Dodger Jackie Robinson with a Mitchell & Ness custom jersey. Supreme really went in on the details from the patch on the left sleeve, the sewn on labels, numbers, and letters to the chain-stitch embroidery. I remember seeing both the cream and grey at Supreme LA and balking at the price. I regret not getting at least one, and any piece of clothing that can bring on an onset of regret means it did something right.