We are proud to announce the release of The Hundreds X BIGFOOT, our collaboration with the pioneers of The Original Monster Truck®. The collection will be available this Friday, March 23, at The Hundreds Los Angeles, our US and UK Online Shops, PacSun, and select authorized retailers.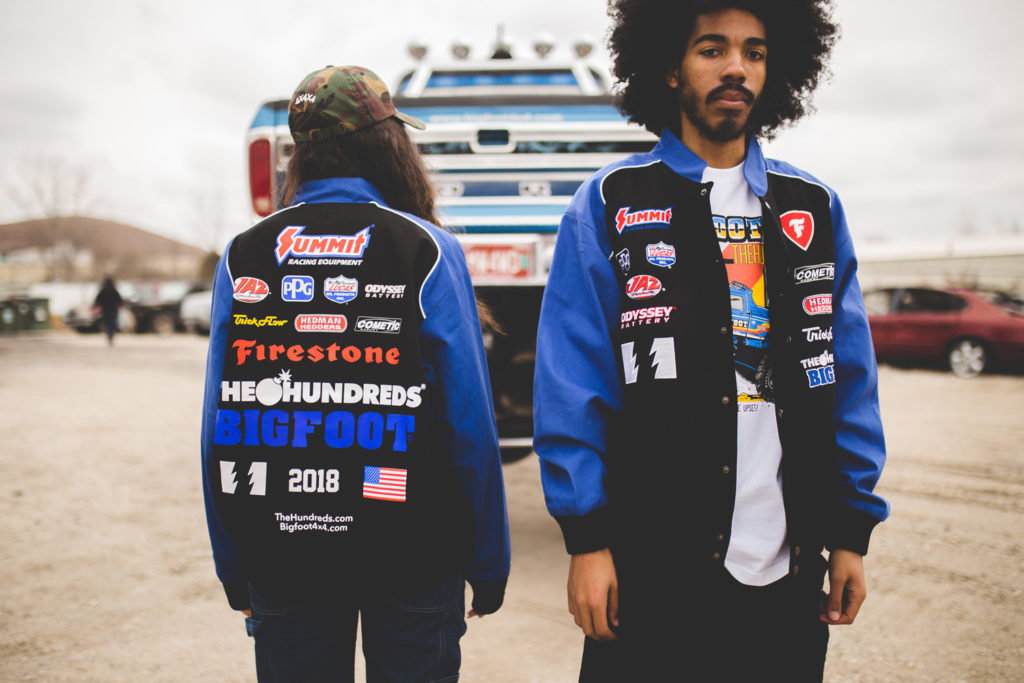 In the mid-'70s, Bob Chandler—a former construction contractor with a passion for off-roading and a knack for showmanship and experimentation—souped up his Ford F-250 with gargantuan tires and created the world's first 'monster truck.' The vehicle, dubbed "BIGFOOT" (a friend told Bob his "big foot" and fast driving was the reason he kept breaking his axles) pioneered a brand new motorsport, performing the very first monster truck car crush in '81, and by '83, appearing in front of 72,000 fans in the largest single day monster truck event ever. From humble beginnings to international recognition, Bob Chandler soon became the homegrown star of an industry he invented. He preferred to push the limits of what was possible in automotive technology, with military axles, 10-foot-tall tires, and more; the record-breaking Bigfoot #5 still holds the official title of "world's tallest, widest, and heaviest monster truck." Today, BIGFOOT 4×4 remains a truly independent family operation run by Bob, his wife, and children. The current iteration of the legendary BIGFOOT is still revving up at shows nationwide, and the company continues to innovate, recently creating the only battery-powered monster truck in existence.
The Hundreds X BIGFOOT is inspired by Bob's ingenuity and the high-octane spirit of the monster truck arena. Collection artwork features Bigfoot #8, the most innovative and controversial monster truck of its era in '89, setting new standards for monster truck design and safety while dominating all competition. We took inspiration from motorsports' logo-driven iconography with screenprinted and embroidered graphics on a collection of T-shirts, a hooded pullover, classic pit crew jacket, foam front mesh snapback, dad hat, can koozie, and stadium seat cushion. The Hundreds' slogans like "Brand of Brothers," Strength in Letters," and "Fight Back" appear alongside BIGFOOT's own "4x4x4," which denotes the brand's innovative first vehicle with four wheels, four-wheel-drive, and four-wheel-steering.
Lookbook photographer: Cory Miller and Bobby Hundreds
Models: Symi McClure and Lloyd Camby