It wouldn't be too far off to call Hollis Wong-Wear a modern day Renaissance woman. It's hard to detail her accomplishments without forming run-on sentences, but we'll try our best. From sharing writing credits and vocal duties with Macklemore on his Grammy award-winning album, The Heist, to managing local Seattle acts (we wrote about Blue Scholars' pop-up here), Hollis does it all. On top of that, she is also an avid slam poet, her music video producer credits include Macklemore's "Thrift Shop" and "Wing$," and she's a member of the Seattle Music Commission. Oh yeah, and did us mention she fronts her own electropop trio, The Flavr Blue? It's not hard to see why Hollis has done so well for herself, when you meet her in person, she practically bubbles with contagious energy. Hollis took us on a breezy walk through her neighborhood in Capitol Hill, talked to us about the importance of community and fresh-as-hell air, and even treated us to a haiku. Read on for more.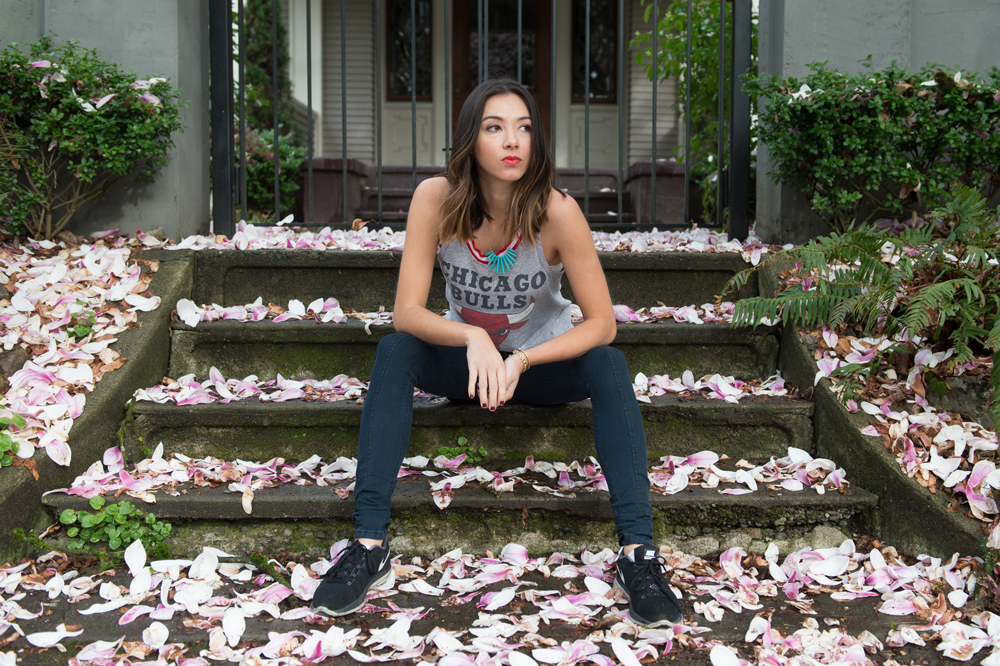 CHONA KASINGER: Fostering community is at the forefront of your many interests. With the music industry in such a state of tumult and festivals like SXSW becoming more and more corporate by the year (hello, McDonalds!), nurturing a local following is more important than ever. Do you have any advice for artists hoping to take the next step from the local level?
HOLLIS WONG-WEAR: Nurturing a local following and building out from there starts one person at a time. It starts with being confident and captivating people, but also balancing that confidence with graciousness, and not overlooking an opportunity to make a genuine connection and be humble. There's a quote I saw floating somewhere on social media that said, "Your character is defined by how you treat people who can't do anything for you," and I would not only agree with that, but amend that to say that it can often surprise you what people *can* do for you if you treat each person with respect and sincerity. Maybe that person will tell four of their friends to come to your next show. Maybe that person randomly has a friend in the industry that could be a resource. Or maybe within a conversation with a stranger, you'll unlock something inside yourself that inspires you to write something you never would have otherwise.
As a musician, a fan is a fan; a ticket sold is a ticket sold. No matter who it is, it's meaningful. I love to connect with other artists and learn from them, talk shop, be tastefully transparent, and figure out how to build alliances. I really don't feel any artist should consider someone else their competition, as that's not a reality in such an enormous market, but rather as a potential resource, and reflect as to how one can be a resource for others. That's where I personally find my greatest reward: facilitating connections, enabling things to happen for others that wouldn't otherwise happen, being that bridge. Building relationships is at the core of success as an artist, whether with fans and supporters or people in the music industry or fellow artists, and I think it's important, now more than ever, to prioritize accessibility over exclusivity, open arms instead of projecting untouchability.
You've been super involved in youth empowerment through the arts for a while now. What has inspired your work in this field? Was there a pivotal moment when you realized this was what you wanted to do?
Honestly, there was almost an imperceptible shift between me being a participant in youth-focused arts programs – like Youth Speaks, Arts Corps, and Youngstown Cultural Arts Center – and being a mentor, facilitator, and "adult" contributor to organizations. I worked as an intern in communications and programming at art non-profits and then, after college, as an extension of being in writing and spoken word programs, as a young writer and performer.
I was motivated to see what was behind the curtain, and what made the events and classes I attended tick. At first, I thought perhaps my career would be in arts administration as an advocate and facilitator of programs and organizations that support space for youth empowerment and leadership. But the coolest thing about working with who I work with is that they encourage me to hold my own artistry as a top priority. I think things could have gone differently and, by now, I'd have a cool program director job at an innovative organization and work my ass off and probably be really unhappy that I wasn't creating space for my own art to expand. But who knows, maybe I'll get to a place in my career that I can re-enter that space with authentic enthusiasm. So many possibilities! [smiles]
You've recently joined the ranks of some pretty cool people on board at the Seattle Music Commission – congratulations! What has it been like working with 20 other people in this capacity? Taking into account Seattle's rich cultural history, if there was one person you could sit down with and enjoy a cup of coffee with, who would you choose?
Why thank you! I'm pretty new on the Commission, so I haven't done much yet. But since I'm so passionate about arts education, I've been really impressed thus far with how the Commission has supported and rallied around Seattle's City of Music Career Day, a really dope model of how to introduce young people who are interested in the music industry to a wide variety of music professionals and hear candidly about how they got where they are. It's powerful to have some of Seattle's biggest movers and shakers all united for the public good, and I'm excited to see how I can work with the people to see how it happens. Who would I choose to have a cup of coffee with in all of Seattle's music history? Obviously Jimi Hendrix, but if he was busy I'd adore to spend time with the late Mia Zapata, the brilliant lead singer of The Gits.
You grew up in California before moving to the Northwest to attend Seattle University. Are there things you miss about California when you're in Washington and things you miss about Washington when you're in California?
I've been spending half of my time in Los Angeles and half of my time in Seattle at this point, so I've basically built a schedule for myself where I can have the best of both. Whenever I'm gone from Seattle, I really miss my neighborhood, my friends, and the community that I've been lucky to be a part of for a decade, the fresh-as-hell air, and the phenomenal natural Pacific Northwest beauty. I miss going to see shows at my favorite venues like The Crocodile or Neumos/Barboza. I miss my neighborhood coffee shop The Station. And when I'm in Seattle, besides usually and obviously missing the sun in SoCal, I miss AMAZING MEXICAN FOOD. San Francisco burritos… Los Angeles tacos… oh, and my family. Miss those guys too.
You've done a lot of producing on music videos – what are some of your favorite music videos?
Oh, awesome question. I pine for the days of the late '90s: TLC, Aaliyah, Missy Elliott videos were so crazy, sexy, cool, and gave me a great touchstone for how to be a strong female artist. I've always admired Michel Gondry's work, particularly all of his work with Bjork… I love the ongoing visual/musical partnership. Obviously Spike Jonez' video for The Pharcyde's "Drop" was too classic. More recently, I absolutely adore the artist Seibano Sey and think her music videos for "Younger" and "Hard Time" are poignant and exquisite. And I have to say that I am massively impressed and inspired by the work and hustle of Hannah Lux Davis, a young female music video director (with Seattle ties!) who's done some huge hits in the last couple of years, including "Love Me Harder" and "Bang Bang." I literally just Googled "female music video directors" which is pretty sad. So I'm glad that Hannah is absolutely killing it – we need more of that.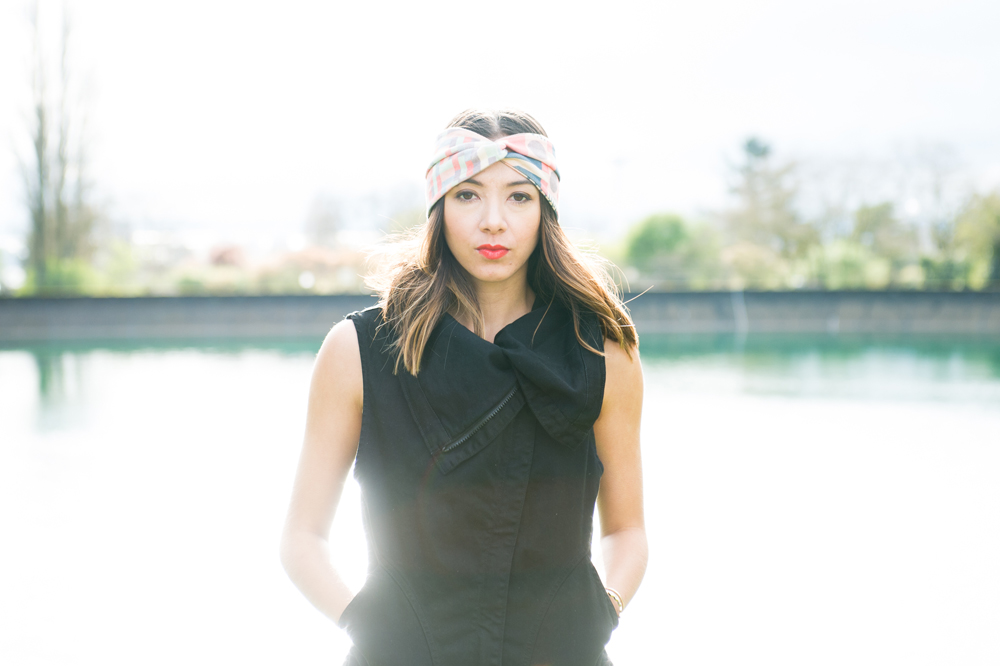 How do you balance all the different roles you play in your life?
I'm a triple Gemini – sun, moon, rising… crazy! – so I think having hella plates spinning all the time is just something that comes naturally to me. I honestly don't feel that I do that much more than many people do in a high-level nine-to-five, I just have a lot of different job titles. To me, I just want to be creative and I want my creativity to push boundaries, both my internal boundaries as well as societal boundaries. And I hope that through my creativity, I am able to make a good living for myself that I can invest in a meaningful and significant way in the communities that raised me and beyond, as well as create new opportunities and possibilities. That's what keeps me driven: figuring out how can I make enough $$ through my work to provide for myself and for as many people as possible. I see all the roles I play as working towards the answer.
What's on the horizon for you?
I'm writing this on a flight to San Francisco, where my band The Flavr Blue will be opening for Lilly Wood and The Prick, then heading back up to Seattle to host the Youth Speaks Seattle Poetry Grand Slam. I love weeks like this, where I can move the dial forward on my band's career and perform, and also connect with my community. Next month, The Flavr Blue heads to Europe; we're playing the Great Escape Music Festival in Brighton, and a few shows in Stockholm, along with writing sessions in London in between. Life goal achieved! We also have a couple of single releases coming out with 96 Musique, a French house label, and Red Bull Sound Select, and plotting the release of the new EP that we just finished. Then this summer, I'll be spending a lot of time in Los Angeles, writing as many songs as I possibly can, meeting and working with and learning from as many people as possible in the music and media industries. I'm thrilled to spend the summer back and forth between Los Angeles and Seattle. Seattle's the prettiest city in the summertime.
Finally, will you write us a haiku?
Sure, I'm all about writing in the moment!
Turbulence rocks me
I channel zen, deepen breath
order a whisky