Benjamin-Shalom Rodriguez has always navigated multiple identities, as his hyphenated last name probably indicates. Less than ten minutes into our first meeting, the LA-based screenwriter and director is already describing an early webseries he made about trying — and failing — to come out as queer to his abuelita. Or, there's the original play he wrote and produced in college loosely based on his grandfather's escape from Nazi Germany in the 1940s. But even within the bounds of such serious experiences, the appeal of Ben's writing is his ability to funnel absurdist, lighthearted humor into heavy and even dark subject matter.
Growing up in what he calls "a little bit of the hood" near the Long Beach/Norwalk/South Gate area, with an Israeli mother and a Mexican father, Shalom-Rodriguez dealt with his fair share of isolation and bullying, along with the eternal pressure to follow the rules and make something of himself — a story children of immigrant parents know well. "It wasn't the most creative household, and as a closeted gay kid I needed some sort of outlet," he remembered. "I loved performing and writing, and I even went to USC for it, but I still never really thought it was a real career that I could do. Between low self-esteem issues and being very fat growing up, I dealt with a lot of self-hatred for a long time."
After graduating from college, Ben began working as a development executive — "I tried to convince myself I wasn't a writer, you know?" — until he got into the Fox Writers Intensive with a writing partner. That experience spurred the realization that he had to pursue his passion full time, not just making web series on the side, or writing scripts at night. "I had a boyfriend at the time, and we'd been together like five years," Shalom-Rodriguez said. "He was super cool, but I don't think he quite believed in me."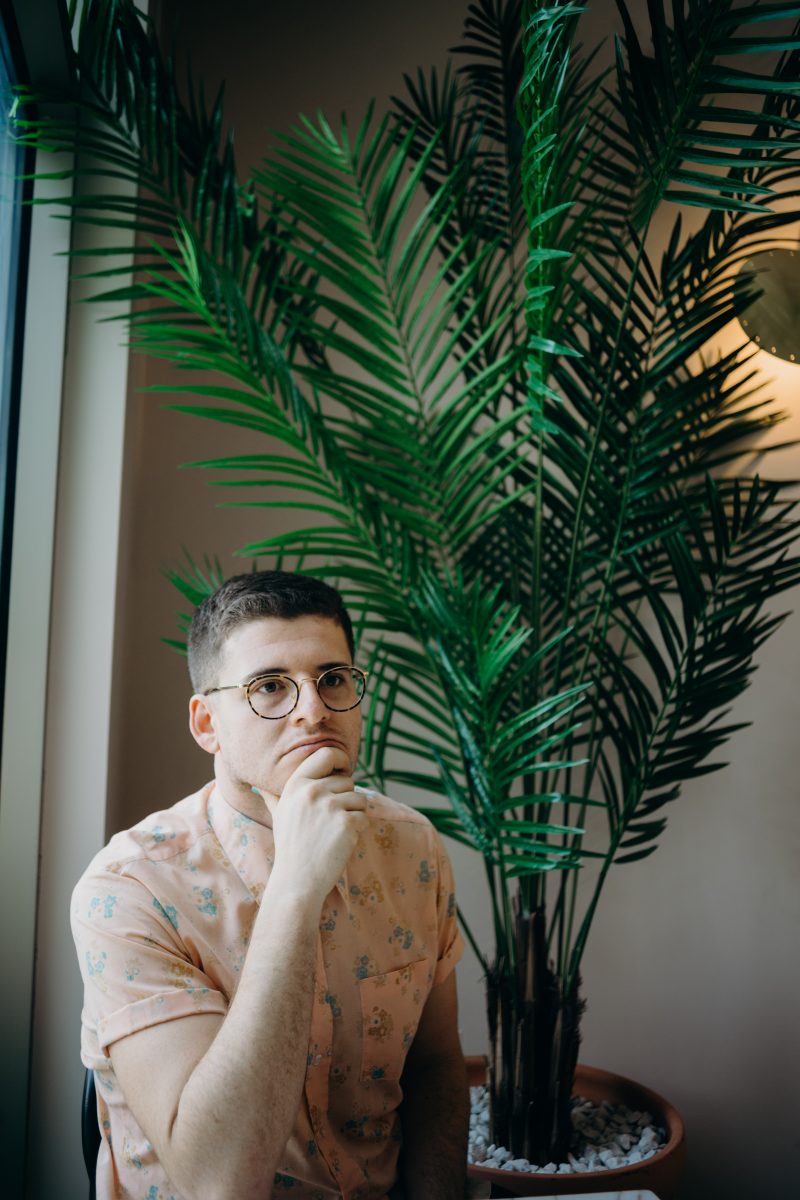 "Eventually, we broke up. And after that, I quit my exec job, moved into my aunt's place, and slept on an air mattress in her TV room for like six months. That was in 2016, and now I've been writing for like three years, so I'm really hashtag blessed."
At this stage in his career, aside from writing and pitching multiple features he's written, Ben teaches film twice a week in Santa Ana, hosts game nights at private parties, and has been devoting himself fully to a show he created in 2018 called Stoned Breakups. This was the show that introduced me to his work, and I was immediately hooked. Revisiting the old trauma of a long-dissolved relationship through the lens of being very high, all while actors reenact the most dramatic moments? The show sells itself.
"I loved performing and writing, and I even went to USC for it, but I still never really thought it was a real career that I could do."
"The default or the status quo is that you have to find true love, it has to last forever, it's monogamy, kids, etc.," he said. "The overall pressure is monogamy, love forever, companionship — but I've always been obsessed with breakups."
"My first two short films were about these boyfriends that kept getting into petty fights, and eventually kill each other. The film was about a gay couple of color, but my way in was that we've all been through heartbreak, so I ended up interviewing a bunch of friends about breakups related to that project. Then, I was stoned one night and I was like 'oh my God, these are brilliant stories,' and I'm a fan of Drunk History, so it clicked."
Stoned Breakups officially launched in January of 2019 and follows a familiar format: first, we watch the subject of the video first get super stoned. Have you ever watched someone, particularly someone who doesn't smoke a lot of weed, get smoked out on camera? That, in itself, is pretty entertaining. After they're nice and high, Ben interviews the subject of the episode about an old breakup, while actors reenact the story as it unfolds. Obviously, hilarity ensues.
The reenactments include elements like role reversals, as in, the asshole guy who breaks up with the girl telling the story is played by a woman, or highly dramatized, surreal versions of what's being described. "I think it's funnier, more enlightening and more nuanced to watch a woman play an asshole man than to watch a man do it," he explained. "So, we try to be strategic about role reversals. I personally gravitate more towards women in comedy, anyway."
After a year of production, Ben and his crew launched Season One of the show last year, and will premiere the final episode of the initial season this coming Tuesday.
In the meantime, work on season two of Stoned Breakups is well under way, and the plan is to kick off the next season sometime in late 2020. "There's a layer of openness when you're high," he said. "I'm not saying weed is the answer, or people need to get high to deal with emotions, but we look for a specific kind of story where it's in the past. Watching and creating these episodes, there's a process of healing for me. I just feel way less alone."
Look for the fourth and final episode of Stoned Breakups' first season launching this Tuesday, January 14 via Cinnamon Magazine, along with an extended version of this profile.
***